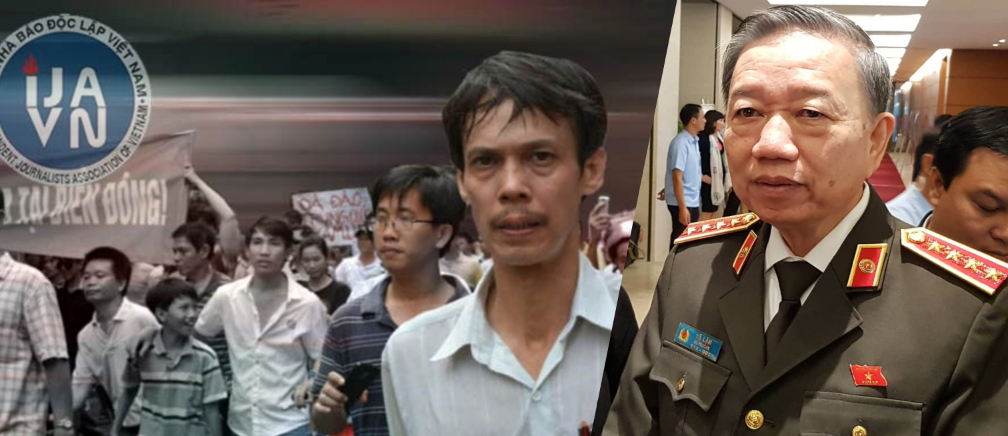 2019 is the dark year for Vietnam's dissent as the Ministry of Public Security arrested protesters, critics or bloggers and convict them of severe sentences in unfair trials.
By the end of April, 5 members of the unregistered group Brotherhood of Democracy named Nguyen Van Tuc, Nguyen Trung Ton, Nguyen Bac Truyen, Tran Thi Xuan, and Pham Van Troi were convicted of 7 to 13 years in prison.
In August, activist Le Dinh Luong received a 20-year sentence of imprisonment and five years of probation – the highest sentence ever on the accusation of "Activity aimed at overthrowing the people's administration."
A month later, the People's Court of Quang Binh province sentenced Mr. Nguyen Trung Truc to 12 years in prison for 5 years on probation for "Activities aimed at overthrowing the people's administration."
In October, five people, Luu Van Vinh, Nguyen Quoc Hoan, Nguyen Van Duc Do, Tu Cong Nghia and Phan Trung, were tried under Article 79 of the 1999 penal code on allegation of overthrowing the people's administration. with sentences from 8 to 15 years in prison.
Mr. Vu Quoc Ngu, director of the Defend the Defenders organization, who was honored for the Human Rights & Rule of Law 2019 Prize from Germany and France, said "The human rights situation in 2019 is very bad with the increase of persecution of dissidents and civil society. The specific number is that in 2019 the authorities arrested at least 40 activists, including 21 people related to the peaceful posts on Facebook; and at least 40 activists were convicted with severe prison sentences during last year."
According to Mr. Ngu's assessment, the number of people arrested in 2019 is higher than in 2017 but less than in 2018 because in 2018, thousands of people in some localities are Hanoi, Da Nang, Nha Trang, Binh Thuan, Binh Duong. , Dong Nai, Vung Tau and Saigon took to the streets to protest against the two bills on Special Economic Zones and Cyber ​​Security, which led to arrest of hundreds of people and conviction of at least 127 people.
Blogger Nguyen Ngoc Gia, a critic on social networks, analyzed the causes: "In my view, in the current context, the intensification of arrests is not surprising. However, it showed me more chaos in the assessment and arrest of local authorities than the central government."
About 5 years ago, the time I was arrested, before that was Dieu Cay, Tran Huynh Duy Thuc, Le Cong Dinh … then they had a unification and converged on one term for strengthening human persecution. But in the later period, especially in 2018 and 2019, I found that it was no longer consistent but that any local locality could arbitrarily arrest and convict without consulting the central government."
Independent journalist Pham Chi Dung, chairman of the Independent Journalists Association of Vietnam, was arrested and being investigated by the security agency of Police in Ho Chi Minh City, not by the Ministry of Public Security.
Ms. Bui Hong Loan, wife of Mr. Pham Chi Dung said that she did not know what Mr. Pham Chi Dung did, but through the articles that she had the opportunity to see, Mr. Dung made sharp comments and assessments about the time. "The writing of Mr. Dung, he criticized right, not wrong but could be 'touching' to people. I don't know why people arrested Mr. Dung?"
Nguyen Tuong Thuy, vice chairman of the Independent Journalists Association of Vietnam, said it was only normal for Mr. Pham Chi Dung to be arrested. Not because Mr. Dung sinned and violated Vietnamese law, but because the Vietnamese authorities felt they needed to arrest them, they arrested, without any evidence
With the arrests, severe and unreasonable judgments for activists whom human rights organizations in the world have spoken, it can be seen that the situation of human rights in Vietnam is not bright until the last day of 2019.
Will the situation next year be any positive or not? Mr. Vu Quoc Ngu affirmed:"I think 2020 is the year the communist party prepares for the party congress so they tighten security and maybe the human rights situation will continue to worsen rather than improve."
After Mr. Pham Chi Dung was arrested, public opinion expressed concern for the safety of other independent journalists or social media.
Blogger Nguyen Tuong Thuy, vice president of the Independent Journalists Association of Vietnam, expressed his opinion:"My concept is that if you struggle, you have to accept the things for you. Since 2012, 2013 I have been threatened by the Vietnamese police that I would be arrested but they haven't had time to 'touch' me. I have already considered these things. Not because that I violated anything, but because they like to catch whom they want to silence."
Mr. Thuy said that in 2019 the government intensified the repression of opposing voices. They strive to persecute activists, even those who have less popularity. When they were caught by the press or brought to trial, the people knew.
Blogger Nguyen Ngoc Gia, he frankly said he did nothing wrong, but in Vietnam, after the Law on Cyber ​​Security came into effect, they do not need evidence to arrest and want to convict as much as they want.
Mr. Nguyen Ngoc Gia further analyzed: "To tell the truth, I don't know if I will be arrested again because it is called by the situation called chaos. I am not against the state, I am only exercising the Human Rights defined by the Socialist Republic of Vietnam in its Constitution, and even in the CPV platform, it is said that respecting differences that are not contrary to the common interests of the nation. family, nation."
Architect Pham Xuan Hao, master of the Faculty of Technology of Can Tho University on October 31, 2019, was sentenced to 1 year in prison for sharing articles on Facebook deemed to be contradictory and distorting party guidelines.
According to the indictment which the People's Court of Ninh Kieu District, Can Tho City pronounced at the trial, Master Pham Xuan Hao committed the crime of "Taking advantage of democratic freedoms to infringe upon the interests of the State, the rights and interests, law of organizations and individuals according to Clause 1, Article 331 of the Penal Code."
Specifically, the court attributed Mr. Pham Xuan Hao to using his personal Facebook account to "share negative articles on social networks, which negatively affect the awareness of the social network community; giving conflicting information, distorting the lines, undertakings and policies of the Party and State of Vietnam."
Ms. Hue Nhu, a woman who fought against "dirty BOT" was also arrested by police in Soc Son, Hanoi.
Those who are arrested for pretending to be against the state with online posts are very ordinary but are charged with making, storing, distributing or disseminating information, documents and articles to oppose the State of the Socialist Republic of Vietnam according to Article 117 under the current Criminal Code.
Blogger Nguyen Ngoc Gia also shared that lawyers, those in detention as well as their relatives should change the approach, reasoning and excuses for those who are accused of conducting propaganda against state according to Article 117, because this is a crime with no consequences.
The internal of the party is now taking place in the struggle and purge each other to reserve seats prior the Party Congress. The contradictions between the factions, the interests of the group, the corruption are more and more closely exposed through the "burning" campaign of General Secretary Nguyen Phu Trong.
Lacking of independent control mechanisms, the one-party and dictatorial institutions in Vietnam will continue to spawn entire forest of firewood, strata and classes, all of which are Communist Party members.
Until his death, General Secretary Nguyen Phu Trong could not arrest all his comrades – the Party should hand over their power back to people and they will make his dream to become real.
Thu Thuy – Thoibao.de