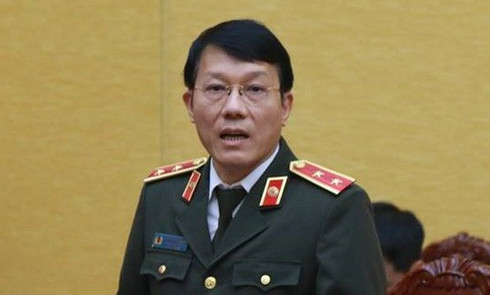 With the title "What we know from the information provided by General Nguyen Tam Quang," Facebooker Duong Quoc Chinh shared his comments on the stressful situation of Dong Tam case which is still ongoing at the upper political level of Vietnam.
The police try to blame the people of Dong Tam for terrorism, but the given evidence was weak and vague. Deputy Minister of Public Security Lieutenant General Luong Tam Quang could not answer and give convincing evidence about who attacked first.
The most important reason is why the police killed the 84-year-old revolutionary and communist party member named Le Dinh Kinh with 4 shots.
On the morning of January 14, 2020, Deputy Minister of Public Security Luong Tam Quang held a press conference about the Dong Tam case.
The following is a summary of the news from the state-controlled media and outlines some points to note.
Reading what General Quang responded to the press showed that police forces were also very hard to monitor people's comments on Facebook!
General Quang dismissed information from VTV yesterday that the police went to patrol, it was a joke from last night.
General Quang proved a part of the prediction, that the police had no warrant for arrest, search or probing.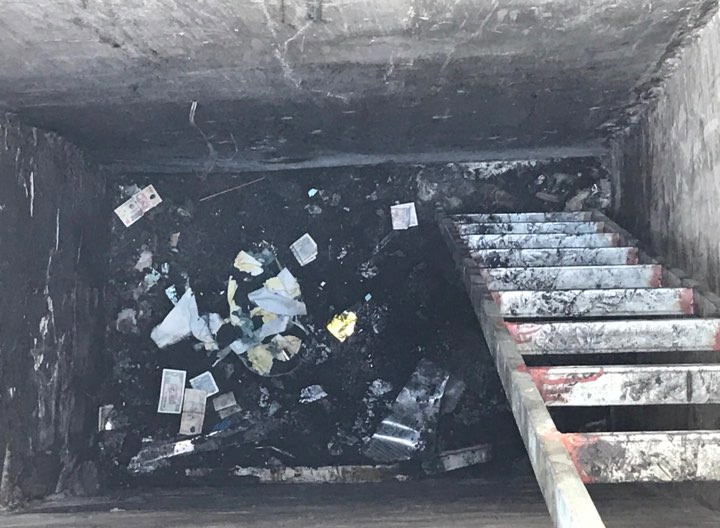 They entered Hoanh village from dawn to set up patrol points. The purpose of making patrol points is to protect the fence in the Senh from long distance!
Police used well-trained dog to attack Dong Tam at dawn January 9.
General Quang said that they had information saying that Mr. Kinh's Consensus group attempted to terrorize, burn Mieu Mon petrol station, set fire to the People's Committee of Dong Tam commune, threaten to kill communal officials, and even intend to kidnap the elderly and children (in communes?) to get social attention and set their requests (!?).
In short, the police set up patrol points to prevent the Consensus group from persecuting people, officials and facilities in Hoanh village! General Quang does not provide evidence for these claims.
Note that in the Consensus group's testimony on VTV yesterday there was no detail related to the terrorist intent as said by General Qung! This is a loophole in the scenario of the Ministry of Public Security and VTV, poor coordination between the police forces and VTV so the content kicked each other, including details VTV said the police conducted patrol journey now was changed to setting patrol points to fight terrorism.
The facts show that Mr. Kinh's group has no hatred for the people and facilities in the commune, nor does it have major conflicts with commune officials. So what motivated them to plot terrorism here? The ministry should re-investigate this scenario to make sense. There are tips: it is best to hire writers from the People's Police newspaper to write.
Asked by the press which side attacked first. General Quang did not answer specifically, saying only that the Consensus group attacked the 16th key point close to the gate of Hoanh village, with 2 grenades and 1 unoperational, causing no damage.
It is not so logical for people to actively attack police first. Who is dull. This is very difficult to investigate, because the night attack, police will be the party that actively records and creates the scene. So the consensus team has no chance to defend themselves.
Mr. Quang said that because the grenade attack was a crime, so the police had a reason to attack Mr. Kinh and Cong's house, without the approval of the Procuracy. Legally, this is true, that the Consensus group attacked first with grenades? This is only the ministry has the right to know, because many people of the group of are dead, hospitalized, or jailed.
The reason why 3 police officers died was announced by Mr. Quang: while chasing people so they (all 3) fell into the sky pit about 4 m deep, then they were attacked with petrol. In some places, Mr. Kinh was said to be the one to directed while VTV quoted confessions from his relatives as saying Mr. Chuc was the leader. This information is extremely important, as it led to the death penalty for murder. If they are wise, they will blame the dead.
However, one important detail is that this fueling occurred before Mr. Kinh was shot dead or later? Mr. Quang did not speak. Psychologically, if my father was shot dead in front of him, then I would also fill up a fire.
Is it possible that police officers shot Mr. Kinh so his son revenged? This detail needs to be investigated for clarification, because murder requires a strong enough motive, in a state of agitation.
Mr. Quang did not mention the killing of Mr. Kinh, but he justified this by reasoning that Mr. Kinh threw a grenade which was failed to explore and holding the second one. He died but still holds a grenade!
This is also extremely important detail, as it is also an action of overuse of power while suppressing a criminal act. Mr. Kinh was definitely in a standing or sitting position, unable to lie down, because there was a loud turn. So when he was shot and killed, he would fall down, his hand could not hold the grenade.
If he still held tightly, then it must have been someone else stuck in his hand. It is not clear on how many bullet wounds on his body, I only saw clearly the wound on his heart, probably the finishing shot. It is not clear where Mr. Kinh died, so I couldnt say more.
General Quang said that the raid lasted about 30 minutes. That was the time three police officers were burned. It is very difficult for their bodies to be destroyed to this level, as it was in the photos provided by public opinion shappers.
The question is why 3 CAs died in such a small pit? Did they have the coordination? They did not follow each other so they couldn't learn from the mistake of others?
Why did the firefighter join the raid so he was unjustly killed?
Why did the vice commander of the regiment died in the raid? Senior officers ussually were in the backline.
It is difficult to imagine the situation in which three police officers died because Gen. Quang informed that they were chasing Mr. Le Dinh Kinh and his people and fell into the pit, then was poured on gas?
Why being chased, the people of Mr. Kinh can return and pour gasoline on police officers?
It should be understood that in such situation, police officers had flooded Mr. Kinh's house already, so that the firefighters followed. As usual, the firefighters would have to come in the end or enter to put out the fire because someone was on fire.
If you were to put out the fire, why would you die in the same pit? It is very confusing.
I have seen many documents, stories, case films but still can't imagine how to make 3 soldiers die in the same pit while chasing the opponents?!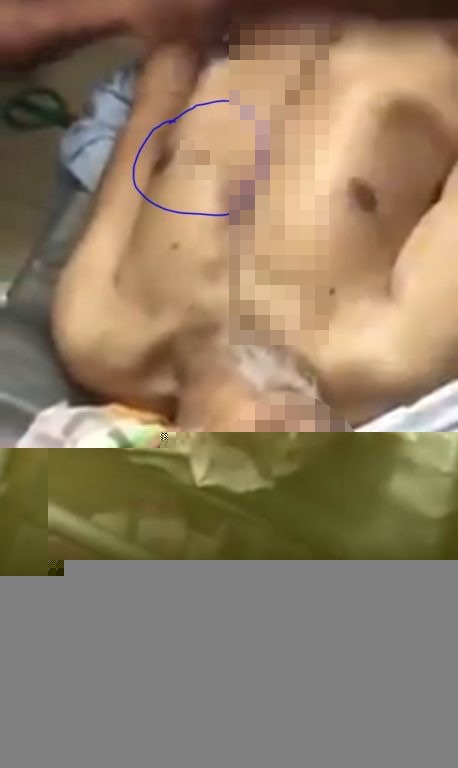 The next question is that there are 7 grenades in the exhibit, while General Quang claims to have found 8 at the scene. Where is one? It seems that the police script does not match.
General Quang said that the group threw a total of 2 grenades and 1 did not operate. But I counted one more unoperational one thrown by Mr. Le Dinh Kinh, there were 3 grenades pulled out (2 at the beginning). The script is wrong here too!
The next question is that General Quang informed that the consensus group was preparing for terrorism act. That is, there is sufficient evidence, so ministry deployed troops to protect people and facilities of Hoanh village.
So why you did not take a search and arrest warrant with approval from Procuracy? Do not say that you did not have time for that because I know from Facebook that police prepared for at least one week: restriction of Internet and phone access as well as blocking the roads leading to the area. Is is because police's idea of terrosism was fresh and not reliable enough so the Procuracy cannot approve arrest warrant?
Le Dinh Kinh was originally a loyal party member with nearly 60 years of the party's membership.
These are questions for the Ministry of Public Security to have a better script preparation and better communication measures with public oppinion shappers.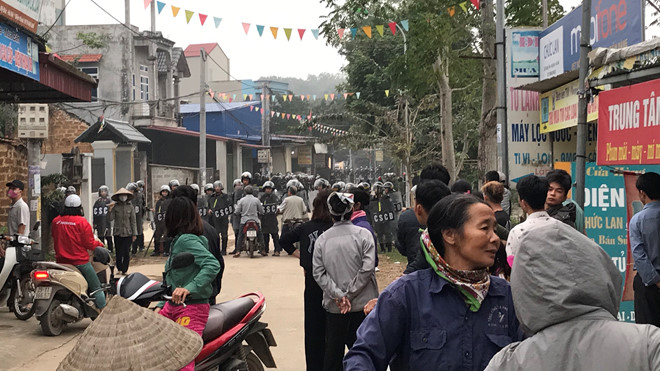 This time, General Quang also denied all the information made by public oppinion shappers and party's loyalists about the bunker and addicts. Public oppinion shappers should learn from experience to have better coordination.
When the authorities in Hanoi choose to bring guns to the people in the head – this is a harbinger of the final phase of the fraudulent and cruel communism will soon end.
More than 90 million people have only way to give up cooperating with the Communist Party, which will prevent the subsequent criminal acts of the metamorphosed Party members in Ba Dinh, avoiding many painful deaths of the people.
Hoang Trung from Hanoi, Thoibao.de (translated)
Source: Duong Quoc Chinh Facebook