Retired Colonel of Vietnam's security forces Tran Dang Quang, who had 40 years of work, suddenly gave an explanation for the purpose of the Ministry of Public Security – a Communist Party of Vietnam (CPV)'s tool that suddenly attacked Dong Tam village and killed old party member Le Dinh Kinh with a submachine gun
With more than 40 years working in police forces, Colonel Nguyen Dang, who observed the land dispute in Dong Tam for a long time, said: "A large-scale campaign with a powerful force is well prepared for every detail."
The Vietnamese Ministry of Public Security has attacked Hoanh Dong Tam Village for four main purposes:
Killing Mr. Kinh
Confiscation of all files, documents and evidence that the victim is keeping
Arrest all members of the "Dong Tam Consensus group"
Destroying 3 adjacent houses of Mr. Kinh's family to threaten others
The Consensus group founded by Mr. Le Dinh Kinh regularly works publicly with the policy of fighting for land retention by law, dialogue and non-violence.
Colonel Quang said "The Consensus Group" was formed in 2014, initially consisting of only about 10 members, mainly party members, including 3 members with long party membership as the core group, led by Mr. Kinh. This group advocates a peaceful struggle through petitions and appeal to leaders of the Party and State at all levels, from local to central levels.
They declared their support for General Secretary Nguyen Phu Trong, always asserting that they were not against the Party and the State, they were only against the corruption and interest groups in the party whom they called the invaders inside the party!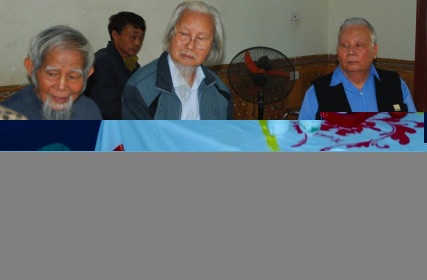 Consensus group conducted more than 100 regular meetings and thousands of local residents participated in, and tens of thousands of people observed these meeting online. These meetings were also broadcasted on social media and got big attention.
Specifically Kinh identified three principles of consensus:
One is: Definitely to eliminate the use of force. Violence will produce violence, that is the law and inevitable consequences!
Two: Legal path (suing the Court).
Third: Dialogue and conciliation.
A group of intellectuals has sent a complaint to the Hanoi People's Procuracy to demand launching investigation of the murder of Mr. Le Dinh Kinh because they found in the information released by the Ministry of Public Security and videoclips circulated on social media that Mr. Kinh was shot in close range and died.
A team of 12 on January 21 went to the Hanoi People's Procuracy to file a complaint about what they called Mr. Le Dinh Kinh was murdered by criminals.
The applicants, including Dr. Nguyen Quang A, Dr. Nguyen Xuan Dien, and activists such as Dang Bich Phuong, Nguyen Thuy Hanh, Huynh Ngoc Chenh and Vu Manh Hung.
The application stated that "through information from the Ministry of Public Security and online video clips," they found Mr. Kinh "was shot at close range" and "dead."
The ministry has ordered the blockade of the financial aids for Mr. Kinh's family at Vietcombank on the grounds of "financing terrorism" was considered by the people to be slanderous, rape, blatant accusation by people even when the victim was killed by police gun.
Ms. Chieu Anh Nguyen, who transferred the amount of VNQ10 million to Mrs. Hanh's account, said she was very shocked when the Ministry of Public Security attached to the act of "financing terrorism"
"I send this VND10 million, half of which are my own money while the remaining from former prisoner of conscience Nguyen Dang Minh Man to support Mr. Kinh's family after his death so the family can live day by day, but I never had the thought that they could set up a story about terrorism."
Mr. Nguyen Thang also deposited money into the above account, saying:
"This is just for burning incense of Mr. Kinh only, and helping the people of Dong Tam village. When the men were arrested, now their families have almost no income anymore, their lives will be very difficult."
The Tuổi Trẻ newspaper once noted that the people of Dong Tam were happy and warmly welcomed Mr. Kinh when he came back from a hospital where he was treated for his right leg broken by Vietnam's police.
The incident occcured in the morning of April 15, 2017 when local officials tricked Le Dinh Kinh into Senh field, told him to make a boundary marker.
On the way out, suddenly a group of policemen from a car jumped down to attack him, breaking his right leg and putting in into their car like an animal even though he cried out in pain. Three days later, the local police took him to a hospital for surgery.
One month later, when he was released from the hospital, he publicly denounced the names of four military officers (with full identity and rank) who deliberately tried to kill him in order to erase all the information he knows, but their brutal acts remained unsucessful.
Mr. Tran Quoc Vuong, Politburo member and permanent secretary of CPV Central Committee Secretariat warned: "The regime constructed in 75 years may fall due to our mistakes. Nobody brings planes, cannons to overthrow us, we don't do well, we overthrow us ourselves, not by the enemy."
Vuong once confessed that he felt bitter when Europe happily celebrated the Soviet Union's collapse, the communist governments in Eastern European countries fell and feared that it would happen in Vietnam.
After all, "burning the furnace" or "reorganizing the cadres" is also aimed at cheating people. Surprisingly, the public reaction to the attack on Hoanh village, as seen, did not see any officials stopping or thinking of handling the Ministry of Public Security, whose head was the Ministry. To Lam planned and directed the brutal murder of 84-year-old Kinh at his home in the early hours of the morning of January 9, 2020.
Colonel Nguyen Dang Quang concluded:

"I affirmed the VCP with the above purpose, so it destroyed the home of Mr. Kinh and his two sons' home, robbing and taking away all valuable assets in these 3 houses: such as TV, refrigerator , computers, etc. to the newly purchased car of Le Dinh Uy. Especially, the wooden cabinet inside stored a large amount of cash that the family has saved over the years and all the documents, documents, documents and evidence of Mr. Kinh kept for decades."
When some high-ranking party members have abused their power to massacre the people and revolutionary elders, this is an indication that the end of the fake communist regime in Vietnam is counting down by day.
The CPV's brutality and lies need to end and millions of Vietnamese people are expecting it.
Trung Hieu from Hochiminh city – Thoibao.de (translated)