In a civilized world along with human rights democracy in the world, Vietnam is a developing country with young potential, but despite the fact that General Secretary Nguyen Phu Trong calls for building socialism, Vietnamese youth, young women had to leave the country to pursue a better life in other countries
The year of 2019 was marked with the 39 miserable deaths of Vietnamese people in frozen containers in the UK. But there was no condolence to the family of the deceased from the head of the nation, Mr. Nguyen Phu Trong.
People recently shocked when 3,000 armed police raided the village of Dong Tam in the early morning of January 9 to kill an 84-year-old old man, a comrade of Mr. Trong with 58-year party membership.
Many people were surprised, and surprised to hear Mr. Trong, who is also the country's president, affirmed "There is no nation in the world when it comes to the ruling party, the people are devoted to the respect, pride and love like the Vietnamese nation towards the Communist Party."
It is unknown whether the comunist party is valuable or not but Mr. Nguyen Phu Trong was not wrong when he said that "our party" is rare and only does bad things
This is a picture of Cat Linh Station facing the facade of Hao Nam Street where local residents are selling many items for Tet holiday such as, kumquat, pottery …
According to the Vietnamese media, the stations on the Cat Linh – Ha Dong metro line are being used by many people to sell bonsai and pottery when the old year is about to come and the new year is coming.
That is the only "performance" of the project worth about $890 million. The huge amount of money is borrowed from China and for many years, Vietnam has to pay China about one VNDbillion a day!
The construction of the Cat Linh – Ha Dong metro line was supposed to be completed from 2013 but until now (2020), not only does this project not bring any socio-economic benefits, but it also generates huge debts, including interest.
In order to keep Chinese contractors, total investment were increased from $550 million to $890 million.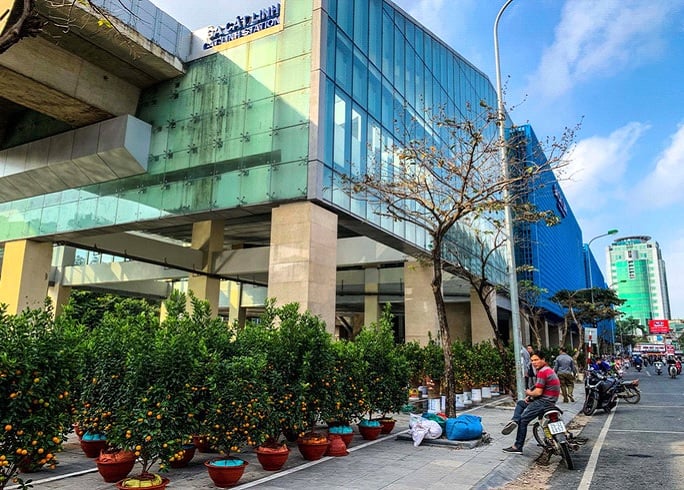 In other words, instead of considering the responsibilities of both the Chinese contractors (violating the construction schedule) and the officials in Vietnam, the "my party" happily asked China an additional $340 million loan for unplanned expenses. Since then, three years ago, the Cat Linh – Ha Dong metro line has not been able to operate!
The station system and railway were constructed by Chinese contractors with Chinese loans, 13 trains purchased from China were also bought with Chinese loans.
About 30% of thousands of workers who have been recruited, were introduced to China to train to operate the first metro line in Vietnam … now have quit their jobs.
Certainly, the investment rate on the Cat Linh – Ha Dong metro line will soon exceed $1 billion dollars and so increased interest.
No one answered the question: When will the Cat Linh – Ha Dong metro line be operational and contribute to the socio-economic development of Hanoi in particular and Vietnam in general?
No one has dared to put a pen to confirm that the Cat Linh – Ha Dong metro line meets safety standards to be able for operating.
The agency responsible for testing discloses:
There are many asynchronous things!
The project file is not complete and … cannot be added completely!
It means that there is no basis for safety confirmation and, of course, cannot be used.
Recently, General Secretary Trong made a stir by saying "dark clouds cover the sky but the sun still shines in Vietnam" to make people surprised by the knowledge of the party's chief.
In fact, this is a judgment of some experts who prefer to use sweet words to the Communist Party of Vietnam regime at the World Bank. However, the head of the party did not distinguish between flattering and loyal so he took care of that statement to cover the eyes of the Vietnamese people.
On December 28th (of the Lunar Calendar), Mr. Trong was again seen on a video and whispered reading the New Year's greetings with the opening sentence "In the atmosphere the whole country rejoiced to celebrate Spring, our Party is 90 years old" and he finally inspired to read poems of Ho Chi Minh
In the raid on Dong Tam village, Le Dinh Kinh was killed with 4 shots into the heart and nearly broke his leg, and 3 Mobile police died in unknown circumstance.
A comrade of Mr. Trong – who has 40 years working in the Public Security sector, Colonel Nguyen Dang observed the incident for quite a long time, said the attack was "a large-scale campaign with a powerful force carefully prepared to every detail."
The Vietnamese Ministry of Public Security has attacked Hoanh Dong Tam Village for four main purposes:
Kill Le Dinh Kinh
Confiscation of all records, documents and evidence about land dispute
Arrest all members of "Dong Tam Consensus group"
Destroying 3 adjacent houses of Mr. Kinh's family to threaten others.

This is a picture of Mr. Kinh's wife Du Thi Thanh crying after being tortured by the police
On January 13, 2020, on the day of the funeral for Mr. Kinh, Facebook spread a video in which Ms. Du Thi Thanh wore a white mourning scarf and told the story of police torture and coercion. bow.
Mrs. Thanh said "Police want me to admit that we were holding grenades at home but I told them I did not know how the grenade was, I did not know what the petrol bomb was, I could not declare it. So they slapped my face, from side to side, then they kicked my shin."
Later, when Ms. Nguyen Thuy Hanh used a Vietcombank account to receive over VND500 million, she was immediately robbed with the phrase "account blockade."
While the Ministry of Public Security blockaded over VND500 million for Mr. Kinh's support and labeled it as a terrorist sponsor, VND4 billion was handed over to the families of three killed policemen by the Ministry of Public Security.
A report of the Ministry of Planning and Investment of Vietnam in 2018 said "among 12 major projects with trillion-dong debt losses of up to VND20 trillion" – These projects are generally inefficient investments, prolonging construction time, slow exploitation and approving the capital which increased many times, a series of signs of corruption that have not been dealt with yet and how to pursue recourse to the budget.
Mr. Trong did not mention these things in his speech.
Trong is a rare character, "our party" is also … rare. Is it valuable or not, whether people "respect, be proud, love" or not … just look at the facts and know.
In the current chaotic political – economic – social context, Mr. Trong is still optimistic to mimic HCM poetry and give the speech "impressive progress in the rhythm of innovation" is indeed "rare" but not "precious."
Along with that, Mr. Trong took advantage of his power to crush people, compliciting with those who used guns and bullets to attack, shoot and kill people right before the New Year, when he broke the fragments of communism in the homeland of Vietnam.
Thu Thuy from Hochiminh city – Thoibao.de (translated)