Prof. Tuong Lai has been a member of the advisory board of the late Prime Minister Vo Van Kiet. He, along with three elderly Communists, also famous intellectuals, have just sent a joint letter to the three highest leaders of the regime: President Nguyen Phu Trong, Prime Minister Nguyen Xuan Phuc and Chairwoman of the National Assembly Nguyen Thi Kim Ngan about the case occured in Dong Tam.
The incident with Dong Tam commune, My Duc district, Hanoi on January 9, 2020 is an 'unwise practice' that no government in the world has carried out and that is why the four intellectuals sent their letter to the 3 highest leaders of the regime, according to the former director of the Vietnam Institute of Sociology.
In their open letter dated January 22, the signing individuals are Mr. Huynh Tan Mam- former chairman of Saigon Student Association, former legislator and former editor-in-chief of Thanh Nien Newspaper; Huynh Kim Bau- former general secretary of Ho Chi Minh City Patriotic Association, Le Cong Giau- general secretary of Saigon Student Association 1966, former deputy general director of Saigon Tourist, chairman of Pacific Airlines, and director of Savimex Company, and Professor Tuong Lai.
"The letter aims to question Vietnam's leaders about an 'insane' deed which no government in the world can do such a 'crazy' thing as police shot an elderly civilian who has devoted all his efforts to the cause of saving the country."
It is difficult to explain why Mr. Nguyen Phu Trong ordered shooting at a communist member, because Mr. Le Dinh Kinh is still a member of the ruling party before being killed by police on January 9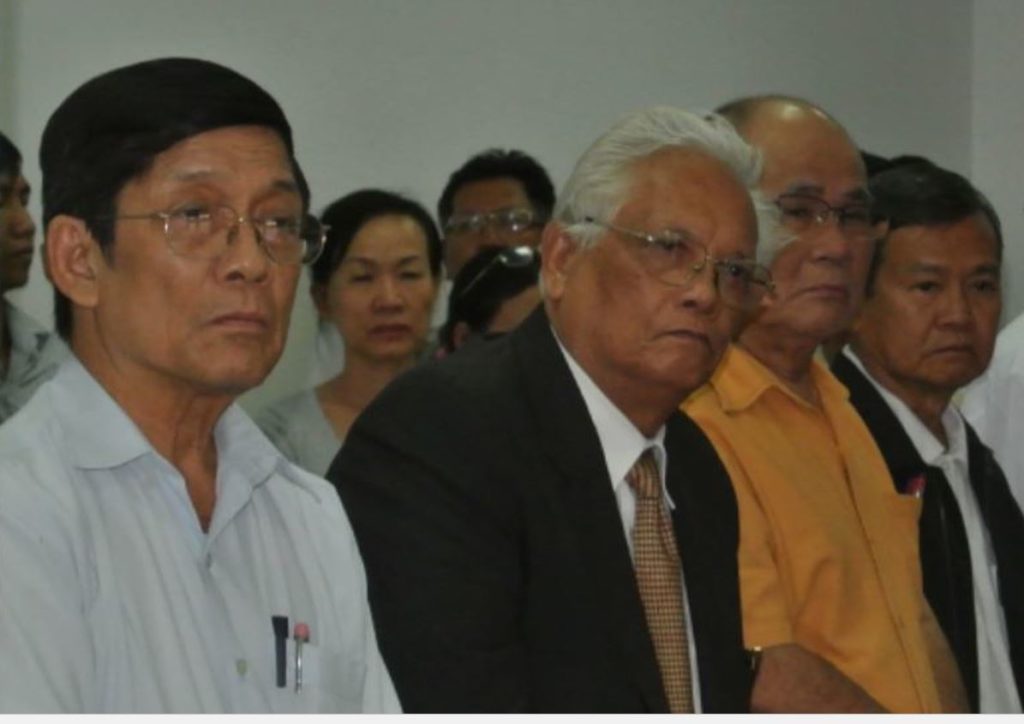 "He [Le Dinh Kinh] was a communist party member, when he was shot he has 58-year membership. Then it was an inexplicable act and it caused a great deal of indignation in all national and international public opinion. "
Professor Tuong Lai further explained to the international media about the purpose of the open letter addressed to the 3 highest leaders on January 22: "In this context, we want to question those in authority who must explain to us why there is such a 'barbaric, inhuman,' act of a state that claims to be of the people, by the people and for the sake of the people, but to use an ambush force with hundreds, thousands of policemen like that to Hoanh village, with only a few thousands of people?"
"And ambushed late at night, stormed into the house to shoot people to death, then went up to slander the radio, and then reclaim the first-class medal of victory (for the police killed)? and so we ask that this be made transparent.
"Who made that decision? And based on what provisions of the law to prosecute the good people and say that they were against the people on duty, they were against the soldiers building fences, and then for them ( People) attacked the police force first, so the police had to shoot and destroy?
"All these words are childish. The more they argue, the more they lie."
Parliamentarian Duong Quoc once visiting Mr. Le Dinh Kinh
He once said in the National Assembly:
"Is necessary to arrest the 80-year-old person who has 50-year party membership? Why did they have to play a trick with him to invite he to go out for checking border makers and then detain him?"
"Why police did not carry out public arrest with presence of the local authorities and his family like we see in TV? If the arrest is reasonable, people would not protest."
"As for me, as a historian, I honestly say that the biggest Asin heel of the Government is not to provide historical evidence," Quoc stressed.
Note from ancient times when it comes to territory, tough land always comes with a map.
People have the right to ask why there is no map? It reminds us of the story of Thu Thiem, because the local authorities have not publicize the area's map."
And the legislator expressed "In this matter, I think that the Government should recognize it very objectively, it will win the trust of the people."
The intellectual group made a brief request: Need to stop "slandering" against Dong Tam people
"We, who had experienced three resistance wars against colonialism, imperialism and expansionists, some who were imprisoned and beaten in Chi Hoa prison, Con Dao prison before 1975, are still disabled. In our body, we understand the pain of the relatives of those who are treated cruelly as seen.
Therefore, ask the people – who have the responsibility to answer transparently before the domestic public and the international community."
"We hope to hear from you soon before we have a letter to the representative of Vietnam who is in charge of the non-permanent member of the UN Security Council – to hand it to the Secretary-General of the United Nations."
"Without being sentenced, the suspect was killed so it is necessary to immediately stop the slander against the killed in the state-controlled media."
They also mailed the letter to the City Police Investigation Agency.
Doctor of Science Nguyen Quang A said "Our application is only 3-4 lines. Firstly, according to Vietnamese law, every citizen who sees an injustice can make a criminal complaint." It is clear, the police informed them, then on social networks, video clips, and pictures were very clear.
"In other words, there was a 'murder case'," Dr. A said of the incident which, according to the state, was a public disorder, against law enforcement. "There was a brutal murder in Dong Tam."
"Now that these facts are stated in our petition and we are in compliance with Article 144 of Vietnam's Criminal Procedure Code, then we denounce the case." 
Former police Colonel Nguyen Dang Quang, visiting Le Dinh Kinh
Colonel Nguyen Dang Quang is a former security officer with 40 years of work, gave an explanation for the purpose of the Ministry of Public Security – a tool of the Communist Party that suddenly attacked Dong Tam village and killed revolutionary party member Le Dinh Kinh with a series of submachine bullets.
Colonel Nguyen Dang, who observed the incident for quite a long time, said that: "a large-scale campaign with a powerful force is well prepared in every detail."
The Ministry of Public Security has attacked Hoanh Dong Tam Village for four main purposes:
Kill Le Dinh Kinh
Confiscate all records, documents and evidence that the involved parties are keeping
Arrest all "Dong Tam Consensus group",
Destroying 3 adjacent houses of Le Dinh Kinh's family to threaten others!
The intellectual group visiting Mr. Kinh (from the left): Prof. Nguyen Khac Mai- former director of Research Department of the party's Central Commission for Public Affairs, Security Colonel Nguyen Dang Quang and veteran journalist Nguyen Dinh Am
The article about the Dong Tam massacre by Colonel Nguyen Dang Quang stated "How can you be so cruel to your comrades, a party member who has never been disciplined by the party, a citizen without a criminal record, and has not been convicted as a criminal before any court?"
"At 04:00 on January 9, 2020 when everyone was deep in sleep, and there was only half a month left until the Lunar New Year festival, police scared the whole society."
"I assert that the Communist Party of Vietnam has committed an extremely serious mistake when it decided to use violence instead of peaceful dialogue or legal proceedings in court, resulting in a bloody outcome for both sides, causing divisions in society."
"Try to ask, 93 million Vietnamese people, especially 4.5 million overseas Vietnamese, from now on, will anyone believe in the Party's policy of "great unity, harmony, national reconciliation" when the Party launched a force to kill people right in peacetime? After the attack in Dong Tam, the answer is NO.
When the appeal of the four retired cadres is sent to the Secretary-General of the United Nations, the whole world will know about the crimes of the 3 Vietnamese highest leaders General Secretary cum President Nguyen Phu Trong, Prime Minister Nguyen Xuan Phuc and National Assembly's Chairwoman Nguyen Thi Kim Ngan against Vietnamese.
Hoang Trung from Ha noi – Thoibao.de (Translated)