Currently, there are 28 countries, 2 territories and 1 yacht are suffering from infection of the nCoV virus, not to mention 6,000 people in critical condition and certainly hundreds of them will die before sunrise tomorrow morning.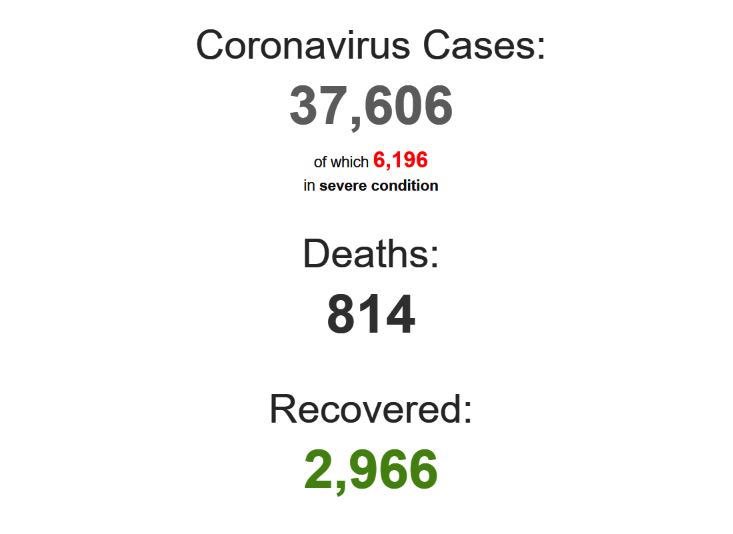 A total of 37,600 people were diagnosed with corona virus infection, including 6,196 critical cases.
The number of people dying of the corona virus reaches 814, surpassing the number of deaths from the SARS epidemic (the final death toll is 774 in 2003) and surpressed the MERS epidemic (the final death toll is 858 in 2012) .
In China's Hubei province alone, the epicenter of the virus outbreak, the number of deaths has reached 780, according to regional health officials. Only two were outside China with one in Hong Kong and one in the Philippines.
From the first day that China confessed to the world about the nCoV pandemic (Jan 16) with the reported number of 45 infected people.
23 days have passed and the world has 37,600 people infected with 814 deaths.
In China, from 45 patients increased to 1,000 in just 7 days. Two days later, it doubled to 2,000 people. Five days later, it reached 10,000. From 10,000 to 20,000, it only takes 4 days. After another 5 days … we are about to witness the figure of 40,000 infected people …
No one has ever been able to predict the peak of the epidemic in about a week or a month … as the number of infections continues to rise and the mortality rate appears to stabilize at 2.1%.

No scientific organization has identified the peak of the epidemic: The World Health Organization (WHO) representative in China said that it is necessary to be alert, because the disease is far from over.
"All the predictions right now are impossible. We have only had less than a month to learn about this virus. We are learning more and more about it. But it is still not possible to predict what the situation will be. The epidemic may be far from over and we cannot be subjective," said Dr. Gauden Galea, WHO representative in China.
Corona virus can be transmitted through air dust
Shanghai Bureau of Internal Affairs confirms information from scientific reports in China, announcing that nCoV is transmitted by air in the form of tiny liquid particles and is likely to spread far.
Speaking at a press conference in Shanghai (China) on Feb 8, Mr. Zeng Qun, deputy director of the Shanghai Municipal Administration of Civil Affairs, said medical and epidemic prevention experts identified nCoV that can be transmitted via aerosol, Tuoi Tre newspaper quoted Xinhua news agency.
Infection via aerosol means only droplets of virus-containing water are dissolved in the air to form aerosols, suspended in the air. Ordinary people can become infected if they breathe in aerosols containing viruses. According to the Tai Tan news site, this information means that a normal person can get nCoV by breathing in a mixture of air and droplets containing the patient's virus.

Many studies have shown that viruses like the H5N1 and SARS avian viruses can be transmitted through aerosols, which can stay in the air for a long time. The main routes of transmission of nCoV were formerly known as "contact spread", and "direct transmission" (including transmission through saliva droplets emitted by patients).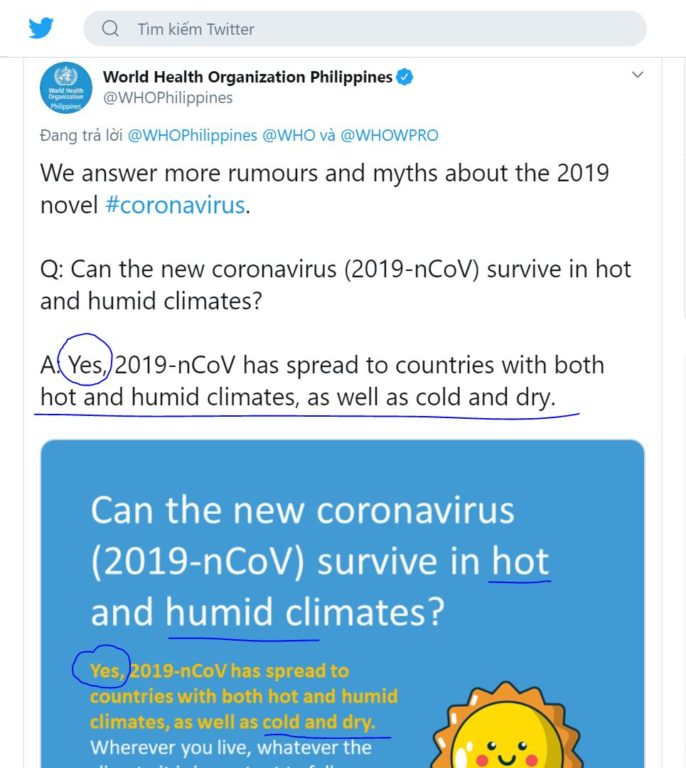 The term "aerosol" in English and the word used by Zeng Qunhas prompted a debate among Vietnamese Ministry of Health's officials and public opinion on Jan 9. The Ministry of Health explained that "aerosol delivery" means that the virus can only spread through a steam pipe, not through air dust. The purpose of the Ministry of Health was deliberately interpreted in the direction of reducing the risk of viruses, but the experts concluded that:
Aerosol – i.e. aerosol spray or droplets emitted during daily conversation, laughing, singing, etc. Particle size is generally 0.1 mm or less. After exhaling, the body rapidly evaporates (within 1 second or even tens of milliseconds) to form the core (particle). A few microns in diameter and dripping nuclei stay in the air for a long time and travel with the air, and its propagation distance can reach hundreds of meters or even longer. It increases non-contact transmission risk.
In summary, it is very dangerous, not as the Ministry of Health explained and nCoV may also be able to live in the environment outside the human body for some time. And that environment is a drop of water, air dust, or surface … it depends, where it clings to and where it lives.
The Philippines representative office of the World Health Organization issued a warning and dismissed rumors that nCoV could not survive the hot and humid weather. WHO Philippines says:
"nCoV has spread to countries with hot and humid climates and countries with cold and dry climate". The hypothesis that nCoV does not grow under hot and humid conditions is just inference. This information is extremely important for South Vietnam, where people and authorities are mistakenly thinking that the virus is not dangerous because the temperature is almost higher than 25 degrees Celsius.
50% of secondary infections occur during the incubation period of nCoV
At least 50% of human-to-human transmission of 2019-nCoV virus infection occur when the first person has no symptoms.
The results of the study were presented by a group of Japanese scientists. According to a research team at Hokkaido University, by analyzing 26 cases of 2019-nCoV virus infection from person to person in 6 countries, including China, Thailand and the United States, the duration of secondary infection was shorter than the previous estimates.
The team called for strengthening preventive measures as well as improving the health care system to prevent the spread of the disease, instead of focusing solely on isolation measures from the community.
The latest news says Diamond Princess Cruise has just confirmed 6 more new infections. The number of cases detected so far has been 70, pushing the total number of people infected in Japan to 96.
Before being isolated on Yokohama Sea in Japan for detecting many cases of positive for corona virus, Diamond Princess cruise ship had visited Vietnam 5 times in all three regions of North, Central and South including: Ha Long Bay , Da Nang, Hue (Chan May port), Ho Chi Minh City.
Sharing with the press, Mr. Nguyen Trung Hieu (Cau Giay) – one of the tour guides in the delegation worried: "When I first came to the delegation, I did not know that there were people infected with the flu, so when I got home I was still exposed with relatives without a mask or isolation.
It was only when the press reported on board that there were people infected with the flu that I limited contact with family members and isolated . Currently, I'm still normal, have no signs, but tomorrow I will go to the nearest hospital to check. I hope everything is fine."
Some Vietnamese tourist guides on the Diamond Princess continue to lead other tours, work normally, do not fully implement the isolation measures as prescribed.
According to the report, Vinh Phuc accounts for 9/14 cases of nCoV virus infection. Of which, 3 cases were transmitted to relatives during Lunar New Year festival or Tet holiday by people returning from Wuhan.
The latest 14th patient is a 55-year-old female who works as a freelance worker in Son Loi commune, Binh Xuyen district.
The two previous female patients found were, P.T.T., 49 years old, in Son Loi commune, Binh Xuyen district, the mother of patient N.T.D. who had been tested positive for nCoV.
Previously these patients had been exposed from the community since Jan 17.
It is known that both newly discovered patients have a history of epidemiology, being relatives of patients N.T.D. – one of 7 people sent to train in Wuhan city by Nihon Plast Co., Ltd. of Japan. These workers returned to Vietnam on Jan 17.
According to the report of the Vinh Phuc Department of Health, the total number of suspected cases being monitored since the disease outbreak was 25, of which 17 cases had test results (15 cases were negative, 2 cases were positive), and there are currently 8 cases awaiting test results.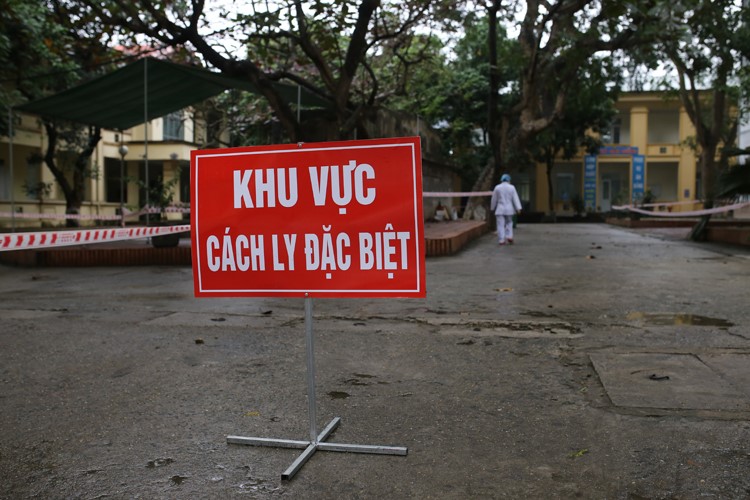 The total number of closely related cases close to the nCoV-positive cases were tracked as 134. Of these 4 cases were negative, 130 were being followed.
WHO Director General Tedros Adhanom Ghebreyesus, meets with Xi Jinping
A petition by a man named Osuka Yip has now been signed by nearly 350,000 people, writing that on Jan 23, "Mr. Ghebreyesus refused to declare the corona virus outbreak in China as a global emergency."
Since then, the number of people infected has risen sharply and partly due to "Tedros Adhanom Ghebreyesus's underestimation of the corona virus."
"We strongly think that Tedros Adhanom Ghebreyesus is not suitable for WHO chief. We call for an immediate resignation of Tedros Adhanom Ghebreyesus."
The petition also said that Mr. Ghebreyesus had full confidence in the number of deaths and infections provided by the Chinese government.
A lot of us are really disappointed, we believe that WHO is considered politically neutral. Without any investigation, Tedros Adhanom Ghebreyesus only believes in the deaths and infected numbers provided by the Chinese government.
On the other hand, Taiwan should not be excluded from WHO for any political reasons. Their technologies are much more advanced than some selected WHO list countries.
Please help the world gain confidence in the United Nations and WHO again.

Dr Li Wenliang was the first doctor to raise a warning about the risk of corona virus, and thus was summoned to the Public Security Bureau and charged with "making false comments" that seriously disrupted social order. "Under the great pressure of public opinion, the Supreme Court of China on Jan29 made an unprecedented move ever before issuing a statement condemning Wuhan police for punishing eight people who were supposedly spreading "rumors" online.
The death of the Chinese doctor who sought to warn of an outbreak of corona virus without success, caused public outrage and grief across China.
Accompanying grief and anger is the loss of confidence in the government, the seed of dissent. Chinese censorship is now working to counter opposition.
In a rare solidarity, nearly every element of Chinese society questions: "Freedom of speech – why there is no freedom of speech for people, why no right to question and the right to know, and why all media is the mouthpiece of the government !!!"
No such collective reaction has ever been witnessed, at least since 1989 when the Tiananmen massacre occurred.
The number of people infected and dying from Coronavirus is constantly increasing, which is particularly serious in China and has recently spread to Vietnam, but the horror caused by this pandemic is being covered up by state media in both countries. The two countries, under the rule of communism, deliberately concealed the truth, despite its dangers.
The Vietnamese people have only a way to prepare themselves in advance for the means and materials, to take care of their own lives and their families in the face of the coming disaster from China.
Thu Thuy from Hochiminh city – Thoibao.de (Translated)