Two activists Nguyen Quang A and Trinh Ba Phuong called on independent investigators and journalists to take action to clarify the case, or at least pressure the Vietnamese government to provide trustful information on the case, and stressed that last month's Vietnamese police raid on Dong Tam was "a very big crime."
The crackdown on Jan 9 was essentially a crime. It can be said that the government is a force that has defied the law as well as all international conventions, said young activist Trinh Ba Phuong.
From his observations, activists assert that the evidence shows that Mr. Kinh was "murdered" by the police, whereas, on the contrary, the deaths of three policemen are a story made by police without solid evidence.
Dr. Quang A said: "We have come to the place where I look at that sky well, far from Kinh's house. Up to the top of Kinh's house, Kinh cannot go there because it is 6-7 meters away. If 3 people died there, were burned there, there must be a trace, however we see no trace at all."
At 18:00 on Feb12, Mr. Phuong informed urgently on FB that the police were gathering at widow Du Thi Thanh's house to request to take all the windows and traces with the bullet marks. They said that they need to take the glass doors to test, Mr. Thanh said that she threw it all away (because one day before hẻ family had replaced another door), they threatened, and then forced Thanh to sign a piece of paper. Thanh answered that if they want their paper to have a signature, they would call her dead husband to sign. Later she lit incense and called Mr. Kinh's name, the policemen withdrew. The scene of the bullet marks has been taken by many people, but the police still want to erase the tracks.
Did the article "Crime in Dong Tam" by Prof. Hoang Xuan Phu have an impact on the world?

More than a month has passed since the raid with 4 deaths and many were arrested, activists and public opinion have not stopped questioning the situation leading to "painful" deaths. Lawyers Dang Dinh Manh and Le Van Hoa visiting Mr. Le Dinh Kinh's house More than a month has passed since the raid with 4 deaths and many were arrested, activists and public opinion have not stopped questioning the situation leading to "painful" deaths.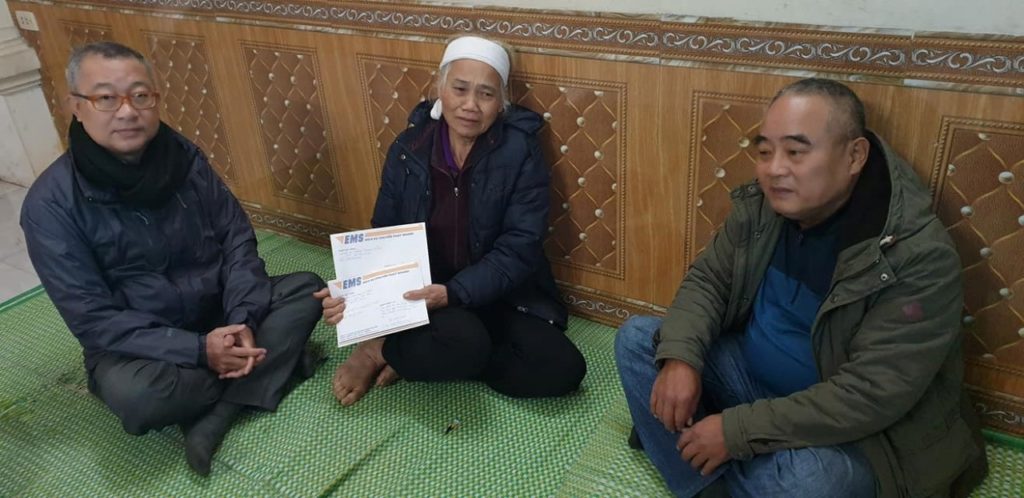 Mr. Phuong has been intimidated by the police and authorities. Even so, it did not make him tremble, he said: "Whether they threatened or tried to imprison me, even if they had shot me in the head with guns, I would never be silent over this crime because this case is serious. Today it takes place with Mrs. Kinh's family, tomorrow it can happen with other families, in the future it could happen to my own family. That's why I feel that this is my responsibility to denounce this crime to the public."
Activists also prepared a 64-page "Report on the Dong Tam Attack" addressed to international human rights organizations and many lawmakers in the US and Europe.
Activist Pham Doan Trang predicts that the Vietnamese government "is trying to bring the case to trial as quickly as possible, to calm public opinion," possibly even resulting in at least "a death sentence."
Doan Trang urged the public to disseminate the report aimed at promoting an independent investigation: "Only an independent investigation is a hope to protect the fragile lives of people in solitary confinement awaiting the courts."
With the title of Crime in Dong Tam – Prof. Hoang Xuan Phu, Institute of Mathematics, Vietnam Academy of Science and Technology, had an investigative analysis in the field in Dong Tam. He photographed a lot of positions considered evidence of the case.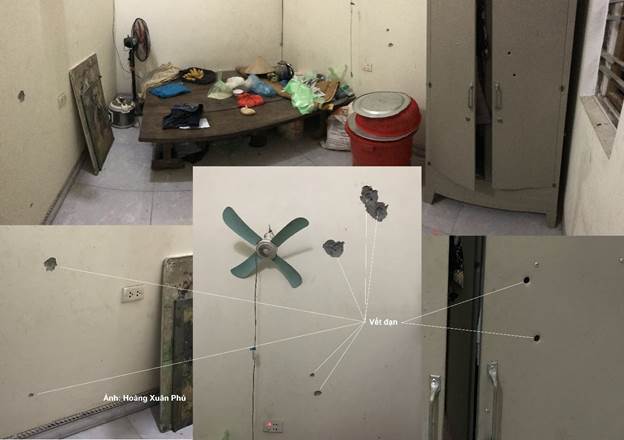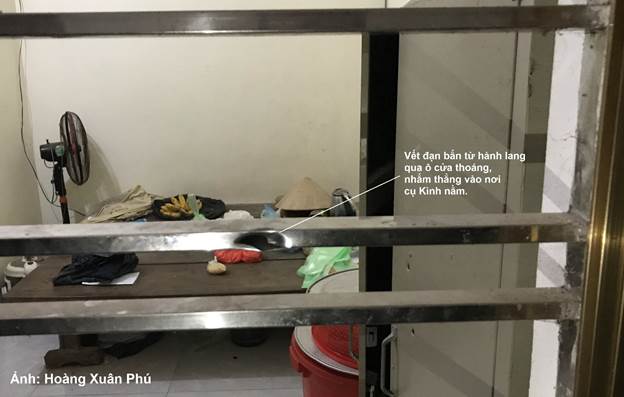 "On the evening of Jan 10, Major General To An Xo, chief of the Office and spokesman of the Ministry of Public Security said that during the autopsy, Le Dinh Kinh held a grenade in his hand."
On the morning of Jan\ 14, 2020, Deputy Minister of Public Security Luong Tam Quang released more details: "There is still a hand grenade in Le Dinh Kinh's hand after throwing an unexploded bomb."
A elderly lying in bed in a tight bedroom (size 2.4 m x 3.6 m), did Mr. Kinh throw a grenade to kill himself? If he was going to kill himself, he would only need to pull out the grenade pin, no needs to throw.
However, that information has been posted in many places, such as Vietnamnet, Workers, Dat Viet, Ho Chi Minh City Police, Today, VTC News …
An 84-year-old old man who once suffered a broken thigh bone in 2017, where does he get his strength to oppose the person on duty?
Specifically crippled legs, lying in bed, so what did make him holding grenades? The staff transporting his body from his house to the place of autopsy were probably in danger, but leaving the dead to hold grenades in their hands during long distance transportation?
In the end, Kinh was killed with several shots, including one shot directly to the heart.
And yet, Kinh's body was also taken and slit along the neck to the bottom of the abdomen.
Usually, when an autopsy is performed, a full-body brake is performed if the cause of death is needed. But they knew all too well why he died, so there was no need for such an operation.
If surgery to pick up the warhead, to non-tang, then only need to open the shot area. If operating to see if Kinh has swallowed documents, evidence or not, then just need ultrasound, or endoscopy, they would know that he did not swallow anything. So why open the brakes like that?
On the morning of Jan14, Deputy Minister of Public Security Luong Tam Quang also told journalists:
"… they fell into the pit … Immediately, the subjects used petrol bombs, poured gasoline into cans to irrigate and burn. Through the process of fighting for exploitation, Vietnam Television went into exploitation and the the subject confessed all acts under the direction of Le Dinh Kinh."
If indeed Mr. Kinh had committed such crimes, why not probe, detain and then take him to public trial, in accordance with the order prescribed by law?
When announcing Le Dinh Kinh's death, the police confirmed: "The testimony of some of the arrested individuals confirmed that Mr. Kinh was the leader, who masterminded activities against the government and violated the law in Dong Tam case."
If indeed Mr. Kinh had committed such crimes as the police had accused him, why did the leader of the Communist Party of Vietnam did not expel him from the party? As a rule, party members are usually expelled before being arrested, and at the latest, expelled before being tried by a court. So, why did not expel Le Dinh Kinh from the party before killing?
The simple answer is: Citizens Le Dinh Kinh (84 years old) as well as party members Le Dinh Kinh (58 years of party membership) is not guilty. Therefore he can not be arrested and sentenced.
Observe the traces of torture left on the faces of Le Dinh Cong, Bui Thi Noi, Le Dinh Quang and Le Dinh Doanh, to visualize the degree of forcing. And if that is not enough, listen to the words of widow Du Thi Thanh (Le Dinh Kinh's wife):
"Police forced me to confess that we held grenades at our house. I said I did not know how the grenade was, I did not know how the petrol bomb was, I could not declare it. So they slapped my face from one to the other side. Then he kicked my legs like that. "
Why did all three police officers fall into the same technical pit? It was said that three officers fell into the technical pit because it was too dark, but did they be not equipped with lights?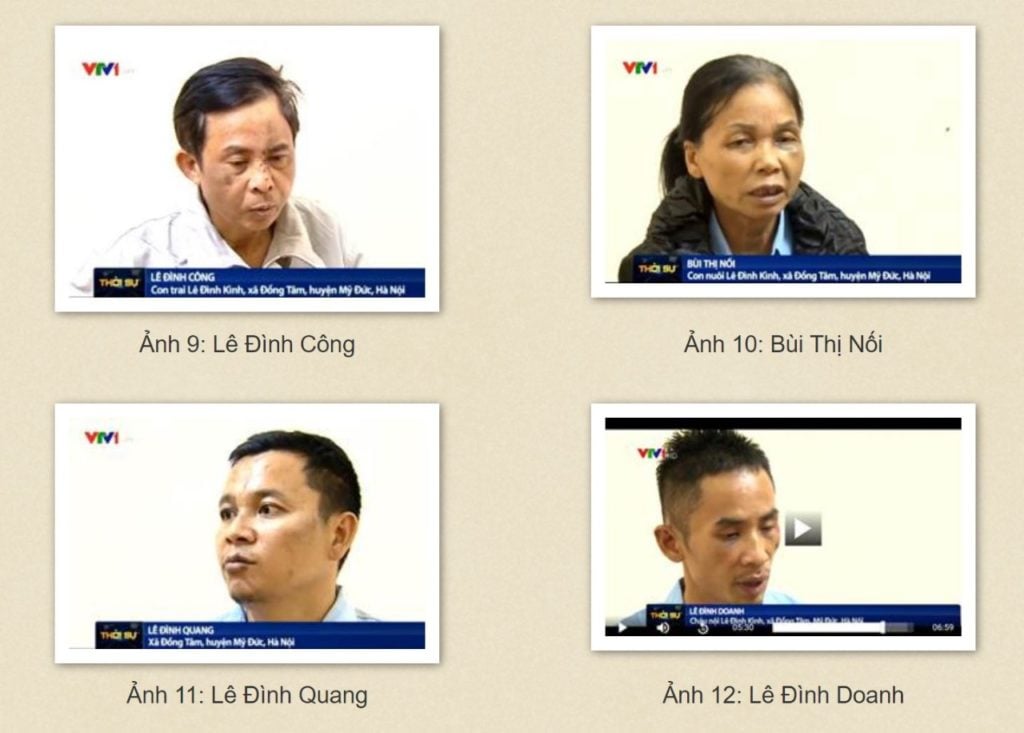 In fact, when the attack occurred, the area around the technical pit was not dark, even when the headlights were directed at it. And the area was not covered by smoke either. Seeing images extracted from the video clip of the VTV news, the three police officers must have seen the technical pit.
Yet still fell into the pit, and then was assessed as "particularly excellent feat". It would have been necessary to seriously learn from the experience of the entire police force, in order to avoid recurring the same fatal mistakes. In contrast, at the request of Prime Minister Nguyen Xuan Phuc, provincial police launched a movement of learning three martyrs who had died in Dong Tam.
Learning what? Method of falling into a pit?
This shows that the ruling power most wanted in officers and soldiers is not the skill and effectiveness of fighting, but the absolute instinct to obey orders regardless of right and wrong, and accept sacrifice. even when it's meaningless. Only by doing so, would they point their guns at people's heads and point at each other, ready to pull the trigger whenever ordered.
After dying, the martyrs must have realized the humor of the slogan "The party and me". Because the party is still, but I have gone.
On Jan 10, President Nguyen Phu Trong signed Decision No. 41 / QD-CTN, awarding first-class Victory Medals to three individuals Nguyen Huy Thinh, Duong Duc Hoang Quan and Pham Cong Huy for "a particularly outstanding feat of accomplishment." With this decision, the President also made a feat with three records.
Bullet holes shot out of a window aimed at Mr. Le Dinh Kinh sleeping room
The first record is about time: The decision was signed by President Nguyen Phu Trong just a day after three police officers made a victory, 4 times faster than the time that President Tran Dai Quang needed to sign the decision to award the Second-class Victory Medal to the police lieutenant, Lieutenant Minh Luu, who died while pursuing the murderer.
The second record is for generosity: Both officers were awarded the First Class Victory Medal. Recalling that: Police lieutenant Luu Minh Thuc was only awarded the second-class Victory Medal. Of the 18 military officers who died in the Mi-171 airplane crash, only three senior officers were awarded First Class Victory Medals, two officers received second-place medals, and 13 remaining officers were with third-class Victory Medals.
This demonstrated that the attack against people of Dong Tam is much higher than the defense and capture the murderers.
The third record is for pioneering: In the Decision signed on January 10, 2020, President Nguyen Phu Trong called Lieutenant Colonel Nguyen Huy Thinh as Colonel, and other two officers with higher ranks although a day later, the Ministry of Public Security signed a decision to promote the rank to the three men.
Afterwards Duong Duc Hoang Quan was promoted to Lieutenant and Pham Cong Huy to Captain. That is to be granted two levels, while martyrs usually only be granted one level only.
The actions of the Ministry of Public Security headed by General General To Lam attacked and killed elderly revolutionary Le Dinh Kinh, became a terrible crime, goes into criminal history in Vietnam.
More seriously, shortly after General Secretary Nguyen Phu Trong and PM Nguyen Xuan Phuc immediately signed and awarded the First-Class Victory Medal to three policemen who died from this pointless shooting.
The Vietnamese people at home and abroad, together with the international community, have no doubt, from here, they officially label the ruling Communist Party in Vietnam a terrorist state.
Thu Thuy from Hochiminh city – Thoibao.de (Translated)