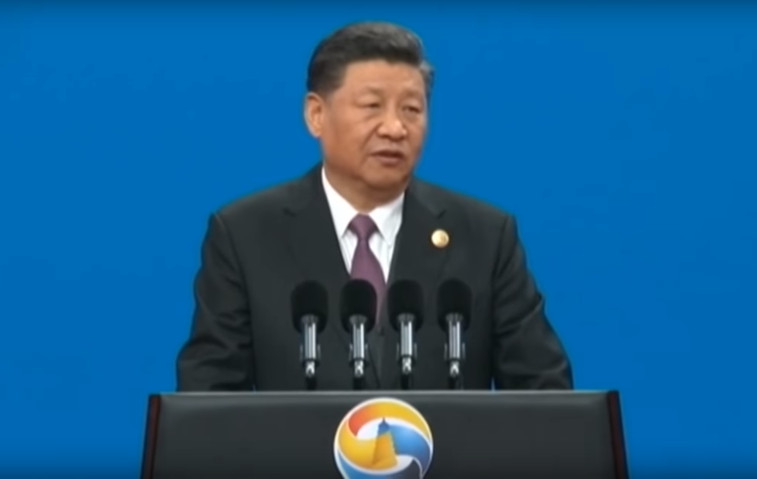 China's ambitious Belt and Road Initiative is facing an unexpected obstacle from the corona virus that has halted construction projects for railways, highways and ports around the world.
Originating from Wuhan City in central China, the disease, officially known as Covid-19, has been spreading rapidly since it was discovered in December 2019 in the country. China has so far reported a total of 75,567 virus infections to the World Health Organization (WHO) including 2,239 deaths.
Travel restrictions to prevent the spread of the disease have stagnated most of the world's second-largest economy and suspended the operation of key projects in the Belt and Road Initiative (BRI). President Xi Jinping's goal is to expand China's influence by developing infrastructure and investments around the world.
Chinese workers are unable to access projects abroad, and factories have cut off the source of imports from China they need to continue operations.
China's top agency in charge of state-owned companies on Tuesday said the outbreak had caused "difficulties" for a number of overseas projects and investments.
In some places on the Belt and the Road, the effects of coronaviruses are evident.
More than 133 countries have imposed entry restrictions on Chinese nationals or those who have been to China, according to China's National Immigration Administration.
"China has contacted foreign companies, owners abroad, and governments as soon as possible to obtain support and understanding," said Peng Qinghua, general secretary of the Board of Directors of Asset Management.
A typical example of the stalled projects is the $6 billion high-speed rail project of China Railway International Corporation in Indonesia that is currently operating in a holding position, Reuters reported.
The state-owned enterprise set up a task force to monitor the spread of the Covid-19 virus and called on all Chinese employees to return home for the Chinese New Year to not return to Indonesia, a chief executive said. The company's senior told Reuters on condition of anonymity, as he was not allowed to speak to the media.
The company prevented more than 100 Chinese employees, mostly high-level workers or managers, from returning to work on a project linking the Indonesian capital Jakarta with the Bandung textile center, about 140 km of distance, the chief executive said.
  
"We have to focus on the less important parts of the railway project until some of our key people get back to work," he said. "We started 2020 without a smooth ride. Our project has been delayed and disreputable, and the corona virus presents even greater challenges."
The new strain of corona viruses also begins to disrupt supply chains, allowing companies to access key components and machines.
Dr. Khuong Huu Loc, an economic observer in Texas, USA, said that this delay would pose a challenge to countries that borrowed capital to execute huge infrastructure projects when "bank interest" rises in the context of China's economy and the uncertain world.
But he said the corona virus epidemic could be a temporary challenge and will not cause many countries in the long-term to reconsider their participation in the Belt and Road Initiative because of its size and strategy.
"The $26,000 billion BRI program lasts 7 years, 10 years is a long-term path," he said.
 
"Many factories in China are still closed; open factories cannot operate at full capacity, "said Boyang Xue, a China analyst at Ducker Frontier. "Because many BRI projects tend to source equipment and machinery from manufacturers in China, disruptions in industrial production and supply chains will cause further delays."
"The reason these countries want to participate is because they want to find a way out. The corona virus, more or less influential, did not change the intention of these countries because they chose China to borrow money to expand airports to expand their business. And they keep going. "
Bangladesh announced a delay in several infrastructure projects, including the operation of the Payra coal power plant, which is expected to begin commercial operations in early February.
More than 2,000 Chinese workers work at the factory and about 40 percent of them went home for the Chinese New Year holiday, local media reported. Twenty people were allowed to return to work on Monday after 14 days of isolation.
The corona virus challenge to project contracts in the Belt and Road Initiative comes after China met countries' reactions in 2018, when officials in Indonesia, Malaysia, Sri Lanka and elsewhere criticized that the projects are expensive and unnecessary. China withdrew several projects after several countries intended to revise, cancel or reduce commitments, citing concerns about costs, sovereignty erosion, and corruption.
Decode the "debt trap" in China's Belt and Road Initiative
China is one of the leading countries in the world. Most of the official money that China makes abroad is invested in loans for infrastructure, power and communication projects.
The above projects are part of the "Belt and Road Initiative" (BRI) – China's main vehicle to promote development both domestically and abroad. By investing in infrastructure, China wants to better connect with the world and increase trade along this path. Five years after Chinese President Xi Jinping announced the BRI plan, China spent about $ 25 billion on infrastructure projects.
But the question arises to what extent have the borrowers benefited from these Chinese investments?
Paul Haenle, former US government adviser and director of Carnegie-Tsinghua Center, summarized the comments: "Some believe that China is practicing 'debt trap diplomacy'through BRI, making developing countries fall into a debt-dependent state, and that debt is transformed into political influence."
Haenle further explained: "Special concerns about China's activities in Sri Lanka, Pakistan, and Malaysia are at the heart of the debt trap debate. China won a 99-year operation at the port of Hambantota, southern Sri Lanka, after the cost of the project went out of control, prompting Sri Lanka to relinquish control of the port to in order to receive China's rescue package."
It is no longer new for China to offer other options other than payment if these countries are ineligible to repay them. In 2011, it was reported that China had cleared Tajikistan's debt in exchange for 1,158km2 of territory in disputed areas between the two countries, according to a CDG report.
Still, according to Haenle, the debate over debt traps became even more prominent when, in 2018, Malaysian Prime Minister Mahathir Mohamad canceled $23 billion in BRI projects.
The current Malaysian government recognizes that some Chinese investment projects in their country are unusual. The Malaysian Prime Minister is seeking to cancel those projects.
On August 13, Malaysian PM Mahathir bluntly told the US news agency AP that he wanted to cancel three multi-billion dollar projects with China.
Earlier, under the direction of Mr. Mahathir, the Ministry of Finance of Malaysia had called for stopping these 3 projects. All three projects, with a total value of over $ 22 billion, involve Chinese state-owned companies.
Mahathir also stated that if the projects cannot be canceled, Malaysia will at least continue to stop them until they are truly needed.
A series of Chinese-invested hydroelectricity in China's Road Ring plan threaten to kill the Mekong River and the Mekong Delta of Vietnam.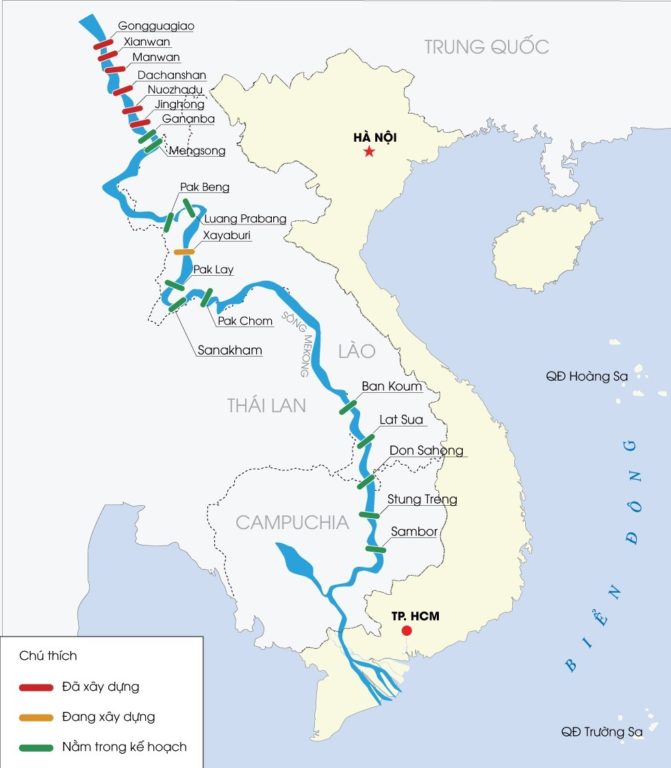 The Tuổi Trẻ newspaper on February 21 reported that China announced that it would discharge water fro its dams on the Mekong, but the water would not reach the Mekong Delta. "Now China discharges the dam, and if it reaches the Mekong Delta, it will take three weeks later, then the rice shortage of water here will also die," said a deputy director of the Institute for Climate Change Research of Can Tho University.
To date, China has built 6 hydroelectric dams along the Mekong. Laos and Cambodia plan to build more than 10 dams, and not stop there.
A report in Cambodia earlier this month said 30 hydroelectric dams are currently under construction in Laos and seven in Cambodia, mostly funded by China.
The construction of hydropower plants will cause drought in the Mekong Delta. Scientists warn the construction of a hydroelectric plant will reduce 6.2% of the monthly water flow.
Vietnam is the country most affected by the impact of hydroelectric dams on the upper Mekong. However, the Vietnamese government is leaving the people of the Mekong Delta to rescue themselves.
Moreover, a Vietnamese company, Petro Vietnam Power Corporation, is a party involved in the construction of the Luang Prabang dam with Laos. This dam, together with many other upstream dams, will "kill" the Mekong Delta in Vietnam.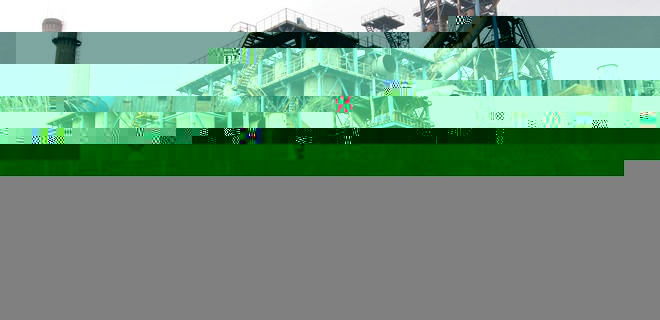 The Vietnamese press recently raised a series of ineffective projects expected to lose several trillion dongs, related to Chinese investment, typically 4 projects: Cat Linh – Ha railway project, Lao Cai – Hanoi – Hai Phong railway project, Ninh Binh fertilizer factory, Thai Nguyen iron and steel factory expansion phase 2.
Violations in this project also related to Chinese contractors, which led to Mr. Hoang Trung Hai – to be removed from the Secretary of Hanoi Party Committee.
Virtually all of Vietnam's major off-the-shelf projects have Chinese figures with issues such as unclear contracts, high interest rates, accompanying conditions such as using materials and construction parties from China…
Concerns about the Vietnamese government's concessions or "entanglement" of corruption with the Chinese side, which will lead to concessions on sovereignty such as the case of Sri Lankan, Pakistant are completely justified.
The cause of the situation that Vietnam is deeply entangled in the Chinese debt trap is due to ideological numbness, low level of knowledge and extreme corruption of the Vietnamese officials and weak mentality, looking forward to rely on the Chinese elder.
China, meanwhile, is the master of the art of bribery and manipulation, because it is so well versed in the psychology of the Vietnamese leadership because of the similarities of the two Communist dictatorships.
China and Vietnam are both countries still applying Communist dictatorship. There is no communication and freedom of speech here, unexpected disasters for the people of the two countries also come from here and the most disadvantaged group are still the ordinary people.
Thu Thuy from Hochiminh city – Thoibao.de (Translated)