Covid-19 disaster is raging all over the world, but Vietnam says it has been able to control the epidemic, what about the reality?
While international media is covering increasing outbreak in countries outside of China such as Japan, South Korea, Italy and especially Iran with 50 deaths from Covid-19, Vietnam's state-controlled media reported that the country has been able to control the epidemic.
As of Feb 21, 15 out of 16 patients infected with Covid-19 reportedly had recovered and were discharged from the hospital, only the 16th patient in Vinh Phuc province may also be sent home soon. Thus, if there is no new case detected in Vietnam in the coming days, is it possible that Vietnam has succeeded in controlling the epidemic?
Right from Feb 1, Prime Minister Nguyen Xuan Phuc decided to announce the establishment of a National Steering Committee for epidemic prevention and control, and at the same time continued to exhort "fighting against epidemics like fighting against the enemy."
Citing Deputy Minister of Health Nguyen Thanh Long, Tuoi Tre newspaper wrote on Feb 22 that Vietnam has used the "unprecedented" measures to prevent the Covid-19 epidemic: 14 days of adequate isolation with suspected people and those who came or went through an epidemic area, even considering all people from Hubei (China) to Vietnam as patients, must be isolated.
Although not closing the entire border with China, but Vietnam has suspended flights between Vietnam and China, suspending visa for Chinese tourists. Vietnam has also been the first country outside of China to isolate an entire commune of more than 10,000 people in Vinh Phuc province since Feb 14, with an expected isolation time of 20 days. Concerned about the spread of disease, Vietnam has also prepared many field hospitals in a number of provinces and cities.

So far, although the country has a long border with China, receives a lot of Chinese tourists and does a lot of business with its northern neighbor, Vietnam has only announced four affected provinces named Vinh Phuc, Khanh Hoa, Thanh Hoa and Ho Chi Minh City.
According to current regulations in Vietnam, local authorities can announce the epidemic control after 28 days since the health sector has managed to control the source of infection, since the last patient was isolated at the hospital. As such, Khanh Hoa, Thanh Hoa and HCM City are the three localities considered to be eligible for announcing the end of an epidemic. In the immediate future, Thanh Hoa province, where a case was discovered on Jan 24 and recovered from Feb 3, is seeking permission from the government to announce the end of the epidemic.
First of all, let's see how patients in Vietnam are treated, Dr. Truong Huu Khanh, Head of Infection Department of Children's Hospital I, Saigon, explained:
"In fact, the treatment of viral pneumonia is a very classic one, because the corona virus is a virus without a genuine cure. In Vietnam, for light patients, medic workers treat symptoms and for severe patients, they support breathing and antibiotics to fight superinfection. Third, they have to treat underlying medical conditions such as diabetes, cardiovascular disease, and chronic lung disease, to keep those underlying conditions from getting worse during the time they were infected with Covid-19. The treatment regimen in Vietnam is currently like that, but there has not been any special use of antiviral drugs."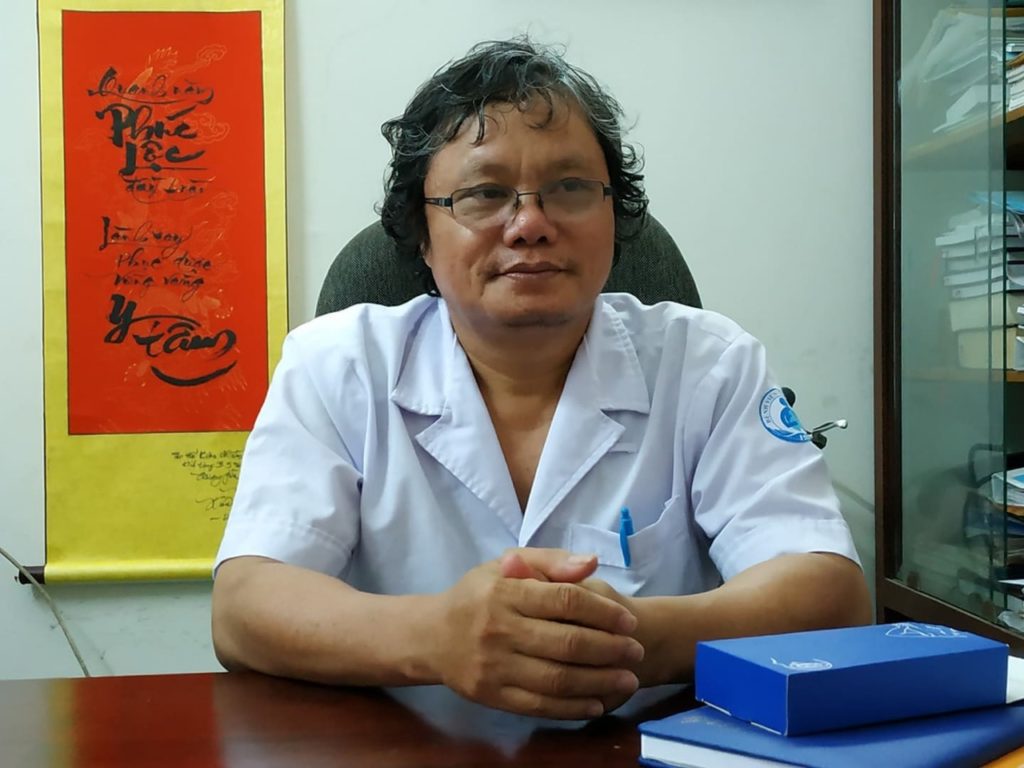 Dr. Truong Huu Khanh said "Actually testing by RT-PCR (Realtime Polymerase chain reaction) is not a new method, because the general principle of that test method is that we only need Using a virus-specific bait, we can test for equivalent diseases. Important is the bait, but the testing machines are available everywhere. Testing by PCR method, the true positive and negative are very high, while the rate of "false" or "false" negative is very low.
Regarding the hospital discharge standard of Vietnam, this is a new virus, Vietnam also could not study how long after I can spread it on the negative throat, then after how long it is positive but still not contagious. Vietnam has studied other diseases such as flu, measles, although it is positive, but still can not be transmitted, because the concentration is too low.
And this is a new virus, so Vietnam decided that in order for patients to be discharged from the hospital, there must be two conditions: Firstly, it is the safety of the patient, that is, the patient is really cured, the results of the review If the test has to return to normal, even if there are underlying diseases, it must be cured. The second is that the patient has to return to the community safely
So in Vietnam, people use the PCR method: testing twice in two days and the patient should not do anything that could falsify the results, for example, before the sample takin, gargling with an antiseptic solution will give incorrect results. So you have to be strict about that. If the smears are tested twice a day and the result is negative, then the patient is not likely to be infected. If either of these two times is positive, it is mandatory to start again."
But in the context that the Covid-19 epidemic is still raging in China and increasingly spreading to the world, it is still too early to confirm that Vietnam has contained this disease. Doctor Truong Huu Khanh also proved cautious:
"In Vietnam, it has been quite a long time since the last patient had been sick while there are no new infections and we continue to isolate the suspicious objects so that no new case can be invaded from outside, the ability to control the disease is good.
If Vietnam is the first country to control the epidemic, then it can be said that until now, but the flow of imports continues to come in, it is sure to continue to prevent those from abroad still contagious. Vietnam today is under control.
In my opinion, it is still necessary to continue to prevent the epidemic until China and other countries that have trade with Vietnam have stopped the epidemic, until the whole world declares no more cases. This may be the case for any country, not just for Vietnam."
The second pressure made Vietnam unable to completely close the border with China like some other countries, but had to clear the border gates in Lang Son and Lao Cai provinces to clear hundreds of agricultural goods stuck at the border.
Apart from China, Vietnam has another concern, that is, South Korea, which has just been put on high alert after more than 833 people were infected with Covid-19, and a total of 8 people died from the disease (ranked second in the number of patients and deaths after China), and South Korea is also home to 48,000 Vietnamese workers, including 4,000 in Deagu and Gyeongbuk, two outbreaks of Covid-19 in Korea.
The National Steering Committee for the Prevention of Epidemic Covid-19 has not considered Korea as an epidemic area like China, and the Hanoi city government has asked to isolate Koreans from the affected areas, as well as to isolate the Vietnamese from the Korean epidemic region returning to Hanoi.
Currently, the Vietnamese Ministry of Transport has not decided to suspend flights between Vietnam and South Korea, according to Deputy Minister Le Anh Tuan, but probably could not eliminate this possibility if the situation of Covid -19 epidemic in South Korea get worse. Currently, air traffic between the two countries has been reduced by about 65% and now flights from Vietnam are only returning passengers to Korea.
However, many people are skeptical about the figures published by the Vietnamese press on the number of Covid-19 cases in the country. At least 3 news reports of deaths from the Hospital have symptoms very similar to Wuhan Corona Flu but are driven in the direction of the cause of death due to other pathologies such as brain pathologies or even the death record is due to the Corona virus but the old strain, not the new one from Wuhan.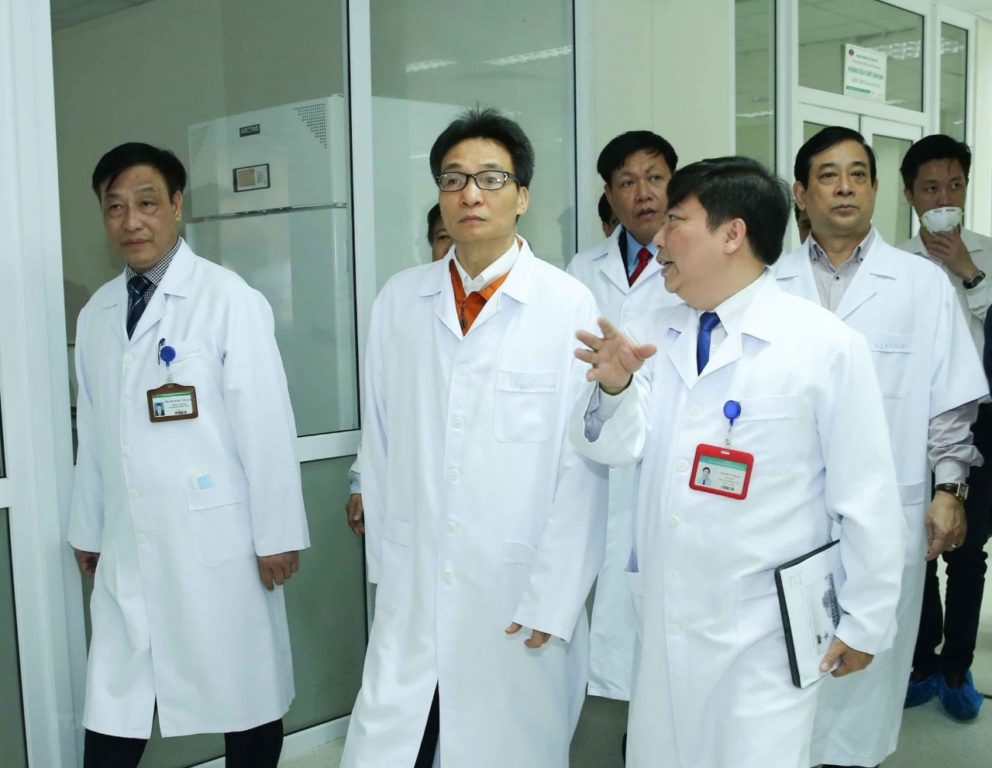 Facebooker Loc An Ha wrote a compliment to DPM Vu Duc Dam – in an ironic style with the title: ALL OF VIETNAMESE PEOPLE SHOULD THANK HIM.
Since being the head of the Steering Committee for the Prevention of Acute Inflammatory Acute Diseases due to the new strain of Corona virus (nCoV), the results:
Singapore has no borders with China, infected 75 cases. Thailand has no borders with China, infected 35 cases. Japan is an archipelago, infected with 97 cases and 2 people killed.
South Korea has no borders with China, infected more than 833 cases and the number is rising, 8 people died.
Iran latest news shows that 50 people have died from Covid-19 flu. Italy has 4 deaths and 193 infections.
While Vietnam has a border with China and has close relationships, 16 cases and 16 cases have recovered.
We see him on television always in a hurry, hustle, more gray hair, more wrinkles skin; but we always see comrades decisively in words and actions.
It is very proud of our country and there are close, talented leaders: DPM Vu Duc Dam.
In Vietnam there is no independent media, the entire propaganda system is under the direction of posting or deleting information from the Communist Party, which leads to the information that people receive is very limited or misleading, in contrast to the What is going on in reality.
It was only when the aftermath spread, which here was a dangerous disease caused by the Covid-19 virus, that a series of people died, that the reality would gradually be revealed late and those suffering. The most disadvantaged is the people
Hai Yen from Ha Noi – Thoibao.de (Translated)