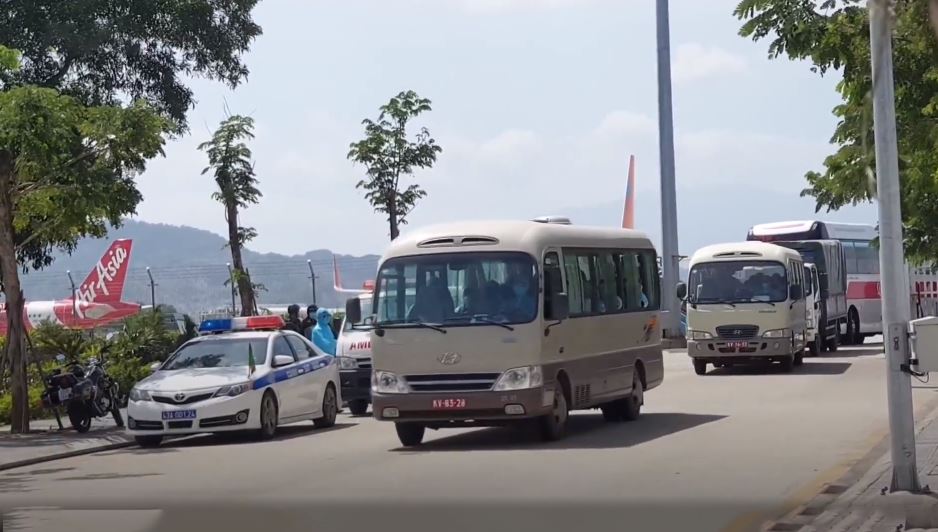 Da Nang city's government informed the press on the afternoon of Feb 25 that a group of 20 South Korean tourists who refused to follow the quarantine regulations as the corona virus spread in many countries would fly back to the country in the same night.
According to Tuoi Tre and 24h.com.vn, the People's Committee of Da Nang cooperated with Vietjet Air to bring the above tourists back to Korea on a flight at 11:55 pm on Feb 25's night.
Previous reports said the South Korean citizens were from Daegu, where the outbreak was booming with about 980 people infected and 10 dead in recent days.
Vietnamese newspapers said that when the group arrived in Da Nang on Feb 24, they were "held" by the authorities for quarantine at Lung hospital No. 1. However, these Koreans "disagreed" and claim to be settled in a 4-star hotel. Despite this, they had to stay overnight at the hospital because no hotels were accepting them.
South Korea's Foreign Ministry "strongly opposed" the move, which it said Vietnam "carried out without prior consultation" with the Seoul government, according to Yonhap and Arirang news reports from South Korea on Feb 24.
The ministry also asked the Vietnamese side to "cooperate" to avoid "outrageous and unreasonable" measures against Korean citizens.
The Vietnamese government asked the Korean government to "understand", and said such a move was "force majeure" in the current effort to deal with the new strain of corona virus that is spreading rapidly.
On the social network, a large number of Vietnamese on the one hand expressed support for the work of the Da Nang authorities, on the other hand also expressed anger and frustration about the behavior and the statement was considered "dignified", " irresponsible "of both the Korean tourist group and their foreign ministry in the context of the unpredictable epidemic and endangering human life.
Entrepreneur-writer Tran Quoc Quan, a Facebooker widely followed, wrote on his personal page that he felt "extremely indignant" and asked the government to refer to Israel's drastic action against Korean tourists. .
According to international news, on Feb 22, Israel forced an aircraft carrying 130 Koreans to leave after the plane landed at Tel Aviv airport.
Korean tourists must abide by the laws of Vietnam, a large number of Vietnamese insist on Facebook, and question that Vietnamese citizens returning from Korea will accept isolation in hospitals or military facilities, Why do Koreans demand isolation in a luxury hotel?
Some suggested that the Vietnamese government should have a clear policy of foreign tourists in the context of disease outbreaks so that localities would not be embarrassed.
A Korean news channel YTN NEWS with 1.55 million subscribers broadcast photos sent by this group of 20 Korean visitors in which the visitors condemned the sanitary conditions in isolation. One person said, "I really can't take a bath there … We may get sick here rather than Corona here …"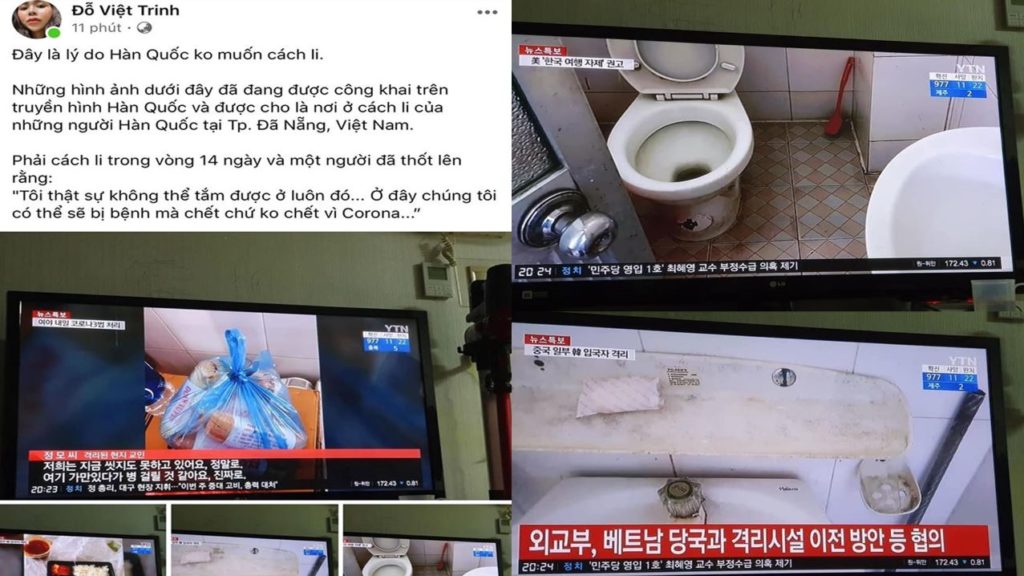 "The report said that 20 citizens had been locked up by the Da Nang quarantine department and they would be isolated in 14 days by force despite having no suspicious symptoms such as high temperatures."
Twenty Koreans isolated from Da Nang, Vietnam, for preventing the spread of Wuhan Corona virus, are believed to live in poor conditions in the hospital.
Isolated people said they could not even eat properly while locked in the isolated area, located in a general hospital in Da Nang, Vietnam.
There are two or three people in each room who are tired.
Doors outside or to other areas are secured. This is really captive.
The toilets are so poor that they cannot be cleaned, and three meals a day are not enough.
They said the Vietnamese government confiscated their passports.
The reporter expressed concern about whether these Koreans are being treated unfairly.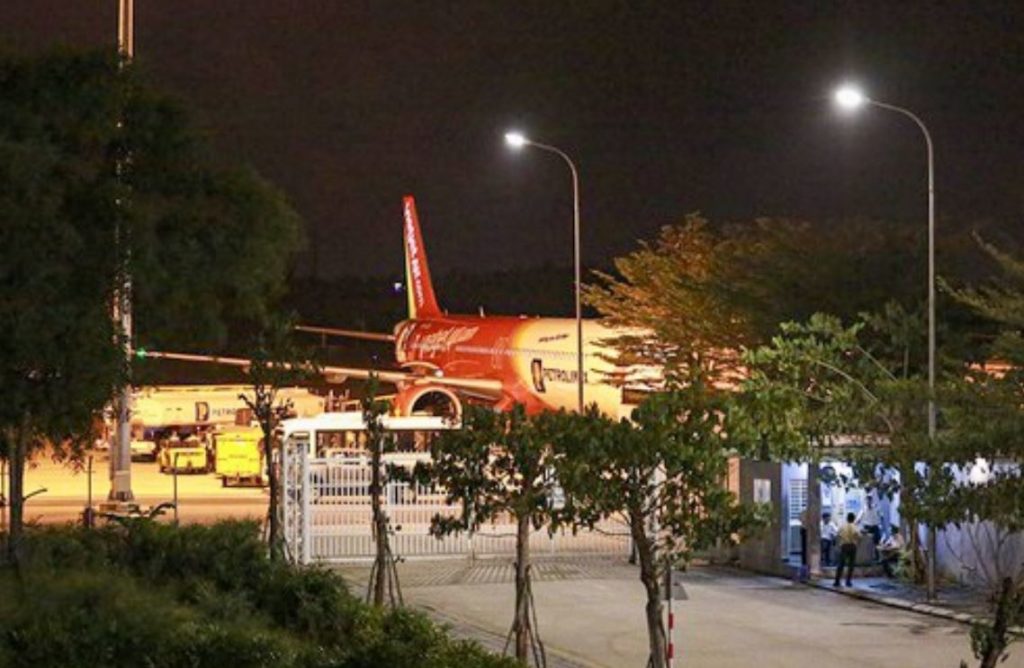 In the early afternoon of Feb 24, a specialized vehicle brought 22 foreign passengers on VJ flight from Deagu to Da Nang. All were put in isolation, medical personnel equipped with protective equipment guided them.
At this time, the Korean Consulate was present and two representatives exchanged with the Deputy Director of the city Health Department and the Director of Lung Hospital that their citizens did not want to be isolated here because they were traveling and they did not heard any warnings prior leaving their country.
They agreed to go to a hotel arranged by the health department, Golden Sea. In general, through communication, we found that their refusal to quarantine was just a living condition and they were surprised, but not showing any condescending expression. And to be honest, Da Nang has drastically isolated before the diplomatic announcements, so an embarrassing incident was not a big deal.
In the evening, I heard they were going to go to Song Han Hotel but while waiting for the hotel to prepare the isolation facility, they were still in the hospital in Fen 24's night. Hopefully, today Feb 25, the diplomatic agencies will coordinate and they will agree to stay in the hospital for convenient quaratine.
Finally, at 11:55 pm on Feb 25, Vietjet Air flight took the Korean delegation from Danang International Airport to their country after spending more than 24 hours of isolation in Da Nang. Danang.
"We are very sorry that these days, you have not had the expected tour in Danang City. Our city has not had the opportunity to express your inherent hospitality. You should have had very interesting holidays in Da Nang City with the experience of the landscape, cuisine, culture, people of Danang.
… We sincerely apologize for the inconvenience, and look forward to welcoming you at another appropriate time, happier and more convenient," said Chairman Tho.
In a letter written in English, Ms. Truong Thi Hong Hanh, Director of Da Nang Tourism Department, thanked all Korean passengers who trusted to choose Danang as a travel destination during the past time.
"Measures to control and prevent diseases are required, which is an act of force majeure but it brings inconvenience for you," Hanh wrote sincerely.
However, the head of Da Nang tourism industry also stated that the application of control and isolation measures is to protect public health, including Korean visitors who have just entered the country recently. Therefore, Ms. Hanh wishes the guests from Dragu sympathize and share with the city authorities.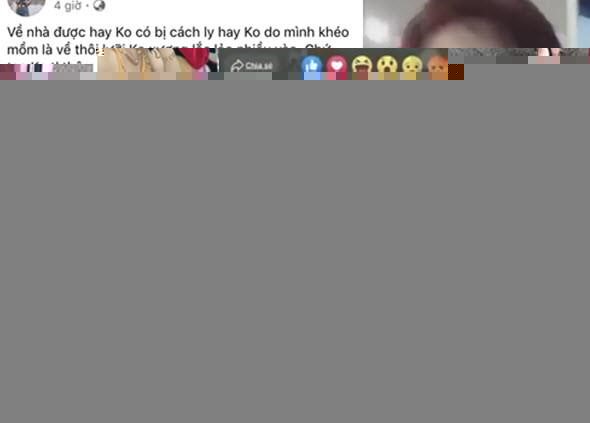 More specifically, the dyed red-haired girl wearing a yellow skirt proudly said, "A woman who is smart in her brain should not go into isolation" and "When I am at home, I'll tell you why a person is isolated and why another is not."
Some Vietnamese in Korea who are curious to know Hary Nguyen's tricks which made her not to be being isolated so they asked her. Meanwhile, the Vietnamese online community is indignant when watching this clip and Facebookers think that she is a threat to spread nCoV to others.
On the afternoon of Feb 26, the Department of Health of Binh Duong province announced that it had found Hary Nguyen whose real name is Nguyen Thanh T (born in 1992, Kien Giang, residing in Tan Dong Hiep Ward, Di An City, Binh Duong Province) and took her to be in the isolation facility for 14 days at the Military School of Binh Duong Province (Phu Hoa Ward, Thu Dau Mot City).
Nguyen Thanh T lived in Daegu but traveled through Busan before flying to Ho Chi Minh City. When she entered Tan Son Nhat Airport in Ho Chi Minh City, she declared that she departured from Busan without mentioning Daegu and was allowed to enter.
Trung Nam from Da Nang – Thoibao.de (Translated)