Microsoft publishes a special piece of information, which is an assessment: Vietnamese online users are among the ugliest in the world
Technology giant Microsoft has just released a survey showing that Vietnamese netizens are among the 5 countries with the most uncivilized behaviors in the world.
The Microsoft report is based on the opinion of 500 teenagers and adults (ages between 13 – 74) in Vietnam.
These people said they had encountered "improper" behaviors in cyberspace, and these behaviors have been quite common recently.
97% said they were hurt because of those behaviors and 83% worried that they would encounter the same behavior again.
Professor Trinh Duy Luan, director of the Institute of Sociology in Hanoi, said that he was "not surprised" about the results of Microsoft's report, although to make accurate judgments, it is necessary to see Examining specific methods and survey samples.
"I think such assessments are not without grounds", GS-TS. Trinh Duy Luan said.
According to him, social networking is now a "too large" and "a lot of free" field, while Vietnamese society consists of many different groups, in which, education, literature are factors leading to "less civilized" behaviors displayed in cyberspace.
"Our society is a developing and changing society so these phenomena are easy to understand," professor Luan said.
According to him, "The intellectual population is to some extent increasing, but not at the same level as in the more traditional (developed) societies.
We have changed again from a traditional society with a typical agricultural nature, thousands of years, so the people's behaviors are still not civilized.
And there is also a certain group of people do not fully understand the rights and obligations to participate properly."
From the perspective of a social network user in Vietnam, young musician Duc Tien also acknowledged that the bad behaviors of netizens have created an "excuse" to lead to the results of Microsoft's survey.
In particular, according to him, those who often give criticism or criticism articles online are always victims of these "uncivilized" behaviors.
  
"All those arguments are, in my opinion, the value of civilization. But there is an army that people call the "public opinion shappers" which can appear at any time, even to protect a singer only. "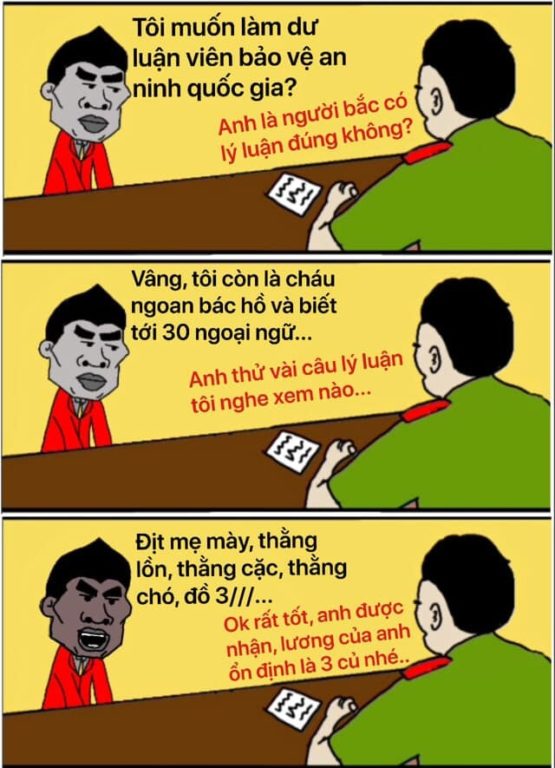 Musician Duc Tien recounted an experience he had encountered when a conflict occurred between a singer and a musician he knew.
"I went to the Internet to protect the musician like a senior colleague, when the fan of the singer attacked me, even cursed me. They didn't react at all like the songs their idol sang. They are ready to swear, even come to your house to beat or threaten."
According to musician Duc Tien, the team of "public opinion shappers" is completely incapable of analyzing the event to criticize the reviewers, so they have turned to the above uncivilized behavior.
"I feel like this situation is being promoted, because it's too much and public, but there are no people nor organizations to stop it."
Last year, during a discussion in the National Assembly on the issue of social networking, the President of the Vietnam Journalists Association, the Editor-in-Chief of the Nhan Dan newspaper, Mr. Thuan Huu said: "Perhaps there is no country like Vietnam, people swear from top to bottom, leaving no one unattacked."
This veteran journalist believes that social media is "having a tremendous impact" on the lives of the Vietnamese people, and "the moral values ​​are shaken."
According to musician Duc Tien, the Cyber ​​Security Law is "too new" for people, and those who are punished, or in case his Facebook page is locked for sharing posts, he still do not understand why you are punished.
"Locking your nick is also enforcing the Internet Security Law because they don't want me to do it anymore, but I personally think those posts are nothing but I was banned!"
When asked whether this new law will contribute to "improving" the behavior of Vietnamese people, professor Luan said that "can help a part."
"Of course, don't expect it to help completely, thoroughly, because the underlying cause of civilization is different. Network security is mainly for more security, especially firstly for political stability. The second is for the level of civilization, and participation (in social networks) with constructive nature."
The Microsoft report shows that sexual and fraud risks are the most common risks that Vietnamese network users are facing.
Among the 5 countries at the bottom of the table, Vietnam ranks above Russia, Colombia, Peru and South Africa.
The five countries rated as the most civilized behaving online in the order are Britain, the Netherlands, Germany, Malaysia and the United States.
"Vietnamese people are too aggressive now. When they disagree, they find all the most burdensome words to say," reader Lac Lien commented on a newspaper page. The irony is that just below this information post on the fanpage of a large TV channel, there are 621 comments, but when readers click, they can only see a few dozen comments. Most of the rest have been hidden by the filter because of inappropriate profanity.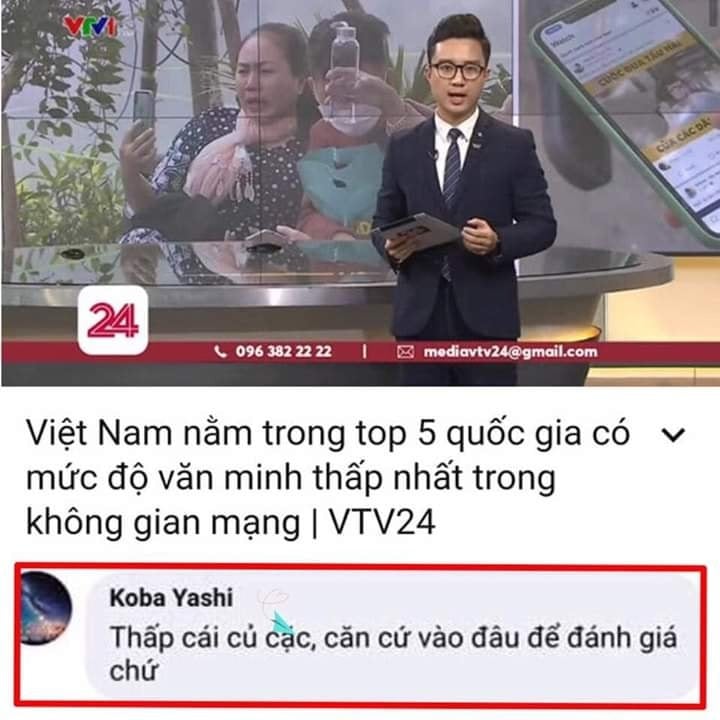 This comment was captured and shared everywhere as the clearest evidence for that information. But "Koba Yashi" is not unique. There are millions of "Koba Yashi" on Vietnamese cyberspace, ready to swear but are considered to be carefree and humorous attitude!
Profanity is only one of the less civilized expressions of Vietnamese people on the Internet. This is the most visible and superficial manifestation.
Other uncivilized behaviors are classified as "confidential," such as: unwanted communication (49%), fraudulent message (39%), unsolicited sexual message (41%), sexual harassment (30) %), and soliciting (29%).
The areas where Vietnamese behaved poorly according to Microsoft's research showed that they were emotional (48%), sex (48%), appearance (35%), race (23%) and political opinion (23%).
And cruel, violent language is a manifestation of more serious problems: discrimination against women, personal attacks, discrimination, damaging reputation, etc.
The movement of "one-star voting" is also a serious expression. AirVisual provider was attacked by this movement when the application announced "Hanoi is the most polluted city in the world for a few days."
"Every time I post something that someone dislikes, they take this photo out to threaten or deny me," Huyen Chip wrote.
For her, that behavior conveyed the message: "You used to take nude pictures, so all your opinions are worthless," or "The more you say, the more I share this photo widely."
This behavior can be classified as "insulting human dignity".
"Disdain for the body" is considered as "verbal murder"and is very common on Vietnamese social networks. Le Au Ngan Anh, Miss Ocean 2017, was once compared to facial features compared to … fish species.
It happened to Ngan Anh like a national "disdain" movement, ugly and aggressive.
Individual attacks by Vietnamese people do not stop at home but make a bad impression even abroad. Ahmed Al-Kaf or Mohanad Qasim Sarray are names that are not easy to remember, but the keyword "the referee was attacked by Vietnamese netizens" must be much easier to be found online. Because he was once scolded by Vietnamese netizens and was forced to close the comments.
Hai Yen from Ha Noi – Thoibao.de (Translated)