The Vietnamese press reported about the 21st patient using his abbreviated name is N.Q.T. However, many well-known journalists and Facebookers have identified him as an important government official.
News from Facebooker Le Nguyen Huong Tra said that the 21st Covid-19 patient is Professor, Dr. Nguyen Quang Thuan, 61, from Hanoi. His seat was 5A relatively close to Nguyen Hong Nhung (seat 5K) on London-Hanoi flight coded VN0054. He is a former president of the Vietnam Academy of Social Sciences, incumbent vice chairman of the Central Theoretical Council, and one of 16 members of the Prime Minister's Economic Advisory Group.
According to Tuoi Tre newspaper, the 21st patient infected with Covid-19 is Mr. NQT, 61 years old, in Truc Bach, Ba Dinh, Hanoi. He was on the London-Hanoi flight coded VN0054 and landed in Noi Bai at dawn on March 2. His seat on the Vietnam Airlines' flight was 5A, relatively close to patient No. 17 Nguyen Hong Nhung (seat 5K).
The Ministry of Health said Mr. T. went on a business trip in the UK, returned on Vietnam Airlines flight VN0054 (same flight and sat close with patient Nhung), arrived in Hanoi at 4:30 am. He was taken home by his private driver.
On March 6, Mr. T. showed signs of fatigue and a dry cough, without any treatment. At 10 am on March 7, Mr. T. was sampled and tested by the Hanoi Centers for Disease Control and transferred to the Central Tropical Hospital 2 with a private car. The test result was positive for Wuhan pneumonia.
The social network speculates that Mr. T. is Nguyen Quang Thuan (born in 1959) is a professor and doctor of economics. He was the former chairman of the Vietnam Academy of Social Sciences, one of the 16 members of the Economic Advisory Group of the PM Phuc for the 2016-2021 term.
Freelance journalist Bach Hoan also wrote on her Facebook that: "Professor Nguyen Quang Thuan, who was on the same flight, took seat 5A, C class, was in the same row as Hong Nhung 17, this morning had a positive test result with Wuhan Pneumonia."
"Mr. Thuan, flew back to dawn March 2 and attended the meeting of the Central Theoretical Council on March 3. In the picture, the person wearing glasses, speaking, is Mr. Thuan on March 4. The situation is as tight as strings," Journalist Bach Hoan said.
This is the 21st patient in Vietnam and the fourth patient in Hanoi. In the immediate future, all four cases were related to the 17th patient.
Since then, the Vietnamese social network has started to stir because Professor Thuan has been in contact with too many people, especially government members.
According to the quick report of Hanoi Department of Health established at 9.30PM of March 7, Thuan had contacted 369 individuals before being hospitalized.
Journalist Le Nguyen Huong Tra commented briefly: "This morning, people of the Party committees and government offices are panicking because of contacting Prof. Thuan, every man shook hands."
According to the local press, up to now, the total number of Wuhan Pneumonia cases in Vietnam has been 30 people. With exception of one case from Korea, the remaining 13 cases have been related to patient No. 17. However, It can be said that the 21st patient, Prof. Thuan has a much more serious influence.

Writer Luu Trong Van has an analysis shared by many people with the title: "Patient No. 21 poses the greatest risk of spread. Why?"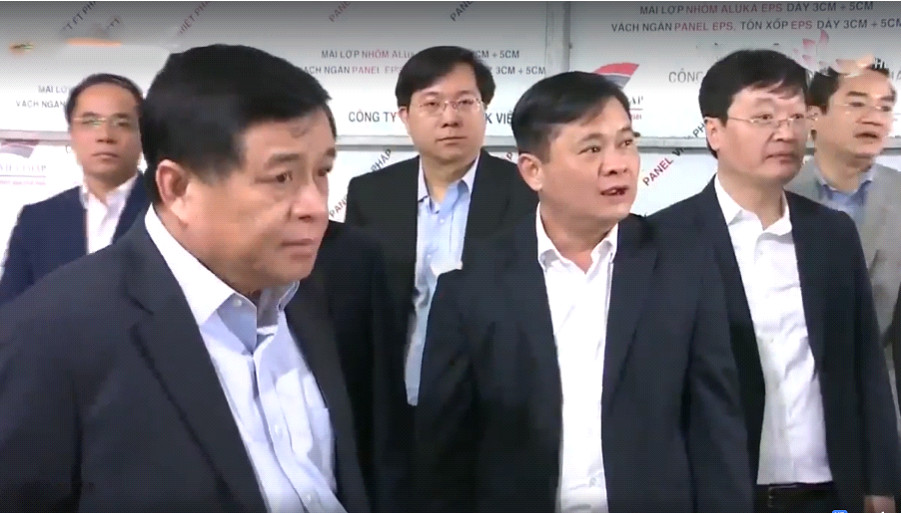 The content of Mr. Luu Trong Van's article is as follows: "Hanoi Mayor Nguyen Duc Chung said: Mr. Nguyen Quang Thuan, vice chairman of the Central Theoretical Council was on the plane from India to England and sat next to a UK guy who He showed fever and constant coughing.
Therefore, according to t Chung, there are two possibilities Professor Thuan being infected with Covid-19:
Infected by the British in the flight from India to England
Infected in the London-Hanoi flight
If Thuan gets swan pneumonia from the UK, he will surely infect his fellow members from India to England. So why aren't the other members infected?
Hong Nhung got Wuhan virus from Italya because her sister also went with it. If Nhung's sister does not suffer, it may be suspected that Thuan was the first to be spread through Nhung on the flight from England to Hanoi.
So it is only possible that Hong Nhung and Professor Thuan were both infected with Wuhan Pneumonia before flying together or Professor Thuan was infected from Hong Nhung.
Professor Thuan is sitting in chair 5A quite far away from chair 5K but Hong Nhung is sitting down, the infection can only happen because the two people in Truc Bach area know each other so on the plane there is a direct conversation with each other."
Mr. Luu Trong Van analyzed: That is not to mention because the same neighborhood know each other so in the waiting room VIP they talked with each other. If they did not know each other before, there were 21 guests in the VIP room, of which only three Vietnamese people were Thuan, Hong Nhung and MPI Nguyen Chi Dung, so Thuan and Hong Nhung could meet and greet each other.
In the case of Professor Thuan sitting next to the British guest, who coughed continuously and had a fever without vigilance in case the epidemic was breaking out to be infected and did not self-quarantine or report to the Vietnamese Customs, it was worth condemning. It is an expression of Thuan's poor citizenship and irresponsibility to the community.
Professor Thuan soon returned to the country to attend a Central Theoretical Council meeting and meet, play gofl, eat and drink, attend parties with many people. According to Chairman Chung, the case of Professor Thuan is the most unpredictable danger for spreading the disease.
Finally, writer Luu Trong Van lists the names and positions of officials in the Central Theoretical Council who may be present at the conference in which Thang attended. Many of them are senior officials of the Central Committee and its Propaganda and Education Committee.
An extremely fast-spreading information on Facebook related to Mr. Do Nhat Hoang – director of Foreign Investment Department of the Ministry of Planning and Investment. He was also on the same flight with Prof. Thuan and Ms. Nhung. Hoang had a positive test result for Wuhan Flu, and the danger increased when Mr. Hoang held his father's funeral with thousands of people attending the funeral in Hanoi on March 7.
There are at least 3 newsletters with photos of chat messages reporting that Mr. Do Nhat Hoang tested positive for Wuhan pneumonia, until 1am on March 9, 2020, still on Facebook. Especially the news on Facebook of famous activist Nguyen Lan Thang in Hanoi with 140 thousand followers.
According to Thoibao.de's prediction, the possibility of hiding in the negative direction is very high because of the great impact on the community living in Hanoi.
Because whether it is negative or positive, Mr. Hoang – director of Foreign Investment Department is also taken away and official information is still in the hands of the authorities.
The answer to this news has to wait a few days.
Commenting on Prof. Nguyen Quang Thuan, the 21st patient, lawyer Luan Le said: "Read the eating, playing schedule and how to enjoy the vice president of the Central Theoretical Council (Patient No. 21): flies with business class, eats at a 5-star hotel, goes to play golf, invites singers to sing in a luxurious party … just to see how luxurious he lives and works. And there is no sign that he, spending his taxpayer money, is really practicing communism – representing the proletariat, those in need of labor who are earning a few million dong a month to survive."
In addition, the National Steering Committee against the Influenza Wuhan Wuhan also proposed the government to implement the program "Declaring public health" from March 10, suspend unilateral visas with the EU and UK.
Deputy PM Vu Duc Dam said that, after the emergence of the 17th case, Vietnam had "officially entered the second stage of the fight against Wuhan Pneumonia." According to him, this stage is more difficult than the first stage because the epidemic has spread to more than 100 countries.
"We have to prevent the disease from hundreds of reclining instead of a few reclining like before. In fact, the Wuhan Pneumonia has invaded our country and is quietly ambushing, to deal with outbreak inside and prevent from outside," said Dam
However, he expressed confidence, "we have won the opening campaign, in the early stages of the war and must absolutely win the whole war."
According to Dam, Vietnam has foreseen every situation, having a scenario ready to respond when there are thousands of cases. Therefore, in the coming days if there are dozens or hundreds of infections, it is not surprising.
Hoang Lan from Hanoi – Thoibao.de (Translated)