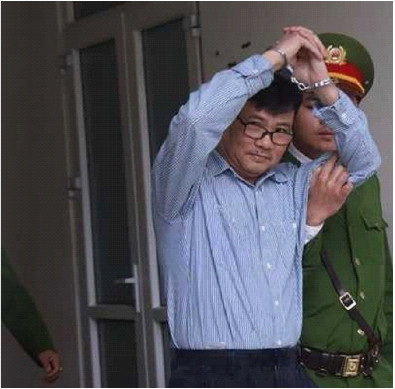 Truong Duy Nhat's trial, which was delayed from Feb 28, was held on March 9 by the Hanoi People's Court, with allegation "Abuse of power while on duty" under Article 356 of the Penal Code.
On March 9, from Canada, his daughter named Truong Thuc Doan said:
"No matter how many years they claim, I still assure and believe that my father is innocent."
"They are just trying to imprison my father as a way to stop him from using his pen to criticize society," she said.
She said she had not been able to contact her mother after the outcome of the trial: "I am trying to find a way to contact her. And I know for sure that both father and mother, two defense lawyers and many others are very angry about that sentence.'
'
The court decided that Nhat had taken advantage of his position and power to voluntarily sign three official letters to the People's Committee of Da Nang City regarding the proposal to buy public housing. This act caused serious damage to the State's assets, with the amount of more than VND13 billion ($560,000), according to Tuoi Tre newspaper.
According to the local press, the People's Procuracy see the actions of defendant Truong Duy Nhat to be serious, however, because he had made a sincere declaration, it requested the Trial Panel to impose a penalty of 10 -11 years in prison.
On his personal Facebook page, Dang Dinh Manh, a lawyer defending Nhat, said in the trial on March 9, his client dismissed the charge completely.
Lawyer Manh added, when the court gave the last word, Nhat said: "I thank everyone who cares for trusting in my legal destiny, it helps give me more strength and faith to overcome this misery."
"The case is just a despicable political blow."
Lawyer Manh further informed on his personal Facebook, the trial was publicly heard with the participation of the judicial police team. His relatives were not allowed to be in the courtroom.
Nhat asked his lawyers to send his petition to Le Thi Nga, chairwoman of the parliament's Justice Committee.
Earlier on Feb 28, lawyer Manh stated that through the process of talking with Mr. Nhat and studying the case files, he could confirm that his client was "unjustly".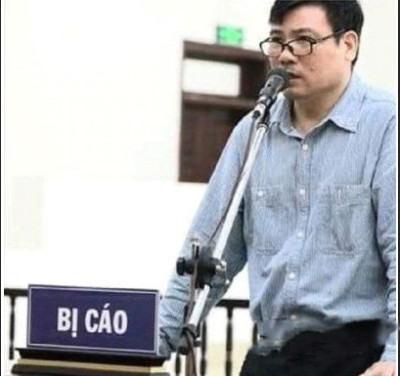 Professor Manh said: "Through contacts, I found Mr. Truong Duy Nhat is a lively, energetic and passionate person, with an uncompromising attitude to fight. His health and spirit are very good. He is anxious to go to this trial to voice his vindication."
"There are many contradictory details. For example, in the investigation indictment we were exposed to, Mr. Nhat was arrested in Cau Giay District, Hanoi. But he was actually arrested in Bangkok, Thailand. The information is completely verifiable. Mr. Nhat said that he was arrested by two Royal Thai police officers in Bangkok, then they handed him to a group, possibly the Vietnamese secret police."
Truong Duy Nhat is said to have been kidnapped in January 2019 while seeking asylum at the UN High Commissioner on Refugee in Bangkok
Nhat, long known to the public as a blogger who is well known for his social networking site "Truong Duy Nhat – Another perspective," with very thorny articles on the field of social and political politics.
Lawyer Ngo Anh Tuan, a lawyer defending Mr. Truong Duy Nhat, said that legally speaking, "the investigation conclusion says one way, the indictment says another way, so in that there was inconsistent."
"For example, they accuse Mr. Nhat of the same crime but the penalty frame they give is different. The conclusions of the investigation conclude that Nhat's conduct is in Item 2 (with a penalty frame of 5-10 years imprisonment. ) but the indictment raised to Item 3 (with a penalty frame of 10-15 years imprisonment) with very vague evidence of accusation. The damage was estimated at VND300 million but now they calculated it in the present time, it amounted to more than VND13 billion," he said.
Nhat is the former Head of Representative Office of Dai Doan Ket Newspaper (from 1998 to 2011) in Da Nang City. He is also known as the "Another perspective" blogger.
He has been imprisoned for 2 years in Vietnam with the accusation of "abusing democratic freedom." The indictment at the time said Nhat had articles "which were not true, propagated, distorted the Party's lines and policies."
Lawyer Le Cong Dinh considers that Nhat is innocent of his essay-based essay, justified as "The Reason for Justice".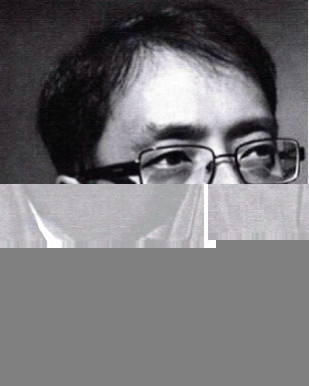 Lawyer Le Cong Dinh summarized the case as follows:
We all know that Mr. Nhat was abducted in Thailand on Jan 26, 2019 (not arrested in Hanoi on Jan 28, 2019 as officially announced).
This case is related to the house No. 82 Tran Quoc Toan, Hai Chau District, Da Nang City (land area is 108.60m2 and used area is 101.20 m2), which was formerly the headquarters of the Office representative of the Central Region region of Dai Doan Ket newspaper, which Mr. Truong Duy Nhat has been chief representative for some time. This house, after Dai Doan Ket Newspaper bought from Da Nang government, was sold to Phan Van Anh Vu 79 Construction Company.
The results of investigation of the case determined that the purchase and resale of the house 82 Tran Quoc Toan during the time when Mr. Truong Duy Nhat was the Chief Representative Office, caused a loss of VND13 billion to the state assets. Therefore, Nhat is alleged to have committed such a crime.
The question is: Nhat is guilty or not?
Lawyer Dinh raised the grounds that Nhat absolutely did not commit crimes because of many basic and conspicuous reasons under the Penal Code perspective.
Grounds for accusation of missing elements constituting a crime: The investigation conclusions and indictments have not mentioned and no legal analysis proves that Nhat has acted "for self-seeking" or "for other personal motives." Truong Duy Nhat did not receive any money from the purchase and sale of the house 82 Tran Quoc Toan, according to the case file. Absolutely not.
On the other hand, the 82 Tran Quoc Toan house has now been returned in Phan Van Anh Vu's case, whose value calculated according to the current housing market price in Da Nang has certainly increased by dozens of times compared to 2004, at the time of the purchase and sale of this house. Thus, the state's property in this case is still the house, not the money that has been used up, so there is definitely no so-called "property damage" of the state. . The lack of an objective factor in property damage, suspects and defendants cannot be considered as a crime under the law.
The "damage" figure of more than VND13 billion that the investigating agency issued is completely faked.
Investigating agencies that use the deductive approach in the guilty direction are serious violations of Vietnamese Penal Code and international law. However, the court completely ignored these arguments.
Vietnam with a dictatorial, judicial and executive dictatorship is not independent and is directed and guided by the heads of the party and the state of Vietnam, whose responsibility is General Secretary Nguyen Phu Trong, Prime Minister Nguyen Xuan Phuc and Minister of Public Security To Lam, so "pocket" judgments are usually prepared in advance to hit the people.
The case of the abduction of Blogger Nhat in Thailand and taken back to Vietnam is a typical example of the Vietnamese Communist Party's illegal actions. This injustice will soon end, when the people of the country to stand up for equality before the law and the crimes of the nation will be brought to light.
Thu Thuy from Hochiminh city – Thoibao.de (translated)