The Vietnam Airlines flight VN0054 carrying the Wuhan virus to Noi Bai has affected Germany also. Along with the 17th patient named Nguyen Hong Nhung there are at least 17 other cases, of which the 31st case is an Englishman who stayed in Sofitel Legend Metropole Hotel in Hanoi on March 2-4. At the same time a group of German members of parliament was also staying at this hotel.
On March 9, Germany's newspaper Mitteldeutsche Zeitung reported that a 20-people delegation of Germany's Sachsen -Anhalt State Parliament, which includes 10 MPs, may have been exposed to Corona virus during a recent trip to Vietnam.
"A delegation of nearly 20 people from the state of Saxony-Anhalt (Germany) stayed at the same hotel in Hanoi with two British tourists who were infected with the Corona virus – just got positive test results," said Thomas Lippmann – said the leader of Linke party (Leftist party) in the Parliament.
The Covid-19 infected Englishman is Nevard Kevin, 49 years old. On March 2, he and his wife entered Vietnam at Noi Bai Airport – Hanoi on the flight of Vietnam Airlines No. VN0054, he sat on the seat of 3D – the same flight with Nguyen Hong Nhung- coded patient No. 17 and Nguyen Quang Thuan- the patient No. 21. The later is a vice chairman of the Central Theorethical Council.
On arrival, the British couple stayed at Sofitel Legend Metropole Hotel in Hanoi on March 2-4. At that time, a delegation of 20 German Parliamentarians also stayed at this luxurious 5-star hotel.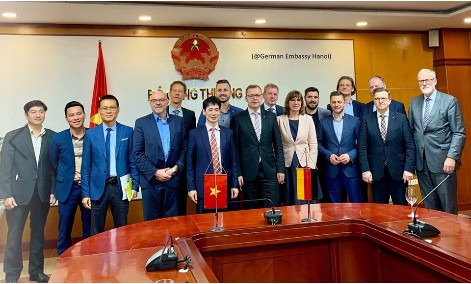 Mr. Lippmann, the leader of the Linke Party (Left Party) in the local parliament, informed the parliament that "The hotel is currently in quarantine."
Ten parliamentarians and 10 parliament staffs were in Vietnam for nearly a week and just returned to Germany on Saturday, March 7. The most prominent figures in the delegation were Mr. Wulf Gallert (of the Linke Party), vice president of the State Parliament, and Mr. Stephan Gebhardt, chairman of the Linke Party.
"Currently all 20 people in the delegation have no symptoms," said Parliament Spokeswoman Ursula Lüdkemeier. Parliament was informed of this suspicion on Monday morning March 9. As a precaution, members of the delegation were allowed to stay home. This is just a precautionary measure, the spokeswoman emphasized.
On March 9, Sachen State Assembly – Anhalt did not comment on the incident, but as a precaution, the Linke party canceled the March 8 International Women's Day celebration in the state Parliament and other appointments.
"We think there is very little risk of infection," Lippmann Left Party leader Lippmann said. But to be safe, Leftist parliamentarians Gebhardt and Gallert as well as a female Linke party employee now want to be tested.
Authorities in Trang Tien Ward requires Metropole Hotel to isolate the hotel area, all staff and guests staying temporarily. The hotel is asked not to accept new guests from 22:00 of March 8 until end the isolation process.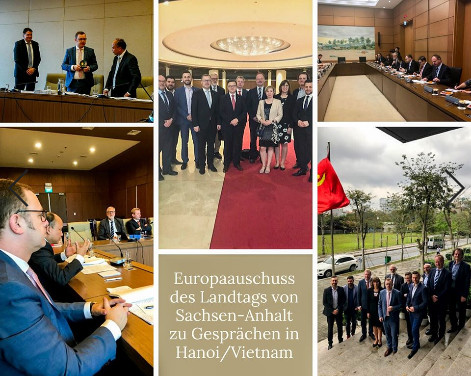 The 31st Wuhan virus case was identified on March 9 in Vietnam as a British tourist on flight VN0054, in which Nhung No. 17 also traveled.
At 6PM of March 9, the Ministry of Health announced the 31st case of Wuhan pneumonia in Vietnam.
According to information from the Pasteur Institute of Nha Trang, a 49-year-old male patient from the UK, traveling on flight VN0054, tested positive for Wuhan pneumonia virus.
This sample was sent to Quang Nam Center for Disease Control. Currently, the patient is being treated in Quang Nam and has a stable health condition.
According to the Ministry of Health, prior to this 31st patient, there were 11 cases of entry into Vietnam on March 2 on Vietnam Airlines flight VN0054, including Nhung, 26 years old, staying at Truc Bach Street, Hanoi.
2 people with secondary infection from this patient resided in Hanoi.
With the newly announced case, up to now, Vietnam has had 15 new cases detected since the 17th case appeared in Hanoi (evening of March 6).  
Standing Vice Chairman of Hoan Kiem District People's Committee Dinh Hong Phong has just released official information about "blockade of Metropole Hanoi Hotel within 14 days."
According to Mr. Phong, the above information is incorrect. The fence was set up in March 9's morning at Metropole Hanoi Hotel to serve the disinfection spraying, absolutely no decision to isolate or blockade the hotel for 14 days.
Currently Hoan Kiem district is urgently conducting a classification review, making lists, collecting information about the operation process, moving,with whom the two tourists have contacted in the hotel from March 2.
He also informed that two male tourists who had been staying at the Metropole Hotel on March 2-5 were confirmed to be positive for Wuhan pneumonia virus.
Earlier, both tourists were present on the flight number VN0054. Currently 11 passengers on this flight are positive for Wuhan pneumonia, including two Vietnamese and 9 foreigners.
Fence erection around Metropole Hanoi hotel on March 9 for conducting disinfection work.
Metropole Hotel has two passengers, Dixon JohnGarth, born in 1946 and Barker Shan Coralic, born in 1953 who stayed at the hotel on March-5, positive for Wuhan pneumonia.
Also on the afternoon of March 11, Mr. Nguyen Duc Chung had to say full of anxiety when there were 15 people infected with the Wuhan virus out of 21 people in Class C cabin on the fateful flight VN0054.
 
The Hanoi Pneumonia Steering Committee met in Hanoi under the chairmanship of Mr. Chung who said so far, 15/21 people on VN0054 flight were positive for Wuhan pneumonia. There was a person in the economy class who was positive because after getting off the plane, he was traveling with a person in the C class cabin, he was staying with him and traveled together to Quang Ninh.
The chairman of Hanoi stated that the risk of infection in Hanoi had more directions with greater probability, the main direction was still from Noi Bai airport because daily it was still receiving about 5-6 thousand visitors from all countries, including visitors from the epidemic area.
The second is from domestic flights, transit international tourists to Ho Chi Minh City, Da Nang but tourism in places. The third source of infection came to Hanoi by the roads related to tours, by train, bus, road.
The situation is so serious that, on March 11, the World Health Organization announced Wuhan virus became a global pandemic.
Speaking at the daily press conference in Geneva on the evening of March 11, WHO Director General Tedros Adhanom Ghebreyesus said that up to now, Wuhan pneumonia virus has attacked 114 countries and territories around the world, infecting more than 118,000 people and killing at least 4,291 people, mainly in mainland China.
Mr Ghebreyesus emphasized: "WHO has continuously assessed the outbreak of the disease and we are extremely concerned about both the alarming spread and the severity of the disease as well as the lack of adequate response. We therefore evaluate Wuhan pneumonia to meet pandemic characteristics."
And the extremely dangerous thing is that Wuhan pneumonia virus has mutated. Notably, in terms of genetic modification, Italy identified four strains of the Wuhan pneumonia virus, different from those identified in Wuhan, China.
In addition, the patient No. 17 was in Italy before returning in Vietnam and the patient No. 20 is infected from patient number 17.
It is known that this group of 10 German lawmakers to Vietnam are all heads of the leftist party – very close to the Communist government in Hanoi.
This is probably a life-long trip for them, when they came to link with a totalitarian dictatorial regime with an attitude of turning a blind eye to the bad human rights in Vietnam. They may receive a gift- deadly virus Corona.
Hoang Trung from Ha noi – Thoibao.de (Translated)