On March 11, the U.S. State Department published the 2019 National Human Rights Report, condemning the human rights situation in Vietnam in 2019 in a variety of areas.
"The Socialist Republic of Vietnam is an authoritarian state ruled by a single party, the Communist Party of Vietnam (CPV), and led by General Secretary and President Nguyen Phu Trong, Prime Minister Nguyen Xuan Phuc, and Chairwoman of the National Assembly Nguyen Thi Kim Ngan. The most recent National Assembly elections, held in 2016, were neither free nor fair, despite limited competition among CPV-vetted candidates," the report's Vietnam preamble wrote.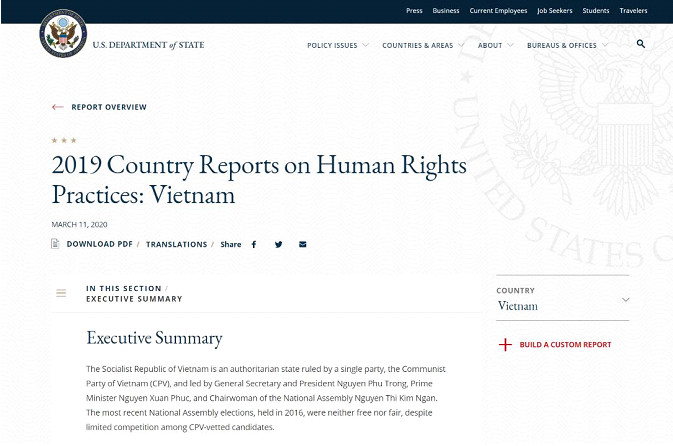 The new US report identifies violations by the Vietnamese government on issues including: abduction, arbitrary detention, torture of detainees, unfair treatment of political prisoners.
The most serious constraint in Vietnam according to the report is the restriction of freedoms including freedom of expression, press, internet, and religion. The US accuses the Vietnamese government of arbitrary detention of those who dare to speak out against the government.
The report consists of seven parts: respect for civil liberties, free elections, corruption and transparency, Vietnam's government's response to international allegations and investigations on human rights violations, discrimination and human trafficking, and workers' rights. In all of these sections, Vietnam has been criticized for violations, diffently in different parts.
In respect of civil liberties, the US State Department cited cases of victims' death in police stations and the abduction of Truong Duy Nhat when he was asking for political asylum in Thailand in January 2019.
Blogger Truong Duy Nhat has been held incommunicado for many months, contrary to the provisions of law.
The report also condemns the treatment of prisoners in general and political prisoners in particular in Vietnam.
Prisoners in Vietnam often have to accept low quality food and cramped conditions. There are even prisoners without medical care when they are ill.
Prison authorities have no control over prisoners' beating. Political prisoners are often sent to prisons far from their families with examples of Mr. Le Dinh Luong and Nguyen Trung Truc. In addition, they are limited in meeting with their families and relatives.
As for civil liberties, the report wrote, "The Constitution and the law allow freedom of expression to include the freedom of the press, however, in fact, the government does not respect these rights and violating freedom of expression still exist.
The government continues to use provisions on cyber security and anti-smear to limit freedom of expression.
The US accuses Vietnam of restricting Internet freedom, blocking Vietnamese websites of Radio Free Asia, VOA and the BBC. The government has forced companies like Google and Facebook to remove links and videos that criticize the government.
A report quoted by the Vietnamese government in July said Google removed nearly 6,700 videos from YouTube, Facebook blocked 1,000 links, and 137 accounts slandered the party and the government.
According to the report, the Government of Vietnam currently does not allow national and independent human rights organizations to be established and operated. Vietnam also does not accept the criticism of organizations or individuals related to human rights issues in Vietnam.
In the final section, which deals with workers' rights, the report addresses Vietnam's recently revised labor law, which allows workers to form independent unions. However, the US Department of State criticizes the provisions of the law that restrict this right of workers, restrict their right to strike.
Every year, the US State Department issues human rights reports to countries around the world. Vietnam has often been condemned by the US for its persecution of human rights over the years, although the US government recognizes that Vietnam has sometimes made small adjustments for criticism but it is often not enough.
The US State Department's recent report, citing statistics from human rights organizations, estimated that by November last year Vietnam had detained between 100 and 260 people for political and religious reasons.
In previous years, Vietnam denounced the US State Department's allegations about the human rights situation of Vietnam and said that the allegations were baseless.
In early 2020, the annual report of Human Rights Watch said that basic freedoms in Vietnam will continue to be suppressed in 2019.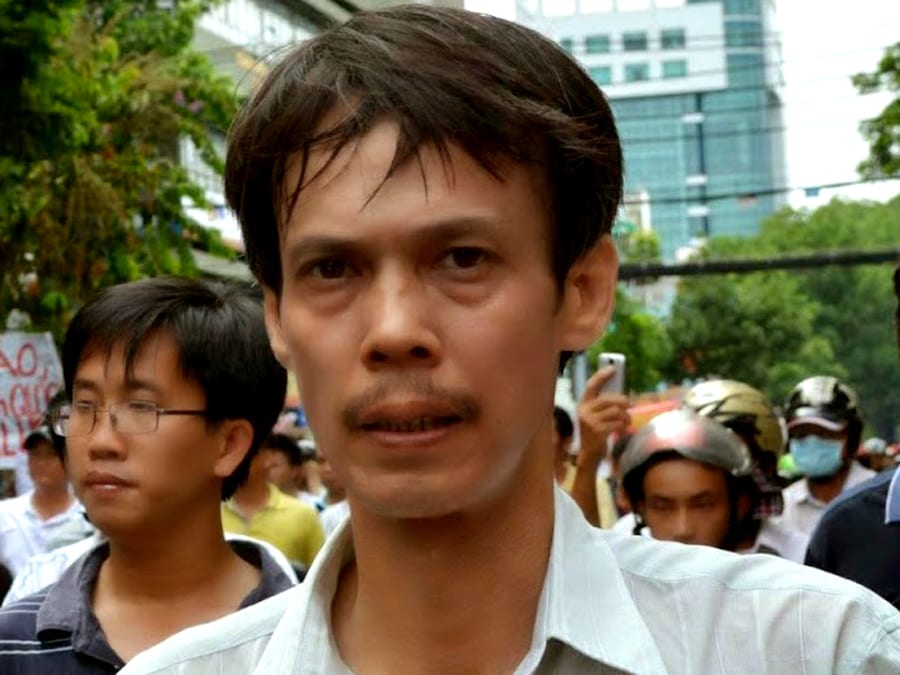 2019 is a brutal year for basic freedoms in Vietnam when the government convicted at least 30 activists and dissidents, according to the International Human Rights Watch's annual report announced on January 14.
According to the newly released report, the Vietnamese government imprisoned activists and dissidents for exercising fundamental freedoms such as freedom of expression, association and freedom of belief.
"The one-party state severely limits all basic political and civil rights, prohibiting any activities that the Communist Party deems a threat to the monopoly of its leadership. In particular, activists and bloggers are monitored, banned from traveling, beaten, interrogated, arrested and sentenced to years in prison," the HRW press release said.
HRW also criticized the Law on Cyber ​​Security, which took effect in early 2019. According to HRW, the new law with vague and widespread provisions gives authorities the right to secretly censor expression, therefore, requires service providers to remove content that the government considers to be incorrect within 24 hours of the service provider receiving a request from the government.
Human rights watchdog HRW also said that Vietnam has more political prisoners than any other country in Southeast Asia.
Regarding the Human Rights Watch (HRW)'s Statement submitted to the EU on the EU-Vietnam Human Rights Dialogue, HRW presents five priority areas related to the human rights situation in Vietnam:
1) Those who are imprisoned or detained for political reasons;
2) The suppression of the rights to freedom of speech, assembly, association and movement;
3) Preventing freedom of information;
4) Suppression of religious freedom;
5) Police violence.
Mr. Phil Robertson HRW Asia Director explained:
Vietnam has a history of human rights repression. What we want to call on the EU is to ask Vietnam to improve its human rights situation and use it as a condition to improve the relationship between the two sides.
We repeatedly called for the delay of the EUVFTA, but unfortunately that did not happen in Feb when the European Parliament decided to approve that agreement.
We think that the priorities we set out in our report to the EU reflect the reality of the human rights situation in Vietnam; Vietnam detained a frightening number of political prisoners. In fact, when looking around Southeast Asia, it is clear that Vietnam has more political prisoners than any other country.
When it comes to suppressing free speech, it can be observed that online attacks on activists who organize public meetings are often beaten up by thugs. That is the issue of association and the limitations in establishing organizations that are outside the control of the authorities in Hanoi.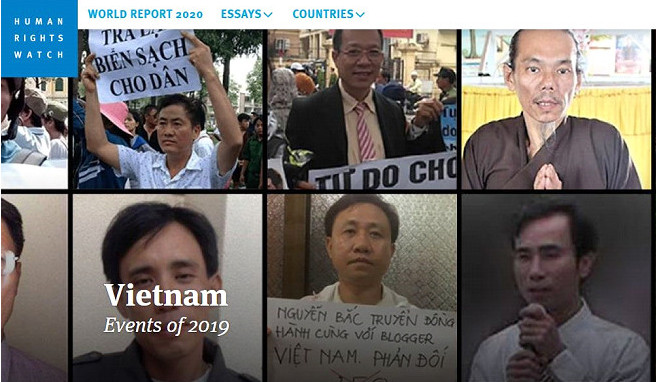 When looking at cybersecurity law, there is a control over the freedom of information. Moreover, there is the suppression of religious freedom. All of these are priorities that need to be addressed and addressed.
And of course, there is also violence by Vietnamese police when we see that they use systematic torture to arrest people.
In Vietnam's Penal Code, Articles 109, 116, 117, 118 and 331 were used to imprison people for peaceful protests, association, political dissent, and relating to religious activities.
In fact, the criminalization of these issues clearly goes against the obligations of Vietnam, which has ratified the International Covenant on Civil and Political Rights. Vietnam claims that it does not abuse human rights, because its actions are based on Vietnamese law.
However, basically, the Vietnamese law does not comply with international standards, so Vietnam needs to amend its laws to conform to the adopted international standards. Or Vietnam must abolish those laws, because its cruelty cannot be amended. Those laws must be removed from the law altogether.
When receiving criticism and condemnation from all over the world, the emply words of Vietnam's leadership including General Secretary Nguyen Phu Trong and Prime Minister Nguyen Xuan Phuc and the apparatus for the people have become meaningless.
The global Internet network with over 50 million social networking accounts of domestic users has clarified the truth. The Communist Party has no way to continue deceiving over 90 million Vietnamese people.
Hoang Trung from Ha noi – Thoibao.de (Translated)