In recent days, in turn, countries around the world have closed their borders, some countries have aggressively implemented national or regional isolations to halt spreading of the Wuhan pneumonia disease. As long as 12 years after the global financial crisis in 2008, the risk of economic recession is closer than ever.
US President Donald Trump on March 16 called on Americans to stop most social activities for 15 days and not to gather a group of more than 10 people to curb the rise of Wuhan pneumonia cases in the country.
US President Donald Trump on March 16 made a speech in which he called on people to stay away from crowded activities to prevent the spread of Wuhan pneumonia.
The president suggested that people should avoid unnecessary travel and not go to pubs, restaurants, bars or gyms.
At the same meeting, Mr. Trump warned the US economy could be reduced due to Wuhan pneumonia. While the stock market is reeling from the epidemic, Mr. Trump recommends that an economic downturn is entirely possible.
The president said he is focusing on dealing with the medical crisis and that the economy will get better once the health crisis is settled.
After that, he posted many articles on Twitter to ensure that the goods will be fully responded to nationwide and call people to shop consciously. In addition, he announced that he would support businesses affected by the disease, which he called "Chinese flu."
Mr. Trump said that it will be over the peak of the epidemic before July or August or later. He said the nationwide curfew has not been considered at this time.
At the press room in the White House, the press is seated at a distance apart to take measures to keep social distance.

Meanwhile, Western European countries have a more drastic attitude. French President Emmanuel Macron last night, Monday, March 16, issued direct quarantine orders across the territory effective from March 17's noon.
In March 16's evening at 20:00 local time, speaking live on national television for the second time in 4 days, French President Emmanuel Macron announced imposing national curfew. Starting at noon of March 17, the entire France will minimize social activities within 15 days, all road travel will need a certificate.
About 100,000 police will be mobilized at fixed and mobile guard posts. Both pedestrians and cars will need to explain with the certificate when being
.
In the 21-minute speech broadcast live, the President used the word "war" six times and called on every citizen to voluntarily do it by responsibility and duty.
The President calls on everyone in this difficult time to rediscover the true value of life: taking care of their families, calling and asking relatives, friends, reading books … to avoid panic by themselves. rumors because the Government will always update all information in the most transparent way.
The president also affirmed, "On this hexagonal territory, no French will be abandoned" because 300 billion euros will be approved by the Government, 10 times higher than the previous figure of 30 billion, which is expected. to pay salaries for public or private employees who have to take time off work in isolation help, compensate or exempt tax for business establishments, factories, merchants victims of Wuhan flu. The goal is for no facility to close down, so that the economy can function normally again quickly, when the epidemic is over.

In Germany, Chancellor Angela Merkel introduced strict measures that 70 years of the Federal Republic had never taken to curb the spread of Wuhan.
Also yesterday, German Chancellor Angela Merkel held a press conference to clarify and explain the drastic measures taken by the Federal Government and states in Germany to curb the fierce spread of Wuhan pneumonia flu.
Chancellor Merkel explained effective measures to limit "social contacts" and control the spread of influenza. Accordingly, the federal government and the states decided to close all schools and kindergartens, museums, bars, fair and entertainment centers, etc. throughout Germany. But will maintain the operation of food stores, pharmacies, gas stations, post offices and wholesale facilities.
German citizens are also prohibited from taking vacation in or out of the country. Restaurants and hotels are also limited and must meet epidemiological regulations, in which the restaurant must keep a minimum distance of tables from 1.5 meters and be opened as early as 6 am, closes at the latest at 18 hours.
On supporting the economy, Chancellor Merkel reaffirmed readiness to provide financial assistance to small and medium-sized enterprises.
Earlier, Germany also closed the border with 5 neighboring countries.

The UK also changed its previous stance on "community immunity." British Prime Minister Boris Johnson said on Tuesday a press conference to announce a series of new restrictions to prevent the spread of Wuhan flu.
If before, Prime Minister Boris Johnson advocated for the development of Wuhan flu, when more than half of the population was infected, the community would have natural resistance against the flu and would avoid the disaster when the same flu reocurrs. But before the prospect of paying a heavy price for citizens' lives, the British leader enacted new regulations to prevent the disease.
Measures taken by the British government include stopping crowds and avoiding clubs as well as only use public health when absolutely necessary.
PM Johnson recommends that people in the UK avoid "unnecessary travel" and limit contact with others.
Besides, he also encouraged people to work from home if possible. This advice should be considered by women over 70 years of age and with chronic illness. People in at-risk groups are recommended to stay home for 12 weeks. If living alone and showing signs of viral infection, self-quarantine for 7 days, do not leave the house to buy food or necessities. If one is got infected, other family's members are required to stay at home for at least 14 days.

While the disease situation continues to spread in Western countries, according to information from the Vietnamese government, the disease situation in Vietnam has always been well controlled, the number of cases is still very low and no death was reported. Currently, Vietnamese citizens living in the West, especially international students, have flocked home to avoid the epidemic. Vietnam Airlines confused how to handle when there are continuous changes of regulations.
On March 14, 2020, a representative of Vietnam Airlines announced that, in order to prevent the spread of Wuhan flu, from March 15, its flights from London (UK), Paris (France) and Frankfurt (Germany) to Vietnam will not carry passengers. Flights departing from Vietnam to Europe are normally served by the airline for European passengers to return home.
However, the next day, March 15, 2020, Vietnam Airlines announced that it would continue to transport passengers from Europe to Vietnam instead of stopping as announced on March 14. The airline will transport passengers to ensure the conditions of entry, exit and health back to Vietnam on flights departing from London (UK), Paris (France) and Frankfurt (Germany).
Particularly on March 15, the number of Vietnamese from Europe was very high, the number of people needing medical examination and quarantine, going from or through the epidemic area at Noi Bai airport increased by more than 3 times from the previous day.
By the afternoon of March 15, the medical force at the airport had taken 683 samples of Wuhan flu samples tested for passengers, double the initial estimate. Sampling takes place until 12 pm the same day.
As shared by a Western tourist named Gavin Wheeldon who came to Vietnam on March 14, "everything at the airport was really crazy." Functioned forces have been confused by the large number of people entering Vietnam in recent days.

Is coming home really safe? This is a question that has been posed all this time. Let's take a look at what happened in the past few days to answer this question.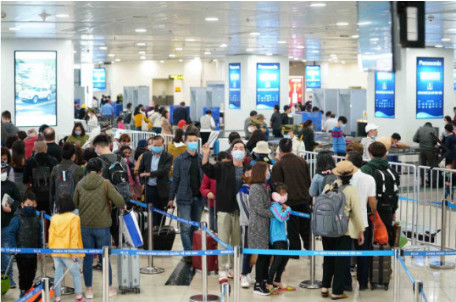 Assoc.Prof. Dr. Tran Dac Phu, senior advisor of Vietnam Public Health Emergency Response Center, affirmed that moving from residence, residence to transit airports is unsafe and very susceptible to Wuhan flu.
Moreover, transit at third countries' airports could also put citizens at risk of this disease. For example, an American overseas Vietnamese who returned to Ho Chi Minh City contracted Wuhan flu while being transited in Wuhan Airport (China) less than 2 hours on January 15, 2020; or patient No. 34 in Binh Thuan got Wuhan flu when he was in transit from Doha Airport (Qatar) to Vietnam on March 2, 2020.
Another risk is when sitting on a plane for 15-24 hours in an enclosed space. If there are people carrying Wuhan flu on the plane, the risk of infection will be very high. Typically, flight VN0054 originated from London (UK) and landed in Hanoi on March 2, 14 passengers were infected with Wuhan flu, or flight number VN0054 to Vietnam on March 9 also had 3 people infected.
On the evening of March 16, the Ministry of Health issued an urgent notice asking all passengers on 7 specific flights to immediately contact the Centers for Disease Control of provinces and cities for instructions on health monitoring because it was determined that a person infected with Wuhan had a flight.
As President Macron put it: "France confronts the war even though it does not have to fight any army or country, but the enemies here, invisible, uncaptured, and growing. " Not just France, but the whole world is fighting against that invisible enemy – Wuhan flu from China.
Trung Nam from Da Nang – Thoibao.de (Translated)