On March 29, Prime Minister Nguyen Xuan Phuc organized an online meeting with leaders of five provinces and cities including Hanoi, Ho Chi Minh City, Hai Phong, Da Nang and Can Tho.
The meeting pointed out the increased risk of Covid-19 infection in the community, especially in relation to the widespread infection at Bach Mai Hospital.
As a leading central hospital, Bach Mai regularly has many people coming and going every day. As many as 40,000 people have been in and out of this hospital in recent days and therefore are subject to follow-up or quarantine.
Thus, with more than 7,000 people identified so far only accounts for about one sixth of the total need to monitor and isolate.
The hospital's deputy director said that by the end of March 29 afternoon had test results for three quarters of the more than 7,000 testing samples of the individuals involved, so far all were negative.
Out of 3 cases of domestic infections as of 6 PM Sunday, March 29, 2 came from this largest outbreak: one in a patient who had previously been treated for another disease at Bach Mai Hospital, and one is an employee of the company that provides boiling water service to Bach Mai Hospital.
The work of zoning and finding people who may be exposed to Covid-19 at Bach Mai Hospital still faces many difficulties.
Domestic media reported that Hanoi asked to "freeze" the hospital early but the proposal was not accepted. Accordingly, Bach Mai only "freezes" some floors, departments where patients are positive.
Next, after March 20, the hospital transferred over 5,100 patients who were being treated at Bach Mai Hospital to the Northern provinces and cities, along with accepting nearly 1,600 people.
With nearly 1,600 people moving to Hanoi, Hanoi City's Chairman Nguyen Duc Chung said that in the past two days, 1,300 people have been identified, checked and taken samples for testing.
But the problem arose with those who went with the patients, who then visited in Bach Mai Hospital.
Hanoi has also implemented a review of all hemodialysis patients living in "dialysis villages" opposite Bach Mai Hospital, all cases of patients in provinces to inpatient, about 300 people regularly donate blood for Bach Mai Hospital.
The next risk from the Truong Sinh Company has 23 employees daily giving thermos to all faculties, noodle soup making unit and the daily cooking unit provides food for about 5,000-6,000 employees in Bach Mai Hospital.
The outbreak at Bach Mai Hospital has made the pandemic situation in Hanoi more complicated when on March 29, Hanoi also started to isolate the Department of Orthopedic Trauma, Saint Paul Hospital, with 41 patients being treated, many family members and doctors were also quarantined. The 175th patient working at the cafeteria of Bach Mai Hospital went to visit his/her child being treated at Saint Paul Hospital in the evening of March 26.
On the afternoon of March 29, the Saint Paul Hospital sent a report to the Department of Health and the Hanoi Center for Disease Control (CDC Hanoi) about the case of one patient with Wuhan pneumonia (patient 175) visiting his child being treated at this hospital.
Accordingly, on March 19, the son of patient 175, named P.T.D, came to the clinic of orthopedic Trauma – Saint Paul Hospital and was diagnosed with a broken ligament in front of the left knee. After that, the patient is outpatient waiting for surgery.
On March 25, patient D. underwent laparoscopic surgery to reconstruct the ligament first, then returned to the treatment room X3 – Department of Orthopedic Trauma.
By 19:00 on March 26, patient 175 visited his son who was being treated after surgery at X3 room. According to the testimony of Patient 175, during the visit to the son, room X3 had the son of the patient and another patient, all wearing masks. After that, the patient left.
On March 28, Patient 175 tested positive for Wuhan pneumonia.
The postoperative patient, the offspring of 175 patients, was also transferred to the Central Tropical Hospital 2 with isolation. Saint Paul Hospital also disinfected all 175 patients' travel routes. By the afternoon of March 29, the Hanoi Center for Disease Control conducted epidemiological investigations and took samples for all having close contact with the patient No. 175 at the hospital.
Face this situation, the Vietnamese government has also stepped up measures to control the spread of the disease by limiting the operation of public transport over the next two weeks.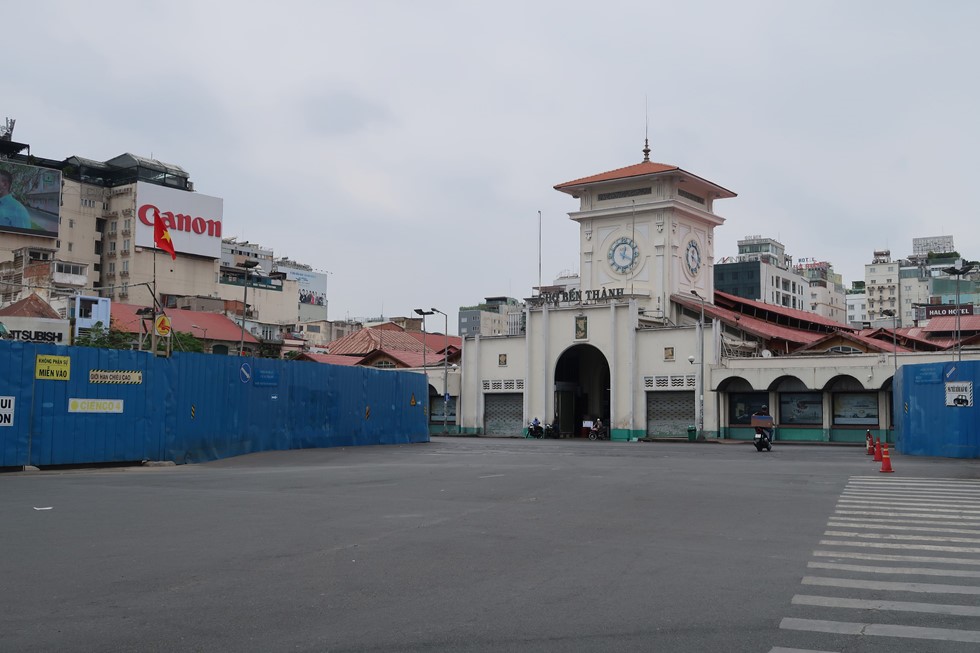 The passenger flight route connecting Hanoi, Ho Chi Minh City and the other two cities of Phu Quoc and Da Nang is reduced from March 30 to April 15, to the point that each airline only flies once a day, all other domestic flights will stop completely, according to the express dispatch of the Ministry of Transport signed on March 29.
The railway industry also decided to minimize routes connecting Hanoi – Ho Chi Minh City and Hanoi to many other localities in the North.
Local buses in Hanoi are closed, while Saigon has a 50% reduction in local buses and all intercity buses.
On March 28, Vietnam also recommended that citizens living abroad not to return home.
According to data released by the health agency at the end of March 28, there are more than 75 thousand cases of close contact and entry from the pandemic area to Vietnam are in need of health monitoring and isolation.
As the information "restricting the movement of people, especially from provinces and cities with pandemics to other localities; restrict flights and passenger transport activities from Hanoi, Ho Chi Minh City to elsewhere in the country … " is disseminated, rumors about blockages of Hanoi and HCM City have been spread on social networks.
Responding to the rumors, Minister and Chairman of the Government Office Mai Tien Dung affirmed: the information about blockade some major cities such as Hanoi and HCM City is incorrect. Although the pandemic is complicated, it is still under control.
However, on the afternoon of March 29, after an online meeting of Prime Minister Phuc with five major cities on the same day, the PM's Office announced that it would not rule out the possibility of quarantining the entire cities of Hanoi and HCM City if the disease continues to develop in a bad way.
The notice states: The provincial governments must be ready for all situations (human resources, vehicles, hospitals, food, etc.) for all situations, ensuring immediate response, including when a state of emergency is imposed or when measures such as curfew or martial law are applied.
Hanoi City People's Committee, Ho Chi Minh City People's Committee review and update their pandemic prevention plan in the area, ensuring the readiness for the entire isolation plan for the whole city. Ensure resources, especially food for people in all situations. Strictly handling speculation to increase prices of medical supplies and foodstuffs.
Before that, authorities in Hanoi and HCM City have sanctioned dozens of Facebooker posting news about the blockade of the two largest cities in the country.
On March 18, the Hanoi blockade information was also spread strongly online and on March 20, the Hanoi government found and processed 20 Facebook accounts to spread the news.
HCM City authorities also said on March 26 that they would "strictly handle" 10 social media accounts that "spread fake news" saying the city will be under blockade for 14 days. According to Tuoi Tre's online newspaper, the Department of Information and Communications of the city on March 26 has verified 10 accounts on Facebook "spreading fake news" about this, including 4 active accounts in the city. The local police are working with the department to handle these account holders.
Meanwhile, the online newspaper of Lao Dong newspaper quoted Deputy Director of Ho Chi Minh City Department of Information and Communications from Tu Luong said on March 26th that "through initial verification, 18 social media accounts have been actively posted unverified and fake information about the blockade in Ho Chi Minh City." Eight accounts actively removed information while 5 accounts operating in Binh Dinh, Dong Nai and Quang Tri have not removed information about the blockade of Ho Chi Minh City. Five accounts operating abroad are being verified by the city's police.
Trung Nam from Da nang – Thoibao.de (Translated)