The shipment of 450,000 protective suits fastly exported  from Vietnam to the US is becoming a topic of debate among the Vietnamese community about whose "credit" really belongs to the supply of medical equipment to the United States amid Covid-19 pandemic.
However, some economists see this as the beginning of a "once-in-a-lifetime" opportunity for the Southeast Asian nation to escape the shadow of its giant neighbor, which has long held all sectors of Vietnam.
The first batch of protective equipment manufactured by Dupont, an American company in Vietnam, and quickly delivered by the FedEx service to the US on April 8, with the support of Vietnamese licensing procedures, became a lawsuit attracted attention when the US President directly addressed and thanked the parties involved.
Fake news reports with vague content "Vietnam supports the US" and then turn into "Vietnam aids the US," while actually Vietnam produced according to US orders.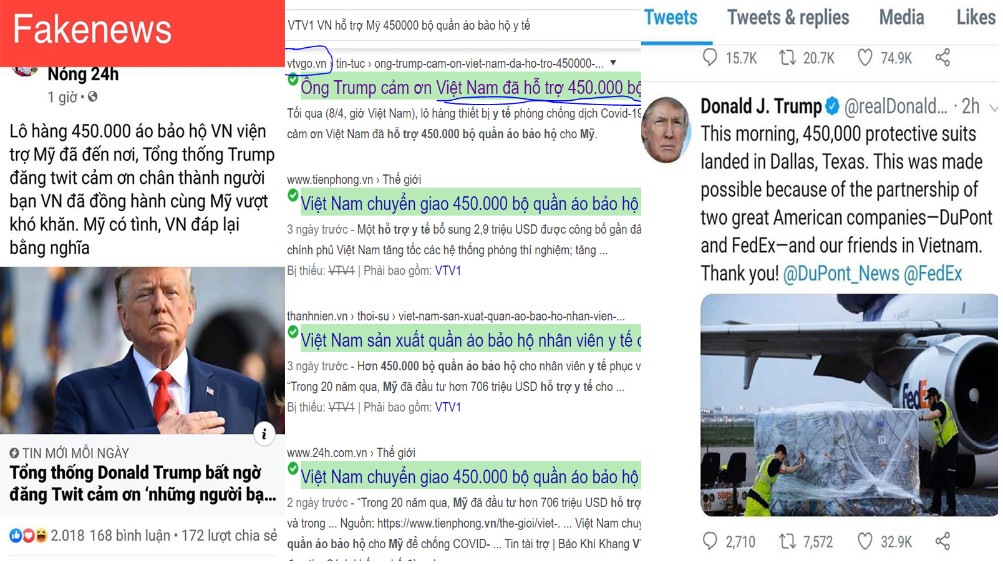 In the morning of April 9, after US President Donald Trump tweeted thanks for "friends in Vietnam," some websites and facebookers quickly announced that "Vietnam provided medical protective equipment to the US."
However, the website of the US Department of Health and Human Services (HHS) shows that 450,000 "Tyvek" protective suits mentioned by the President are the first shipment included in the order of 4.5 million. HHS ordered the Dupont Group to produce at its factory in Vietnam.
HHS's web bulletin also said that the Vietnamese government has created favorable conditions for Dupont Group to transport materials to weekly by air and timely delivery.
Thus, the contents of the message that the above shipment of 450,000 medical protective suits are goods of the Vietnamese government aid (implying gifts, donations) to the US are all fake news.
A lot of people were "surprised" because they were tricked into reading strong headlines in the Vietnamese press, even VTV1 – A Facebook exclaimed: "The VTV1 news has just reported that Vietnam supports the US with 450,000 protective medical suits. Did VTV report fake news?"
The answer here is, it was the Vietnamese media that misled readers and caused a viral wave of "arrogant Vietnam," but the ball quickly deflated.
On the other hand, there is "real" information and it is noteworthy that President Donald Trump thanked Vietnam with the Tweet: "This morning, 450,000 protective suits came to Dallas, Texas. This was made possible by the cooperation between two great American businesses – DuPont and FedEx – and our Vietnamese friends. Thank you!"
Also speaking of this effort, US ambassador to Vietnam Danial Kritenbrink declared "this shipment will help protect health professionals working on the front lines against COVID-19 in the US and demonstrate the power of the US – Vietnam partnership."
And on that event, Foreign Ministry spokeswoman Le Thi Thu Hang said: "In the spirit of international cooperation on the prevention of COVID-19, Vietnam will continue to coordinate closely to accelerate the transfer deliver, manufacture and export medical equipment and supplies made in Vietnam to countries in need, including the US."
Also according to her, "The US is also interested in cooperating with Vietnamese partners in the production of medical protective clothing and masks according to N-95 standards."
The fake news made an economist think of the great relationship between Vietnam and US relations in a different idea. From California, economist Nguyen Xuan Nghia said that Vietnam was "smarter" than China when the two sides faced similar situations.
It is in the context that American companies in two Asian countries are trying their best to produce and provide emergency medical supplies and equipment which are scarce back to the United States, which is witnessing The number of people infected and dying from the Covid-19 epidemic is increasing daily.
But leading US manufacturers of protective equipment, such as 3M, Honeywell said that Beijing banned them from exporting the products they produced in China to the outside, leading to the White House. The snail considered suing China over the act of hoarding protective gear in the middle of the world, including the United States, which is in urgent need to save people during a pandemic.
Meanwhile, in Vietnam, according to the tweet of US President Donald Trump and information from the US Department of Health and Human Services, the first shipment with 450,000 protective suits for health workers. The first line reached the US state of Texas very quickly on April 8 thanks to the cooperation of the two US companies as well as the support of "friends in Vietnam".
"That is, there are two different solutions: the Chinese way and the Vietnamese one. And I think the Vietnamese way is wise," economist Nguyen Xuan Nghia told VOA.
He explained: "First, it is in line with the laws of business and trade with each other. Secondly, it shows that the current regime in Hanoi is as kind and not as vulnerable as the regime in Beijing. "
The lesson here is: "Don't make mistakes like China."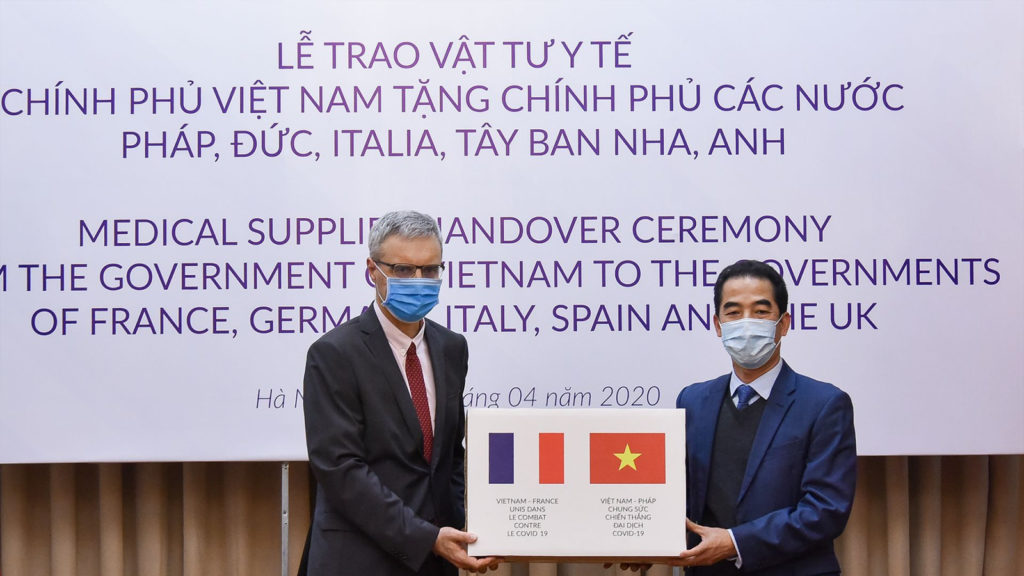 According to the analysis of this economist, China's "inhumane" approach is making the world "shocked", especially the act of collecting and storing medical materials, and then reselling the equipment. substandard for countries suffering from the disease, led the world to reconsider its relationship with Beijing.
"I think this is an opportunity," Mr. Nguyen Xuan Nghia said. "If the leadership in Hanoi analyzes Beijing's mistakes in order not to make those mistakes, I think one of the most important factors is to publicize all data to show statistics and how to We think our situation is reliable ".
Economists living in the US say that in the context that the whole world is very skeptical about the reliability of information and data "always good" of dictatorial regimes, Hanoi should "exploit this opportunity". "To prove to countries that Vietnam is not like that.
According to Nguyen Xuan Nghia, when doing so, Vietnam will "achieve diplomatic victory" while suffering from economic losses caused by the disease.
"If that diplomatic victory is compared with the world, compared to the case of suspicion and too laxity of Beijing, then I think it is beneficial for Vietnam," Nghia said.
Sharing the same opinion with economist Nghia, economist Pham Chi Lan – former member of the Government of Vietnam 's Research Committee – said that the time when the whole world was dealing with Covid-19 was " a once-in-a-lifetime opportunity for Vietnam to review, evaluate and restructure trade and economic relations with other countries, avoiding excessive reliance on China.
"This is a great opportunity that Vietnam needs to seize. Because if we do not seize this opportunity and let it slip, we will not know when Vietnam will be able to change its dependence on China," Vietnam's economic researcher VOA.
According to Pham Chi Lan, through this pandemic, Hanoi was "more conscious, more aware and more hurt about all the badness of its long-standing dependence on China," although it was previously aware the consequences of this situation.
"Previously, although Vietnam wanted to, other partners that Vietnam wanted to involve in were not ready yet. But this time through the flu, most countries in the world have clearly seen their problems in relations with China," Ms. Pham Chi Lan said.
Both economic experts agree that Vietnam will inevitably face difficulties and be forced to trade in the future when deciding to go in the direction of "escaping China."
"But if leaders look a little further, this is an opportunity for Vietnam to gradually escape from the so-called economy that is too dependent on China in all respects," from blocking water and causing difficulties for the Mekong Delta, the source of raw materials depends mainly on China, until the problem of whether or not to export rice today, according to economist Nguyen Xuan Nghia.
However, Nghia believes that the situation in many countries around the world is reviewing China's global supply chain to adjust investment policies is a reality that takes place not only for a short time but will last for a few years. According to him, that time is enough for Vietnam to prepare to become one of the countries' choices in finding alternative sources of China, if Hanoi can make the right decisions from this point.
The advice for Vietnam is to sacrifice growth, and to build internal resources.
Ms. Pham Chi Lan said in the new proposal to the Vietnamese government, she said that Hanoi should accept a reduction in growth in the short or medium term to be able to develop more sustainably, including focusing on "Internal development."
For example, Vietnam's textile and garment industry, Ms. Pham Chi Lan, said that Vietnam had been "engaged in processing for China for the past 30 years" without developing ancillary industry, leaving the neighbor country benefits most.
"Vietnam's textile and garment export turnover is loud, nearly 20 billion dollars, but in fact, how much does Vietnam enjoy, only 15% of the value of processing at the sewing stage? all stages of input materials depend all on China," Ms. Pham Chi Lan explained further.
The former government economic adviser said that she had petitioned the incumbent government in Vietnam on strengthening trade and economic relations with countries in free trade agreements ( FTA) is as important as CPTPP (Comprehensive and Progressive Agreement for Trans-Pacific Partnership) and EVFTA (EU-Vietnam Free Trade Agreement) so that the member countries can realize the common goal of reduce the rate of entry into China.
"Of course, Vietnam cannot be completely replaced by China. No economy can completely replace China. If Vietnam is the President of ASEAN this year, it is recommended that the ASEAN countries propose an initiative to jointly build some new parts of the supply chain, replacing part of China's supply, which is a beneficial way to all stakeholders."
In addition, according to Ms. Pham Chi Lan, Vietnam needs to consider and re-evaluate the effects of the Covid-19 pandemic to restructure all economic sectors. This expert gives an example of the tourism industry. She said Vietnam had let tourism depend too much on Chinese tourists, so when China became ill, it immediately hit Vietnam's tourism industry, leading to the loss of aviation and other service sectors.
"Diversification of partners, not to put all eggs in one basket, has to apply to all sectors of Vietnam, because when looking back, almost every industry has been subject to dependence on China."
Ms. Pham Chi Lan said that from the fact that 450,000 protective suits were quickly exported to the US, Vietnam could completely solve the procedural problem within 48 hours, which means ending the "smearing" situation. smooth ", which is one of the requirements of the free trade agreements that Vietnam has joined.
"Whether or not Vietnam will have to do it within a few years. In such a situation, it is strongly recommended to promote the ways that Vietnam has done with Dupont and FedEx so that shipments can go quickly, arrive at input materials and move quickly to output products ", specializing in Vietnam's economic expert suggested further.
Through this, the Communist Party of Vietnam also learned the dynamics of a full market economy, multilateralism, minimized Chinese dependence in all aspects and ends a painful socialist orientation model such as General Secretary Nguyen Phu Trong often praised, because it would lead people to a dead-end with no way out.
Hoang Trung from Hanoi – Thoibao.de (Translated)