A report from the US Navy said that a USS Theodore Roosevelt sailor infected with the Wuhan Flu virus died on April 13 from complications related to the disease, exactly 11 days after the ship's commander was fired because he voiced concern that the US Navy had done too little to protect his sailors.
Looking at the vessel, senior military officials said they were concerned about warships and other missions.
The USS Theodore Roosevelt is docked on Guam Island in a state of outbreak, Covid-19 spread rapidly on board.
Doctors on board issued warnings about 50 sailors could die, according to the New York Times and DailyMail. However, the superior did not want to evacuate the entire ship.
This aircraft carrier had visited Vietnam port of Da Nang 4 days last month on March 5-9.
Surprisingly, the Vietnamese side, especially in the Da Nang area, has not reported anyone infected with Covid-19 while hundreds of Vietnamese people include government officials, Navy officers, journalists. and people have direct contact with this team.
Earlier in February 2020, according to Straitstimes, Diamond Princess yacht, where 712 cases of Covid-19 found, had made five calls to many ports in all three regions of Vietnam to get guests. Thanh Nien newspaper said Chan May Port in Hue alone had more than 1,200 passengers approved for entry and actually had nearly 500 passengers disembarked on January 27. However, up to now, no cases have been reported among Vietnamese.
Over the weekend, four sailors from Roosevelt were admitted to the hospital after having symptoms similarly to that of Covid-19, the US Navy said. They are all in stable condition and no one needs special care or breathing machines.
The deceased sailor, whose identity was not disclosed, initially tested positive for Covid-19 on March 30 and was removed from the ship to be isolated from four other sailors at US Navy base on Guam. On April 9, the sailor did not respond during a medical examination and was transferred to a intensive care unit at a local hospital.
Three other aircraft carriers – Ronald Reagan, Carl Vinson and Nimitz – already had virus-positive sailors, and the Navy was urgently addressing their cases.
April 13's death was the first death of a crew of about 4,860 people, of which 585 were tested positive for Coronavirus as of April 13.
More than 4,000 sailors have been moved ashore. Some sailors were kept on this giant ship to monitor nuclear reactors and other sensitive systems.
The Roosevelt was so caught up in a crisis about Coronavirus that the US Navy's civilian commander, Thomas Modly, sacked its commander on 2 April. However, five days later, Modly resigned after boarding the plane and giving a speech, in which Modly insulted the commander – Colonel Brett E. Crozier, and criticized the crew. for supporting Mr. Crozier.
President Donald Trump initially criticized Colonel Crozier for writing a letter – which described the dark situation on board and urged the superior to evacuate most of the sailors to quarantine before the pandemic went uncontrolled – but later said he didn't want Crozier's career to be ruined because of a mistake.
Mr. Trump, at a press conference at the White House on 4 April, blamed Colonel Crozier for sending sailors ashore when visiting Vietnam causing them to become infected with the virus.
Colonel Crozier himself was also infected with Covid-19.
The US aircraft carrier visited Da Nang port at the time Vietnam had only 16 cases of Covid-19 infection, most of which were in the northern provinces.
Admiral Robert Burke of the US Navy is conducting an investigation into the outbreak of Coronavirus on the Roosevelt and related events, and the results are likely to be released this week.
The cause of the crew on board infected with the virus may be due to a 4-day visit at the port of Da Nang, Vietnam. Some sailors have stayed at the Vanda Hotel, where two British patients with Covid-19 infection were later spotted on the VN0054 flight with female patient No. 17 and Vice Chairman of the Theoretical Council Nguyen Quang Thuan.
The event of detecting two patients No. 17 and 21 has marked an outbreak of the number of infections in Vietnam so far.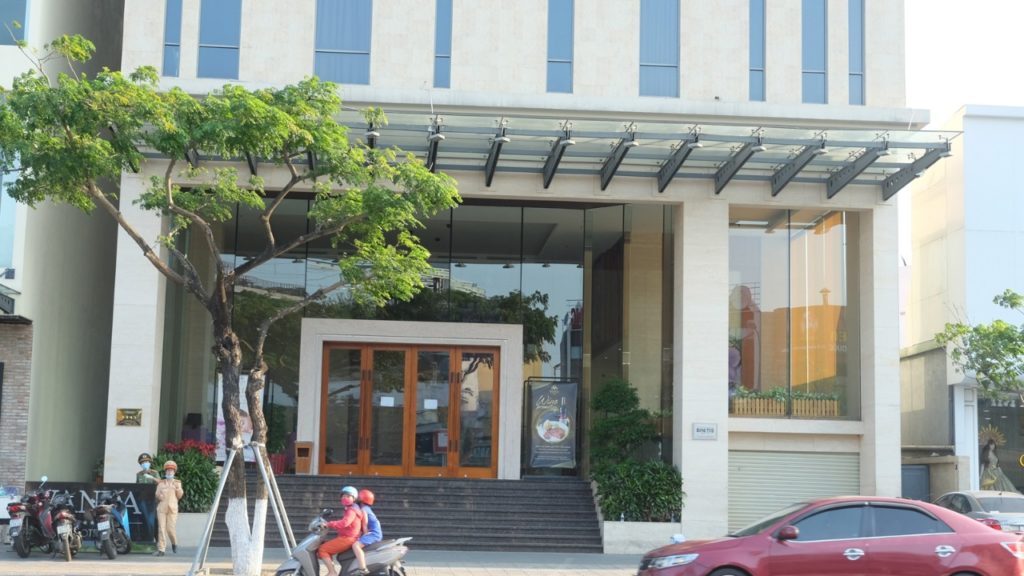 The ship anchored offshore and brought sailors into the harbor with small boats. They stayed at a hotel that had two British positives, according to the New York Times.
On the fourth and last day in Da Nang, after dozens of sailors spent at least one night at a hotel where two British nationals tested positive for the virus, the Roosevelt ship captain ordered an number of crew members returned to the ship for fear they might be exposed. Those who stayed at the hotel were immediately isolated, according to the New York Times.
Roosevelt returned to the sea and the crew were closely monitored for 14 days. During those 14 days, aircraft from Japan and the Philippines arrived at the ship to replenish supplies.
Then on the morning of March 24, they received the code "River City" which meant reducing communication methods, most sailors had no access to the Internet or make phone calls.
Three sailors from the nuclear reactor section on board were positive for Covid-19 and were taken to the Naval Hospital on Guam Island. Two days later, on March 26, the Roosevelt also landed at Guam. All sailors started being tested.
There was a debate between Captain Crozier and his superior, Rear Adm. Stuart P. Baker. Senior Navy commanders, including Modly, also heard about this in Washington.
Although Mr. Crozier wanted to evacuate almost the entire crew to conduct tests, quarantine and disinfect the ship, Brigadier Admiral Baker protested. He said the less drastic measures still protected the crew and kept the Roosevelt in service.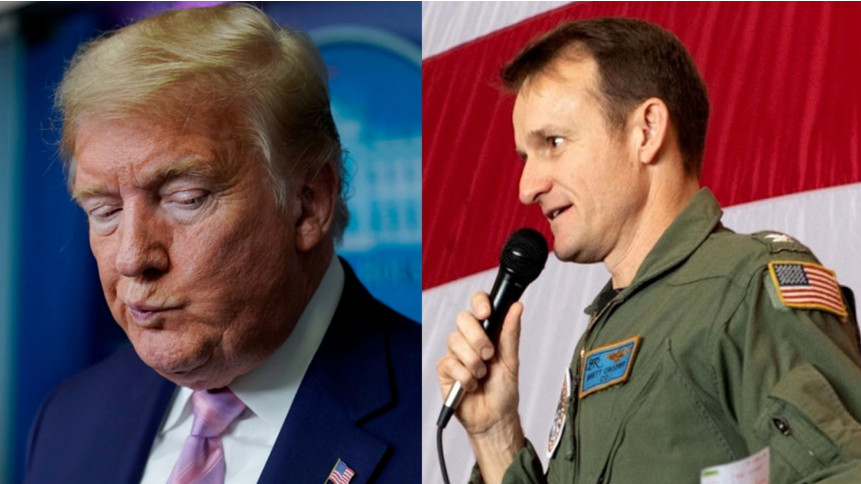 Crozier is obsessed with what happened on the Diamond Princess. The yacht has 2,600 passengers in different cabins. More than 700 people aboard were positive for Covid-19 and eight died.
The situation on Crozier's ship was likely to be much worse: nearly 5,000 sailors slept together in tight spaces. Eight seriously-symptomatic Covid-19 sailors were evacuated to a Navy hospital on Guam island, according to the New York Times.
On March 30, after four days of being rejected by his superior, Captain Crozier decided to compose an email. "Sailors don't need to die," Crozier wrote in a letter to 20 Pacific Navy officials asking for help.
A graduate of the Naval Academy with nearly 30 years of military service, Mr. Crozier knew that this email would likely end his career, his friends said. The US military appreciates its hierarchy and whereby Mr. Crozier should have continued to promote his superior actions.
Crozier emailed some of the most senior officers on board. They told him they also wanted to sign the email. However, Captain Crozier did not allow them to do so for their careers.
Captain Crozier's letter struck the argument that everything was under government control.
The letter was later spread quickly in major newspapers and made Mr. Modly angry. Mr. Modly then decided to sack Captain Crozier.
When Mr. Crozier left the ship for the last time, hundreds of sailors gathered and cheered him on. The videos of this scene are widely circulated online.
This, according to Navy officials, made Mr. Modly angry. Modly's next move stunned Pentagon officials and made the crew on the ship even more violent.
Mr. Modly took a $ 240,000 flight – to Guam. Upon landing, he boarded the Roosevelt and delivered a 15-minute speech to the sailors who supported Mr. Crozier.
Mr Modly said Mr Crozier was "too naive or too stupid" to command an aircraft carrier. He also said sailors should never trust the media and blame China for the virus. Less than 30 minutes later, he boarded the plane and disappeared.
This speech quickly spread widely online. Navy officials were flooded with reporters' calls. Mr. Modly made things worse by declaring, "I keep everything I say."
At this point, lawmakers and military officials have called for the dismissal of Modly.
Defense Secretary Mark T. Esper told Modly he would have to apologize. After that, Mr. Esper also accepted Mr. Modly's resignation. Photo: New York Times.
US Defense Secretary Mark Esper called Modly and said, "You have to apologize," Defense Department officials told the New York Times.
Seven hours after announcing his words, Modly had to retract them. "I don't think Captain Brett Crozier is naive or stupid," said Modly.
However, Mr. Modly could not avoid the consequences. The next day, Modly called Mr. Esper to resign.
As for Mr. Crozier, he was still alone and fighting Covid-19 in the guest quarters on the base of Guam. 584 sailors aboard the Roosevelt-positive virus were also quarantining on Guam island with nearly 4,000 sailors being removed from the ship. An infected sailor must enter the intensive care unit on the island.
Navy officials said the Roosevelt could be disinfected and ready to continue operating in the Pacific this month. More than 345,000 people also signed an online petition to restore Mr. Crozier.
Looking at the Roosevelt, senior military officials said they were concerned about warships and other missions.
"From my point of view, it should not be thought that the Roosevelt problem only happened once," General John Hyten, vice president of the Joint Chiefs of Staff, said on 9 April.
The United States, with its leading role, joins all of its allies and important partners in the world in supporting freedom of navigation and overflight according to the signed international conventions.
The fact that the US carrier's sailor died after the ship visited Da Nang due to the Covid-19 pandemic was a matter of thought.
Vietnam needs to be more vigilant against the intrigues and tricks that Chinese intelligence bureaucracy could cause, they will in any way undermine the cooperation between the US and Vietnam in the time next time.
Trung Nam from Da nang – Thoibao.de (Translated)