The Covid-19 pandemic has highlighted a feature of Chinese diplomacy "under the reign" of Xi Jinping – that is, aggressive, arrogant, rude features different from a hidden China along with the previous generation of modest and courteous diplomats.
China has been heavily criticized from all sides. Washington, London and then Paris in turn have voiced suspicion and demanded an investigation into the origin of Coronavirú. India is demanding that China pay trillions of dollars. It all are results of Xi's foreign policy.
Marie Holzman, a China researcher, said that all these countries' movements were the result of a tough, rough change in China's foreign policy, especially related to the policy line set by Xi.
The Chinese researcher repeats, in principle, a professional diplomat must know how to talk to people, be open, prioritize dialogue, discuss and, if possible, resolve conflicts. These qualities of a diplomat were cleverly applied by Xi's predecessors.
Therefore, the world only knew of Zhou Enlai, the late prime minister and foreign minister under Mao Zedong's administration, who created a "ping pong" diplomacy that allowed the US and China to resume the relations between Cold heart crush. Or Deng Xiaoping, who brought the country up but avoided any arrogance. These erudite politicians understand that the position and breadth of the country, the strength that China can exert on a global scale are at risk of causing concern to contemporaries, near or far.
Only the advice of his predecessors was quickly abandoned by Xi Jinping. Quite tight when it came to power, current Chinese leaders are quick to drop their masks and show the global ambition that the New Silk Road project is a prime example.
By pursuing a policy of his own, Xi Jinping has denied, neutralizing the diplomatic achievements of his predecessors.
In July 2009, then-Chinese President Hu Jintao delivered a speech to domestic diplomats, emphasizing that China needed to strengthen its power and influence on the international arena.
However, Hu mentioned a principle of strategic direction that senior leader Deng had introduced in the early 1990s, that is: "hide yourself, wait for the time", and affirm China should "strictly abide by" that principle.
Although the full text of Mr. Hu's speech was not officially published, the "People's Daily" – the mouthpiece of the Communist Party of China (CPC)- emphasized that China should "pursue to achieve four strengths" in foreign policy: First, China should seek greater influence on the international political arena; second, China should enhance its competitiveness in the global economy; third, China should build itself a more friendly image; fourth, China should cultivate to become a respective power.
However, when Xi undertook a consolidation of power, the picture in China changed. Xi no longer mentions the principle of "concealment of waiting for the time" but instead creates an "active strategy," seeking ways to realize the "Chinese dream" on the international stage, especially in foreign policy with neighboring countries (foreign diplomacy) of China. The "Chinese Dream" depicts the prospect of a Chinese nation reviving, becoming prosperous and having military might.
Xi views China as a major power on the world stage. In a speech in October 2014, he introduced the concept of "big foreign policy with a Chinese identity." For the first time in decades, Beijing's leadership described China's foreign policy as that of a "big country."
The efforts of Hu's predecessor to allow the world to accept China's culture, cinema, calligraphy (the art of writing), qigong and many other cultural values were abandoned by Xi.
Now, instead of the humble and polite words required, Chinese diplomats become aggressive and do not hesitate to make false criticisms as soon as the government gives the green light.
Content, tone, timing, all are directed from afar, from the top floor of the leader that Xi is presiding over.
Chinese observers jokingly say that it will be very easy to predict statements at Chinese government press conferences with repeated occurrences of phrases such as: strong opposition, countering " interference in China's internal affairs," criticize "unspeakably vicious intentions" and "hegemony," accusing someone of "hurting the emotions of 1.3 billion Chinese."
But in 2019, something new began, senior Chinese diplomats began joining Twitter with official accounts and tweeted in somewhat undisciplined tones.
The BBC has identified about 55 Twitter accounts thought to be by Chinese diplomats, embassies and consulates, 32 of which were created in 2019.
These accounts often have the same Western accent and tactics and opposing voices, which is the sophistication of "whataboutism," from the phrase "What about …" meaning "What about you so what…"
This sophistication points out that other countries have similar problems with China, even worse, and accuse critics of hypocrisy.
"Whataboutism" is a classic tactic used by the Soviet Union during the Cold War and has become globally popular in the age of social networking.
But tweets by Chinese diplomats have received mixed feedback, with most of them negative comments.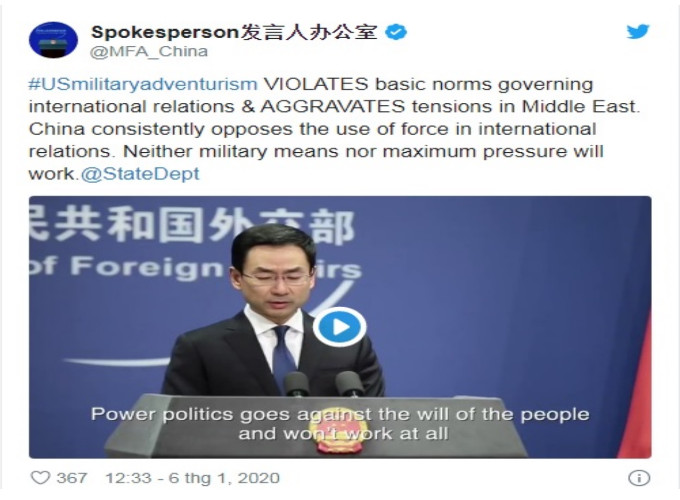 Many Twitter users say they do not believe in China's "lie" and argue that diplomats are distracting attention from Chinese problems.
While others praised the diplomats for telling the "truth." However, there are doubts about the sincerity of these positive comments.
The Chinese government is known to still recruit public opinion commentators online to influence domestic public opinion. And there are signs that Beijing may be trying this tactic internationally.
In August, Twitter and Facebook deleted hundreds of accounts from their platforms, to block what they described as a Chinese state misinformation campaign, involving protests in Hongkong.
China is also keen to spread state media to the Western world by paying to post tweets on issues such as Hongkong, which often contradict most of the global media.
State-run media paid millions of yuan to third-party companies over the past two years, to promote their news content on YouTube, Facebook, LinkedIn and Twitter, according to the BBC's public spending record.
This may be the reason that Twitter has recently banned advertisements from state media around the world.
The mission of every ambassador is to promote and protect the interests of his country. But Chinese diplomats also have to assume a "fighting spirit" that Chinese Foreign Minister Wang Yi has instructed and must also show a loyal commitment to Party leaders in Beijing. The Covid-19 pandemic has become a rare opportunity for diplomats of this country to reveal their talents.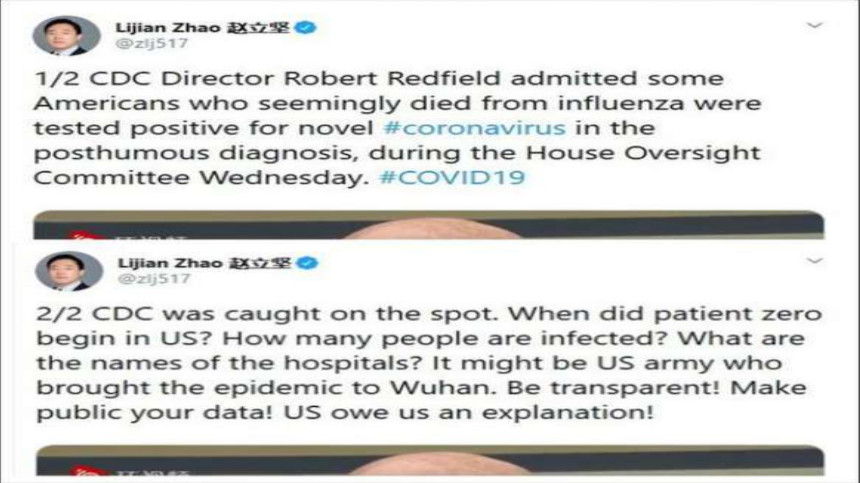 Those who represent the country in foreign countries must completely abide by the Party's guidelines and are not allowed to appear weak or wavering.
Rose Luwei Luqiu, also a veteran journalist, said: War on the West is the "most accurate" way of diplomacy for foreign representative officials abroad.
So, while President Xi may not have the itchy finger to tweet like Donald Trump, dozens of Chinese diplomats are currently tweeting his thoughts, or what they believe are thoughts of him, out to the world.
The Covid-19 pandemic raises the question of whether China is still a reliable partner of the world. Not only it is accused of hiding the truth about a new virus that causes acute pneumonia, cheating the World Health Organization about the corona virus's destructive power, but Beijing has also embarked on a propaganda war from the corona virus theory introduced by the US military.
The majority of top Chinese diplomats in Beijing and overseas condemned the West on the one hand to accuse the West of distorting the truth about Covid-19 on the other hand, directly criticizing the inhuman Europe and America of the elderly in the loneliness and coldness, incompetence in dealing with disease.
In an interview with RFI Vietnamese, Chinese researcher Stéphane Corcuff taught at the Lyon School of Political Science, arguing that Covid-19 is "a new starting point that will bring a new perspective on international relations, especially to China."
The French researcher said that China was a challenge in the period after Covid-19.
It is important that from now on we must determine the future relationship with Beijing, that is, demand that China face the past and explain what happened in the past months since the corona virus broke out, about the causes of the medical crisis in the country and how Beijing deals with the disease.
The international needs to determine if China is being deceived or not and what the West needs to do to achieve a healthier, more stable, somewhat sustainable relationship with the country.
While Beijing is trying to propagate to make people forget that the corona virus originated in Wuhan and that propaganda didn't work, the international needs to seize this historic moment to rebalance their relations with China.
Even now Beijing still wants to deceive people, selling poor quality goods to Europe while Europe is facing a pandemic.
Mr. Corcuff said: The world needs to immediately stop China from conducting propaganda campaigns and acquiring multinational institutions it manipulated like the WHO. This action of China directly threatens the lives of millions of people. That's what China and the WHO have to bear.
The arrogance in recent years and especially in the Covid-19 pandemic also originated from the two-sided attitude of Xi Jinping: Words that seem mild when traveling abroad, but when in the country, unlimited dictatorship.
Only, the fire has been lit everywhere and now Chinese diplomacy must try to quell, not only in Washington, Paris, London, other Western countries, but also in Africa where China has important partners as well as other countries in Asia.
For Vietnam, the Chinese authorities are always telling friendship with 4 good and 16 gold letters, but on the other hand, they are plotting to spread hegemony in the East Sea (South China Sea) with 9-dash line to annex territory and territorial waters of Vietnam.
The authorities in Hanoi, through the case of the Chinese side hiding information about the epidemic which led to enormous losses to the country, now it is necessary to take measures to prevent even the Northern comrades.
Hoang Lan from Hanoi – Thoibao.de (Translated)