Every time China takes hostile actions in the East Sea (South China Sea), the story of whether Vietnam should break its policy of not associating with one country in order to oppose a third country to turn to the alliance with another country to defend national sovereignty is again discussed.
On April 23, the BBC opened a thematic discussion "East Sea and regional security during the COVID-19 season" with Vietnamese scholars working at US universities. Both guests said that Vietnam should not make military alliance with any strong country including the US, and any country can support Vietnam at this time.
Professor Ngo Vinh Long, a historian and Chinese researcher from the University of Maine stated:
"I think Vietnam should not ally with a strong country, especially with the US. Increasing security cooperation with the United States is good, but the alliance will give China an excuse to pressure Vietnam on everything."
"We must think that besides the East Sea, there is land, but the land, military, economic issues, etc. are very large, China has an excuse and physical strength to fight Vietnam according to the pincer plan."
"Vietnam should think critically about whether or not it is an alliance, but I think strengthening our security by strengthening cooperation with countries in the region and the US or Australia is a good tactics."
In the event that China is considered to have encroached upon, or even acted in, the military with the Spratlys and in the South China Sea as it did in 1974 and 1988 before, Professor Long said: "Vietnam has to appeal to countries for common security, the alliance issue is an old one, such as the US alliance with the Philippines or the alliance with Taiwan, or with Korea, that was the Cold War … Now that the time has passed, maybe in the distant future it will return, but now that I come to the alliance, I think it is dangerous."
From George Mason University, Professor Nguyen Manh Hung, political researcher and international diplomat said: "For Vietnam, the military alliance with any country to fight China is not practical. "
Prof. Hung analyzed: "Who does Vietnam want to ally with? Southeast Asia, no one wants to ally with Vietnam. Big countries like India, follow the vague, neutral policy is a bit anti-China now, but the Indian tradition is to stay out of ethical discourse for others, not get involved.
Japan's constitution greatly limits its military affairs in foreign country there are no regional countries that could partner with Vietnam.
The US is now an unbelievable ally, because the first of its internal policies toward China is not identical. The US always calculates. Alliance must be beneficial to America. The two sides are mutually beneficial, that is when the property is called an alliance, and if it has no benefit, the alliance will break. Therefore, if Vietnam uses the US to ally against China, the US was afraid that if in this case Vietnam was brave, the US would naturally have to go to fight with China. It is for sure the US would not want to fight with China for Vietnam.
So the current situation shows that this solution is not practical. Vietnam also doesn't want it and no one wants that to happen now."
In such a context, what does Vietnam need to do? Prof. Hung stated: "In fact, any law must be backed by strength, so there must be a good and favorable force relation to stop China."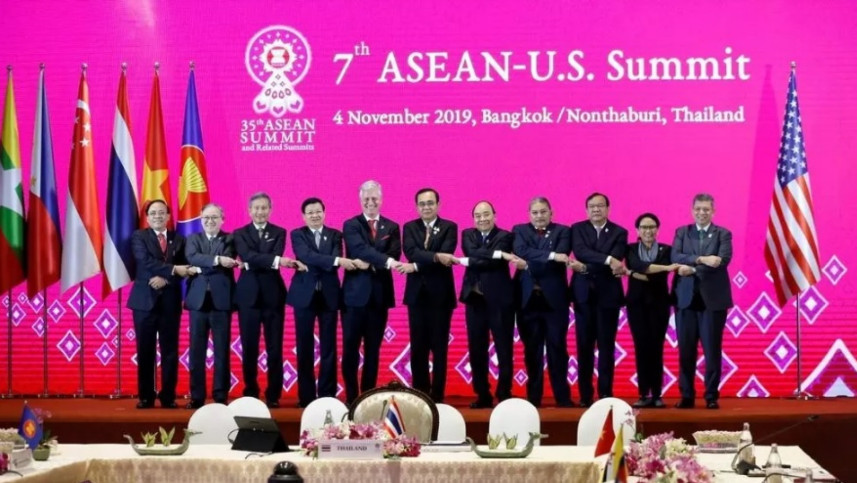 "In terms of force relations, the country most likely to counter China is the US and the US is now in that trouble. For example, theoretically, the US sees Vietnam as important and the US needs it, indeed Vietnam can manipulate the bloc of Southeast Asian nations, provided that it is homogeneous. Those two interact with each other, if the Southeast Asian bloc is homogeneous, trying to fight China, it will help the US to intervene more and more involved.
On the contrary, the less the US intervenes, the more divided the countries are, because they have to count that if China becomes a dominant force in that region, if the United States does not help them, they must find a way to adapting to a country bigger than themselves."
That is the reason why we see countries that do not have a vested interest in the South China Sea to find ways to "sneak" around, if the US advances, they will follow, if the Americans back, they will be friend with China.
So we see two factors worth noting. The first is the solidarity of Southeast Asia and the second, the US involvement. The two have reciprocal effects. And in the case of Southeast Asia, the consensus approach can never do anything big. Consensus is only the smallest common denominator, which few people oppose to it. And so there must be drastic.
If you want to mobilize that, then of course you need to mobilize a certain bloc it becomes a push, important countries that promote. Those countries have common interests, so it is advisable to apply those countries with common interests. And one of the very important countries that I think is difficult to drag them into is Indonesia. Indonesia is a very strong, populous country. It would be better if they were interested, but according to my estimates Indonesia has its own ways, which are difficult to include. There are only a few small countries – Philippines, Malaysia, like Vietnam, which are related countries, in theory, should mobilize those countries and especially lobby Singapore. Therefore, if the support of Singapore is more, it will create more prestige, international power – their soft rights, so mobilize.
Therefore, we see that each country has its own interests, so in theory, it is advisable to mobilize, but in practice, I find that campaign very difficult."
Dr. Anders Corr, an expert on the South China Sea, once active in the military forces at the US Pacific Command, expressed a completely different perspective in an analysis published by the American magazine The National Interest published on November 7, 2019, after sent its HD8 survey ship and escorted military vessels to Vietnam's Vanguard Bank last year.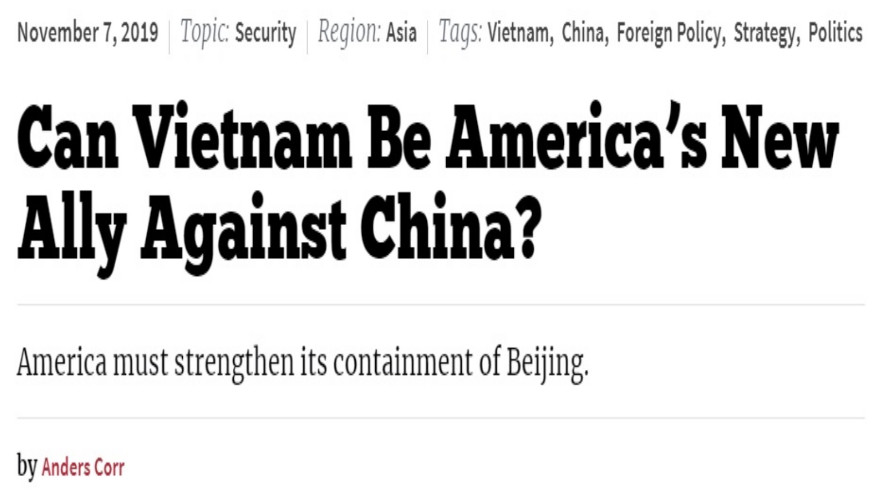 He said that in order to deal with Beijing's desire to monopolize the South China Sea, Vietnam needs an adaptive strategy, in which the extremely important factor is the alliance with the US, the only country that currently is capable to stop China.
He judged that in previous incidents, from the Hoang Sa (Paracels) incident in 1974, to the Gac Ma (South Johnson reef) incident in the Truong Sa (Spratlys) in 1988, China was always the first to cause, and as a result, Vietnam has lost both people and territory.
To counter China, Dr. Anders Corr said that Vietnam needs a new strategy which has four important components.
One is that the alliance with the countries that can deter China at the highest level of the nuclear deterrent, for example with the US, France and the UK.
Second, alliances with countries capable of rapidly deploying conventional (conventional) military forces to deter China, such as the US;
Third, using the fruits of economic growth to raise military spending to deter China on the spot, for example through the purchase of additional submarines, anti-tank missiles and anti-aircraft missiles;
And four are democratizing and improving human rights to facilitate closer economic and military alliances with countries having less connection with China.
Dr. Anders Corr affirmed that when India, Russia, Australia that Vietnam has called for support cannot be a core alliance partner; ASEAN influenced by China should neglect China's violations in the South China Sea; only the US can qualify to support Vietnam against China
Russia, Australia and India may be useful strategic partners for Vietnam, but those countries cannot afford to be a core alliance partner because they lack the power necessary to defeat China alone.
Russia has a seat on the UN Security Council, and both Russia and India are nuclear powers that are important for deploying conventional military forces to deal with China, but neither of them has military or economic power to confront Beijing. Both are members of the Shanghai Cooperation Organization, which is in fact led by China. Therefore, these two countries cannot become reliable core allies for Vietnam.
Australia is a potentially reliable ally, but does not have the nuclear deterrent or convention necessary to confront China. Australia is also not particularly strong diplomatically, the Australian military lacks facilities compared to China, and especially Australia is more influenced by Chinese politics than the US, France or the UK.
About 40.8% of Australian exports are sold to China, which explains China's enormous influence on Australian businesses that have an influence on the Australian political stage. In contrast, the US, France and the UK have few exports to China as a percentage of their GDP, so they are less politically influenced by China. The three countries also have the strength of being a permanent member of the UN Security Council.
ASEAN has provided little help to Vietnam in the context that its member countries have been increasingly influenced by Beijing, and vetoed any real criticism of China. These countries prepare very little or virtually neglect to prevent China's gnawing of the South China Sea. Even the Philippines, the only country that has ever sued China's nine-track line, is also increasingly affected by Beijing.
Dr. Corr affirmed that only the US has all the conditions to become a core ally reliable and strong against China. Those conditions are an independent foreign policy with Chinese influence (compared to ASEAN and Russia members), an economic power needed to punish China, a diplomatic power necessary to vetoed China at the UN Security Council.
The US also has the military capabilities necessary to deploy conventional military power to deal with China, and the nuclear deterrence necessary to protect itself from China's potential nuclear retaliation.
US expert said: Without the US to counterbalance China, Vietnamese security cannot be guaranteed. US participation is essential for any effective coalition against China based on existing force relations.
However, the US only gives priority to allies of similar value in democracy and human rights. Therefore, in order to obtain not only the alliance with the US, but also the willingness of the US to sacrifice for Vietnam and to accept risks before a nuclear power, Vietnam needs at least gradual improvements in democracy and human rights.
Since the event of China 's placement of the 981 Ocean Rig in Vietnam's exclusive economic zone in 2014 with the accompanying belligerent actions, Dr. Le Hong Hiep, principal researcher at the Southeast Asia Research Institute (ISEAS), Singapore has identified that Vietnam needs to turn to alliance policy.
The researcher offers four reasons for this diversion:
Firstly, at present, the foundation of Vietnam's non-union-linked policy has become no longer relevant or counterproductive. Non-union policy – the link is suitable only for each historical period as in the Cold War. This is only a good choice when Vietnam security is not threatened while in recent years China has become increasingly aggressive in the South China Sea. And the non-union-the link is only reasonable when Vietnam's internal strength is strong; however, the force relationship between Vietnam and China is too different.
Second, China broke the "balance point" in bilateral relations and forced Vietnam to change its strategy. In other words, Vietnam has no way back, either to surrender to China, or to find ways to respond.
Third, Vietnam has favorable conditions to switch to coalition policy. The international position and internal force of Vietnam today is different from the period before normalization with open diplomatic relations, having mutually beneficial economic relations with most countries in the world, having relations with normal and growing with the big and medium powers. In particular, Vietnam has been a member of all major regional and world organizations. So we have both favorable conditions and network of relations to form alliances, and enough diplomatic space to escape China's siege and isolation if retaliated.
Fourth, the current regional and world strategic environment is conducive to Vietnam's diversion, especially that Vietnam has a righteous advantage over China; have natural allies are countries that have territorial disputes with China such as the Philippines, Japan or countries with strategic interests that conflict with China such as India and the US
Vietnam is not the only country pledging not to join military alliances, not rely on one country to fight the other, Ukraine has been like that when politics was always controlled by the Russian bear, pressure on the land. However, Ukraine saw the malice of Russia and its parliament decided to abolish the commitment to bind itself. On December 23, 2014, the Ukrainian parliament had an overwhelming majority of votes of 303/8 supporting the abolition of the non-aligned rule that it adopted in 2010 at that time under Russian pressure to prevent Ukraine from joining NATO.
Whether Vietnam should change its neutral, non-union stance, and with which country and in what form should all alliance protect territorial sovereignty under China's expansion, will still be the focal point for the Communist Party leaders in Hanoi and people throughout the country continue to discuss to come to a final decision.
But will General Secretary Nguyen Phu Trong, Prime Minister Nguyen Xuan Phuc and the Politburo members make changes to create a turning point, or still blindly believe in the motto to keep close ties with China? then we will continue to closely observe this group of people in the future.
Hoang Lan from Hanoi – Thoibao.de (Translated)