As many as 45 years after the fall of Saigon, the characters who played roles in the period leading to this historical event became more and more sparse … Among the remaining rare historical witnesses, there was Mr. Hoang Duc Nha, the former minister for information of the Republic of Vietnam. Mr. Nha, special adviser of then President Nguyen Van Thieu, looked back on the historical event of April 30, 1975 in an interview for VOA-Vietnamese language.
"April 30 is a combination of many elements that have been structured and implemented over the years, before Americans wanted to get out of the Vietnam War, not because of their incompetence, but because at that time they changed their lanes, wanting high-level arrangements with China, with Russia, on the geopolitical landscape," Mr. Hoang Duc Nha said.
He said that when the North Vietnamese army invaded the South, the South Vietnam had no guns left, although two years earlier, the South Vietnamese government had signed an agreement based on President Nixon's promise, pledging to help the Republic of Vietnam survive, and will provide weapons to the South, if the North Vietnamese violates the agreement.
But the Americans did not keep their promise, leading to a situation in which the South "had no means to fight."
The agreement President Nguyen Van Thieu had reluctantly signed under US pressure, in January 1973, was a turning point in the Vietnam War. Mr. Nha said that two years earlier, the Americans had intended to withdraw from Vietnam because the US wanted to bring prisoners back "so that Mr. Nixon could show the people that he kept his promise to bring American children home."
Former Special Adviser of President Thieu said the "extremely unfortunate" thing was that April 30 happened in the context of the South administration was making progress.
"At that time, my army had started to be strong. In the country, the administrative apparatus started to work properly, I think if the communists did not attack, the South would become stronger and stronger. The country began to have oil, at that time was about to export rice again, we had all the factors to develop and build the country."
At that time, the US had to deal with internal problems that shook President Nixon's chair, would the Watergate scandal affect the American decision to withdraw from Vietnam?
Mr. Hoang Duc Nha said that the Watergate case affected the urgency in US internal politics, affected the South and whether the US kept its commitment or not because Mr. Nixon had to deal with Watergate at that time. He explained: "At that time, the US Congress was controlled by the US Democratic Party. The two houses saw an opportunity to lure President Nixon and they chose the Watergate issue and continued to attack. The day the Supreme Court forced Mr. Nixon to deliver that tape, was the day I saw for myself how the South was affected."
Writing about Mr. Hoang Duc Nha, NYT newspaper describes him as the most powerful man in the South, second only to President Thieu. The newspaper said that Mr. Nha plays the role of three important figures of then US government: the President adviser of Kissinger, the Press Counselor of Ron Spiegler, and Charles G. (Bebe) Rebozo, a trusted friend of Nixon.
Nha is a cousin of President Thieu, but he said he was trusted by Thieu not because of his relatives but because he understood Americans and analyzed the situation.
"I went to the US to study at an early age, I knew the nature of the Americans when they applied something and found that the path didn't work, they left, they didn't love at all, even though they had invested billions of dollars in investment."
President Thieu was a Lieutenant General, who had to listen to all the splits before making a decision. I work with him trusted by him even on matters not within my scope. As Secretary, I didn't do anything about diplomacy but I was able to separate, which is why I did all three jobs that the NYT," Mr. Hoang Duc Nha said.
Dr. Henry Kissinger, the security adviser of President Nixon, was a key player in the negotiations leading up to the Paris Agreement.
With pragmatic 'shuttle' diplomatic activities, Mr. Kissinger urged the US to open its doors to China, changing the world order with consequences that continue to this day. It is believed that Kissinger was largely responsible for the outcome of the Vietnam War. Secretary of President Thieu said:
"Agree! It was he who negotiated a very disastrous agreement, forcing himself, not listening, not paying attention, not caring about the wishes of the South. He only did what he thought was winning, but it was not certain that Mr. Nixon would agree with him, but because Mr. Nixon was afected by the Watergate problem, he had no time to think. Mr. Kissinger said OK, let me sign the agreement and then I am a hero, I have taken American prisoners back, finished."
As a person who directly confronted Mr. Kissinger to demand better conditions for the South, Mr. Nha was considered a thorn in the short term when Mr. Kissinger came to Vietnam to urge President Thieu to accept the solution "to end" war and reestablish peace in Vietnam" which he negotiated with Hanoi during night trips with Mr. Le Duc Tho. In his memoirs "The White House Years", Mr. Kissinger described Mr. Nha as being arrogant, stubborn, unpleasant. Kissinger also used other heavy words to talk about Mr. Nha. Mr. Nha said:
"In fact, Mr. Kissinger doesn't like me because I was clogs in his stomach, he is a famous professor while he is a small man daring to challenge him," Mr. Nha recounted.
"In his memoirs, Kissinger rebutted to Nha's criticism that Americans only bargained for a decent interval" – that is, long enough for the US to withdraw 'in honor'."
"That's what makes Mr. Kissinger and the Americans hate me. I was the one who analyzed the situation, back then I used the term 'a good time' for the news after Kissinger went to Beijing, then President Nixon went to Beijing, arranged with Zhou Enlai and Mao Zedong … Our country is a game they give to play another game."
The Republic of South Vietnam now belongs to history, which is often in the hands of the winner.
"Who wrote history? The winner wrote that they said the South Vietnamese did not defend their territory, it was a mistake, explaining that their allies did not keep their commitment to the South, until April 30."
Mr. Nha left Saigon on April 28, 1975 amidst the bombing of the city of Saigon.
What do you think when you last looked at your homeland for the last time from a plane that took you to exile?
"When the plane took off, I saw a number of firecrackers falling into Tan Son Nhut airport, at that time I was very sad, did not know the date to return … When arriving in Guam I heard Duong Van Minh surrender, it was sad endless. At that time, I said that, my children did not have the chance to live like I lived, did not go to places to eat or eat things … so it was very sad at that time."
"History has put many families of southern people in the situation of having relatives both on one side and on the other, even my relatives." That is the confession of the late Prime Minister Vo Van Kiet published in the International Weekly on March 31, 2005.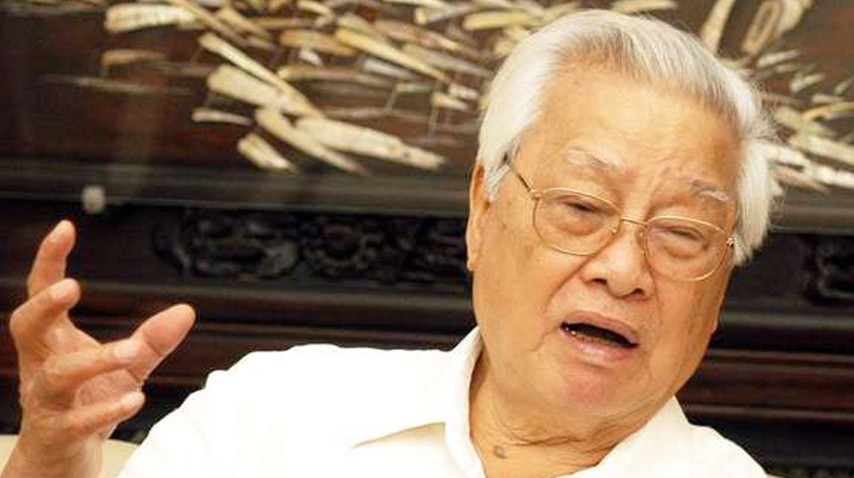 "Therefore, an event related to war reminds millions of happy people and also sad ones. It is a common wound of the nation that needs to be healed instead of continuing to make it bleed."
"My thinking is simply how not to have leaders grow from the war like us. The war was over thirty years ago. We have transferred leadership to the next generation. That said, I hope that war really belongs to the past. A past that we wish to close."
"Harmony", "tolerance" are good traditions of Vietnamese people. Vietnamese people usually only resist when there are enemies from outside.
After the past 30 years, I think all of us Vietnamese, both sides, realize that when there is no more outside interference, we can return to each other and build together. And Vietnam will further develop when Vietnamese people, wherever they are, live in a harmonious community.
"Our victory is great, but we also have to pay for that victory with both pain and loss. History has put many families of southern people in the situation of having relatives both on one side and on the other side, even my relatives. Therefore, an event related to war reminds millions of happy people and millions of sad people. It is a common wound of the nation that needs to be healed instead of continuing to make it bleed." PM Kiet said.
"Sir, to heal this wound must have the participation of all Vietnamese people?" – Reporters ask questions to Mr. Vo Van Kiet.
"That is a big problem. We are in charge of leading the country, in order to let all Vietnamese people join hands to heal and join hands to create, we must be honest and tolerant. After April 30, 1975, when comrade Le Duan came to Saigon, when he got off the plane, he took his hand and held it up high in an emotional voice. "This is the victory for the whole nation, does not belong to anyone. After 30 years, I find it is not easy for all Vietnamese to feel it."
President Ho had hoped that when the war ended, he would go to visit countries to thank international friends. After 1975, comrade Le Duan and comrade Pham Van Dong acted on his behalf. Appreciate the help of international friends and thank them for doing things that are ethical and Vietnamese tradition. But in terms of internal affairs, in my opinion, it is time for us to recognize the merits and great contributions of the patriotic classes of Vietnamese people who used to live in the old regime, now in the country or outside. I myself and my brothers were assigned to take over Saigon in 1975, Saigon remained unaffected during the war, I think all contributed for that, especially the role of Duong Van Minh's cabinet and the political forces opposing the US – Thieu, who had a relationship with the government of Duong Van Minh at that time.
General Minh took office on April 28, 1975, the day a military man like him could predict the fall of Saigon. If Minh let the generals under him continue to fight, we can still win, but Saigon is hardly intact, and it would take many lives and property of our people. I and the city's party committee headed by Mr. Mai Chi Tho, on the morning of April 30 when I heard Mr. Minh calling for soldiers to surrender to wait for handing over the government to the revolution, it was relieved. It must be on the battlefield, and at that exact moment, to realize the importance of this decision," late Prime Minister Vo Van Kiet made a remark
Hai Yen from Hanoi – Thoibao.de (Translated)