Beijing's hegemony project, the "Belt and Road Initiative" (BRI, also known as the "One Belt, One Road" is sometimes referred to as the New Silk Road) covers three continents. Asia, Europe, Africa, and two-thirds of the Earth's population have been newly infected and seriously damaged by the coronavirus.
The first impact is related to the progress of the facilities in the project as BRI projects must be assigned to Chinese contractors, using Chinese workers and suppliers, rather than competitive bidding.
Right from February 2020, after the Lunar New Year, a series of projects within the framework of the "Belt and Road" have been suspended or delayed due to China's blockade in response to the domestic COVID-19 pandemic.
The isolation measures are preventing Chinese from going abroad to build the construction. Even countries fear Chinese workers will spread the corona virus to new places. The COVID-19 pandemic has partly caused anti-China sentiment in countries with construction sites. Before the outbreak, Chinese workers were supposed to be the ones who stole the jobs of local residents.
Chinese workers, if they reach the host country (Sri Lanka, Pakistan, Malaysia, Indonesia, Cambodia, Thailand, etc.), have been isolated for 14 days and have delayed the progress of the projects. The situation is not improving in the near future because even though China has eradicated the disease but in turn the world is fighting the corona virus.
Since the virus outbreak, a series of projects have been severely affected especially in Indonesia.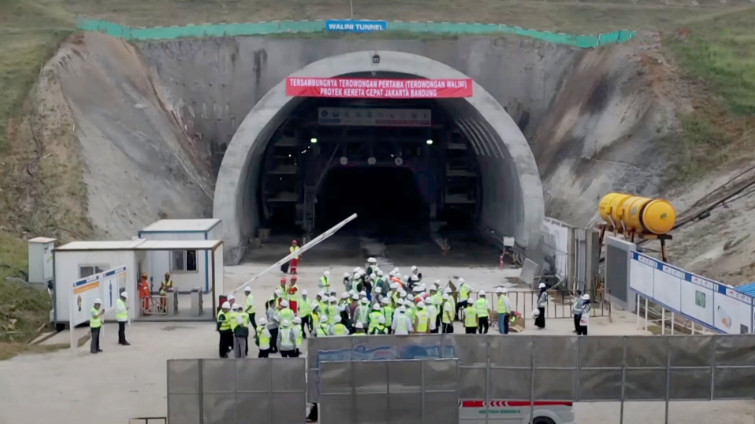 On February 21, Indonesia's Minister of Maritime Affairs and Investment Luhut Pandjaitan acknowledged the $6 billion high-speed rail project, helping to connect Jakarta with Bandung, the textile and garment center of Indonesia, about 140 km away – the flagship project of the Belt and Road Initiative – is likely to be delayed when more than 300 workers are stranded in China.
China International Railway Corporation, the company responsible for the project, has set up a working group to monitor the spread of nCoV and called on all Chinese employees coming home to celebrate the Chinese New Year should not go back to Indonesia, an unnamed senior director of the company said. The source added that more than 100 Chinese employees, mostly skilled workers and managers, could not return to Indonesia to work.
"We must focus on the less important parts of this railway project, until some key personnel return," the source said. "We are having a really bad start in 2020. The project, which has been delayed by delays and controversies, now faces a bigger challenge because of the disease."
Projects of several other Chinese companies in Indonesia, such as Tsingshan Holding Group and Zhejiang Huayou Cobalt, were also disrupted due to Indonesia's decision to suspend flights from China in early February, and refuse entry with other who used to be in mainland China within 14 days.
The situation is not much better with projects in other countries such as railway projects in Malaysia, construction projects in Sri Lanka and plans to expand businesses in Pakistan or essential infrastructure projects in Bangladesh. …
In Malaysia, dozens of the 200 Chinese workers who build the East Coast railway (worth $10.4 billion) from Wuhan – the first epicenter of the disease outbreak – were not allowed to return to Malaysia while other workers can return after 14 days of isolation.
The same situation happens in other countries.
Essential infrastructure works in Bangladesh and Pakistan, including the Padma River bridge system (worth over $1.1 billion) in Bangladesh and China – Pakistan Economic Belt project (CPEC – $62 billion), which is stalled due to a shortage of Chinese workers.
The office of senior Chinese managers at the Sihanoukville Special Economic Zone in Cambodia is also empty. The area is considered a "landmark" project in the BRI initiative, comprising more than 160 businesses and about 20,000 workers.
The second impact relates to production disruptions and a delayed supply chain. BRI projects tend to source equipment and machinery from manufacturers in China. Meanwhile, production in China has been delayed due to strict government regulations to prevent diseases affecting the supply chain. COVID-19 has negatively affected the progress of projects.
Domestic Chinese companies supplying foreign projects have faced a shortage of manpower due to domestic isolation and blockade policies.
Most of the workers in Chinese-run factories in the Sihanoukville Special Economic Zone are Cambodians, but the challenge of maintaining operations remains serious because they depend on the supplies from China.
Over a period of weeks, many factories in China were closed, and those that were operating could not reach their maximum capacity.
This causes the project completion time to be prolonged and means that the cost is also increased.
The third impact relates to Beijing's ability to "spit up" money in the future. The coronavirus caused China's growth in the first quarter of 2020 to fall by 6.8% (GDP in 2019 was 6%). This damage will undoubtedly limit China's financial capacity for major overseas projects as Beijing will have to weigh the costs of public health and domestic economic reconstruction.
The corona virus could cause Chinese companies to change their focus in the future, said Arv Sreedhar, CEO of Atlantic Partners Asia, an investment firm in Singapore.
"China is currently extremely stressed out by the current situation and has other priorities, such as trade agreement with the US, and at the same time struggling with the medical and financial impact from coronavirus."
As a result, Chinese investments abroad have also dropped sharply.
In fact, the corona virus is only a new factor of influence in the Belt – Road Initiative. Prior to the outbreak, this ambitious project was hit by slowing Chinese economic growth and many banks began to reduce credit for new Silk Road projects. In addition, Chinese public opinion will probably criticize investment abroad instead of reviving the economy and ensuring people's lives.
The American Enterprise Institute and the Heritage Institute – which has been tracking 3,600 Chinese foreign transactions since 2005 – found that China invested only $68.4 billion in 2019, down 41% year on year and the lowest level in a decade.
The level of $68.4 billion is only half of $124.3 billion – the official estimate of foreign investment of the Ministry of Commerce of China.
Soon, Chinese creditors will only be able to renegotiate debt with borrowing countries and "will not grant the huge credit as seen in the past, for example, a major project on railways, ports sea ​​or a hydroelectric dam," according to the online newspaper Deutsche Welle (April 17) of Ms. Agatha Kratz, of Rhodium Group consulting office in New York.
In a more pessimistic view, the Wuhan virus could destroy China's Belt and Road Initiative (BRI), which since its launch in 2013, has more than 2,900 projects planned or is being implemented worldwide with a total value of $3.87 trillion.
That's a statement in report released on April 20 by Oxford Business Group (OBG), a global research and consulting firm based in the United Kingdom.
Despite being fully warned in mid-January that the Wuhan virus would become a worldwide pandemic, China still signed 33 BRI agreements with Myanmar to accelerate the China-Myanmar Economic Corridor. New projects include railroads and deep-water ports in Myanmar's Kyaukpyu city to facilitate the southwestern region of China to connect with the Indian Ocean.
In addition, some poorer countries are suspending spending on the BRI project to prioritize medical and healthcare support needs, according to Dezan tax and accounting consultant Chris Devonshire-Ellis of Dezan. Shira & Associates.
According to the Oxford Business Group, BRI has been a major driver of infrastructure development among emerging countries, accounting for 21% of the global population, but only 10% of the world's GDP. Economists estimate that 35 emerging countries may grow twice as fast as developed countries, but warn that investing in these countries offers "high-risk and high opportunities."
Thoibao.de (Translated)