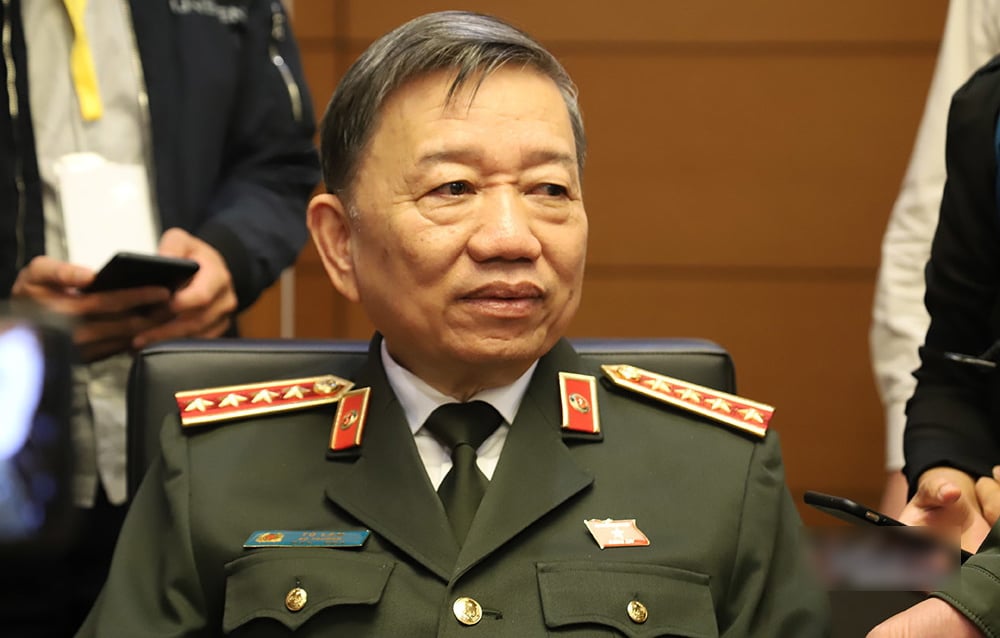 So far, among the Politburo members of the Communist Party of Vietnam (CPV) General To Lam- the Minister of Public Security, is the most scandalous. And there have been many senior leaders who have sent a letter to General Secretary Nguyen Phu Trong denouncing his wrongdoings, even dangerous to the country.
But the response was an incomprehensible silence from Mr. Nguyen Phu Trong and the Politburo.
So let's take a look, what sins committed by To Lam, and how are the crooks?
First: To Lam's role in the case of online gambling at C50.
– The gambling case worth trillions of VND operated by the son-in-law of Mr. Pham Quang Nghi happened up to two years, under To Lam's time as minister, and at the beginning, To Lam was the deputy minister in charge of security. Lam was acquainted with Duong and supported Duong to gamble for a share, so when Phu Tho province's Police Department discovered it, To Lam did not allow it to catch him. Before being arrested for a week, Duong also took To Lam's wife to go shopping for a whole week in Europe, saying that so the General Secretary clearly saw the close relationship between To Lam and Duong. But To Lam has no responsibility in this shocking case?
Afterward, To Lam let Tran Van Ve arrested Nguyen Thanh Hoa and Phan Van Vinh and treated them so badly that Phan Van Vinh, seriously ill, nearly died in the camp before being taken to the hospital.
– AVG case: In this case, the mastermind were Nguyen Bac Son and Pham Nhat Vu. But To Lam backed them by issuing "protective" documents such as:
* Official Letter No. 2889 / BCA-A61, in which the Ministry of Public Security confirming the sale and purchase between Mobilphon and AVG legal, regulatory, at reasonable price. It is thanks to this dispatch that Bac Son "assured" directing Truong Minh Tuan to sign the Contract. and it is worth mentioning that this dispatch is completely wrong, because the MPS is not the property valuation agency of the enterprise?
* Official Letter No. 418 / BCA-TCAN is the document of MPS to list the contract in the Top Secret document.
This official letter was used to silence the press, and later when the court tried it, it was also to silence a lawyer and a trial panel. Although the Court proposed for publication, To Lam did not agree. Because of the secret word, no one would argue and now because of that secret word, a series of capable cadres had to go to jail?
Why did To Lam sign documents so that AVG from private would only have to be sold to state companies? Clearly this is the road Nguyen Bac Son-To Lam and Pham Nhat Vu have drawn to steal state money. To Lam is famous among ministera of Public Security for his corruption. So how much did Vu give To Lam? There are no coins? If it is not $5 million-$10 million, Nhat Vu would receive much severer sentence.
Second: The case of sending security and intelligence forces to Germany to kidnap Trinh Xuan Thanh.
This is a typical case of violating international law and seriously affecting Vietnam's reputation for a long time … And so far, some countries have been "alert" and disabled Vietnam's security and intelligence forces in Europe.
This incident, To Lam did to satisfy the personal will of General Secretary Nguyen Phu Trong, and to show "absolute loyalty" to him … Perhaps so, Mr. Trong has paid favor to To Lam by eradicate all the crimes committed by To Lam in the AVG case, the killing of Mr. Le Dinh Kinh in Dong Tam commune, and many other blemishes.
Third: To Lam is China's henchman.
This is evident in the point: To Lam has changed the MPS's apparatus in accordance with the organizational model of China's MPS. From 8 General Departments, 6 General Departments can actually be disbanded to reduce clue, less cumbersome, but To Lam disbanded all of them, including the General Department of Security and the General Department of Police which should not be. Extremely dangerous is To Lam to clear out the Intelligence units in the Police Departments of the northernmost provinces, making the task of grasping the peripheral situation now unavailable.
Many elderly cadres in the MPS protested, but To Lam ignored them all.
To Lam now takes authority to all police units from the central to grassroot levels. Now he but anyone has power to appoint heads and deputy heads of department and only those giving bribery to him would get promotion. According to public opinion, the posts of head of a department cost several billion, if it is the economic department, the traffic police will be VND5 billion. The "prices" for directors and deputy directors of provincial police department is said to be at least $1 million. It turned out that the disbanding of General Departments was for him to seize power which brings lot of bribery for him.
To Lam also dispersed its permanent establishments in the Southern region. A lot of trillions worth of properties is the abandoned house of unjust spirits. Police officers working in the ministry's southern representative offices have been forced to pay their own money to be placed in positions suitable for their situations. Those who denied to pay will have to go out or sent to unfavorable positions.
Now many officers are not willing to work. To Lam has promoted numerous officers from his hometown of Hung Yen to take important positions in the ministry and provincial police departments: 30 police officers from Hung Yen have been promoted to deputy ministers, head and deputy heads of departments, and provincial police department across the nation. The director of Phu Tho province's Police Department was sent to Son La province and Pham Truong Giang, director of Hung Yen, replaced him, making the Gambling case to be closed.
The story of disbandment and rotation is a shocking event but the Politburo remains silent.
To Lam was very good at getting good words from incumbent or retired senior officials. He once boasted: The General Secretary once said "no one is better than To Lam" and promised to "put in the key position." Former Prime Minister Nguyen Tan Dung reportedly proposed him to be next country's president (?).
On the websites of the past 3 years, it also mentioned about To Lam's ability. Try to see some of the major incidents that have been reported by the Internet sites, then clearly see the capacity of To Lam.
– In 2014 when China's 981 drilling rig deployed in Vietnam's warers, violent protesters demolished Binh Duong-based foreign factories: To Lam remained silent.
– In 2017, Formasa case, Nghe An, Ha Tinh protested, National Highway 1 blocked for months, people arrested and took officials for hostage: To Lam was powerless.
– In 2018, a protest against the Special Zone, protesting the whole country, bad guys in Binh Thuan attacked and smashed the Provincial Party Committee, burning police vehicles and house and arresting local policemen, To Lam did not direct and handle it in time. Binh Thuan Police Deputy Director in charge of security, Le Viet Thang (who promoted by To Lam), was unable to handle it but not disciplined. On the contrary, To Lam promoted him to the province's police department director and it was opposed by the Provincial Party Committee. To Lam had to send him to the Bac Lieu Police Department to be satisfied with Thang's father, and to get a big sum of dollars.
– In 2019, Dong Tam case is typical of To Lam's weakness. Such a simple task lasted up to 2 years with no solution, finally approved the midnight shooting plan to kill Mr. Le Dinh Kinh so that the 3 Police officers died unjustly. Clearly wrong tactics, extremely immature. At that level, To Lam should not be promoted to a Professor of security, huh! Scientists, teachers who are awarded Professors tittles must roll around in science, have to teach, do esearch, and works. To Lam did not go up to the podium, he only talked for a few sessions and then let his officers write a few books on his name, and took the tittle of Professor of security. It's a pity for the security teachers.
Recently, on social network people said Senior Lieutenant Colonel Nguyen Xuan, who wrote To Lam's doctoral dissertation, was promoted as deputy director of Dong Nai province's Police Department.
Source: CBB sent to Thoibao.de 11.5.2020