At the time the ruling Communist Party of Vietnam (CPV) is preparing for its 13th National Congress slated in early 2020, General Secretary Nguyen Phu Trong continued to promote "Marx-Leninism" in Vietnam.
The "socialist" nature of Vietnam's regime is a difficult question because the country has said it is following the "market economy" path.
At the same time, 45 years after the end of the Vietnam War, the political apparatus in Vietnam still upholds "socialist orientation."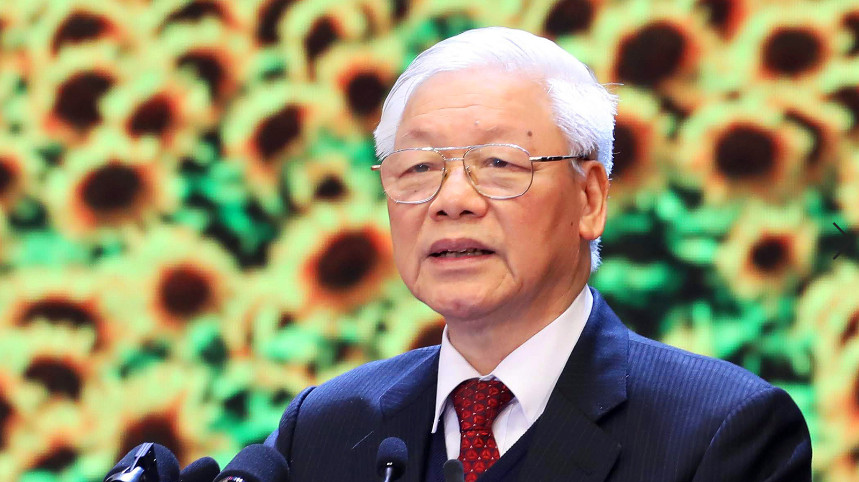 On the occasion of President Ho Chi Minh's 130th birthday (May 19, 1890 – May 19, 2020), Mr. Trong said: "… Starting from the historical conditions of Vietnam, Ho Chi Minh indicated our country needs to go through a transition period, from an outdated agricultural country to socialism, ignoring capitalism, which is a new and unprecedented case in history. There are countless difficulties and complexities to overcome."
In early 2019, the Pew Research Center published a public opinion survey showing that 55% of Americans think negatively about "socialism" and 42% express a positive opinion.
It should be said that this is their understanding of Western-style "socialism" with good freedom of speech, right to protest, assembly and social security.
Supporters of "socialism" in the US say they believe that "socialism" gives workers the right to have a say, and helps reduce injustice and discrimination between rich and poor.
Women who dislike socialism claim that this institution "has been tried in many places, many times and failed in the beginning, typically Venezuela."
A significant number said that the socialism "abolishes initiative" and "restricts freedom."
President Donald Trump in the 2020 election campaign continuously attacks the US Democratic Party as "socialists."
Yet the top candidate for Democracy, Bernie Sanders, is a self-proclaimed "democratic socialist" – not a "socialist."
About two-thirds (65%) said they had a positive view of "capitalism" and one third viewed negatively.
Former General Secretary Nong Duc Manh received Nguyen Dac Vinh, the first secretary of the Youth Communist Delegation during the New Year festital at his house on February 21, 2015. The image made a stir because the room was built like the lavish palace inlaid with gold, the living room of the former General Secretary has a gold statue of late President Ho Chi Minh in front of a bronze drum, and the two men sit on two armchairs with a dragon-shaped handle and the back of the high chair like the throne.
BBC News Vietnamese has invited readers on Facebook to share their views about the two ideologies "capitalism" and "socialism" in the Vietnamese context.
The article titled "65% of Americans like capitalism, what about Vietnamese people?" posted on the BBC News Vietnamese Facebook page on May 15 has received over 300 comments.
Opinions present different perspectives on this topic that a large number of people do not believe that the model in Vietnam is really "socialist" but "red capitalist" which gives privilege to a certaint small group of people.
The fact that the children of Vietnamese senior officials studying abroad in G7 countries are considered by some friends to be evidence of this "red capitalist ideology" phenomenon.
We point out the salient remarks, the first is about comparing the two doctrines and what some of you think is realistic in Vietnam today:
Facebook Van Nghiem: "What is the difference between capitalism and socialism? Or pluralistic and dictatorial. Western-style tourism industry is still good compared to the socialist orientation in Vietnam."
Facebook Nguyen Jose: "The material world, society, philosophy … develop thanks to antagonistic activities, suppression of antagonism means the world ends. Marxism is contradictory in theory because when it enters its latest phase, it will eliminate antagonism, according to the theory, and the world will perish. Hard to understand!"
Facebook Hieu Rau: "Ask this question in Vietnam … afraid to say if you like, if you don't like it then lie … just look at the children and grandchildren of senior officials where they are studying …"
Facebook Quang Minh Nguyen: "Vietnam after the 1986 reform has followed capitalism, and socialism is just cover for the Communist Party to maintain power. But it is the "half-hearted" capitalism, "teratism" when the key industries such as electricity, water, oil, and gas … are still in the hands of the state, so thanks to the state corporations, the Vietnamese people owe huge debts while prices of gas and electricity prices are sky-high … Capitalism must go hand in hand with multi-party and power separation to realize their full potential, but like Vietnam, only red families can be rich in poisonous institutions party."
Facebook Tran Xuannhan: "Capitalism is the farmer that he raises milk cows to care for cows so that he can make more milk from which to benefit. Socialism is a farmer who raises cows for his co-operatives so he doesn't care about the animal, as long as it can't die."
Facebook Liu-na: "Vietnam, with an exception for 4 million people, the rest is willing to follow capitalist."
Facebook Nha Doan: "Capitalism has failed to make everyone equally rich. But, communism has succeeded in making everyone poor equally … Let's do the math to see how many communist countries remain in the world."
Facebook Quang Nguyen: "A society where people work based on their ability but enjoy on their demand never exist. In society, every class has it to become a society. That is why it motivates people to compete for development, to better serve each other, to work hard on inventing ideas, more civilized communication ….. what to do? as much as you want, but whatever you want. Capital accumulation moving forward into society … is faraway. Human needs are infinite, there is no co-operative. If so, then that society is not hungry is happy to say development. Doing less, stupid, ignorant, lazy but demanding the same wealth!"
Facebook Ho Kim Mao: "Vietnam has only General Secretary Trong a communist, the rest are capitalists wearing red. Real communists have no money for buying big houses and villas, send their offsprings to Western countries for studying."
Diep Thao Nguyen Facebook: "Socialist-oriented market economy. A monstrous institution. Hell on earth for many people and paradise for a small group of officials."
Some readers of the BBC also mention that it is necessary to look at real life rather than thought labels and labels:
Facebook Lửa Sấm Sét: "You follow something that is neither capitalist nor communist, as long as it is fair, civilized, what it is is an agreement between people living in a country and how to create a common playground for all, to improve the life of all? As with any playground where dictatorship exists, it is not an ideal playground. It lacks criticism and is wrong with the rule of development."
Bao Nam Facebook: "Capitalism or socialism are the same. Just transparent people believe. In Vietnam, if everything is transparent, all communist officials would be imprisoned. There is systemic corruption. Corona just now is an example. So did the order from the general secretary. The story of poor households in Vietnam is funny. All the things are serving for party's officials."
Facebook Canh Tranthanh: "Vietnamese people actually do not have a clear opinion, most of them follow. But democratic socialism is a good idea."
Facebook Mr. Luu: "The whole world is struggling with the Covid-19 pandemic. I am so happy to be living in Vietnam. I don't care about capitalism or socialism. Vietnam is my home country, the things that are most familiar to me."
It is also said that Vietnamese leaders should recognize the reality of other countries to choose the path of economic benefits:
Facebook Nhat Anh Do: "The ruling party in Vietnam should abandon Marxism – Leninism! Social parties like those in European countries have no problem because they are not Marxist – Leninists. Of course, if Vietnam is led by a Party based on a free-market economy, protecting people's rights, especially land rights like South Korea, Japan, etc. Vietnam's economy will move faster. In Vietnam today, no people have the right to own land like in South Korea, Japan … only land use rights."
Facebook Karma Samten: "Multi-party political and economic institutions will bring prosperity, human rights, less corruption and social stability when the country is in crisis."
Thoibao.de (Translated)