Does Ho Duy Hai complain of being a victim of legal miscarriage is the question that the Vietnamese press sometimes says yes and other times says no, so what is the truth?
Many Vietnamese newspapers quoted Ms. Tran Thi Nhanh and introduced that she had repeatedly went to prison to talk to Ho Duy Hai to conclude that Hai did not complain.
Meanwhile, both of Hai's defense lawyers claimed that Hai has complained. Many newspapers also noted that Hai complained during the trial and the appeal hearing, in which a quote from people's jury Le Van Bao said: "Most of defendants committed their crimes but Ho Duy Hai does not agree with the investigation conclusion."
As for Ms. Tran Thi Nhanh, the Vietnamese newspaper wrote that "The representative of the People's Procuracy of Long An province supervised the case of Cau Voi Post Office and signed the indictment prosecuting Ho Duy Hai at that time was a woman – it was Ms. Tran Thi Nhanh – deputy head of the province's People's Procuracy and later vice chairwoman of Long An provincial People's Committee.
Tran Thi Nhanh said she believes that a woman's sensitive senses will help her detect false signals if any. In meetings with her, Ho Duy Hai never complained and always pleaded guilty. Once contacted with her, Ho Duy Hai cried and said that many nights he could not sleep, being tormented by conscience for treachery committed with the two victims.
Later on, Mrs. Nhanh also came to Long An detention center a few times to meet and talk with Ho Duy Hai. In later times, Hai said less and did not complain." That is the content in the mainstream newspaper.
However, a prisoner in the same prison with Ho Duy Hai, after being freed, told a completely different story: Dinh Nhat Uy, a prisoner of conscience in Long An.
Ho Duy Hai often screamed "I was beaten so badly to sign a plea, I am a victim of legal miscarriage," according to Mr. Dinh Nhat Uy in an article.
"I was in the same detention center with Ho Duy Hai for more than 4 months in 2013. I met Hai at least 4 times on regular visits around August to October."
On the day of visitation, prison officials came to the room leading the prisoners to the prison's main line to wait in line for the visit. On my first visit, I saw 3 officials escorting a prisoner handcuffed and fettered. The prisoner was a tall prisoner with hair close to his scalp and wearing a soccer jersey. I wonder who is and what is his crime? A nearby inmate said that he was a death row inmate, a murderer in the Cau Voi post office.
Ordinary prisoners meet with their relatives in a room and they talk by phone. The visits of death row inmates must be inside the interrogation room. The next time I also saw in such a case. I often greeted all the prisoners I met. Ho Duy Hai often responded to my greetings with a nod and a sad smile.
Hai's case shocked Long An for a while, almost everyone knows and I also know a lot of news from the press.
But during the time in the camp, I asked many inmates about Hai's case. The previous prisoners who had contact with Hai said that Hai was unjust, different from what the newspaper reported.
"He did not kill, he was tortured and forced to plead guilty. Every night he screamed injustice," a prisoner admitted 4 months in advance with me said.
Then one of the prisoners who was admitted to the prison camp 3 months before me said "Hai is unjust, he told the nearby prisoners that he did not kill, he went there and the two girls died. He only took a few cards for his cell phone. He's the toughest prisoner to live for, more than 5 years without being executed He is unjustly convicted."
After a few violent conflicts with fellow prisoners, I was disciplined and moved to another cell. I moved down to the last row, behind me was the row of death row inmates. I started to ask the death row inmates about their status. And Ho Duy Hai once shouted that "I did not kill people, I was beaten and forced to admit the crime. I was unjust."
In the detention center, there are many anecdotal stories about Ho Duy Hai. One of them is the story of Ho Duy Hai as a reluctant hero when being forced to plead guilty to rescue a close friend who is a son of a senior official. And in the eyes of the prisoners, Ho Duy Hai is a mysterious death row inmate, whose magic power captures sparrows and black crows. A death row inmate is the longest after a death sentence. Many inmates believe that Ho Duy Hai was unjustly tried, so he had the magic power of the souls of the dead prisoners.
At a recent visit to Dinh Nguyen Kha, he also told me about Ho Duy Hai. Kha talked to Hai for nearly a year in prison.
"Hai was unjustly convicted in Cau Voi post office case. He told me he didn't kill anyone. He went there and the other two died. He searched to get some phone cards. He got beaten up so he pleaded guilty. The investigation consists of many errors," Kha said.
And with the unreasonable evidence in the case file Ho Duy Hai which were published by the press in recent days, it is clear that Ho Duy Hai is only the victim of accidental or deliberate errors in the investigation and proceeding process.
There was a special suspect who was omitted, had no testimony, was not summoned despite being present at the time of the crime, and was identified by many witnesses.
Journalist Truong Chau Huu Danh commented as follows:
"In the case of Cau Voi Post Office, apart from Ngan and her husband selling fruits (Mr. Long has died), at least 4 people saw 2 victims before they were murdered. All four of them saw the "young man" sitting in the lounge chair inside.
1 / Mr. Ho Van Binh (Written files No. 265 and 266) divided into 2 landmarks:
– More than 19.00, he went to park his motorbike to go to his acquaintance (he usually parked here) and saw a young man sitting with Hong.
– More than 19.30, he came back and recognized the young man still sitting.
He normally parked his vehicle there so he knew the girls. However, he did not step inside so he did not identify the young man.
Dinh Vu Thuong: More than 19.30, and identified "deadlock" by his call at the post office for relatives at 19.39.
With the phone cabin design at Cau Voi Post Office, you usually won't see the salon table, but when you check out, you will see it.
Therefore, his written file shows that he does not recognize the young man.
Mr. Dinh Van Coi, a riot police officer, martial arts teacher, was present at the post office after 19.30 (starting from Cau Van to Cau Voi Post Office, about 3km). However, since Thuong often did not meet Coi and Tri, the possibility that the two guys were there when Thuong had left, that is, after 19.42.
Coi stood at the counter, loaded the card in 5 minutes, and had better identification conditions than Mr. Binh and Thuong – both in the eyes of the people with the job and the observation position.
He identified a slightly round, 30-year-old young man with a yellow T-shirt.
Mr. Tri, a welder (with quite sharp eyes), a standing position like Mr. Coi and had similar identification.
If the time frame of these 4 witnesses is set, from 19.00 onwards, only one young man will sit continuously in the salong.
As for Ho Duy Hai, the evidence records that at 19.13 he was still a call at the pawnshop.
Therefore, if there is only one youth, it is not Hai.
Information about this young man, also known as the fifth suspect with many articles.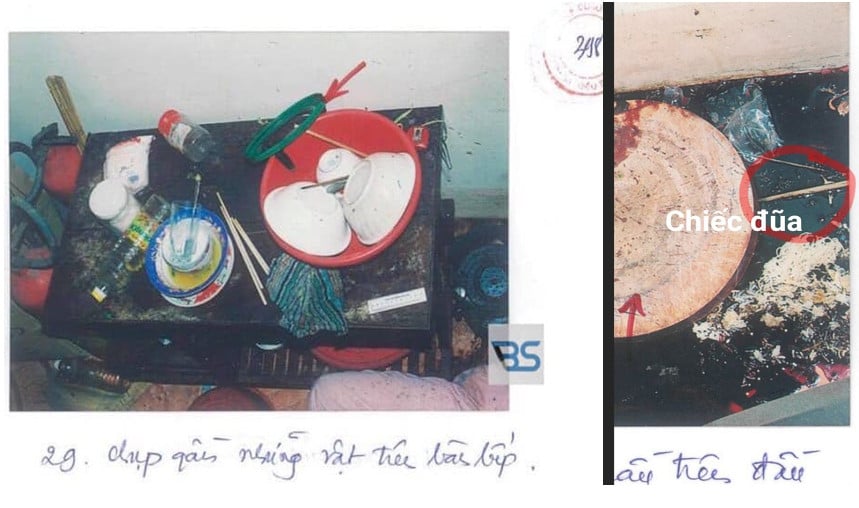 The article "Murder of 2 employees of Cau Voi Post Office: Appears many new details" published on January 17, 2008
According to Nghi's initial testimony, at about 20.00 on the night of January 13, he "saw another young man visit the Cau Voi Post Office and this man was also Hong's boyfriend (?!)." Nghi said: "It was only heard that the other young man named Trung, an engineer working for a project passing by Long An province. His hometown and specific address were not clear." This information was also provided by a witness at the investigating agency. According to this witness, the engineer named Trung was also familiar with the victim Anh Hong, in addition, there was also a driver from the provincial authority who would sometimes come for lunch at the post office.
Another witness in Tan An town also went to the police station to provide information: Around 20.00 at the time of the murder, he went to Cau Voi Post Office to buy a mobile phone scratch card. At first he saw that there was only one female employee in the transaction room; but when she came out to give him a scratch card, he saw that there was a young man in a jacket and jeans sitting facing out. The witness assured that if he saw him again he would identify this young man.
Why in the case file does not have the results of fingerprinting of those who have emotional relationships and were likely to be present at Cau Voi post office on the evening of January 13, 2008 such as Nguyen Van Nghi, Nguyen Mi Sol and Trung engineer?"
Thoibao.de (Translated)