Chinese scholars say Hanoi cannot replace Beijing even through EVFTA.
The Global Times article on June 11 questioned whether China would "suffer" after a free trade agreement between the EU and Vietnam goes effective.
Author Xu Liping, director of the Southeast Asia Research Studies at the Chinese Academy of Social Sciences, opened the article discussing international media reporting that the COVID-19 pandemic is facilitating the trend in which foreign investment leaves China.
" Vietnam, as the reports said, is apparently taking over China's role, and the EU could also take the opportunity to reduce its dependence on China's economy."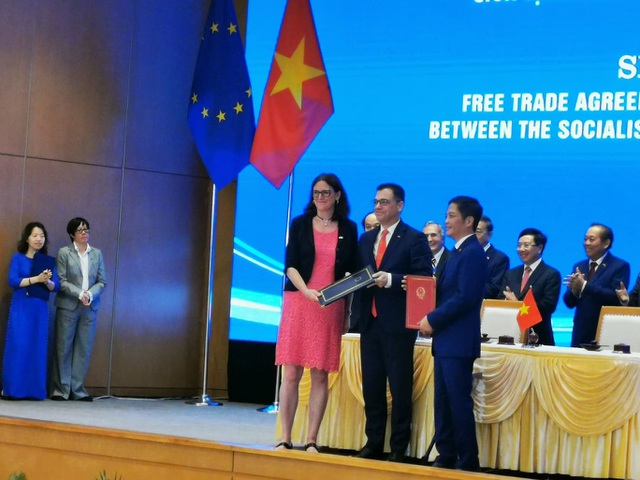 Professor Xu described the situation of the two cases of "overtaking" [Vietnam replacing China] and "leaving" [EU less dependent on China] in recent years, which are just unrealistic ideas.
"Vietnam will become China's largest trading partner among ASEAN members in 2019. Vietnam is at an industrialization phase different from China and Vietnam needs to rely on the Chinese market due to its supply and industry are in short supply.
"Vietnam achieved $260 billion in exports in 2019 while China had $2.5 trillion exports in the same year, making it difficult to imagine Vietnam assuming the role of China," said Professor Xu.
The author acknowledges Vietnam's export potential to the EU when EVFTA is available but notes that Vietnam's exports may still face non-tariff barriers such as rules of origin and principles of sustainable development.
"These are the limitations that Vietnam cannot deal with in the short term to meet the requirements of the EU," Professor Xu wrote.
On June 8, 2020, Vietnam's National Assembly ratified the Vietnam-European Union Free Trade Agreement (EVFTA) and the Investment Protection Agreement (EVIPA).
According to Xu, it is China – ASEAN Free Trade Area that has contributed greatly to Vietnam and the strong growth momentum of China – ASEAN trade (10-fold increase from $54.8 billion a year in 2002 to $587.9 billion in 2018), resulting in trade between China and Vietnam that reached a record high.
While Professor Xu acknowledged that pursuing multilateralization and diversifying foreign trade has always been Vietnam's goal for foreign cooperation, he described the "takeover" of China's role is not something that Vietnam wants and cannot be done."
Regarding the "far-off" EU scenario from China, the author said this was a "baseless" concept.
"More and more European countries are participating in the Belt and Road Initiative (BRI) projects proposed by China, with some countries having signed memorandums with China on jointly promoting BRI."
"In addition, Chinese-European cargo trains have increased the frequency and volume of goods in the context of a pandemic. In addition to goods that can stabilize the global supply chain, trains have also moved the important pandemic prevention material to Europe."
"Rather than separate, China and the EU will develop into a closer alliance with common interests," said author Xu Liping.
How does EVFTA-EVIPA help Vietnam reduce its dependence on China?
China is an important market for Vietnam, but to avoid the risk of high dependence on a market, two agreements with the EU will be useful to Vietnam, according to economic experts and international finance Dinh Trong Thinh, from Vietnam's Ministry of Finance.
The two free agreements (EVFTA and EVIPA), in addition to helping enhance the capacity of Vietnam's economy and businesses, also help Vietnam better diversify its markets and customers, manufacturing, processing, import and export, which helps the Southeast Asian country with over 97 million people avoid technical risks when depending on a deep market like before the agreements.
In the second part of the talk with BBC News Vietnamese on June 9, from Hanoi, Mr. Thinh from the Ministry of Finance of Vietnam commented on this aspect, especially emphasizing the market in a neighboring country of China and the reasons why Vietnam's long-standing trade reliance on market and partner.
"This is something that Vietnam has talked about and has talked about a lot, Vietnam wants to diversify markets, imports and inputs for a long time.
"However, we also see that this can not be an overnight one-way trip, because Vietnamese businesses used to be very convenient with the Chinese market, secondly it was very diversified, plentiful and it is also suitable for consumers' pockets, when producing products that their prices are at the average and average level of society."
"The third is that the tastes of the two sides are actually the same anyway, so when Vietnamese business people ask for quality, materials or goods, China is ready to cooperate right away, they also have from A to Z, that is, from the lowest level to the higher level they all have."
"And so Vietnamese businessmen are also familiar with the trade with China and we also say that really big dealings with any one country can easily lead to economic dependence."
Dr. Thinh gave further comments and analysis on risk if one economy is too dependent on another economy, another market and how will this be more balanced with the two agreements with the EU.
"It is obvious that people only have a crisis, or they suffocate with a text, a certain policy, then immediately his economy wobbles."
"And so the diversification of imports in the EVFTA and EVIPA agreements is very important. First, European Union investors can come to Vietnam more as they enjoy favorable conditions and they are treated very widely as domestic investors, so they will invest more."
"From there EU technology, modern technology of the world will enter Vietnam and Vietnamese investors will have a better understanding and awareness of technology and it will be easier for them to find technology, although it will be more expensive and it will produce high-end, international standard products that can be exported around the world, this is a good thing."
"And so Vietnamese businesses can replace the old technology that they used to import from China to produce popular products."
Raising the level of dignity and getting rid of low-quality r goods
Another benefit that the two agreements between Vietnam and the EU will bring, according to Thinh, is that Vietnamese enterprises can now improve. They can raise class and quality of their goods so they can reach out to sell goods of international standard quality.
"The second thing is that raw materials and input materials, in the new agreement, require that products and products only enjoy tax and quantitative advantages when such goods are of Vietnamese origin, materials and accessories originating from EVFTA countries, and so obviously it forces Vietnamese enterprises to seek incentives, they have to find domestic sources, fuels, materials and accessories, or is the purchase of accessories, raw materials and materials from countries in the EU.
"And this is what makes the input change dramatically. It's like the CPTPP Comprehensive and Progressive Agreement for Trans-Pacific Partnership, which forces Vietnamese businesses to have raw, natural matrials meet the standards of the countries in the CPTPP in the CPTPP, many Vietnamese businesses have already sought capital as well as equipment and inputs from countries in the region.
"Now EVFTA forces Vietnamese businesses to do this, it is clear that this is an opportunity for Vietnamese businesses to export goods of international quality and it also makes Vietnamese enterprises meet the best requirements.
"In short, it will be a good opportunity for Vietnam to emerge from the production of common goods and with low-level technology, to break through, rise to high technology, good productivity and create new products with international standards and at the same time reduce and avoid the risks of having to depend on an economy or a market.
"This is exactly what we want and the Vietnamese economy must rise through this, so this agreement meets positive, sustainable and good development orientations for Vietnam and its economy."
Thoibao.de (Translated)