On June 19, 2020, the US-based rights organization Human Rights Watch (HRW) accuses the Vietnamese government of increasing its crackdown on dissidents and human rights activists before the 13th National Congress of the ruling Communist Party of Vietnam (CPV) scheduled to be held in January 2021. The Hanoi government has arrested and sentenced many people with political offenses since late 2019.
According to the HRW statement, specifically, the authorities have arrested and prosecuted members of the unsanctioned professional group Independent Journalists Association of Vietnam, a member of the unregistered group Brotherhood for Democracy, and a number of other activists and writers. The communist regime has also sentenced many dissidents to heavy imprisonments.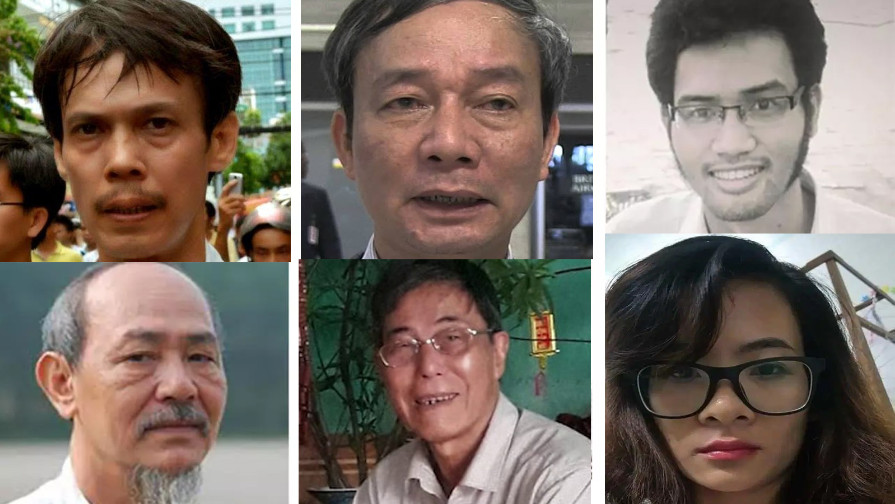 In the statement, Mr. John Sifton, Asia Campaign Manager of HRW, said: "This year Vietnam has severely suppressed dissidents and other countries that need to speak up. Allies and trade partners of Vietnam should raise concerns about these new cases with Hanoi and demand the authorities to release political prisoners."
The HRW recalled that the Party Congress, held every five years, was the occasion for the Party's top leaders to gather to elect Vietnam's new leadershipfor the one-party state. In the past, the Vietnamese government arrested many dissidents and activists to ensure the event seem smooth and without any voices of dissent or opposition. According to HRW, at least 150 people were convicted for exercising their right to freedom of speech or association and currently in prison. At least 15 other people have been charged but not yet brought to trial.
The HRW statement is particularly concerned about the arrest of members of the Independent Journalists Association, such as the arrest of Mr. Nguyen Tuong Thuy in May, the vice president of the association and Mr. Le Huu Minh Tuan in June. Its President Pham Chi Dung was arrested in November last year. All three were accused of "conducting propaganda against the State" according to Article 117 of the Criminal Code.
On June 13, police in Ho Chi Minh City arrested Huynh Anh Khoa, an administrator of a Facebook group discussing Vietnamese social, economic, and political issues, on charges of "abusing democratic freedoms to infringe upon the interests of the state" according to Article 331 of the Criminal Code. Earlier, in April, the Nghe An province's police arrested former political prisoner Tran Duc Thach, claiming that he was affiliated with the Brotherhood for Democracy. Mr. Thach was charged with "Activity aimed at overthrowing the people's administration" under Article 109 of the Criminal Code.
The Reporters Without Borders (RSF) and the Committee to Protect Journalists (CPJ) has condemned Vietnam for detaining independent journalist Le Tuan
RSF and CPJ have recently accused the Vietnamese government of arresting Mr. Le Huu Minh Tuan (aka Le Tuan), the third member of the IJAVN being detained for the allegation against the regime.
Earlier, the local press reported that the HCM City Police on June 13, 2020, prosecuted and detained Mr. Le Huu Minh Tuan, 31 years old, living in Quang Nam for "working, storing, distributing or propagandize information, documents and articles to oppose the State of the Socialist Republic of Vietnam" under Article 117 of the Criminal Code.
The Paris-based RSF on June 15 released a statement condemning Le Tuan's arrest. His detention was made less than a month after Nguyen Tuong Thuy, vice president of the Vietnam Association of Independent Journalists (IJAVN) was arrested in Hanoi and relocated to Saigon. The president of the association is journalist Pham Chi Dung, who is on the list of RSF's Information Heroes, has been kept in police custody in Saigon since November 2019.
According to Daniel Bastard, head of the Asia-Pacific desk of RSF, the arrest of young journalist Le Tuan shows "anxiety among the leaders of the Communist Party of Vietnam, six months before its 13th National Congress." He reiterated that Vietnam currently ranks 175/180 in RSF's 2020 rankings for press freedom.
On the part of the US-based CPJ, in a statement dated June 15, 2020, it requests immediate release of Mr. Le Huu Minh Tuan and dismiss the charges against with him.
Shawn Crispin, Southeast Asia representative of CPJ, said that Vietnam needs to stop the campaign of harassing members of the Vietnam Association of Independent Journalists. According to Crispin, "Vietnam will never be considered a responsible factor in the world if it continues to treat independent journalists as criminals."
The two organizations also mentioned the case of blogger, writer Pham Chi Thanh who uses penname Pham Thanh arrested in May, thought to be also a member of IJAVN, but actually Mr. Pham Thanh has left this association.
The Vietnamese state media quoted the police as saying that they were investigating and expanding the case "Making, storing, distributing or disseminating information and materials to oppose the Socialist Republic of Vietnam" performed by "Pham Chi Dung and his accomplices."
On May 26, RSF released a statement demanding the release of two independent journalists Nguyen Tuong Thuy and Pham Chi Thanh, and urged Vietnamese trade partners to pressure the communist regime to end this new crackdown.
Blogger Nguyen Tuong Thuy was arrested in Hanoi on May 23 and relocated to Saigon. Thuy, 68, is a veteran and IJAVN's vice president.
Two days earlier, Mr. Pham Chi Thanh (pseudonym Pham Thanh) was also arrested at his home in Hanoi under Article 117 of the Criminal Code (a crime against the State) and is being detained. Mr. Pham Thanh is the owner of Mrs. Dam Xoe's blog, and has just published a book titled Nguyen Phu Trong: The holder of the mandate of heaven or a great immoral traitor. He is also an IJAVN member.
Daniel Bastard from RSF said the arrest of Mr. Nguyen Tuong Thuy and Pham Chi Thanh were a cold water bucket for those who were trying to openly debate in Vietnam in the upcoming scene of the 13th Party Congress. The RSF calls on Vietnam's trade partners, led by the European Union and the United States, to pressure Hanoi to end its crackdown.
Mr. Bastard reiterated that IJAVN's president Dr. Pham Chi Dung had been arrested since November 2019, and was once awarded the title of "Information Hero" by RSF.
Vietnam currently ranks 175/180 in RSF's list of world free press.
Also in April, Hau Giang police arrested Dinh Thi Thu Thuy for allegedly writing and posting on Facebook and on other platforms on the Internet that oppose the party and the state, and published documents opposing the government, pursuant to Article 117 of the Criminal Code.
In January 2020, authorities in Dak Nong province arrested Dinh Van Phu for online activities.
In March 2019, Thanh Nien newspaper reported that the police in Gia Lai province arrested three people – named Kưnh, Jưr and Lạc – for joining Hà Mon religion, a Protestant group not approved by the government. It is unclear what charges they were charged with.
Several other dissidents, Ma Phung Ngoc Phu, Phan Cong Hai, and Chung Hoang Chuong, were tried individually in April and May, found guilty and sentenced from nine months to five years in prison for their Facebook posts criticizing the government, pursuant to Articles 331 and 117 of the Criminal Code.
"Vietnam has essentially criminalized the use of the Internet or social media platforms to voice ideas or participate in a debate," said Sifton. "Governments of concerned countries and social networking companies need to speak up."
"Government documents in Vietnam typically contain letterhead with the words 'independence-freedom-happiness' – but with these cases, we see that anyone who exercises independence has their freedom and happiness taken away," Mr. Sifton said.
Blogger Chung Hoàng Chương (Chương May Mắn) was reported by the Vietnamese newspaper as being imprisoned for "misrepresenting the Party and State's guidelines, policies and policies; misrepresenting the sacrifice of three police officers in Dong Tam," according to Thanh Nien newspaper.
Thoibao.de (Translated)