After Repsol was forced to withdraw from the South China Sea (Vietnamese call it the East Sea), causing Vietnam to pay $1 billion compensation, recently, on July 9, Rosneft Vietnam joint venture canceled a drilling exploration contract with Noble Corporation, also due to China's pressure.
Rosneft Vietnam is a joint venture where Russia's Rosneft Group holds 35% stake, ONGC- 45%, and PetroVietnam (PVN)- 20%. In this joint venture, Rosneft is the operator and this is a company with 50% capital from the Russian government.
"Vietnam – Noble Clyde Boudre: The previous contract has been canceled." It was a mere notice on Noble's own website on July 9. Noble Clyde Boudreaux is a Liberia flag rig, owned by Noble Corporation, a British-registered company, operating in the Cayman Islands.
This rig arrived in Vung Tau in April 2020. In May, at the risk of China, the Vietnamese government held a meeting to consider deploying Noble Clyde Boudreaux at Phong Lan Block, Lot 06-01.
Also at this location, last year Resneft drilled exploration in the pressure of China's Geological Ocean Group 8 and bombers.
Chinese scholars knew about the drilling plan on the Vietnamese side before the Vietnamese community in general, and they closely monitored the movement of the Noble Clyde Boudreaux since it moved from Myanmar to anchor in Vung Tau.
And perhaps to reinforce the pressure, on June 10, China deployed the Hai Duong Geological Ship 4. The ship departed from Guangzhou on June 10. From June 13 to June 18, Hai Duong 4 advanced deep into Vietnam's exclusive economic zone and continental shelf, about 120 to 220 nautical miles from Phu Quy island.
The Noble Clyde, which arrived in Vung Tau on April 30 after completing its mission in Myanmar, was scheduled to be deployed to Phong Lan Dai mine in early June but then had to delay waiting for a decision to allow it. Until the announcement of cancellation of the contract with Rosneft, the ship was one month later than planned, with the daily chartering price of the ship, knowing that the previous rent with Myanmar was $135,000/day.
Also during this period, the Chinese ships namely Survey Ocean 4, survey ship Hai Duong 8 were still operating near the area and the 3,141-ton ocean survey ship Xiang Yang Hong 14 drifting at Cross stone from Ine 11, 2020.
"No denying about China's pressuring"
Nguyen Le Minh, of the Vietnam Energy Journal's Editorial and Reviewing Council, a source close to Vietnam's oil and gas industry leaders, said:
"This is an appraisal well outside the Phong Lan Dai field, so if the tension escalates, it will affect the exploitation activities of this field and nearby mines in Block 06-01 such as Lan Tay and Lan Do."
"Not to mention, it also affects the situation of the Nam Con Son basin, where international fishing boats and ships travel."
"Therefore, after careful consideration, the Government through PetroVietnam informed the operator Rosneft Vietnam to stop the drilling campaign (of Noble Corporation), and delay to next year."
Regarding compensation costs, Mr. Le Minh said the estimate is only about "several million dollars." "Firstly, regarding the cost of renting the rig, of course, the host and Rosneft Vietnam have been affected but not much because they only have to pay Noble Corporation the cost of contract cancellation, estimated at several million dollars.
"Second, regarding the production output as planned this year, stopping this appraisal well will not affect the gas output of Lot 06-01 when existing fields such as Lan Tay and Lan Do are exploiting. It is important to know that the gas from Lot 06-01 provides 9% of Vietnam's electricity and ensuring cross-operation activities is a top priority."
"In the long term, the interests of partners in Rosneft Vietnam joint venture will not be affected because annually, taking into account the price slippage of 2%, the increase adjustment in the time of oil and gas contract is nearly 10 years."
According to Mr. Nguyen Le Minh, in terms of politics, diplomacy and territorial security, Vietnam is "completely proactive."
"I would like to emphasize that this proactivity because in addition to the Academy of Social Sciences, which advices on foreign policies and guidelines for the Government, the Border Committee (Ministry of Foreign Affairs) and General Department 2 of the Ministry of Defense Department and the Ministry of Public Security's Intelligence Department, to update the situation, assess risks closely to advise the Government to make decisions appropriate to the situation. Fisheries and naval forces are not mobilized yet when the situation is under control.
"The pressure on the drilling campaign at Oil Block 06-01, taking place before the 13th National Congress of the ruling Communist Party, was also identified and taken into account. That is, China wants to pressure to do a test on the bravery of the Vietnamese leaders. It wants to drag Vietnam into the dispute to come to bilateral negotiations on interests at sea, which if Hanoi agrees, Vietnam will be disadvantaged and bogged down in terms of politic.
"Specifically, if tensions escalate, the two sides will have high-level meetings and before the Party Congress, which will affect cadre work and foreign policy.
"Meanwhile, Nam Con Son region in particular and Vietnam's continental shelf in general, through oil and gas contracts, not only have the rights of the host but also the rights of international partners."
Are the consequences serious?
Pressure from China has forced Vietnam to concede at least three times, said Bill Hayton, a BBC News journalist, and researcher in the East Sea (South China Sea).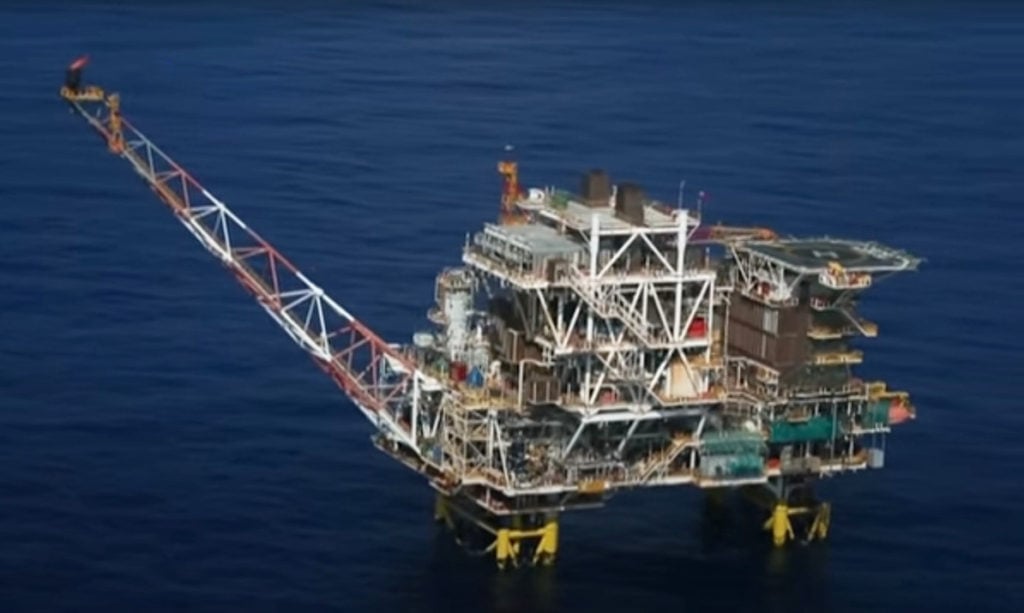 Bill Hayton told BBC News Vietnamese that no oil company would believe that Vietnam would not continue to concede like that before China.
In addition to losing money, this action also has other serious consequences on legal rights in the South China Sea and trust with foreign investors.
Vietnam has set "a bad precedent" from the Repsol case. And now the cancellation of the contract with Noble has "nailed another nail to the coffin in an effort to develop gas reserves in Vietnam's Vanguard Bank area," said Professor Carl Thayer, Southeast Asian researcher former told BBC News Vietnamese from Australia.
Prof. Carl Thayer is concerned that Vietnam's oil and gas industry does not have enough financial resources to develop itself in the waters around Vanguard Bank, while potential investors do not feel encouraged by the actions of Vietnam. "They are not sure what they will gain from long-term investment in Vietnam."
"Vietnam is also losing because of losing opportunities to find and develop carbon gas fields," said Professor Carl Thayer.
Journalist Bill Hayton said that the Noble Group was a "serious blow" to not only Vietnam's petroleum industry but also Vietnam's economy and government system."
"Gas from the contracts signed with Repsol and Rosneft will be used to generate electricity for the country. Tax revenue from these projects contributes to the state budget. But now Vietnam will have to find sources as well as it has to pay to buy them, and the government will lose its revenue," said Bill Hayton.
"With recent developments, it is very difficult for gas power companies to be willing to risk investing in offshore areas where China can object," said Professor Carl Thayer.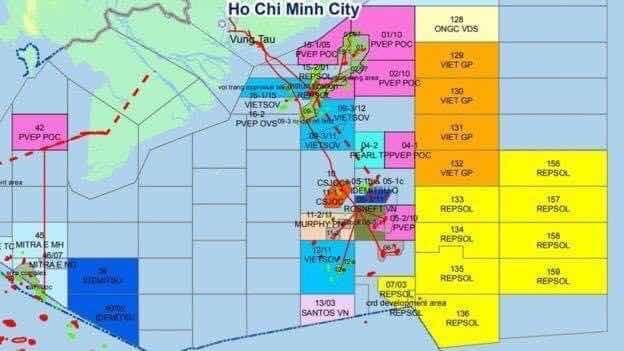 China's influence in all Vietnam's oil and gas decisions in the South China Sea
Prof. Carl Thayer provided BBC News Vietnamese with the history of Chinese intervention in Vietnam's petroleum projects as follows:
2012: Vietnam enacted the Law of the Sea. In response, China National Petroleum Company (CNOOC) started oil and gas exploration in Vietnam's Exclusive Economic Zone (EEZ), including the waters near Vanguard Bank, and called on foreign companies to participate in bidding for exploration contracts.
2017: Vietnam must suspend Spanish Repsol's oil exploration activities in the waters near Vanguard Bank after China was said to threaten.
2018: Vietnam officially terminates its contract with Repsol.
2019: China brought Hai Duong 8 rig to survey inside Vietnam's EEZ, at the same time harassing Hakuryu-5 oil rig (Japan) and harassing ships under exploration of Block 06-1 according to Vietnam's contract with Rosneft (Russia).
2020: China's Hai Duong 8 returned to Vietnam's EEZ in June. Then in July, the China Coast Guard (CCG) 5402 vessel entered Lan Do gas field area in Block 06-01 to monitor the rigs' operation at Lan Tay gas field. Four days later, it was announced that Noble Clyde Boudreaux's contract with Vietnam had been canceled.
"The high risk is that China will not let Vietnam and Vietnam will be deprived of potential energy reserves to accelerate the recovery process after COVID-19," Professor Carl Thayer said.
"There must be some formidable reason for the Vietnamese government to abandon the project here. China must have put 'serious pressure' on Vietnamese leaders," according to Bill Hayton.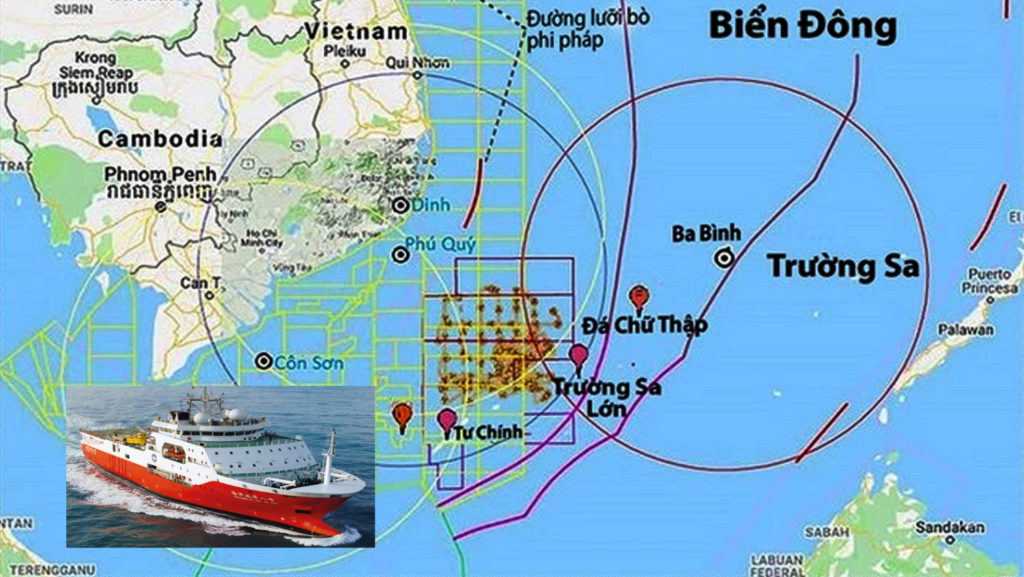 Prof. Carl Thayer stated that both the US and Vietnam have the same view that Vietnam has sovereignty over marine resources, including gas fields in the sea area near Vanguard Bank of Vietnam's EEZ. Both Vietnam and the US are opposed to China's claim of the bank.
"Pompeo's speech in favor of Vietnam came too late because Vietnam had already made its decision," GS from Australia told BBC News Vietnamese.
Instead of looking to the US, Prof. Carl Thayer pointed out that Vietnam needs to start discussions on two levels.
First, Vietnam needs to discuss with other countries having interests in the South China Sea on a common position regarding China. This alliance will support the new US position.
Vietnam also needs to speak out whether the US is prepared to take any concrete action, unilaterally, or in cooperation with Vietnam, or in an alliance of like-minded maritime powers.
Second, Vietnam needs to discuss with Russia to determine if Rosneft Vietnam is willing to continue operating in Vietnam and if so, would Russia exert its diplomatic pressure on China to prevent harassment
in Lot 06-01 or not?
But journalist Bill Hayton stated that "China won and Vietnam lost." He said:
"Beijing now has veto power over the development of oil and gas within the U-shaped Line (Nine-Line Line). If Vietnam wants to use these offshore resources, it needs to be able to stop Beijing from using the use of military force."
"In other words, Vietnam needs to build its military capabilities and convince China that it is ready to fight and can win if the two countries confront each other at sea. If not, this game is over."
Mr. Nguyen Le Minh stated:
"In the two cases of Vietnam canceling the contract with Repsol and Rosneft, the theory is the same but the nature is different. The similarity is that China always pressures by sending diplomatic notes to the operators' parent companies first (Repsol and Rosneft). After that, they escalated, laid down rigs or aggressed in the East Sea to put pressure on Vietnam."
"The difference is, Repsol is a public company and does not have the capital of the Spanish Government, while Rosneft (a company with 35% stake in Rosneft Vietnam), has also been on the stock exchange but has 50% capital of the Russian Government.
"Therefore, for the 07/03 oil and gas plot (Ca Rong Do field), after receiving the note from China, Repsol had prepared and immediately after they received the proposal to suspend the project of the Vietnamese side in the south, they presented very difficult requirements (Government guarantee for mining assurance, investment capital protection, and reserves risks in the approved field development plan (FDP), etc. It led to lengthy negotiations and selling to PVN.
"As for Lot 06-01, as explained above, Rosneft is the operator and the operations are still normal. Lot 06-01 plays an important role, providing about 35% annually. Rosneft Vietnam is one of the most efficient oil and gas operators in Vietnam, so in case China escalates tensions, the Russian Government will intervene because it has direct right in this lot."
Regarding Vietnam's strategy, Mr. Le Minh analyzed:
"On the host side, Vietnam has always been proactive and did its best in the spirit of peace and stability to develop oil and gas and marine economy. It can be seen, on June 11, 2020 before officially stopping exploration of 06-01 lot, Vietnamese leaders telephoned with ExxonMobil and Russia General Secretary Nguyen Phu Trong spoke to Russian President and according to the working agenda of the upcoming visit of Russian President Putin to Vietnam, in addition to deepening strategic partnerships on security and defense, the two sides will deepen oil and gas cooperation in Nam Con Son basin and surrounding areas."
"On the same day, Prime Minister Nguyen Xuan Phuc also spoke with the global president of ExxonMobil, to reaffirm that Vietnam's cooperation with ExxonMobil is very important, contributing to the joint cooperation between Vietnam and the US. ExxonMobil is still negotiating with PetroVietnam to promote the Blue Whale project off Quang Nam Province next year. In addition to the above project, ExxonMobil is planning to invest in liquefied petroleum gas projects ( LNG), petrochemical refining, and electricity generation from LNG."
"From the above interpretations and quotations, it is said that oil and gas cooperation and offshore exploration activities are still timely and properly paid attention by the Party and the Government which will create favorable conditions for a sustainable and effective investment environment."
Thoibao.de (Translated)