Nearly 8 million people lost their jobs due to COVID-19, of which the number of people affected with income reduction amounted to more than 17 million. Even in early July, the Vietnamese media also spread a "terrifyingly obsessive" statistic: the whole country had 30.8 million people aged 15 and over was negatively affected by the epidemic, including people who lose their jobs, have to take time off work, reduce working hours, and have reduced incomes. But experts say that this is only a superficial symptom caused by COVID-19, the real problem comes from the unreasonable structure of Vietnam's economy.
Vietnam's economy in the first half of 2020 recorded record pathetic figures.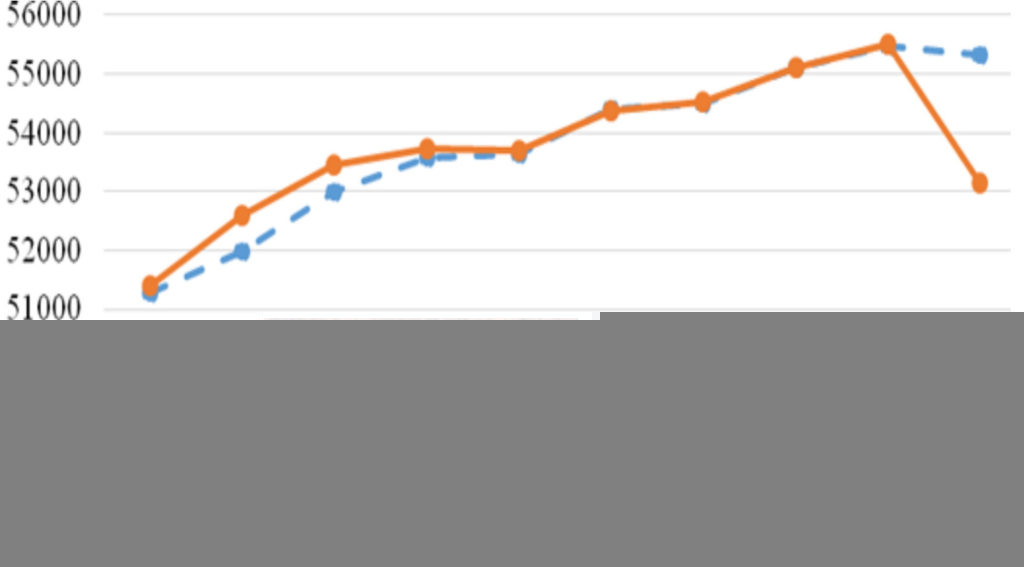 The General Statistics Office said that since 1991, the country's GDP has never recorded such lowest growth with the second quarter at 0.36% and the first 6 months of 2020 at 1.81 %.
Director of the National Accounts System Department Duong Manh Hung was quoted as saying that the first half growth of 1.81% was also "worse than the lowest scenario" that the agency had predicted.
Mr. Hung said: "The target of growth [for the whole year] 6.8% is an extremely difficult task, if not impossible in the context of the disease, the reduced global supply chain fracture. To achieve the target, the growth rate must be over 10% in the last 2 quarters."
Although there has been no negative growth, this GDP is the lowest since the Doi Moi (rennovation) period, equal to half of the GDP's growth reate in 1986.
Prime Minister Nguyen Xuan Phuc recently emphasized "the task of recovering economic development is more urgent than ever" and Minister of Planning and Investment Nguyen Chi Dung added: "Fighting economic recession like fighting against the enemy."
But looking at the reality, the time before the COVID-19 pandemic devastated the global economy, Vietnam still had not kept up with the regional and world economy.
In ASEAN, the population of Vietnam although ranked 3rd in ASEAN, but the economic scale is only ranked 6th.
A McKinsey calculation in 2018 showed that Malaysia's GDP per capita is nearly double that of Thailand, and three to five times higher than the average income of Vietnam, Indonesia and the Philippines.
Professor Dr. Patarapong Intarakumnerd from the National Graduate Institute for Policy Studies (GRIPS), Tokyo, Japan, told the BBC that compared to Malaysia and Vietnam, the public sector of the state is weaker on the ability to plan and implement policies. "The coordination between the central and local governments is not good enough. For example, if we compare with China, the socialist market economy is similar, but the local governments in China's localities are quite self-reliant."
Dr. Mai Fujita, an expert from the Institute of Developing Economies based in Chiba City, under Japan's Ministry of Economy, Trade, and Industry, said: "Vietnam's labor productivity seems to be lagging behind regional countries, showing that Vietnam has only made limited progress in renewing its growth model."
She added: "Despite the administrative reform efforts to make the business more open, there are still concerns that it is not sufficient to ensure a transparent and fair business environment."
Dr. Mai Fujita also pointed out: "An important development for the period 2016-2020 is the rise of large groups of private enterprises in areas where the state is strictly controlled … It seems that these groups are difficult to develop if they don't get some level of political support."
Economist Bui Kien Thanh, a former adviser of the Vietnamese government's leaders through many periods, said that the source of the weakness of Vietnam's economy came from the issue of socialist ideology.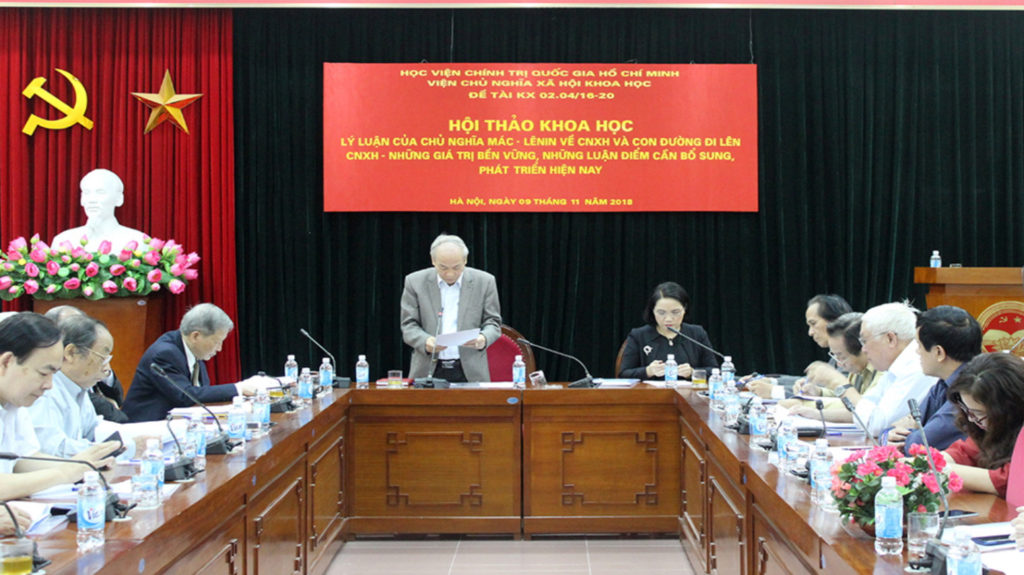 He said: "But the weakness of state management, I will make it clear, is still in a context of Marxism theory, which has not yet come out and is still very difficult today, because of all Party schools, in all domestic conferences, even in cadre management issues, has repeatedly said that Vietnam is a country governed by a system of thinking of a Marxism-Leninism. That is what makes Vietnam very much faltered."
He acknowledged that Vietnam's economy came from a socialist environment, from a centralized economy, from untrained human resources in the cradle of the market economy, so after 30 years, there are still difficulties in transformation, reforming economic, social and market institutions, as well as difficulties in human retraining. The organizational structure is still sloppy in the old remaining state management system.
Therefore, what Vietnam needs to do now is to proactively develop itself, at the same time, to change and consolidate the state management mechanism accordingly and the most difficult thing is to improve itself and change itself.
He emphasized that Vietnam does not have a market economy.
He said: "This is a very important issue. In terms of thinking, Vietnam is not completely operating in a market economy, but operating under a market economy is not enough, evidenced by that Vietnam still goes abroad to ask countries and powers to recognize Vietnam as a market economy."
"But Vietnam itself has not really been a market economy, but just started to go to school in a way that operates in a market economy, which is a concern about the mechanism and institutions that Vietnam needs to have stronger reforms."
"Therefore, the state management system in Vietnam is not a system of a market economy, but it still has a negative balance, reverberating the old way of working very difficult for businesses to operate. It is a point where businesses have repeatedly met with the government and the Prime Minister has repeatedly stated that Vietnam will try harder."
Mr. Thanh said that what important for Vietnam is how to goes towards the market economy like, how to manage state transparency.
He suggested that state management must release the obsession of the old theories and get out of those to enter the market economy more boldly.
In addition, Mr. Thanh also emphasized the two other shortcomings of Vietnam's economy today.
Firstly, at present, Vietnam still does not have a suitable and sound banking system. He emphasized that Vietnam still does not have a central bank in accordance with the responsibilities and powers of a central bank.
Moreover, Vietnam has not really had a strong team of experts on the Central Bank but has just learned here and there a little bit of capacity in commercial banks. This is a dangerous factor for a developing country, trying to take off without a suitable Central Bank.
Second, it is a problem that the State has raised many times, General Secretary of the Communist Party also repeatedly, that Vietnam must solve the problem of how to eliminate bribes and corruption. The fact that Vietnam is still immersed in the problem of shortcomings, bribery, and corruption. Those are the sources of weakness in national economic power.
He asserted: "Someday if we could not get over, then that day Vietnam still had to stomp in the mud and the Vietnamese Dragon could not fly, because it was tied, its legs were heavy because burdens on cost and irrelevance, caused by negative and wasteful damages."
In addition to weaknesses and limitations, Vietnam also has certain strengths that leaders need to grasp to serve the country's reform and development.
Dr. Chayodom Sabhasri, School of Economics, Chulalongkorn University, Bangkok, pointed out that Vietnam has young, hard-working, capable workers while some ASEAN members have entered an aging population.
The World Bank says Vietnam's Human Capital Index (HCI) is currently ranked 48th out of 157 countries and territories and second in ASEAN, just behind Singapore.
Vietnam's population is expected to increase to 120 million by 2050.
Currently, 70% of the population is under the age of 35, with an average life expectancy of nearly 76 years, higher than other countries with similar income in the region.
The middle class is taking shape – currently accounting for 13% of the population and expected to reach 26% by 2026, according to the World Bank.
"The main positive factors for Vietnam are the industrious people, the improvement in the education system and the stable government," he said.
Thoibao.de (Translated)