A 23-year-old male patient from Nam Tu Liem district, Hanoi became the first person infected with COVID-19 in Vietnam's capital city after more than 100 days.
Ho Chi Minh City, Hanoi, and Dak Lak on the afternoon of July 29 recorded 4 more cases of COVID-19 infection. All four cases are recorded in the community, including 2 cases in Ho Chi Minh City, 1 case in Hanoi, and 1 case in Dak Lak.
After the patient No. 416 case in Danang, 34 new cases have been detected so far, bringing the total number of cases nationwide to 450.
Information from the National Steering Committee on COVID-19 Prevention and Control on the evening of July 29 indicates that 4 more cases of COVID-19 infection have been recorded, specifically as follows:
Patient No. 447: male, 23 years old, in Nam Tu Liem, Hanoi. On July 12-15, he was in Danang city. On July 23, he had fever, cough, and got tired. On July 25-28, he has isolated himself at home. On July 28, he was examined and treated at Central Hospital for Tropical Diseases. He was confirmed positive for Coronavirus on July 29.
Patient No. 448: female, 21 years old, in Ea Tieu commune, Cu Kuin district, Dak Lak province.
According to the patient testimony, he is a student of Dong A University in Danang City. From June 22 to July 17, the patient practiced at Danang General Hospital. On July 20, the patient was with fever, sore throat but no medical examination.
On July 26, the patient was accompanied by a roommate from his rent apartment in Danang to a bus station, departing at 19:00 the same day from Danang City to Buon Ma Thuot City by bus (Thanh Hoa – Dak Lak route). In the bus, the patient is wearing a mask and not in contact with people around.
On July 27, the patient was taken to Central Highlands General Hospital. On July 28, the patient was sampled, and the results on July 29 were positive for SARS-CoV-2.
Patient No. 449: male, 57 years old, American citizen, living in Hoa Khanh Bac ward, Lien Chieu district, Danang. On June 26, the patient had fever, cough, shortness of breath, and aching and was admitted to Hoan My Danang Hospital. On July 6-20, the patient was transferred to Danang Hospital. On July 20, the patient was taken to Cho Ray Hospital in HCM City. On July 21-27, the patient was transferred to City International Hospital of HCM City.
Patient No. 450: female, 46 years old, who takes care of patient No. 449. On July 26, the patient had symptoms of runny nose, muscle fatigue, and fatigue.
On July 27, samples of the patients No. 449 and No. 450 were taken and sent to the Hospital for Tropical Diseases in Ho Chi Minh City, the results on July 28 were positive for SARS-CoV-2.
So far, Vietnam has recorded 450 cases of COVID-19, of which 276 cases have been isolated immediately, and 369 cases have recovered.
HCM City blocked two points related to COVID-19 cases
On July 29, authorities of HCM City blocked a hotel on Nguyen Chi Thanh Street, District 11 and an alley on Hoang Ngan Street, District 8.
These are the two places where COVID-19 patients in HCM City often rent and live.
Regarding the case in Hanoi, the news from the health sector said that the patient was NTH, 23 years old, resides in Me Tri Thuong, Nam Tu Liem district, a chef at a pizza shop, at 106 Tran Thai Tong, Cau Giay District.
Nguyen Khac Hien, director of the Hanoi Health Department, said that until noon of July 29, 69 investigations were conducted to verify that there were 69 close contacts of the infected (F1). All of these cases were sampled and transferred to the city police hospital for isolation.
Deputy Prime Minister Vu Duc Dam said it was necessary to take into account the "worst case scenario" while adding Covid-19 positive cases in Danang and Quang Nam.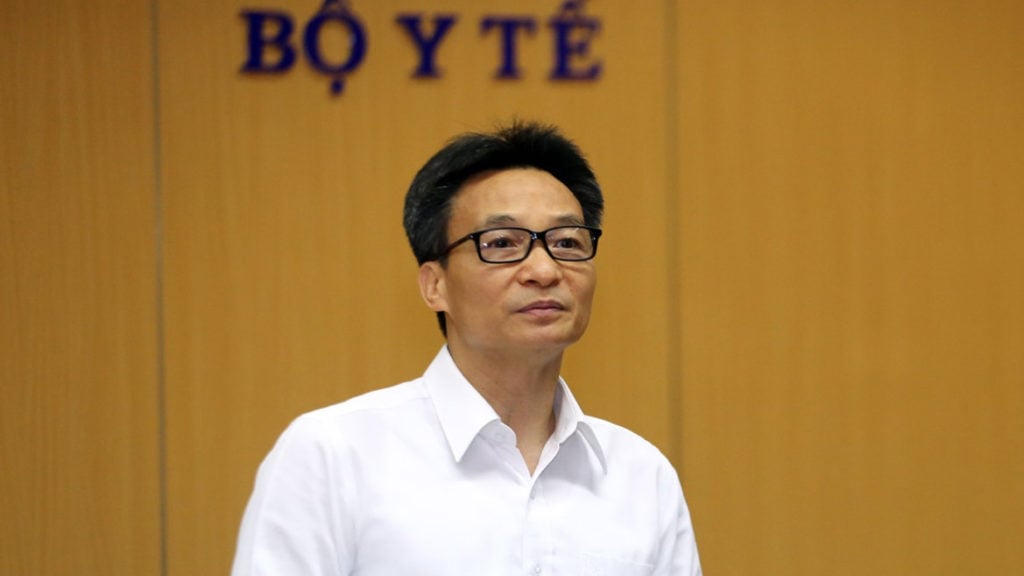 The message came in the context of seven more new infections on Tuesday, July 28, with three patients in Quang Nam and four in Danang.
Thus, in the last four days (July 25-28), Danang alone recorded 18 cases, Quang Nam 3 cases, and Quang Ngai one case.
Cases of Quang Ngai and Quang Nam have epidemiological factors related to Da Nang.
Of the total 22 new infections in the community so far, at least two have been described as "in severe condition" and requiring mechanical ventilation.
A number of medical teams in Hanoi and HCM City have been sent to Danang to support "background illness" cases and to alleviate the city's medical burden.
DPM Dam, head of the National Steering Committee for COVID-19 Prevention and Control, said that "the entire political system, first of all, the health sector needs to help Danang, regardless of the hospital level."
"We are not surprised by the epidemic situation in Danang, but we always have to consider the worst case, even the worst case."
"Up to now, provinces and cities such as Quang Nam, Quang Ngai, Thua Thien – Hue, especially Hanoi and Ho Chi Minh City are at risk of people related to Danang which is an epicenter of the outbreak.
"Therefore, the whole political system, first of all, the health sector needs to help Danang.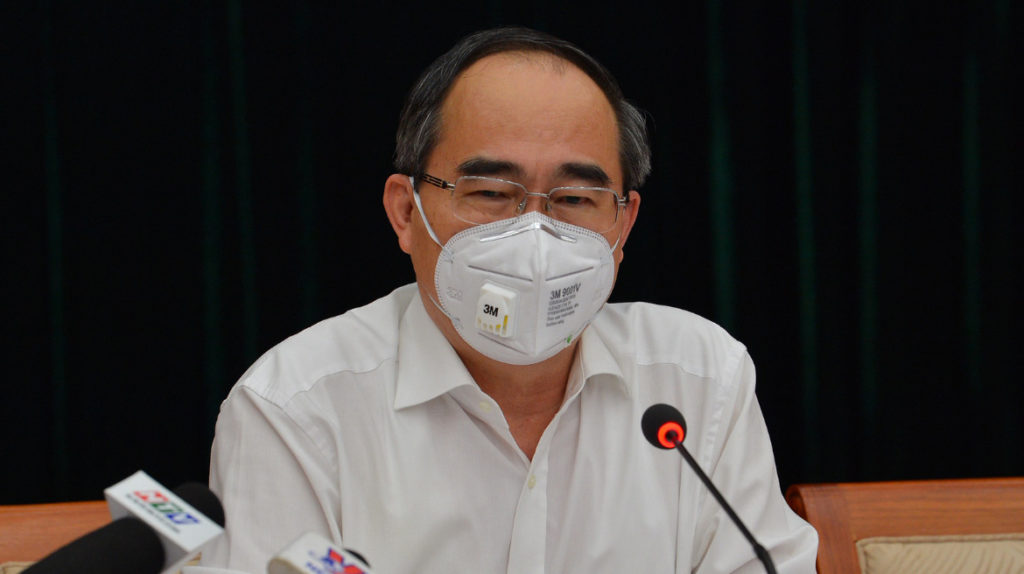 Tuoi Tre Newspaper reported that in the immediate future, about 10,000 people will be tested, including health workers, patients in hospitals found to have cases of infection, people in risk areas, and foreigners.
Secretary of HCM City Party Committee Nguyen Thien Nhan emphasized the special need to pay attention to the situation of "foreigners illegally entering Vietnam."
Nhan was quoted as saying during the meeting on July 28 that "this is a high risk, thereby requiring every citizen and every family to actively detect and promptly notify the local authorities and health services ways to avoid spreading the disease to the community."
"Determining the risk, the source of the disease is from so we will have effective solutions," Mr. Nhan added.
It is reported that in the past three days, more than 18,000 people have moved from Danang to HCM City by air at Tan Son Nhat Airport.
Authorities of the city has asked the districts to proactively review and verify in the community of people coming from Danang from July 1, who are present in the city to apply medical declarations.
Meanwhile, the Hanoi city government has requested a review of "cases of going to Danang and returning to Hanoi from July 8, 2020."
Chairman of the Hanoi People's Committee Nguyen Duc Chung was quoted as identifying Hanoi as a high-risk area and therefore, it is necessary to immediately review cases at risk of infection from the "Danang outbreak."
"The initial review of the districts shows that between 15,000 and 20,000 people return from Danang to the capital," said Chung. "People voluntarily obey, because the government can not go to review."
According to reports, Quang Nam province's health sector has sent more than 10 people to quarantine and will take samples after these people have "escaped" while being subjected to isolation in Danang Hospital.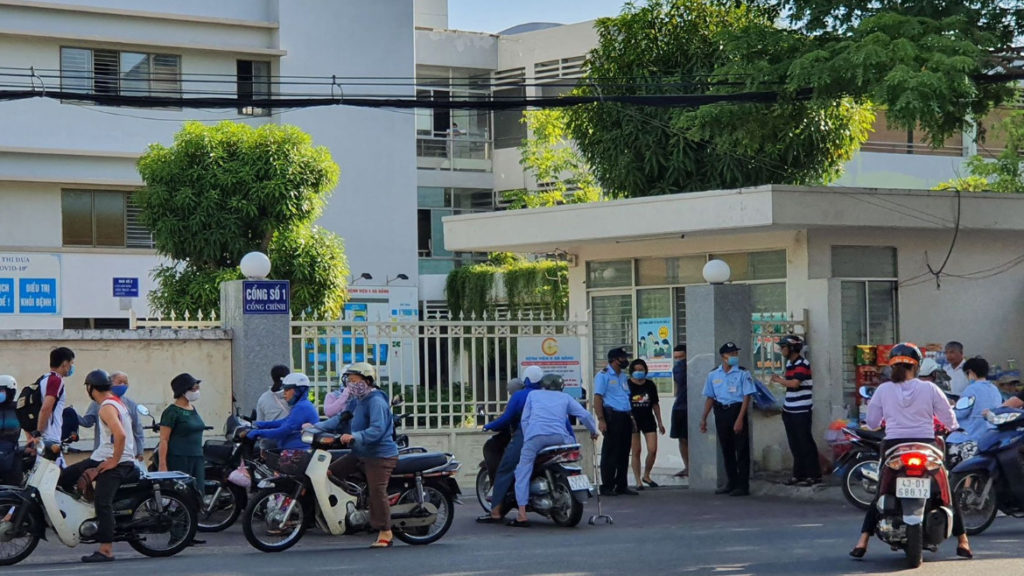 Many people believe that the actual number of people infected with coronavirus may be much higher when people who have been exposed to new patients have not been detected and tested yet, and the source of the original infection has not yet been found.
Thoibao.de (Translated)