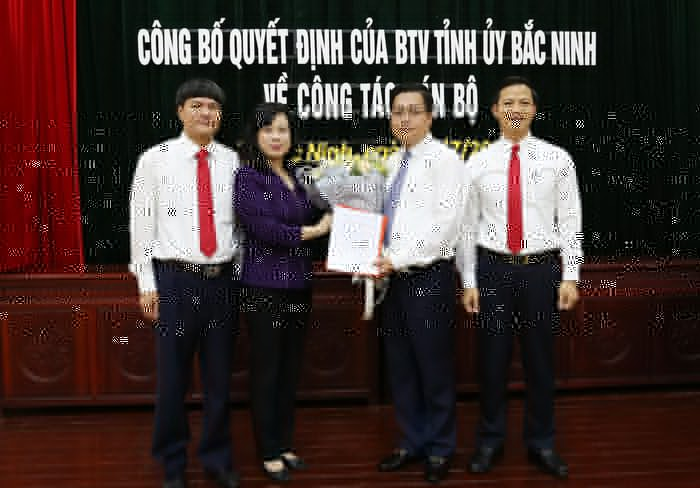 The story of Mr. Nguyen Nhan Chinh being promoted as a secretary of Bac Ninh City's Party Committee was mocked and sarcastic by the public opinion on social networks. For example: "A whole clan gets a benefit after one becomes state official. All the clan members become state officials- very bad for the nation," "Bac Ninh people will be experts at chess," "Purebred breeding" and "…
Mr. Nguyen Nhan Chinh graduated from a local college majoring in chess and became a master of education management. Joined the party in 2011, Mr. Chinh is the biological son of Mr. Nguyen Nhan Chien, the current member of the Party Central Committee and provincial party secretary as well as the head of Bac Ninh National Assembly delegation.
The domestic newspaper quoted Vu Quoc Hung, a former member of the Party Central Committee, former vice-chairman of the Central Inspection Committee, saying that he had no access to any documents banning his father from being a provincial party secretary and his son as a city's party secretary.
Tran Van Linh, a former member of the Da Nang People's Council once told RFA that the law must have regulations. Power, if it does not want to be a dangerous game for itself and for the regime, must be controlled by a regime that controls power. Up to now, there is no section in Vietnamese law that prohibits people from using their descendants in their work or organization. That is only a rule within the party.
Lawyer Dang Dinh Manh stated his thoughts on the reaction of the people when leaders have children as leaders as in the case of Mr. Nguyen Nhan Chinh:
"They laugh because they see most of the official posts n the government as if they were gifts from the family. For example, the newly promoted Secretary of Bac Ninh City Party Committee, in term of education, is a chess bachelor who holds such a high position in the party. In Bac Ninh province, the father is the head, Secretary of the Provincial Party Committee and the son is the Secretary of Bac Ninh City Party Committee, a capital city of Bac Ninh province."
The reason people are so sarcastic and laughing is probably that this is not the first time they have heard the new leaders who have a close relationship with the incumbent leaders. There were "officials" who held high positions at a very young age, their path of advancement was too fast.
One of the famous leaders on social networks with the entire clan became state officials two years ago was Mr. Trieu Tai Vinh in Ha Giang province. His family has at least 8 close relatives working in various departments and districts in the province, including his wife, his younger brother, his sister, his brother-in-law, brother, and cousin.
There are cases where the state officials' offsprings became state officials when they were very young, such as Mr. Nguyen Xuan Anh is the son of Mr. Nguyen Van Chi, former chairman of the Central Inspection Committee. Mr. Anh was promoted to the position of Party Secretary of Danang City when he was under 40 years old. Nguyen Thanh Nghi, the son of former Prime Minister Nguyen Tan Dung, was vice-chairman of Kien Giang when he was only 38 years old and the following year he was the provincial secretary at the age of 39; Le Phuoc Hoai Bao, the son of former Quang Nam Provincial Party Committee Secretary Le Phuoc Thanh, was appointed as director of the Department of Planning and Investment at the age of 30. Le Truong Hai Hieu, the former son of City Party Committee Secretary in Ho Chi Minh City Le Thanh Hai, was promoted to deputy district secretary, chairman of District 12 when he was only 34 years old, etc.
Assoc. Prof. Dr. Hoang Dung said that some state officials promote their offspring to certain positions is related to the regime's institutional issues, not a normal social issue.
"People in Vietnam respond enthusiastically because everyone knows that the promotion is not a democratic choice, but the will of a powerful person. So, behind it is an institution, not an ordinary social reaction."
Is there any talent?
In an interview with the press on the corridor of the National Assembly in 2015, Deputy Secretary of Ho Chi Minh City Party Committee, Ms. Nguyen Thi Quyet Tam said that the children of leadership continue to be assigned the leadership role and this is the happiness of the nation, of the party. There is no doubt. It is the traditional inheritance, they uphold that tradition and know how to uphold that tradition to continue the career that their ancestors went.
According to her, at the age of 40 or under cannot be called young to take on the titles as provincial party secretary.
Not only Ms. Nguyen Thi Quyet Tam said so, Ms. Bui Thi An, Hanoi National Assembly member for the term of 2011 – 2016 also said that there are families with genetic characteristics. Such qualities are expressed in leadership, in professional fields.
Lawyer Dang Dinh Manh said that people responded that they spoke out about the appointment issue, not about talent or not. He said:
"Maybe they have real talent but there is something that has not seen the talent revealed, the public cannot see. But that is not what the public cares about. What they care about is the input of leadership positions. They are interested in why, how did that person hold such a high position? If they were not the children of leading officials, would they be able to climb to such a high position?"
Strictly speaking, not every leader's offspring has no talent. But as mentioned, if under a normal choice it is hard to imagine them going up so fast, said Assoc. Prof. Dr. Hoang Dung
As noted by RFA, the people reacted to the parents promote their offspring to state official posts are not because of their ability and talent. What people are interested in is how all talented people will have the opportunity to enter leadership positions in the government to build the country. With the current institutions, talented officials may be unfairly accused, some really good people will not be respected.
Assoc.Prof. Dr. Hoang Dung stated:
"Strictly speaking, not every leader's children have no talent. But as mentioned, if under a normal choice it is hard to imagine them going up so fast. Why did they go up so fast? That is just power. Due to the will of an individual, this person will bring him up in a way that they call "relationship first."
As state officials promote their children to key positions in their localities, the country is selecting leaders without democratic election.
In Vietnam, there are formal contests for state officials so these contests are not fair and the country's leaders are not the best.
Choose leader "descendant – red seed?"
"There has been a rise in the introduction of "Red Seeds" or princelings who were placed in important positions of the party and the state apparatus.
"For example, Nguyen Xuan Anh in Da Nang, Nguyen Thanh Nghi in Kien Giang, then Mr. Nguyen Minh Triet in Binh Dinh, and then a series of other princelings are taking up in positions a little smaller like the department director.
So in Vietnam, the party officials recruit and promote their relatives to key posts in their localities.
Feudalism, following North Korea?
Answering the question of whether such "rejuvenation" of leadership is positive or worrisome, independent journalist Chenh added:
"Actually, rejuvenation is very good. Twenty-twenty-five, thirty people have been leading this place, other places are very good. But that rejuvenation must be done by young people who have real talent. They have to compete with each other in a fairway.
"But this rejuvenation is based on the power of the family, based on the power of the father who came first and then arranged to put him up, like Kim Jung-un (leader of North Korea). The situation is similar in Vietnam.
"They have the right and they arrange and arrange for their children any position.
"This country is led by a comprehensive and exclusive leader of the Communist Party, so they have the right to do so."
"But Mr. Nguyen Van An (former chairman of the National Assembly of Vietnam) previously called this a feudal regime that the king's collective, many kings, every king has his right."
"And it is more than that a central king has a central authority and a local king has a local right.
"And they aim to develop their forces, then they promote their children to key posts in their localities," said Huynh Ngoc Chenh.
Thoibao.de (Translated)
Vietnamese Source: https://www.rfa.org/vietnamese/in_depth/the-leader-is-the-leader-again-why-are-the-people-laughing-dt-07242020125935.html/