Vietnam's Ministry of Health on the morning of July 31 recorded an additional 45 cases of nCoV in Danang who were patients, caretakers, and visitors at the hospitals. In the afternoon of July 31, there were 37 more cases of nCoV infection, of which 26 cases were immediately quarantined, 3 cases in Ho Chi Minh City, and 8 cases in Quang Nam.
Thus, the total number of cases nationwide has been 546, of which 373 have been recovered, two have died, and 171 are under treatment.
Covid-19 is spreading from the epicenter of Danang to many other provinces and cities, with the number of cases increasing every day; measures to spread the infection to the highest level and many believe that the American patient (the patient No. 449) is F0.
Hoan My Danang Hospital has applied strict control measures, with security forces on duty since the night of July 29. To prevent the spread, this hospital limits the number of people entering and leaving and will test all staff.
Epidemiological investigation reports show that there are seven hospitals in Danang to date frequented by people infected with Covid-19.
Controversy about F0
The patient No. 449 is a 57-year-old male, an American martial artist who is one of only two newly discovered cases in Ho Chi Minh City.
Epidemiological investigation shows that, since June 26, this patient had been in 6 hospitals in Danang and HCM City, including Hoan My Danang, Danang Hospital, moved to HCM City's hospitals named Cho Ray, Trieu An, and International City. On July 29, the patient was confirmed to be infected with Covid-19 and transferred to HCM City Hospital for Tropical Diseases.
At least one person associated with this patient has been found positive. That person is patient No. 450, who has been taking care of the patient No. 449 for the past time.
It is worth noting that, from the time of starting the hospital in late June, the patient No. 449 had "the same symptoms as Covid-19" so many people suspected that he is a F0 patient, the first source of infection in the community. In addition, this patient was exposed to a lot of people before being confirmed positive, so the speculation gets the chance to bloom.
Talking to BBC Vietnamese on July 30, Ms. T.M, a close student of the patient No. 449, said: "He had a history of lung disease for over 10 years, was admitted on June 26 at Hoan My Danang Hospital for pneumonia. On July 1, I visited him at Hoan My Hospital and flew back to Saigon. Gon on July 3 to compete in a sport event.
During that visit, I wore protective clothing and a full face mask because the teacher was pneumonia, completely sterilized. When he arrived at Danang Hospital, he was also in a very special department with very limited visits."
"After that, I knew he went to Danang Hospital, he was transferred to many departments but not progressed so he was transferred to Cho Ray. On July 19, I returned to Danang but I did not have time to visit. When he was still in Danang Hospital, he had a Covid-19 test but the result was negative. Until he was admitted to City International Hospital, he had a positive test."
Nguyen Duc Anh, a student of the patient's class, added: "I myself am also susceptible to respiratory diseases, but up to now, there are no symptoms for 20 days, plus that he had a negative test result during the time I was in contact, it is impossible for him to be a source of infection."
However, the information that the patient No. 449 tested with Covid had a negative result at Danang General Hospital was contrary to the officially published information.
Accordingly, Vnexpress reported that within a month of being admitted to Hoan My Hospital, the patient had not been tested for Covid-19. Until July 27, the patient was tested and one day later had a positive result.
Patient No. 449 was treated in 6 hospitals, both Danang and HCM City, including Hoan My Danang, Danang Hospital, moved to HCM City to Cho Ray, Trieu An, International City, before being moved to HCM City Hospital for Tropical Diseases.
The most asked question in recent days is why there have been 6 care hospitals that the patient No. 449 did not get tested earlier.
Explaining this, Dr. Nguyen Tri Dung, director of the HCM City Disease Control Center (HCDC), told Vnexpress:
"On July 20, the new patient was present in HCM City. Before that, he was treated at hospitals in Danang. By the time he arrived in HCM City, Danang and the whole country had not detected the Covid-19 patient infected in the community after 99 days. At the same time, the epidemiological factors related to the patient, have not been determined unknown."
According to Ms. T.M and some other sources, since the begining of this year, the patient No. 449 has not yet left Vietnam.
"Outraged by rumors"
At the press conference in the afternoon of July 29, Doctor Tang Chi Thuong, deputy director of the HCM City Department of Health, said that the patients No. 449 and No. 450 have been in 3 hospitals in HCM City named Cho Ray Hospital, Trieu An Hospital and City International Hospital, had close contact with 121 people.
All 121 people were isolated and have negative results.
The number of people exposed to these two patients in Danang may be more and more complicated, especially for members of martial arts classes trained by the patient No. 449.
Ms. T.M shared:
"Although being closed aide to him, over the past few years, my contact with him has been small because I have to prepare for the tournament. I am very worried about his health because he has a lung problem. So far, I am still healthy. I talked with the police in Danang because the F1 here is so crowded that I don't have direct contact so I can isolate myself at home. I notify situation and schedule on personal page for everyone to know and not be panicked."
Ms. TM also said that due to the confusion about the source of the disease, many people made unwarranted rumors about the patient No. 449. She and many other people involved in this case suffered from high pressure from public opinion.
"Until yesterday evening, July 29, he had a third result positive for COVID. However, before that, there was a lot of false information on the fact that my teacher was a disease carrier because of his American citizenship. Although his previous schedule was confirmed that he did not leave Vietnam during the last time, his lover and caregiver (the patient No. 450), who was isolated at the HCM City Tropical Diseases Hospital, was rumored to be hiding. We are very upset because this affects not only the individual teachers but also the people involved," Ms. TM shared.
Regarding the rumor that the patient No. 450 fled the hospital, the HCM City's Centers for Disease Control also denied on July 30.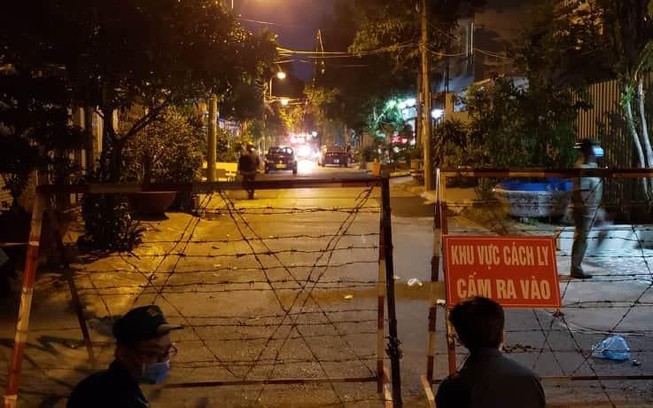 According to T.M, the patient No. 449 officially came to live in Vietnam in early 2017:
"I met him in 2016, he was one of the few people with a black belt in Jujitsu in Vietnam. He used to be a police officer and he was injured on duty so he retired early and brought this Jujitsu to teach in Vietnam. He taught me, I tutored him, since 2017, he only went back to the US once, last time he didn't leave Vietnam, even when his mother died, he didn't go back to the US. So it is not possible to say that he is a new virus carrier in Vietnam."
Ms. T.M also added that she worked with the police on July 29. After that, the police called and confirmed all the information she provided, and the notice would clarify further to correct the false information about the patient No. 449.
Mr. Nguyen Duc Anh also shared with BBC News Vietnamese:
"I contacted him about four or five times July 6-10, visiting him one or two times a day. I wore a full face mask and full protective gear each time. Each visit lasted only about 15 – 30 minutes because the time for family members to visit is not much because the teacher lies in the isolation department."
"When I found out that he was positive for Covid-19, I had made a full medical report and was instructed by the health department to quarantine at home. I was not worried about being infected because the last time I had contact with him until now almost 20 days without any sign of the virus."
Talking about the information that the patient No. 449 is F0 of a new outbreak, Mr. Duc Anh shared:
"Many people confuse F0 and the source of illness, plus the headline writing that made people misunderstand and rushed to curse him. Regarding that information, I would like to provide from my side that he was initially tested. and had a negative result when he was in Danang Hospital, but during that time he was transferred to departments such as emergency room, ICU, thoracic surgery, and internal respiratory medicine. Other Covid-19 infected patients have recently been detected, so it is possible that my teacher has been infected from other infections in this hospital."
Thoibao.de (Translated)