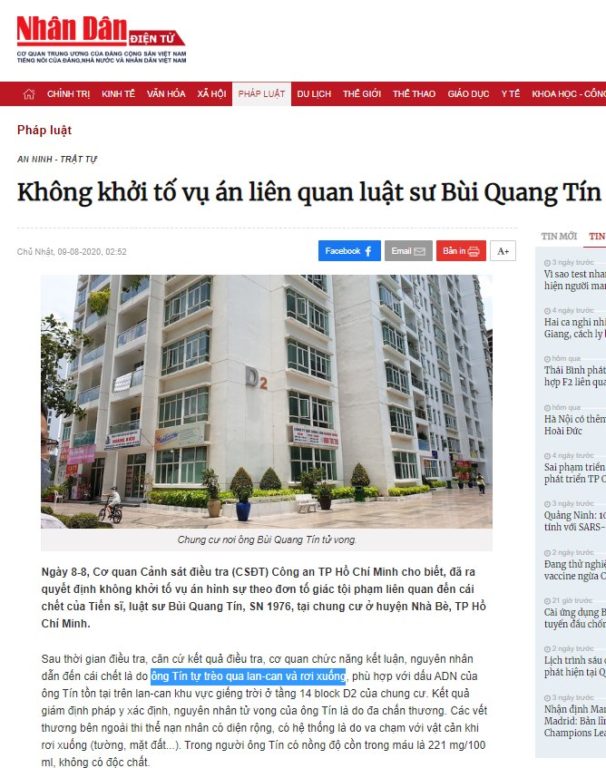 Today, August 9, the Nhan Dan newspaper said, on August 8, the Investigation Police Agency of Ho Chi Minh City's Police Department made a decision not to prosecute the criminal case related to the death of Dr., lawyer Bui Quang Tin, who was born in 1976, at an apartment building in Nha Be district, HCM City. They said the cause of death was because Mr. Tin "climbed over the railing and fell down."
According to the Kien Thuc newspaper, around 12:30 p.m. of April 5, Mr. Bui Quang Tin had lunch, drinking wine and beer with eight other people who were leaders and key staff of Ho Chi Minh City Banking University at an apartment on the 14th floor of the New Saigon apartment building owned by Mr. Tran Viet Dung – director of the Institute of International Education, Banking University. After the lunch, other left the apartment and only Mr. Tin and Mr. Nguyen Duc Trung – vice Rector of Banking University remained. And Mr. Dung- the landlord also went out. And at about 17:30 on the same day, Mr. Tin was found to fall down to the ground and dead.
According to Thanh Nien newspaper, on April 10, Ms. Tin's wife Nguyen Thanh Bich submitted a petition to the HCM City Police Department and the Supreme People's Procuracy to prosecute the case to investigate and clarify the cause of her husband's death.
In the application, she said that before Bui Quang Tin's death, he was under pressure from the Banking University's leadership and internal departments due to "group interests" and often received threatening messages. Mrs. Bich also mentioned abnormalities from the scene inspection and autopsy.
According to Mrs. Bich, Deputy Principal of Banking University Nguyen Duc Trung said that after drinking, Mr. Tin went home. However, when he checked the scene, Mr. Tin's 2 cell phones were still left on the table, the slippers were still left in the house (it is possible that Mr. Tin was led by the subjects in a state of not alertness). And according to Mrs. Bich, if her husband had committed suicide, he must climb the railing so the railing must have her husband's fingerprints on it to climb. But the investigating agency did not conclude whether or not the fingerprints were on the railing and if so, whose fingerprints were.
According to Mrs. Bich, at the scene of the accident as well as Mr. Dung's apartment, the investigation agency was unable to capture any glasses or fragments of glasses that Mr. Tin always wore. Ms. Bich said her husband has a severe near-sighted malformation, so he must always wear glasses. So, if Mr. Tin left the room by himself, then surely he must bring glasses. He woudnt forget his glasses. Then Bich's suspicion that her husband was escorted or taken away in a state of not alertness.
What's more, when police carried out the autopsy, it is unusual that Mr. Bui Quang Tin's stomach was empty. Mrs. Bich questioned why her husband was invited to lunch but having nothing in his stomach?! So in fact, the testimony of the subjects present with Mr. Tin at that time was that they "ate and drink." But what kind of food did they eat and his stomach was empty? So what did Mr. Tin come to meet these people for? That is a big question that the investigating agency does not explain.
Those are the contradictions between testimony and evidence that everyone can see clearly, but the HCM City police investigation agency has concluded that Mr. Tin "climbed onto the railing to jump the ground." A blatantly negative conclusion with clear evidence. And just blatantly denying like that is for a simple ignored case, regardless of the anger of the victim's family and the people watching.
The people suspected of murdering Mr. Tin are all working in educational sector, they are not foolish to kill people to pay the price before the law. So, if they did kill Tin, they must have power to ensure that the law does not touch them, then they did. So who are those forces? How to know if they ignored the case?! It is an evidence that the communist authoriies are willing to step on the clearest evidence to protect the dark forces.
It was not only Mr. Bui Quang Tin who suffered such an injustice, but Mr. Le Hai An who had a remarkable position and power in the communist government also suffered the same unjust death. Living under the communist regime, not only low-ranking people are victims of injustice like Ho Duy Hai but also senior officials who dared to obstruct its interests were eliminated. According to the level of brutality, there is no a crime organization even the mafia can compare with the communist regimee.
As we can see, the interest group is formed to make profits by all means, including the most wicked. In fact, interest groups in the Communist Party of Vietnam have emerged like mushrooms and they have already benefited from unjust sentences to the people, and even killed if necessary. The leaders of these interest groups are, of course, those who have a party card, have high political status, and have studied and followed late President Ho Chi Minh's moral example every year but have a way of seeking benefits in this way more than the devil. To have power and money they defy, that is the nature of the interest group. But as we know which group of biggest interests is? That is the Communist Party of Vietnam.
Thoibao.de (Translated)
Source: https://www.facebook.com/vannga.do.3154/posts/293799281952857