After US Senators and Representatives strongly proposed that the administration of President Donald Trump punish Vietnamese officials who violate human rights, local activists expressed sympathy and support for Washington to take practical sanctions.
Over the past weeks, a number of US congressmen have sent letters to US Secretary of State Mike Pompeo, as well as speaking out at human rights seminars, urging the US Government to take sanctions against Vietnamese officials who "seriously violates human rights," consider the application of the Global Magnitsky Act, and put Vietnam back on the List of Countries of Special Concern (CPC).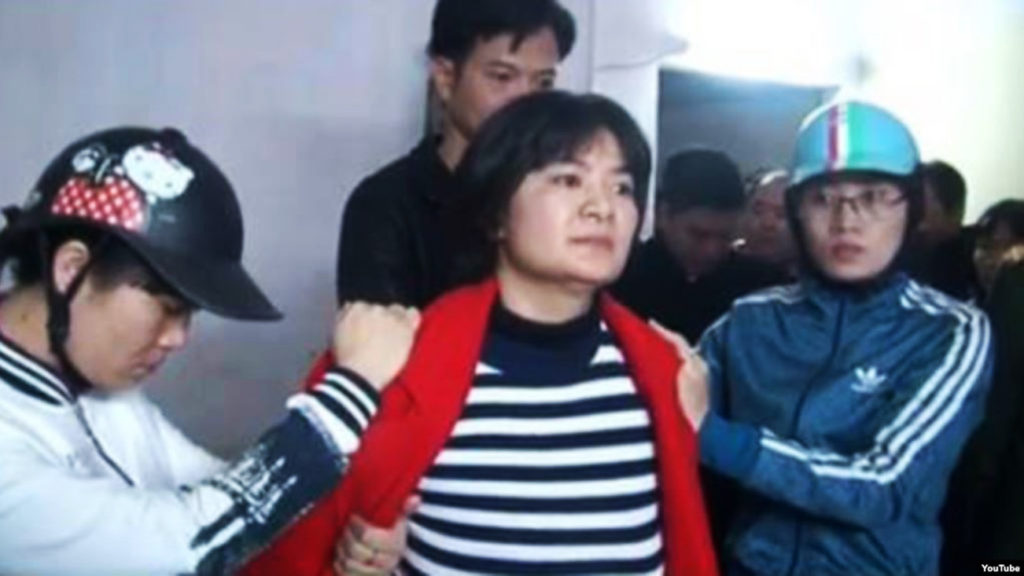 Activist Tran Thi Nga, currently living in exile in Georgia, the US, after leaving Vietnam prison in January 2020, told VOA:
"The direction to call on the US government to take measures to punish the Communist Party of Vietnam (CPV)'s members and officials who violate human rights is a healthy and practical one. Only then can the communist officials wary and stop their crimes."
"This proposal is very helpful to the Vietnamese people, especially the dissidents who express their own religious views."
Attorney Nguyen Van Dai, now living in exile in Germany, after being detained twice in Vietnam for defending human rights, told VOA:
"In recent years, the pressure from the international community, especially from US representatives and senators, and international organizations, over the human rights violations committed by the Vietnamese communist government has been very strong. But the authorities continued to arrest local activists and convict them with lengthy sentences."
"These voices, although strong, are not strong enough to force the Vietnamese government to listen to calls from the international community, so coordination is needed between legislative bodies (congressmen, senator) with law enforcement so that their voices have pressure to punish them."
Attorney Nguyen Van Dai added that the US lawmakers' proposal to the US Department of State to impose sanctions on Vietnamese officials who violate human rights will encourage activists' fighting spirit in the country, whether they are imprisoned or being free.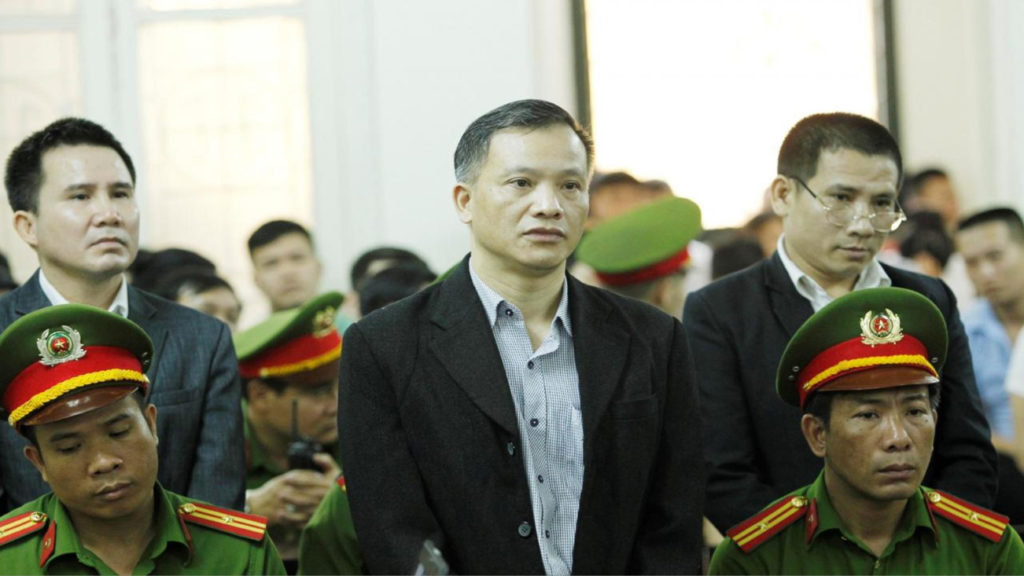 Earlier, on Aug 7, US Representative Alan Lowenthal spoke at the online discussion on Campaign Day for Vietnam:
"I think the US Congress should put Vietnam back on the List of Countries of Special Concern (CPC), we have seen how Vietnam began to change its human rights actions once it is removed from the list before."
"I think we have to campaign for two things: Apply the Magnitsky Act and bring Vietnam back to CPC. And I think this will be the right thing to do."
Sen. Marco Rubio wrote to the Congress: "We know that the Vietnamese government continues to persecute religion and oppress dissidents. The basic rights of the Vietnamese people in practice of belief and religion, and the right to freedom of expression, association and assembly, must be respected and protected."
Mr. Rubio continued: The US government must be transparent that the US relationship with Vietnam will not reach its full potential if these abuses continue, we must continue to commit to urging the government of Vietnam to release all Vietnamese political prisoners, many of whom have been detained solely for protecting the rights of the Vietnamese people."
Religious activists Venerable Thich Khong Tanh, from the Sangha of the Unified Buddhist Church of Vietnam, and Hua Phi from the Cao Dai Church, told VOA in previous interviews that they agreed reinstating Vietnam to the CPC on the grounds that the government continues to violate freedom of religion and belief.
In addition to the CPC and Global Magnitsky Law, US lawmakers in both the Senate and the House of Representatives introduce Vietnamese human rights bills.
In the Senate, Senator John Cornyn introduced bill S.1369 – The Vietnam Sanctioning Bill of Human Rights, supported by Senators John Boozman, Bill Cassidy, and Marco Rubio. This bill sets out sanctions similar to the Global Magnitsky Law but applies exclusively to Vietnam: requiring the US President to impose financial sanctions and prohibition on US entry to officials and their families who are complicit in human rights violations against Vietnamese citizens.
The British Ambassador is concerned about the heavy prison sentences given to the Constitution group
Just a few days after the US State Department condemned Vietnam's conviction and sentencing of eight members of the unregistered group Constitution to 40 years in prison, the British Ambassador to Vietnam also expressed concern about the sentences he calls "heavy" for "Vietnam's human rights defenders."
A group of eight members of the Constitution was brought to trial on July 31 in a court in Ho Chi Minh City, and they were sentenced to between 30 months and 8 years in prison for the allegation "disruption of security" according to Article 118 of the 2015 Criminal Code.
Their trial along with recent arrests of members of the Independent Journalists Association of Vietnam and years of prison records for environmental activists such as Le Dinh Luong and Nguyen Van Hoa made the international community's concerns about the human rights situation in Vietnam.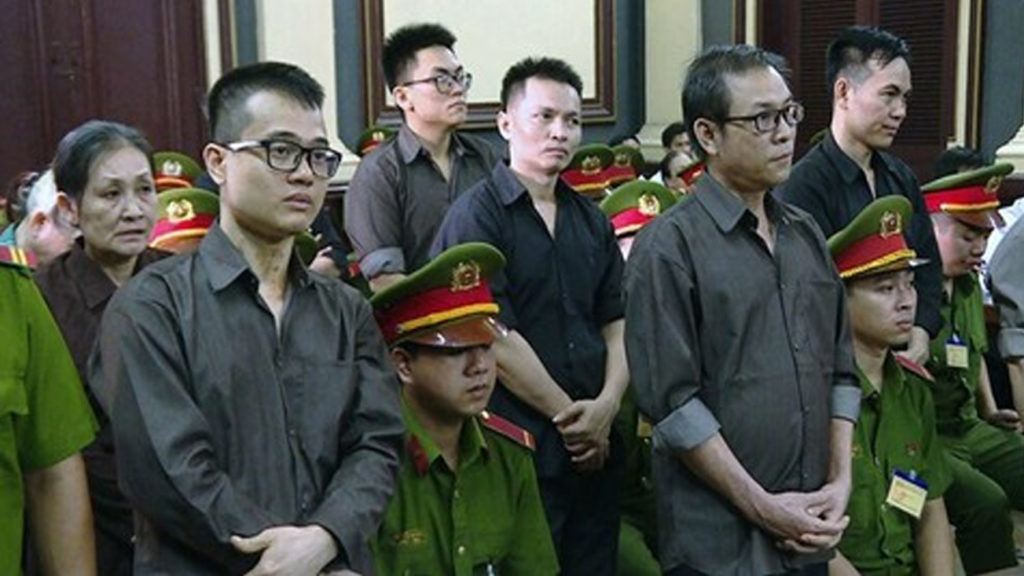 Recently, US Representative Alan Lowenthal, representative of District 47, California, shared at a conference on human rights in Vietnam that he is implementing the procedure to officially adopt young prisoner of conscience Nguyen Van Hoa.
"I am very impressed with what Mr. Hoa has done," he said.
Mr. Nguyen Van Hoa, a young journalist and collaborator of Radio Free Asia, has reported and video images of the protests against Formosa company causing environmental pollution in Ha Tinh in 2016. In 2017, Mr. Hoa was sentenced to 7 years in prison and 3 years of probation for "conducting propaganda against the state."
"His videos played a big role in showing the world what happened in Vietnam. I want to stand with him, speak for him, and let Vietnam know, we are watching them very closely. Every time they want to interact with the US government, the prisoners of conscience's sponsors like me will speak up asking them to release those prisoners of consciecne."
The prisoners of conscience sponsorship program, known as the Freedom Protection Project, is one of the main programs of the US Congressional Tom Lantos Human Rights Commission.
US Assistant Secretary of State Robert Destro called on Vietnam to respect human rights.
The meeting on August 14 is the sixth session in the series of "Advocacy Day for Vietnam 2020," bringing together international speakers from the US State Department, the United Nations, ASEAN and a number  civil society organizations.
Citing recent cases of international concern about human rights in Vietnam such as the trial of the Constitution group, the detention of IJAVN's President Pham Chi Dung and its members, and sentences for environmental activists such as Le Dinh Luong, Nguyen Van Hoa, and Mr. Robert Destro emphasized:
"Every individual in Vietnam must be free to express their views without fear of retaliation."
The activists "were arrested for exercising their basic freedoms," said Assistant Secretary of State Robert Destro.
"We urge the Vietnamese government to ensure that their actions are in accordance with the human rights provisions recognized in the Vietnamese Constitution and the international conventions that Vietnam has signed," he continued.
Ms. Desi Hanara, Southeast Asia Regional Coordinator for a joint project between ASEAN MPs on Human Rights (APHR) and the International Committee of Parliamentarians on Freedom of Religion or Belief (IPPFoRB), informed that 65 incumbent and former legislators from many Asian countries signed a joint letter to Vietnamese Prime Minister Nguyen Xuan Phuc on August 13 to request the release of religious activist Nguyen Bac Truyen, who is sentenced to 11 years in prison on charges of "overthrowing the government."
"Together, we unanimously make a priority. This year, Vietnam is the Chair of ASEAN 2020. We would like to announce that yesterday we sent an open letter to the Prime Minister of Vietnam. The letter was signed by 65 congressmen from 28 countries around the world calling on the PM to immediately unconditionally release Nguyen Bac Truyen and all those imprisoned for speaking out for human rights. the peaceful way."
The Vietnamese government has always denied criticism of human rights abuses from international organizations and has always insisted that it does not arrest anyone for dissenting but only holds those who violate Vietnamese law.
Thoibao.de (Translated)