A man in Tay Ninh, while working on his field trying to catch a cobra, was bitten in the right thigh by the snake. Knowing that the snake was poisonous, this man took the whole snake to a local hospital for an emergency.
On August 19, Mr. Phan Van Tam (38 years old, living in Tan Chau district, Tay Ninh province) was bitten by a king cobra. When admitted to the hospital, Mr. Tam still kept a living snake, nearly 3 meters long, weighing nearly 5 kg wrapped around his elbow.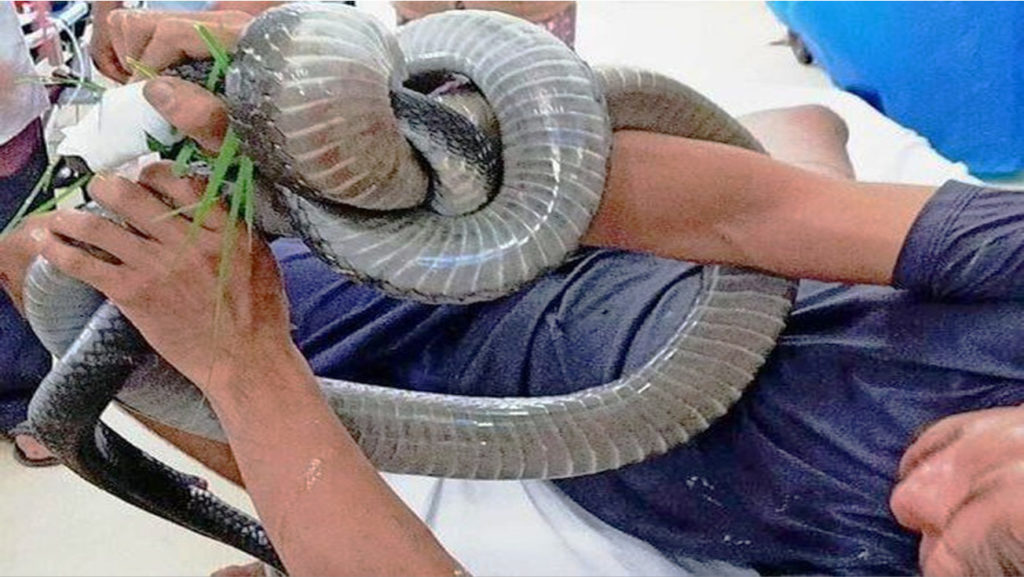 Many people shared sympathy, but could not hide their surprise, wondering why Mr. Tam brought the snake to the hospital. Others, unknowingly or deliberately, left a rude comment: "How do you want to be famous by doing that?"
Facing doubts of social network users, Ms. Phan Thi Hong – his sister recounted the situation "He doesn't know about social networks so it is not true that he wants to be famous, just because he can sell the snake for living." Ms. Hong started to shed tears.
On August 19, Mr. Tam was transferred from Tay Ninh to Cho Ray Hospital in Ho Chi Minh City for treatment. He overcame the most difficult situation.
When hearing that her husband was bitten by a poisonous snake and moved to Cho Ray hospital in a deep coma, his wife named Bui Thi Ngoc Tuoi felt so bad.
Because he did not want to miss the snake which could be sold for a huge sum of money, Tam tried to chase the fierce snake and then was bitten by the creature. Taking care of her husband at the hospital, the young wife cried with tears at the thought of her husband in the dead of life.
Sitting with pillows on a row of benches in the Cho Ray hospital campus, Mrs. Tuoi was always startled whenever the hospital calls out the names of the family members to visit. Her husband Tam is still fighting for his life at the Department of Tropical Diseases, Cho Ray Hospital after being bitten by a king cobra.
Mrs. Ngoc Tuoi said that because of a piece of rice, Mr. Tam was bitten by a fierce snake, leading to a critical situation.
Mrs. Tuoi said: "On the morning of August 19, my husband brought two children to visit snake traps. At this time, my 9-year-old son discovered that the trap contained a large snake. She ran out and said to my husband: "The snake is very big, Dad. Seeing me, it puffed out and cried, and looked very scared." Seeing that, my husband came to see and was about to capture the snake.
Seeing that the snake was too ferocious, my son cried, preventing my husband from catching the animal.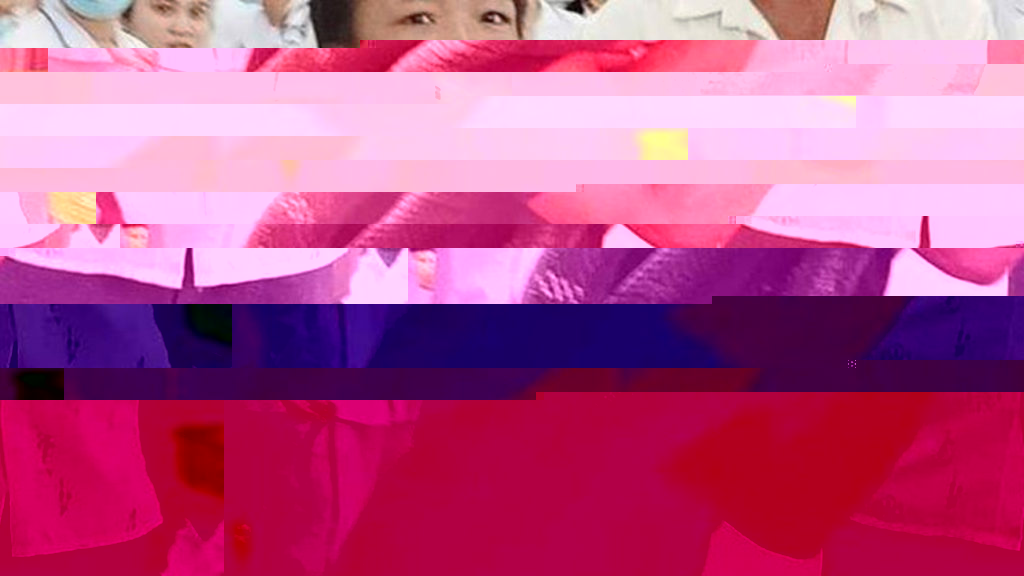 "However, my husband still rushed to catch it. Unfortunately, he was bitten by a snake in his thigh. Despite the pain, he tried to grasp the snake's head tightly and then asked the people around him to tie his thighs so that the poison wouldn't run into him. After that, he and our children went to a road to ask a ride from a resident. My husband asked a man to pass by to the General Hospital of Tay Ninh province for an emergency. While in the car and when entering the hospital, he still gripped the snake's head, even though it wrapped his arm tightly. At the hospital, when the doctors were able to control the snake, it was also the time when my husband collapsed and lost consciousness," added Ngoc Tuoi.
According to her, before, Mr. Tam had never practiced snake catching and did not have any experience in this risky work. However, due to the difficult life, he set up a snakes trap to have money to take care of two young children.
"When he was about to catch the snake, my son kept crying and saying 'Dad, run away, stop catching, I'm scared.' But since he did not know that the snake was in the red book, he still caught."
"If life was not difficult, my husband would not have to be in the hospital in the most fatal state of life like now," Tuoi said sadly.
She said from the moment her husband was taken to the hospital, she was so scared.
She said: "Recently, my husband has continuously had accidents. Recently, he had a traffic accident and had to be hospitalized for treatment. He also had surgery for the painful leg after the previous accident. After the surgery, my husband's legs were weak. He can no longer work hard, so no one hired. Life was hard and harder.
Being jobless, knowing there were many snakes around the house, he went to catch snakes for living.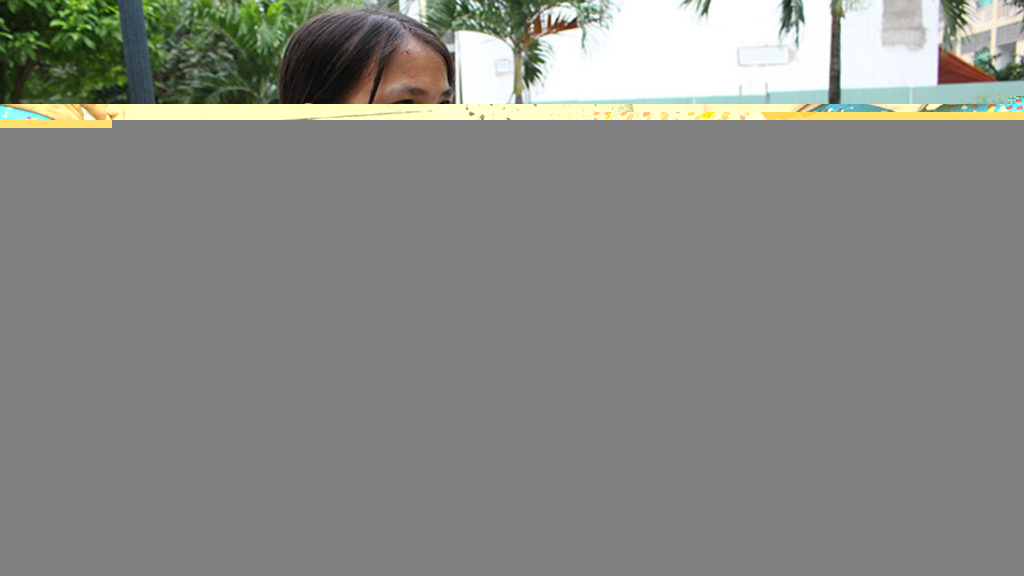 According to her, her family has no productive land. The lives of the couple and their children only rely on the couple's job as a hired worker. Before getting into a traffic accident, Mr. Tam worked as a laborer for the custard-apple garden owners such as spraying pesticides, cutting flowers, pruning …
At the end of the custard-apple season, if anyone calls, he can work as a construction worker. When having no job, he took his motorbike and went to the street for a taxi. He is always busy, without a bit of rest, but remains poor.
Meanwhile, Tuoi is not much better. Without a stable job, she does what other hire her. Once the lawn was cut, she went to take care of custard-apple for the owner of the garden. The difficult life of a living made her much older than her 28 years old.
"My husband's family is not well off either," she said. There are many brothers, but with my husband, everyone is in difficulty, so they cannot help each other. The day he was hospitalized, the doctor said he only had a 20% chance of living. My two children are too young. Without a husband, I don't know how to manage it by myself.
For the past two days, I could not sleep. I worry about the worst that happens to my husband. Although I knew I would have to more debt, I still prayed for my husband to overcome the crisis."
Netizens were strongly impressed with the image of Mr. Tam holding the snake tightly when he was admitted to the hospital. In the time of emergency, he even said: "Doctor, keep it for the snake!"
The story of British snake-catching, unintentionally pops up many stories behind that that Vietnamese society picture exists, or it is a tragedy in Vietnamese society, which is called paradise. A father who defies danger to his life to try to salvage a bowl of rice for his family in a difficult life is precious. What drives him to hold on to it is because he hopes his children can go to school.
The story is so emotional, but why is it so spicy! Why risk your life to send your children to school? Former prisoner of conscience Pham Minh Vu has a commentary on the controversial incident.
According to the central budget estimate table in 2019 (Resolution No. 73/2018 / QH14), the total central budget revenue is VND810,099 billion. However, spending for the Ministry of Public Security reached VND82,348 billion, accounting for more than 10% of the total revenue.
It is known that in 2019 the government spending on the Ministry of Health was only VND14,816 billion, and the spending for the Ministry of Education was only VND7,661 billion. A separate expenditure for the Ministry of Public Security is nearly 4 times the amount spent on health and education combined. And not to mention that the country paid more than VND45 trillion to support the party's unions, just for show, but not practical for the people. State-controlled groups were formed like parasites, do not help people but their spendings were taken from the state budget.
If only, it would be nice to reduce the budget to spend on the police, one of the most corrupted groups in the country.
If more money spent on health and education, then the hospital will be better, with more beds, modern facilities, and a better medical team. At that time, the students did not have to pay the tuition fees, their parents would not have to risk to catch poisionous snakes.
If the government disbanded the party parasitics associations to have more money for health and education.
This is a big tragedy in Vietnamese society. People risk their lives just to take care of their children's school fees. And the Golf card gives the officials a few billion VND per person, just one Golf shot stops how many students stop going to school? Ordinary people have to live extremely miserable lives, tuition fees are not available, and the children of officials are racing to buy houses, buy super cars in the West and study in the capitalist countries, where the propaganda regime says the land of death.
If a government identifies itself as a good government, and a leading party identifies itself as morally, then there is evil with what is happening in this country, day by day, every hour. Do you understand why people rush to catch poisonous snakes to earn money so they can pay school fees for their children? What good government? Where is the morality? " Mr. Pham Minh Vu asked.
Thoibao.de (Translated)