The incident in which a tourist was assaulted for criticizing the demon statues in the Quy Nui (mountain demon) tourist area caused a stir in the public opinion in July 2020, after that it was reportedly suspended according to the government's request to reevaluate the demon statues that authorities say have not been approved.
Recently, netizens discovered the vehicles carrying a large number of Chinese warrior under King Quin Shi Huang with the information that they would be used to build the Qin Shi Huang tomb at the Quy Nui tourist area, causing many people concerned about the worship of Chinese cultural symbols in Vietnam.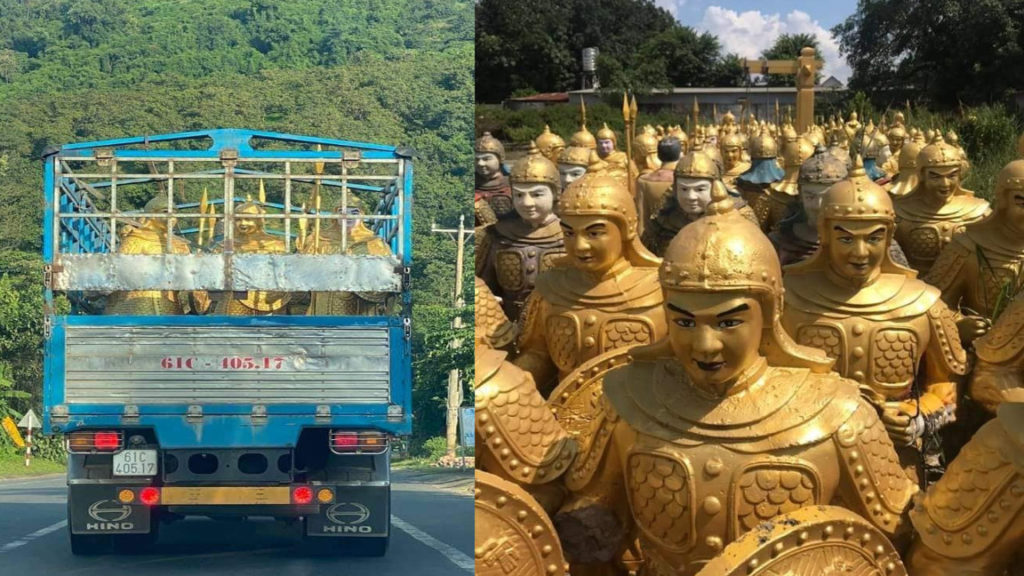 Quy Nui tourist site belongs to the tourist complex of Quy Nui – Suoi Ma built by Lien Minh Group in Lat commune, Lac Duong district, Lam Dong province. It was opened on July 6, 2020.
As soon as it was put into operation, Quy Nui tourist site received many negative comments from netizens because it thought that the modeling of the statues was offensive, not suitable for the tourist space of Dalat.
Dang Nhu Quynh is a Facebook with a green footprint with 223 thousand followers, on August 29, provided following information:
Chinese Forbidden City in Vietnamese version
It is known that there is a tourist area in Da Lat City that is building an area called the Forbidden City with hundreds of soldiers simulated statues of China.
Da Lat City authorities also need to closely monitor, inspect, supervise … this tourist area. Because as far as I know, this area does not have a permit to build a film studio or a large-scale tourist area like this.
Please give the answer back to the Da Lat city authorities," Mr. Quynh raised a warning issue with the authorities.
Just after posting this information, after a few minutes, Dang Nhu Quynh received an anonymous threat, which he announced on Facebook as follows:
"A few minutes ago I got a phone call from a trash sim … Do you know whose resort is?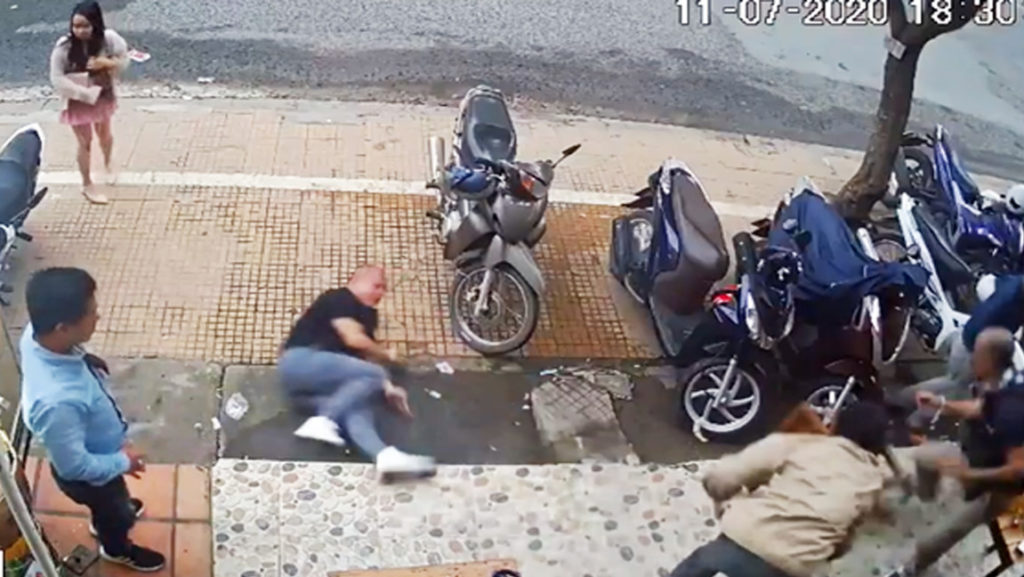 That's Big Phuc – President of the Alliance … is the Master of Quy Nui …
Oh my gosh, there's also a devil scare game … I'm scared but …
Is he Ngo Quang Phuc who has long hair huh …
Ghosts and Devils go to China to act … they are not suitable for Vietnamese!"
It is not known whether the threatening guys would cause any harm to Mr. Dang Nhu Quynh or not, but the fact that the Quy Nui Tourist Resort beat people because of disparaging words still makes public opinion and authorities need to pay attention to protect the people dare to denounce before thorny things in society.
Journalist Hoang Linh also commented on his personal Facebook that:
"How far is Qin Shihuang's army marching day and night?
It seems that there is a coordinated with the incident in which a public map of Vietnam without Hoang Sa and Truong Sa was used in the conference, and a film has a cow's tongue line and the main actor publicly views the point of invasion.
The authorities remain blind."
Facebook Thanh Nguyen Hong gave an angry "warning":
Quy Nui tourist area in Lam Dong after only 9 days of opening has to close because of its offensive and creepy statues. The work was inspected for completing legal procedures and the staff of the tourism area beat people with comments about uncultured statues.
That was in July, and now we see a jolt of trucks carrying statues of Chinese ancient warriors to the Forbidden City. What is this? Will the Chinese troops occupy this place? Who brought the ancient Chinese troops back to this place?"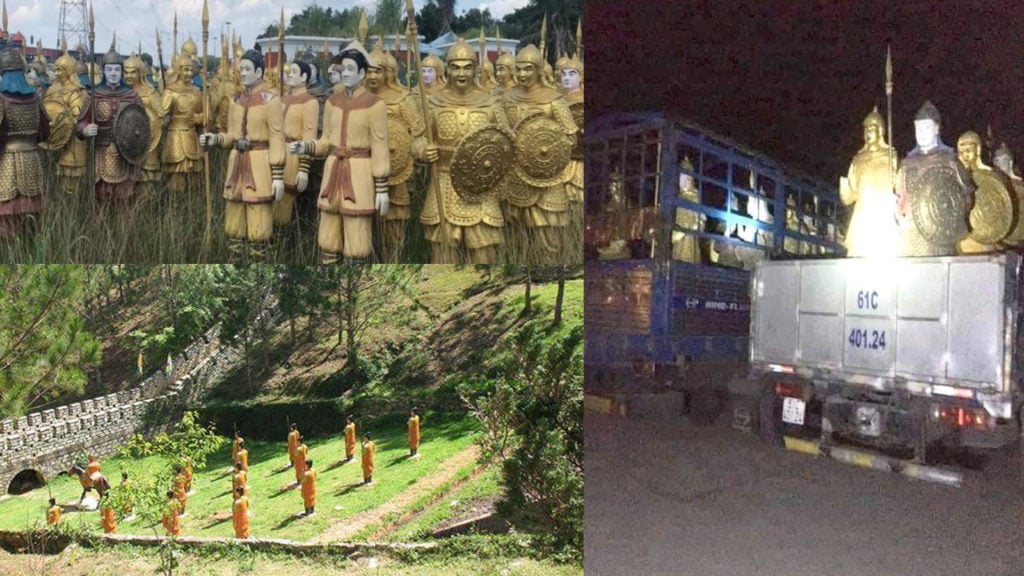 The strange thing is that the people built the squat cage, the local government knew right from the time they brought the sand and bricks, and even the nearly 10-hectare tourist resort was opened and the officials did not know. Now, the statues of Quin Shi Huang's warriors gathered in Da Lat they did not care. Do not know or know but received "procedure fee" already and remained silent?!
FB Le Van Quy also shared his opinion, writing:
"Beware and oppose the tourist impostors to support and confirm the sovereignty of Communist China!"
Previously, there were many Chinese tourists traveling to Da Nang, the Chinese tour guide often said that this land of Ngu Hanh Son in the past was the land of China. Actually, there is another Ngu Hanh Son mountain in China
Vietnamese should be cautious about China's tricks. In the old days, China made thousands of wooden plates engraved with the Chinese's lettering, then floated on the sea, the wooden stick fell into any area, then the Chinese used it as evidence to claim sovereignty in that land.
In recent days, there have been many vehicles carrying terracotta statues imitating soldiers under Quin Shi Huang's tomb to go to Lam Dong, which, according to local people, said this is a tourism project invested by the Chinese.
We know that Qin Shi Huang's mausoleum is located on the north side of Lyshan Mountain in Lin Dong District, Xi'an City, Shaanxi Province, China. In which the two words Lam Dong coincide with the name of Lam Dong province in Vietnam, so bringing the statues of the terracotta soldiers of the Quin Shi Huang dinasty to Lam Dong is not simply a tourist matter, but can be a courtesy. spiritually and in the long run, propaganda that this is also the land of the Chinese like impersonating Ngu Hanh Son.
We are very deep, we should be vigilant and opposed to the construction of such works!"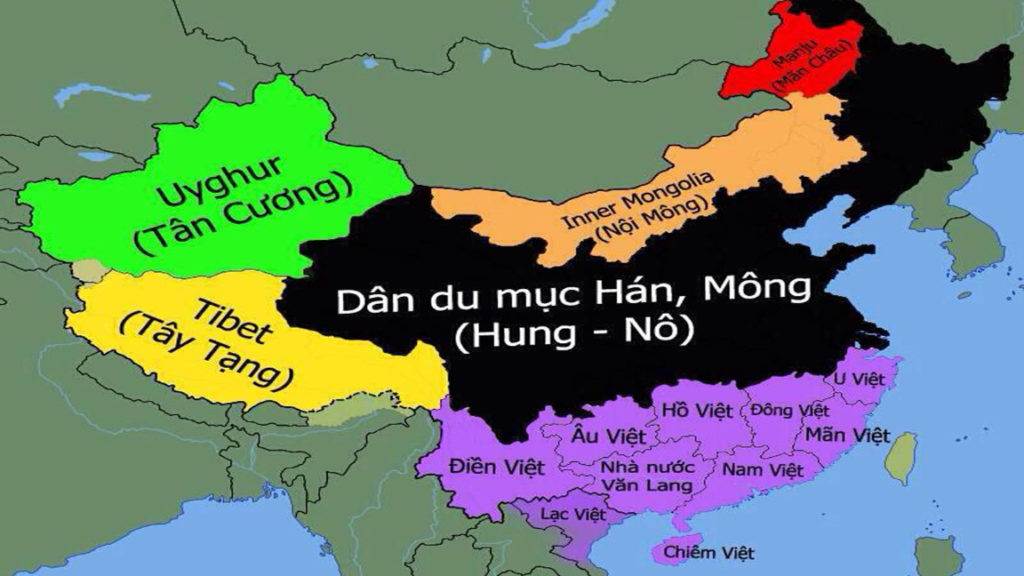 Giving historical evidence that in the past, Quin Shi Huang pulled the army against Bach Viet for 10 years, FB Dao Van Thanh wrote:
"After taking the Chinese Communist virus, until now, someone took the Chinese warriors to enter the south-central plateau (Da Lat), causing misery for people.
The Viet-Quin War can be said to be the first war between Vietnam and China.
It lasted 10 years. The time when Quin Shi Huang invaded Bach Viet was around 218 – 217 BC.
After taking over our country, Tan took a brutal hand, grabing Vietnam's wealth and resources, and Vietnamese people were miserable.
The foreign invaders forced Vietnamese people to supply valuable things such as gold, rhino horn, ivory, back feathers, and pearls. Vietnamese people had to work hard to meet requirements of Chinese invaders.
No the current generation built the tomb of Quin Shi Huang and their army!
So embarrassing, too sour! "
Facebooker Pham Minh Vu said that China is propagandizing Chinese culture to Vietnam in order to make Vietnamese forget their own culture.
"Recently, on social networks, images of these statues are supposed to be transferred to Da Lat in Lam Dong province. I do not know which tourist area it will be built in Dalat.
These statues are a reconstruction of the Terracotta Army under the Qin Shihuang Mausoleum in Shaanxi China.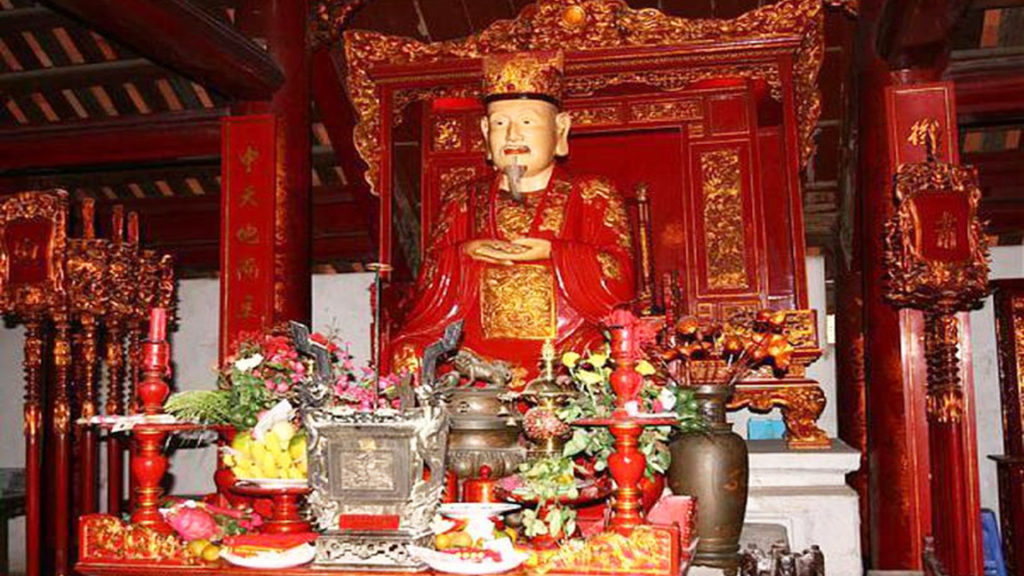 Over the years, China has always used cultural propaganda tactics to invade Vietnam, making young Vietnamese people are assimilated by movies, music, and idolize Chinese actors who support China's illegal claims in the East Sea (South China Sea).
Da Lat and many other provinces in Vietnam have many projects owned by the Chinese. In 2016, there was a case China-backed restaurants refused serving Vietnamese people but only Chinese people. In recent years, Da Lat has built many tourism projects with many monstrous shapes, most of the contractors are Chinese, they won the contract to build the projects and Chinese workers were smuggled to Vietnam to carry out these projects. The glass-bottom bridge built between the Valley of Love and Dream Hill earlier this year brought dozens of Chinese smuggled people to work and live in it for several months.
Inside the Dream Hill tourist area, there is the Great Wall of China. And today they are building Quin Shi Huang's tomb.
The creation of the tomb of Quin Shi Huang in Vietnam is a very dangerous thing, it can be a temporary economic purpose by serving boat people to travel to Vietnam, attracting more visitors, but for a long time, it is a political purpose.
Again, the Qin Shi Huang Tomb is located in the north of Ly Son Mountain in Lin Dong District, Xi'an City, Shaanxi Province, China. Later, some Vietnamese can wrongly say that Vietnam's Lam Dong belongs to China. It can't be a joke," freelance journalist Vu warned.
Thoibao.de (Translated)