On September 1, State President cum General Secretary of the Communist Party of Vietnam (CPV) Nguyen Phu Trong reappeared after a period of absence to celebrate the 75th anniversary of the nation, but in unfit health conditions with shaking limbs and walking with difficulty.
The video clip reveals short movements, enough to show that Mr. Trong does not look straight, but constantly looks down at his feet because he is afraid of falling, walking slowly, his body is slightly wobbly, his right leg is quite weak, his body is always shaking when moving like a boat hovering.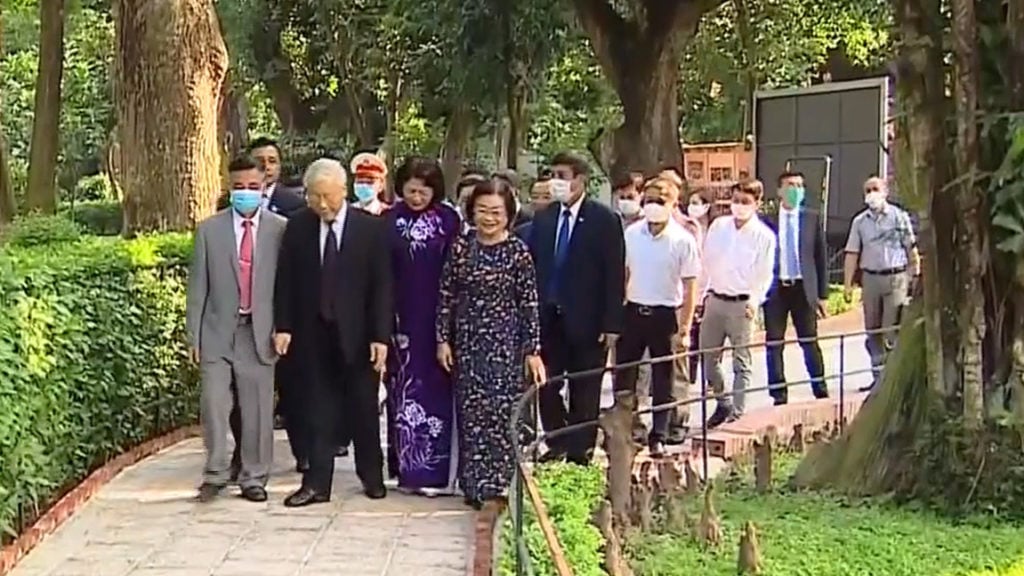 There was always a group of people around Mr. Trong, and at the end of the group, a medical specialist holding his briefcase. The voice of the General Secretary gave a slightly trembling voice and the content repeated the blessings of the late President Ho Chi Minh, repeated the great values ​​of the declaration of independence.
Overall, it can be judged that the General Secretary's health is not really good and needs very close care, which also explains his absence on the media in recent times.
On the morning of September 1, Mr. Trong went to Ho Chi Minh Presidential Monument to offer incense to commemorate the 75th anniversary of the nation.
The photos taken by the VNA this morning show that Mr. Trong was walking with someone next to him, holding his hand. He was absent from the National Day celebration on August 28, chaired by Prime Minister Nguyen Xuan Phuc.
Meanwhile, former Prime Minister Nguyen Tan Dung was absent at the visiting ceremony of leaders and former leaders at the mausoleum of late President Ho Chi Minh, after his son Nguyen Thanh Nghi, secretary of Kien Giang province, was disciplined due to land violations during the period when Mr. Dung was still in office.
A set of photos published by the Vietnam News Agency published on the event on September 1 said that the leaders of the Vietnamese party and state visit Uncle Ho's fish pond and feed the fish, as well as visit the residence and working place of late President Ho Chi Minh.
In addition, Mr. Trong can also see through photos giving gifts to officials and employees of late President Ho Chi Minh Monument at the Presidential Palace and taking souvenir photos with them.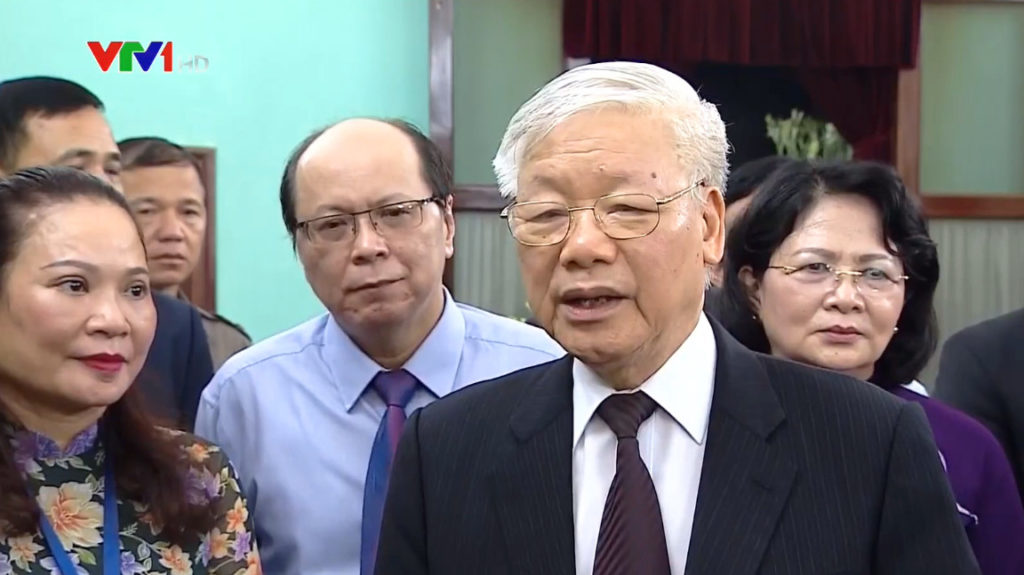 At the end of June, many domestic media reported that there was paving the way, that many voters expect President Trong to continue to stay for another term "to steer the boat of the country" while the most concerning issue in Mr. Trong's activities is to prepare personnel for the upcoming 13th Party Congress.
Recently on August 24, PM Phuc signed to issue a decision, according to which, medical records, information, results of medical examination and treatment, health checks of members of the party's Politburo and Secretariat under the category "top secret."
Although this decision has just been issued, for a long time information about the health of leaders has always been kept confidential, especially the illness events of Mr. Nguyen Ba Thanh, Mr. Tran Dai Quang or as for General Phung Quang Thanh in 2015. There are very bad rumors about his health and until now there has been no more news that is clearer than it is considered official.
After a long absence in the media, recently, Trong continued to be absent at the 75th anniversary of the National Day of the Socialist Republic of Vietnam on August 28.
People's Newspaper said PM Phuc and his wife presided over the ceremony, National Assembly Chairwoman Nguyen Thi Kim Ngan and Permanent Secretary Tran Quoc Vuong were also present.
Recently, Trong was also absent from the national funeral of former Communist Party General Secretary Le Kha Phieu although he was "head of the funeral committee."
In April 2019, Trong's health became a topic of discussion in Vietnam after his visit to Kien Giang province.
Mr. Trong reappeared a month later with pictures of a meeting with a belt around his stomach, but Thanh Nien newspaper used Photoshop to remove the belt when it posted the photo on the cover paper.
Domestic media did not see the image of Mr. Trong when reporting on meetings and events.
Until April 25, responding to reporters at a regular press conference, Vietnamese Foreign Ministry spokesman Le Thi Thu Hang said verbatim as follows: "Due to the high work intensity, the weather has changed. affecting the health of the Secretary-General and State President Nguyen Phu Trong. Comrade General Secretary and State President Nguyen Phu Trong will soon return to normal work."
However, the number of recorded public appearances of Mr. Trong is still very limited.
Last October, the People's Newspaper accidentally released a video showing Mr. Trong walking difficult in the reception of the Lao leader.
Since then, the state media has released almost no video showing Mr. Trong walking.
Former prisoner of conscience Pham Minh Vu commented on this issue on his personal Facebook page with 27,000 followers, the article titled: "Mr. Trong should learn to be a kind person," the content is as follows:
In recent days, Trong's absence in Vietnamese politics has made many speculations about the seriously changing health of this national leader.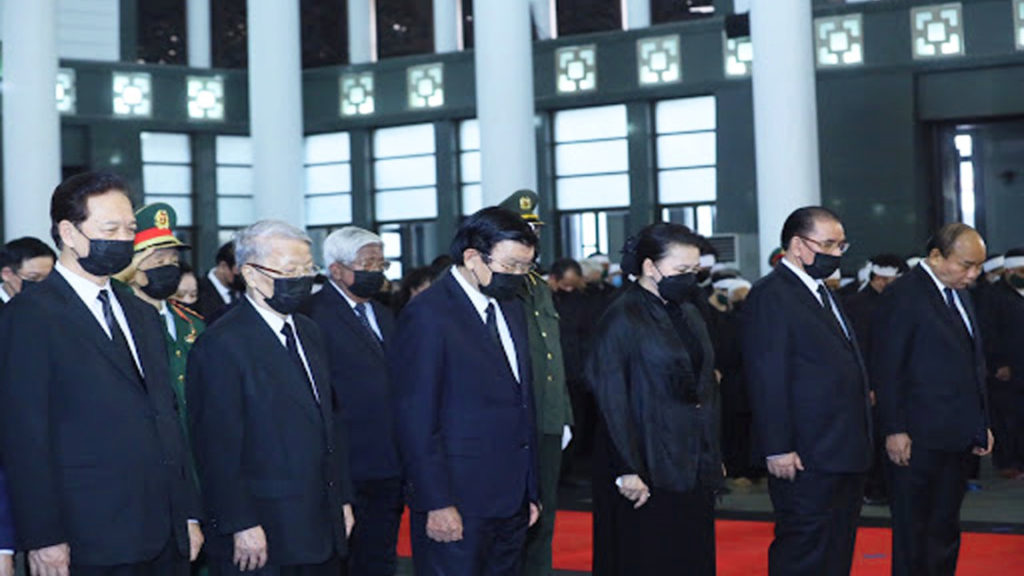 The two most recent events to prove that Trong can hardly be able to go even in a wheelchair are the funeral of former General Le Kha Phieu and the 75th anniversary of the National Day.
If we see that in the democratic and developed countries, their heads of state are almost required to present themselves to the people every day through continuous activities, through plans and policies committed to the people. Before that, if not healthy enough, at least bow to the people and apologize for not having enough health to continue serving the people, like Prime Minister Shinzo Abe just now.
When a country has a system of Rule of Law Democracy, everything about leadership is transparent from possessions to health, People demand an accountability to the people.
However, because of the long absence in politics, Nguyen Phu Trong asked Prime Minister Nguyen Xuan Phuc to issue Decision 1295 / QD-TTg on the list of state secrets in the health sector. This decision, the medical records, information, medical examination and treatment results, and health checks of the Politburo members, the Secretariat of the Party Central Committee are Top secret. His behavior in a respectful manner reflected the behavior of a Mafia organization rather than a state.
Why is your health top secret? Meanwhile, the People pay taxes to hire you, not to sit on top of the people, an act of disrespect, despise the people. How is your health so that people can choose someone else to replace them?
The great nation cannot entrust the people with the unstable wheelchair, cannot choose the person with the stroke, the more can not choose the people in a wheelchair but greed for the power of the position.
I don't think that a kind person doesn't behave like Mr. Trong, Mr. Trong should learn how to be a good person, at least when he sees his health is not enough, he should resign. How is it possible to strangle the people to force taxpayers to feed a man who can only eat and lie down and cannot be self-controlled, while people have to eat cicadas every day, dig through trash cans to eat," Mr. Pham Minh Vu stated.
From Hanoi, Professor Nguyen Khac Mai, former Director of Research Department, Central Civil Affairs Committee, Chairman of Minh Triet Center, cited Shinzo Abe's resignation as an act of a civilized society. Mr. Mai commented:
"Mr. Shinzo Abe is very responsible for his people and his government and people. If people are not healthy enough anymore, please find a replacement who is healthy and strong enough to row the ship to bring the country and the nation to development. It is a happiness of the Japanese nation. Unlike the guys in Vietnam, who are old, forget it first, but still cling to the position but do not work out of place.
It would be a misfortune for a country like Vietnam not to have such a person (like Mr. Abe), self-esteem, humility, knowing when to stop, when to rest, that is called a person who just got intellectual and virtuous."
"Vietnam considers the health of leadership a secret. Why do they want to keep that secret? Because the root is that they want to take the power to hold the position, not to give the position to anyone. It is a bad habit, with poor morality acting out that natural leadership health becomes a national secret," professor Mai made a comment.
Thoibao.de (Translated)