China's growing military actions in the South China Sea (Vietnamese call it the East Sea) have pushed Hanoi and New Delhi closer together in an increasingly close military partnership seen as a counterbalance to China.
The recent Chinese launch of H-6J bombers on the Woody (Phu Lam) Island, one of the disputed areas in the Hoang Sa (Paracels) that Vietnam claims, makes Hanoi angry.
Vietnamese Foreign Ministry Spokesperson in Hanoi Le Thi Thu Hang on August 20, as many previous times voicing China's militarization activities in the South China Sea, announced that the deployment of H bombers -6J, which China's Global Times says is to "suppress and halt American provocative military activities," is "a violation of Vietnam's sovereignty" and "complicate the situation" in the area.
In July, China twice announced to conduct drills in the South China Sea, and Vietnam's Ministry of Foreign Affairs both voiced their opposition as it said that China's activities were "a violation of Vietnam's rights over Paracels."
These Chinese activities were on top of the agenda when Vietnamese Ambassador Pham Sanh Chau met Indian Foreign Minister Harch Vardhan Shringla on August 21, according to Indian media.
The Vietnamese side informed India of the escalating tensions in the South China Sea as China increased its military presence there with the deployment of ships, fighters and at least one bomber in the waters that Vietnam says belongs to its sovereignty and is also where the Indian firm ONGC has oil and gas activities.
According to Professor Carl Thayer of the University of New South Wales, a military expert in the region, this is not the first time China has sent a bomber to the Paracels – China has had several air strikes H-6K long-range engine to this area in 2018. However, according to GS Thayer, Vietnam's openness about the meeting of Ambassador Chau is of great significance.
"Vietnam's announcement to India largely shows that Vietnam is engaged in a diplomatic act to point out China's actions with the aim of seeking political support," South China Morning Post quoted Professor Thayer.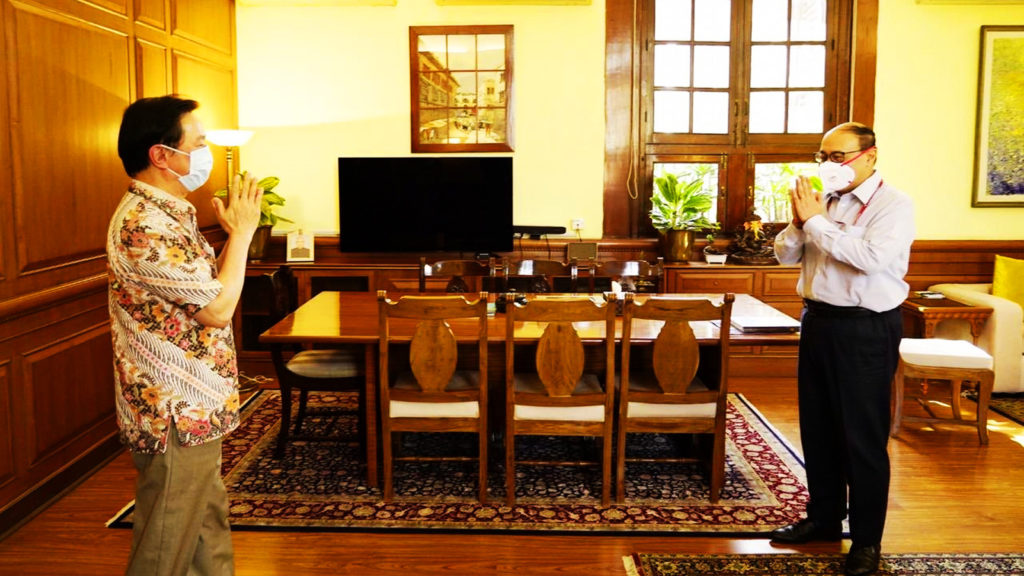 Vietnamese media did not publish the meeting, but Ambassador Pham Sanh Chau on August 21 said on Twitter that he had met with the Indian Foreign Minister to "discuss ways to promote the Vietnam-India Comprehensive Strategic Partnership."
In the event diplomatic sources consider official meeting, Ambassador Pham Sanh Chau said Vietnam was determined to develop a strong comprehensive cooperation relationship with India.
With its approach to India, Vietnam showed not only a comprehensive strategic partnership between the two countries but also its continued support for India's freedom of navigation and overflight in the South China Sea, according to Master Huynh Tam Sang of the Center for International Studies under the University of Social Sciences and Humanities of Ho Chi Minh City.
"India and Vietnam are now at the same point of strategic convergence," Sang told the South China Morning Post. "Both sides oppose that China considers the South China Sea its home pond and has a mutual interest in maintaining peace and stability in disputed waters."
Same "grudge"
International relations, including India, are helping Vietnam counteract China's ambitions to occupy the entire South China Sea and "devour Vietnam" from many generations now, according to journalist Vo Van Tao. The man who fought in the Vietnam People's Army told VOA that India would be a reliable country for Vietnam to join forces with China.
"The countries that they will never erase their enemies with China are India and Japan and I think Vietnam needs to ally with those countries in order to be able to deal with China," said journalist Vo Van Tao. "China has always wanted to swallow the border in Kashmir, relying more heavily on to bully India even though India is a nuclear power."
Sharing the same statement, Mr. Mohan Malik of the Center for NESA Strategic Studies under the US State Department said that "both India and Vietnam see China as an expansionist power, never being satisfied with its own territory and therefore a clear and present danger." The NESA researcher quoted by the South China Morning Post said that India is seeking to deal with China, as China did with India, by "containment and encirclement."
Vietnam will continue to strengthen ties with India to address common concerns about China's growing claim across the Indo-Pacific region, according to the analyst and senior defense analysis at Rand Corporation, Derek Grossman.
"This could involve information sharing, military training and perhaps arms procurement," said researcher Grossman, adding that the two militaries are very complementary because of both two armies are mainly based on military equipment from the Soviet or Russian era.
Defense and military relations between India and Vietnam have also increased in recent years. During the latest visit by a senior Vietnamese Ministry of Defense official to India late last year, Deputy Minister Phan Van Giang stated that defense cooperation is an important pillar of Vietnam-India relations.
Although not a claimant in the South China Sea, India considers this an important sea area when up to 55% of India's commercial goods move through this crossroad and India participates in many projects. an oil and gas exploitation projects with Vietnam in the sea.
China has objected to Indian oil and gas exploitation projects, but India says that cooperation in energy exploitation with Vietnam in the South China Sea is in accordance with international law.
Further cooperation between India and Vietnam in oil and gas exploration activities is likely to take place because of China's outstanding infrastructure development actions in the disputed area with India in Kashmir, according to NESA researcher Malik.
India sees freedom of navigation in the South China Sea as central to its strategic vision in a free Indo-Pacific as open, and according to researcher Malik, more important for India is to restrain Beijing's claims over most of the disputed maritime area.
However, according to the researchers, although both Hanoi and New Delhi can see benefits in a flourishing relationship, both sides will be cautious, especially Vietnam.
Vietnam cannot afford to have a growing conflict with China because Beijing has "leverage power in hand," especially in the areas of trade, water security (Mekong) and the South China Sea.
According to Professor Thayer, although territorial disputes in the South China Sea are the main cause of discomfort in bilateral relations between Hanoi and Beijing, "Vietnam does not want this dispute to be the sole center of the relationship. between the two countries."
And because Vietnam operates through a framework of diversifying and multilateralizing relations, as well as attracting other powers such as Japan, Russia, and the US, Hanoi knows that they have "leverage," said Professor Thayer, the relationship "they can rely on for when in need of assistance" if China becomes too aggressive."
Deputy Defense Minister: "No country can force Vietnam to choose sides!"
Vietnam's Deputy Defense Minister Senior Lieutenant General Nguyen Chi Vinh on September 2 answered a question from VnExpress's reporter about the principle of this country "not to stand for one side against the other," stating "No one and no other country can force Vietnam to choose a side because we are an independent country."
Someone asked me "Are you afraid that big countries force you to choose the side?" and I said "We choose ourselves. No one and no other country can force Vietnam to choose sides because we are independent, self-reliant, and win and keep independence on our own."
It is also important that behind those who do foreign affairs, the country must be strong, the military must be strong, the path must be clear. Vietnam will fail if it changes its policy too often," Gen. Vinh said.
The new Vietnam National Defense White Paper announced at the end of 2019 defines Vietnam as pursuing a three-way policy: not joining military alliances, not being military allies of any country, not giving Any country the right to set up a military base in Vietnam, and does not rely on one country to oppose another. At the same time, the White Paper adds "not to use force or threaten to use force in international relations."
Thoibao.de (Translated)