Some lawyers involved in defending in political cases, or other cases considered sensitive in Vietnam, said they have been likely being monitored.
The latest incident happened to a number of lawyers defending the Dong Tam defendants.
On the afternoon of September 10, right after the trial, lawyer Ngo Anh Tuan confirmed to BBC News Vietnamese that he and two other lawyers were followed by unknown individuals on their way home.
"This incident stems from the police force guarding the trial has reclaimed the USB that the court gave me before the trial."
"Then they prevented me from copying the documents from the court computer to mine. When I objected, some other lawyers also spoke up, then on the way back I saw some people following me," Tuan said.
Being "followed"
Lawyer Dang Dinh Manh, who together with lawyer Tuan and lawyer Nguyen Van Mieng discovered the "stalking" case, told BBC News Vietnamese:
"When we saw the lawyers voiced their protest, they (the police force guarding the court) kept trying to push us away. At last, they saw that we were determined to get the USB back, there was one boy in their team locked my hand, and pushed me downstairs. When I looked back, I saw lawyers Ngo Anh Tuan and Nguyen Van Mieng treated in the same way.
Then we walked back home and saw four boys in plaint clothes running two motorbikes along, at that time we were suspecting it because we didn't know if we were sure or not. At that time, lawyer Ngo Anh Tuan stopped to check if they were following us, and every time he stopped and pulled sideways, those guys pulled their motors to the side to wait, if we ran, they would run. They followed us until we arrived at a place where other lawyers gathered.
Lawyer Dang Dinh Manh: We were followed by four men when walking back
"Now we are gathering at the hotel where lawyer Nguyen Van Mieng is staying, but we have not dared to go home yet. If they have anything strong, we cannot deal with it. So now you are sitting down together. Okay now, but after that, I don't know."
Lawyer Manh said that the lawyers' group's mood is very worried, because after sitting together, the lawyers will have to go to their own homes, and on the road, they do not know-how.
Being kidnapped, assaulted, shot with lead bullets
Many lawyers have been threatened, even assaulted, kidnapped many times before.
Attorney Dang Dinh Manh himself was "kidnapped" in 2018 and put in a car after the trial of dissident lawyer Nguyen Van Dai.
According to lawyer Manh, when he just stepped out of the court, walking along the side of the road near the court, a group of people in civilian clothes driving in a car followed him.
"Someone opened the door and dragged me into the car. They clamped me around my neck so tightly that I was pressed against the bench."
"At that time I was on my way to the airport to return to Ho Chi Minh City, so I brought a suitcase and a briefcase with me."
"They opened both the suitcase and the briefcase and they saw my file and my laptop. They said 'We take this from you, we will return it after viewing it.' But since then, I have never received any lost property. They were dressed in plain clothes, so I don't know who were they."
The next "accident" was even more dangerous, also in 2018, when lawyer Dang Dinh Manh, lawyer Nguyen Van Tham, and lawyer Trinh Vinh Phuc went to Bien Hoa to defend the protesters who were opposed to two bills on Special Economic Zones and Cyber Security and were charged with causing public disorders.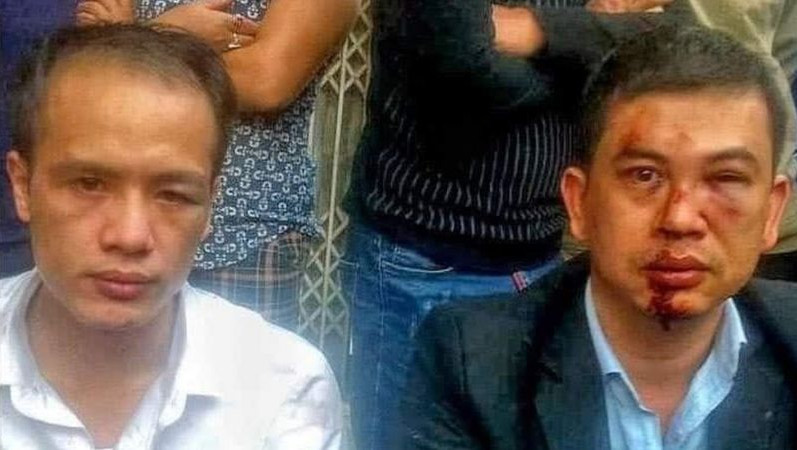 "When we got into the car, we heard an explosion, looking through the window there was a hole and the glass cracked around the hole."
"Later I asked some professional guys to consider them, they said that we were more likely to be shot with lead bullets," lawyer Dang Dinh Manh told BBC News Vietnamese.
In November 2015, two lawyers Tran Thu Nam and Le Van Luan sent a "complaint" to Hanoi police and Procuracy regarding the case in which they were beaten and having cell phones robbed.
The assault happened after two lawyers working with the family of Do Dang Du, the teenager died after being beaten at a detention center in Hanoi.
Who protects the lawyers?
The case of lawyer Dang Dinh Manh was previously said to have been "harassed" known only through social networks.
Particularly in the case that happened here with the lawyers after the Dong Tam trial, besides the widespread information on social networks, many domestic dissident and foreign outlets quickly reported.
But what is the solution to protect lawyers? When asked what to do if being followed and harassed, lawyer Ngo Anh Tuan said he cannot do nothing but accept it.
And lawyer Dang Dinh Manh said that he received some advice to raise this issue with international organizations, foreign consulates, and embassies in Vietnam who were interested in the Dong Tam case so that everyone knows about lawyers' situations and by that the aggressive individuals may stop their violence.
Thoibao.de (Translated)
Source: https://www.bbc.com/vietnamese/vietnam-54113722