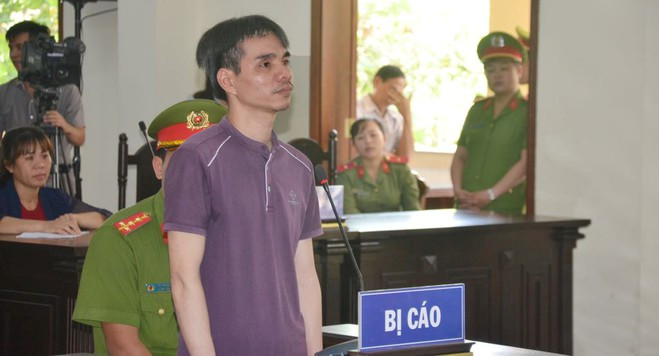 On September 23, Ms. Nguyen Thi Chau, the wife of engineer Nguyen Ngoc Anh, a prisoner of conscience currently serving his imprisonment at Xuan Loc Prison camp, Dong Nai province posted on her personal Facebook account her husband's information and some other prisoners of conscience are currently on hunger strike from September 5 to present. Purpose to claim benefits for prisoners in the prison here.
The information that Ms. Chau posted was derived from a person who had just finished prison term and left Xuan Loc Prison camp to her through Facebook Messenger application.
According to an image of the conversation shared by Ms. Nguyen Thi Chau on Facebook, the man who just left prison said that he and prisoners of conscience Nguyen Van Duc Do and Huynh Duc Thanh Binh went on a hunger strike together. On September 5, all three people mentioned, along with another prisoner, Pham Long Dai, were detained separately.
Currently, only engineer Nguyen Ngoc Anh and Mr. Nguyen Van Duc Do are on hunger strike.
We contacted Ms. Nguyen Thi Chau and received confirmation of the hunger strike at Xuan Loc Prison camp as follows:
"I have posted the information I got on Facebook. Today, a friend from the camp just came out, last night texted me that my husband Anh was on a hunger strike to claim benefits in the camp for him and his fellows there, and it has been in 18 days. I asked about my husband Anh's health, then the friend said Anh was kept separately in a cell while three others who are also on hunger strike are held in another cell. In the past year, Anh has been locked in the dark because he always demands human rights. The prison authorities do not like him and they didn't let him go out in the sun, he didn't let outdoor activities like other people. More and more worry, now add to this."
Shrimp farming engineer Nguyen Ngoc Anh, an activist for the environment, was sentenced to 6 years in prison and 5 years on probation by the People's Court of Ben Tre province on June 6, 2019 for "conducting anti-state propaganda."
Young Huynh Duc Thanh Binh on June 24, 2019 was sentenced to 10 years in prison by the People's Court of Ho Chi Minh City on charges of subversion.
Mr. Nguyen Van Duc Do was sentenced to 11 years in prison and 3 years probation, also on subversion case.
Talking to RFA on the evening of September 23, Ms. Nguyen Thi Hue, mother of prisoners of conscience Huynh Duc Thanh Binh said that she did not know any specific information about the prisoners at Xuan Loc Prison camp on a hunger strike:
"I only knew that N. was the one who lived with Binh and N. reported that information to engineer Anh's wife, so engineer Anh's wife posted that information. Since the beginning of the month, when I received information from Nguyen Van Duc Do's family that Binh and Nguyen went on a hunger strike for about a week, but as my son was too tired so they stopped. Then comes Nguyen Van Duc Do and now engineer Anh?"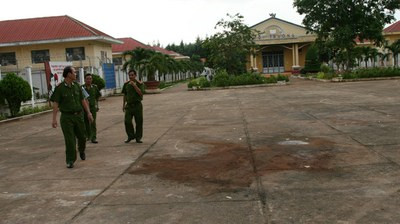 Lawyer Dang Dinh Manh, the legal representative for engineer Nguyen Ngoc Anh, said that he only knew about his client's hunger strike through the article posted by his client's wife on Facebook. He said:
"I don't understand why it led to them going on a hunger strike. I intended in the next few days to have contact with the authorities to see, find out how it is. Often times like that, the prison supervisors are very reluctant to share information or explain the reasons. Most recently, the case of Trinh Ba Tu being investigated in Hoa Binh province also talked about the hunger strike issue, he also made an official written request for them to verify and question the problem. They said they do not want to share the issue, the issue is under the authority of the police investigation. So lawyers try to do all within the allowed powers but get results to really understand the problem, now can not do that."
Through a phone call with his family in early September, engineer Nguyen Ngoc Anh said his situation in the prison: "Our rights and interests, body, and health are seriously violated under the Criminal Judgment Execution Code here. You should ask lawyer Dang Dinh Manh to come to see me protect my legitimate rights and interests."
However, after Anh mentioned here, the call between Ms. Chau and Anh was cut off.
According to Ms. Nguyen Thi Chau, after disconnected from her phone, she applied to the People's Procuracy of Dong Nai province, but so far has not received an answer, the Xuan Loc Prison camp has also not answered her.
The wife of engineer Nguyen Ngoc Anh also added that she was already worried about her husband's health after the call in early September, now adding this hunger strike information, she was even more uneasy:
"In the afternoon, I am thinking about whether I should go to the camp now because I am afraid that they will not allow us to meet with the Covid-19 pandemic reason or other reasons. But I still have to decide to go up to see the situation. At home, I do not know the situation up there, I would rather go meet or not, I will claim the rights of my husband instead of staying at home."
Having the same anxiety for her son serving a sentence in Xuan Loc Prison camp, Ms. Nguyen Thi Hue expressed:
"Actually I am very worried. I wait until this October if I get notice of my visit and I'll be right up to find out what happened."
Xuan Loc prison is the place to keep a number of political prisoners in the South. The situation of prisoners on hunger strike to fight for rights in Xuan Loc Prison camp has been happening frequently for a long time.
For example, in October 2019, prisoner of conscience Nguyen Van Duc Do went on a hunger strike to protest the Xuan Loc Prison camp selling food at "heavenly" prices.
Still in October, prisoner of conscience Huynh Truong Ca, a member of the Constitutional group currently serving a sentence at Xuan Loc camp, also went on a hunger strike to protest that he was not approved by prison guards to leave prison for treatment as the lymph nodes in his neck make him painful. Mr. Ca was then taken to the emergency room by the police after going on a hunger strike until the 5th day he fainted.
Another prisoner of conscience in this prison camp, Nguyen Hoang Nam, a Hoa Hao Buddhist champion fighting for religious freedom, also went on a hunger strike in October 2019 because he was transferred from K1 prison where political prisoners are located to the prison facility holding drug prisoners.
Thoibao.de (Translated)