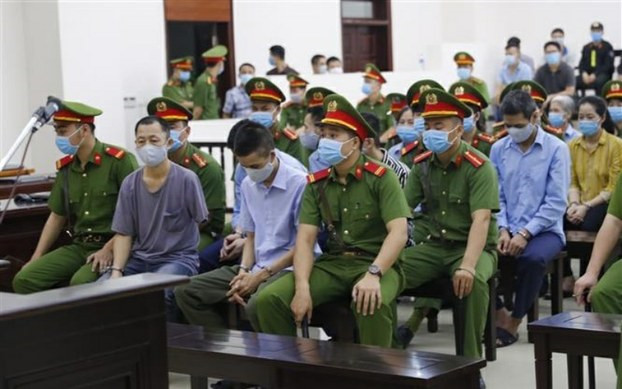 About 10 days after the first-instance hearing of the Dong Tam case ended, the lawyers defending some of the defendants, in this case, said that at least 3 convicted land petitioners had written and submitted an appeal against the first-instance judgment. Meanwhile, the defendants' relatives also updated with RFA with much information in Dong Tam commune after the trial.
On the afternoon of September 14, the People's Court of Hanoi issued the ruling against 29 defendants in the cases of "Murdering" and "resisting on-duty state officials" that took place at dawn on January 9, 2020, in Hoanh village, Dong Tam commune, Ha Noi.
Mr. Le Dinh Cong and Mr. Le Dinh Chuc, sons of elderly communal leader Le Dinh Kinh, were sentenced to death while Mr. Le Dinh Doanh, a grandson of Le Dinh Kinh, received a life sentence while Mr. Bui Viet Hieu- 16 years in prison, Nguyen Quoc Tien- 13 years in prison, and Nguyen Van Tuyen- 12 years in prison. These six people were charged with "Murder."
The remaining 23 defendants being convicted of "resisting on-duty state officials" were sentenced to from 15 months of probation to 6 years in prison.
At least 3 defendants in prison have appealed
According to lawyer Le Van Hoa, the defender of the two defendants sentenced to death Le Dinh Cong and Le Dinh Chuc, said on the afternoon of September 23 that 3 lawyers went to Detention Center No. 2 under the authority of the Hanoi Police Department to learn about the defendant's appeal:
"This afternoon, lawyers Bui Hai Quang, Ngo Anh Tuan and I entered the Detention Center No. 2 of the City Police Department, and the detention center made it very convenient for us to meet 5 defendants so that we can find out if anyone has appealed the first-instance judgment of the Hanoi People's Court.
We met Le Dinh Cong, Le Dinh Chuc, Le Dinh Uy, Bui Viet Hieu, Tien, and Quang.
First of all, in terms of health, through my observations that the defendants have better basic health than the previous meetings. The defendant's morale and appearance are healthier than in the trial.
I see that the defendants are also well mentally prepared.
Among those defendants, Mr. Le Dinh Cong, Mr. Le Dinh Chuc, and Mr. Bui Viet Hieu wrote the appeal, through Prison No. 2 to send appeals to authorities to alleviate the penalty for the defendants given by the trial.
We cannot meet these land petitioners who are not our clients as the lawyers can only meet those for whom the lawyers are protecting.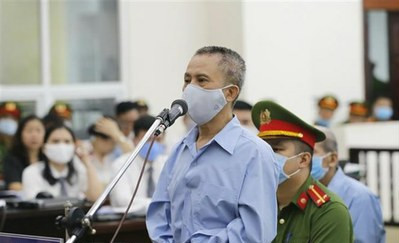 Lawyer Hoa hopes that in the appeal hearing, the authorities will consider humanity to have a "reasonable understanding" decision, especially for 2 defendants who were sentenced to the death penalty:
"About two defendants Le Dinh Cong and Le Dinh Chuc, through the meeting, I saw that they were well prepared, and sent us a message to inform their relatives that they should take care of their health and should not be too worried about them, because they were also psychologically and ideologically determined.
It is also hoped that the authorities would acknowledge rational understanding. Now that a number of defendants have formally appealed, I hope that in the next appeal hearing, with the spirit of innovation, as well as a view and assessment that is both legal and correct and will also have the humanity of the Party and the State of Vietnam, in order to have a judgment that is both in accordance with the law and to ensure the humanity in it."
Reaction of relatives
Ms. Nguyen Thi Duyen, the wife of the defendant Le Dinh Uy – granddaughter of elderly Le Dinh Kinh, told RFA on the evening of September 23 that the family seemed to be relieved when the lawyer informed that many people had submitted appeals:
"With two death sentences, everyone at home is very worried and impatient, not knowing if my father-in-law and uncle will appeal or not. Today, receiving news that the lawyer said that the two guys had appealed, it was very happy, no longer worried as much as before.
Because before that, our families were very worried about our relatives who are imprisoned, afraid they will be held, afraid that they will be subjected to ideological work so that they cannot appeal. But my father-in-law and uncle, along with a few others, appealed. My father-in-law even complained."
For those on a suspended sentence, I have not been able to reach all of them, but some people have said that they really want to appeal. Because they are not guilty, they hope that the jailed individuals will appeal, to give them the motivation to take the next steps."
Many people said they were forced to make false confessions
According to the final judgment in the trial, 14 defendants were given probation sentences and released after the hearing ended. Many of them testified in court that "due to the wrong perception, they were dragged by Mr. Kinh and defendant Cong to get the instructions to hold a meeting, contribute money to buy gas and ammunition … to commit the offense."
Actually, they have to declare like that, everyone understands. They also only told my family that they were forced to report like that, otherwise their relatives or themselves would have difficulty in the camp or in prison, so they were forced to make such false statements about him.
According to Duyen, most of the people, after being released, went to confess of their sins in front of the altar as well as the grave of Mrs. Kinh for making false statements:
"Most of them are healthy now, they deeply mourn the death of Mrs. Kinh. Those who came home the first day but could not burn incense for him, a few days later came to the house to burn incense for him on the altar.
They did not share whether or not they were tortured or beaten, because they were restricted from answering similar questions.
They just burned incense for him, apologized very much to him, and apologized to my family as well, saying that they were not telling the truth. They had told all the wrong facts about him and their conscience was very bitter. They have come to burn incense for him to apologize before the altar and outside his grave.
Actually, they have to declare like that, everyone understands. They also only told my family that they were forced to report like that, or their relatives or themselves would have difficulty in the camp or in prison, so they were forced to make such false statements about him."
Family is always followed and harassed
Because she spoke up for her family and other Dong Tam people who are jailed, Duyen is always followed and harassed by security forces:
"For several days, I have been asked by the commune police in the area where I have a shop, asking me a lot about rent contracts and asking me if I have reported my temporary absence but have been selling goods, and also bothered my landlord so much.
I sent a message to the landlord to tell them that they don't have the right to ask me if I'm temporarily absent or not. I have no duty to report it because I don't have to stay overnight in my shop so I have to need to submit a letter for being temporarily absent.
Then they said if I ever spoke up about my family, they would expel me from the sales area, not let me sell there anymore.
Currently, my family has a 24-hour surveillance camera at the opposite house. All of our gestures are monitored by security forces.
Actually, my family is already used to it, so I don't feel uncomfortable, knowing that they will have to follow all our actions before and after the trial. We got used to it and we are not as confused as before."
After the trial, on September 18, 2020, the European Union issued an official statement opposing the two death sentences in this case: "The European Union is opposed to the use of capital punishment in all forms and under all circumstances, and consistently calls for its universal abolition. The death penalty is cruel and inhumane and its abolition is essential to protect every person's right to life. There is a large and growing consensus in the world against the use of the death penalty. The EU urges Vietnam to adopt a moratorium on its use, as the first step towards abolition.
Reports about the conditions and proceedings of the trial also raise serious concerns. The EU and its Member States strongly advocate for the rule of law and for the full right to a fair trial, as stipulated in Article 14 of the International Covenant on Civil and Political Rights, to which Vietnam is a signatory party."
Thoibao.de (Translated)