Human Rights Watch (HRW) on October 18 called on Japanese Prime Minister Yoshihide Suga to "put pressure" on the Vietnamese government during his first visit here for Hanoi to "improve its human rights record."
Prime Minister Suga officially visited Vietnam on October 19. It is said that his work agenda focused on economic and defense cooperation.
Japanese media said PM Suga is expected to advance efforts to achieve a "free and open Indo-Pacific" to counter China's growing influence in the region.
Earlier, on October 18, the New York-based organization Human Rights Watch sent a letter calling on Mr. Suga to "raise concerns about the widespread violation of civil and political rights throughout Vietnam, including freedom of expression, peaceful assembly, and freedom of movement" in public and private meetings with partners in Vietnam.
HRW's letter says Vietnam is one of the countries with the largest number of political prisoners in Southeast Asia, with more than 130 prisoners, including independent journalists Pham Chi Dung and Nguyen Tuong Thuy, three members of Mrs. Can Thi Theu's family and many others.
HRW called on the Japanese PM to speak up and urge Vietnam to release all political prisoners and detainees for exercising their fundamental rights to freedom of expression, association, peaceful assembly or religion and belief, and amend its Criminal Code and Law on Cyber ​​Security so that people can freely exercise their democratic rights without danger.
"Japan needs to use considerable leverage as a major donor to the governments of Vietnam and Indonesia to put pressure on both of these countries to end human rights violations," said Phil Robertson, deputy director of HRW's Asia Division, said in a statement on October 18.
According to the HRW representative, PM Suga should put the human rights issue at the basis of Japan's foreign policy, something Mr. Robertson said that Mr. Suga's predecessors "never did."
As observed by VOA Vietnamese, information about the visit posted on the Government Portal as well as the Vietnamese press did not mention human rights.
It is not clear whether this issue will be raised in private meetings between Mr. Suga and the host country officials.
Commenting on this issue scholar Nicholas Szechenyi, a specialist on Japan at the Center for Strategic and International Studies (CSIS) said: "I don't know to what extent the human rights issue will be covered during the visit. But I think Japan is generally very committed to the principles of human rights.
We just completed a project that surveyed more than 800 strategic experts across Asia and Europe about policy toward China.
Interestingly, the country most willing to promote human rights in China is Japan.
I feel that issue is a pillar of Japan's foreign policy and this is an issue that Japan will continue to emphasize in the future.
But this trip alone I think will focus on economic cooperation above all," scholar Nicholas Szechenyi stated.
Just before Mr. Suga's trip, the Vietnamese community living and working in Japan protested and held a hunger strike in front of the PM's Palace in Tokyo.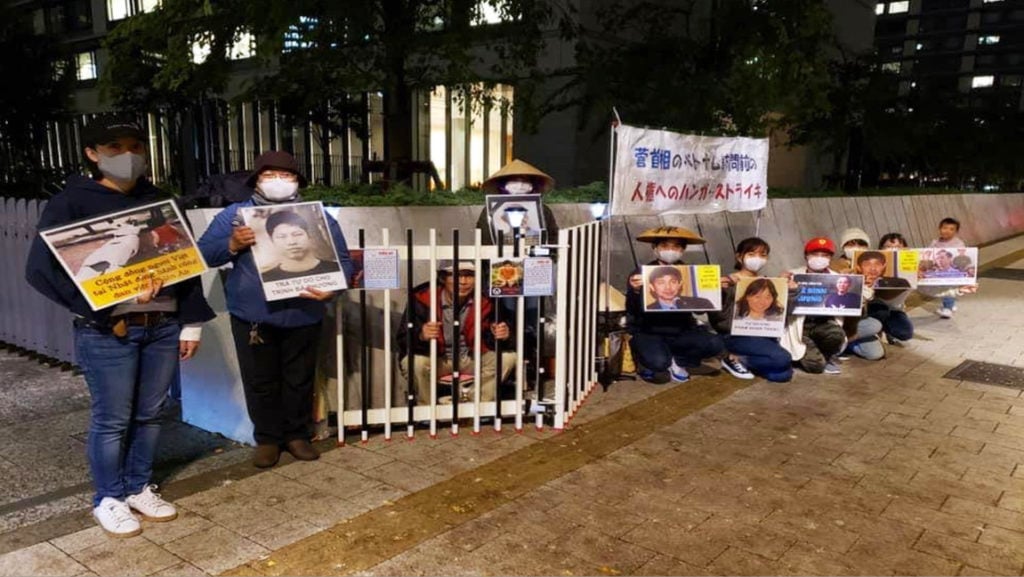 The Vietnamese community in Japan on October 16 also sent a petition to PM Suga, including a paragraph calling for this leader to "boldly present Japan's view that Vietnam needs to improve its human rights situation."
In addition to emphasizing Vietnam needs to strengthen and resolve human rights issues, the letter has some content:
1. Requesting the Hanoi People's Court to abolish all unreasonable sentences against the 29 Dong Tam land petitioners and compensate for all physical and spiritual damage.
2. Request the Thua Thien – Hue government to return the Thánh Mẫu School and the surrounding areas owned by Thien An Monastery.
3. Request the Ministry of Public Security and the Ministry of Justice to unconditionally release all prisoners of conscience before the International Day of Human Rights December 10, 2020.
4. Request the ruling Communist Party of Vietnam to accept the multi-party institutions like Japan and progressive countries to realize freedom and democracy.
5. Ask the Japanese government to consider using the money for projects in Vietnam.
The letter also specifically emphasized that the arrest of famous independent journalist Pham Doan Trang is an act of violating the "International Covenant on Civil and Political Rights."
Japan reaches a defense transfer agreement with Vietnam amid concerns about China
Japan and Vietnam on October 19 agreed to strengthen security cooperation on the first overseas trip of newly-elected PM Suga Yoshihide, with the two countries reaching an agreement on the transfer of military quipment and technology amidst concerns about China's growing influence in the region.
At a meeting with PM Nguyen Xuan Phuc in Hanoi during his first working day in Vietnam, Suga, who took office to replace PM Shinzo Abe on September 18, and head of Government of Vietnam has "basically reached an agreement" which allows Japan to export "defense equipment and techniques" to Vietnam. Vietnam's government has called this "a major development in defense and security cooperation between the two countries" but did not give specific details about the deals.
"I firmly believe that defense and security cooperation between the two countries will continue to (be) promoted", PM Suga was quoted by VGP News on October 19.
Mr. Suga's four-day visit to Vietnam and Indonesia, comes as Japan is stepping up the defense capabilities of countries in the Indo-Pacific to counterbalance China's expansionism. Japan partially lifted its ban on the transfer of defense equipment and technology in 2014 as part of former PM Abe's efforts to strengthen relations with its allies and boost domestic industry defense.
"Japan is an Indo-Pacific country, and will contribute to peace and prosperity in the region," the new Japanese PM was quoted by Zing News as saying to reporters after talks with his counterpart Phuc on October 19.
"I chose Vietnam because it is the most suitable place for me to send this message to the world for the first time."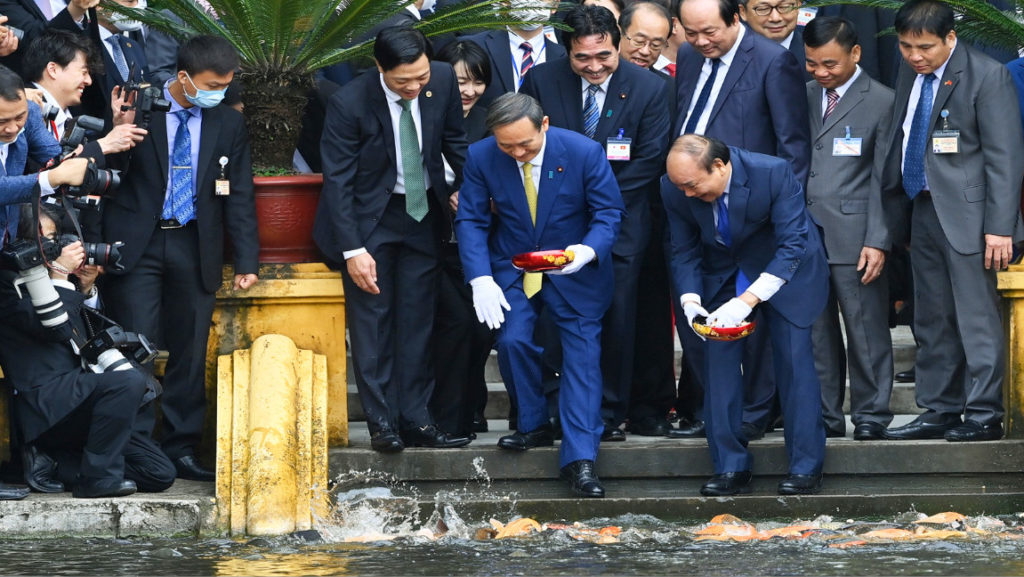 Vietnam is considered as one of the most important partners of Japan, especially since Mr. Abe took office for the second term in 2012, to realize the strategic vision of the Free and open Indo-Pacific. This strategy was first introduced by US President Donald Trump at the APEC Summit in Da Nang in November 2017 to counterbalance China's growing influence in the region.
During the talks between the two heads of state of Vietnam and Japan, recorded by the domestic media, the two PMs did not mention China, but the two sides "agreed to tighten cooperation to deal with regional challenges including the South China Sea issue and the Korean peninsula."
The South China Sea issue was also mentioned in the meeting of the Japanese PM with General Secretary cum State President Nguyen Phu Trong shortly thereafter on October 19.
Prime Minister Suga, quoted by VietNamNet, affirms that "Japan will continue to work closely with Vietnam at regional and international forums" as well as "expressed support for the stance of Vietnam and ASEAN in the South China Sea's issues." Vietnam is currently the rotating chair of the Southeast Asian Nations (ASEAN).
Responding to the Japanese PM, Mr. Trong, who concurrently holds two of Vietnam's highest positions, "highly appreciated Japan's stance on the South China Sea issue, including dispute settlement, disagreement with peaceful law, on the basis of international law, especially the United Nations Convention on the Law of the Sea (UNCLOS) 1982."
Both Vietnam and Japan have disputes over territorial sea claims with China in the Pacific, over the East Sea (South China Sea) and East China Sea, respectively.
Also during Mr. Suga's visit to Hanoi, his first overseas trip, the two sides agreed to strengthen economic cooperation with the "exchange of 12 cooperation documents on many domains" including digital, environment, energy, and infrastructure.
"I affirm with Prime Minister Suga that Vietnam is ready to prepare conditions for land, resources, environment, and policies to cooperate with Japanese businesses to successfully invest in a business in Vietnam," PM Phuc was quoted by Zing News.
Thoibao.de (Translated)