As many as 128 people have died or gone missing, the Central region is receiving a tropical depression that could become a storm, the Tuổi Trẻ (Youth) newspaper reported on the evening of October 19.
In Quang Binh, the water level is so high that fishing boats can go inland to save the people. Thousands of people are isolated in hunger and cold on rooftops.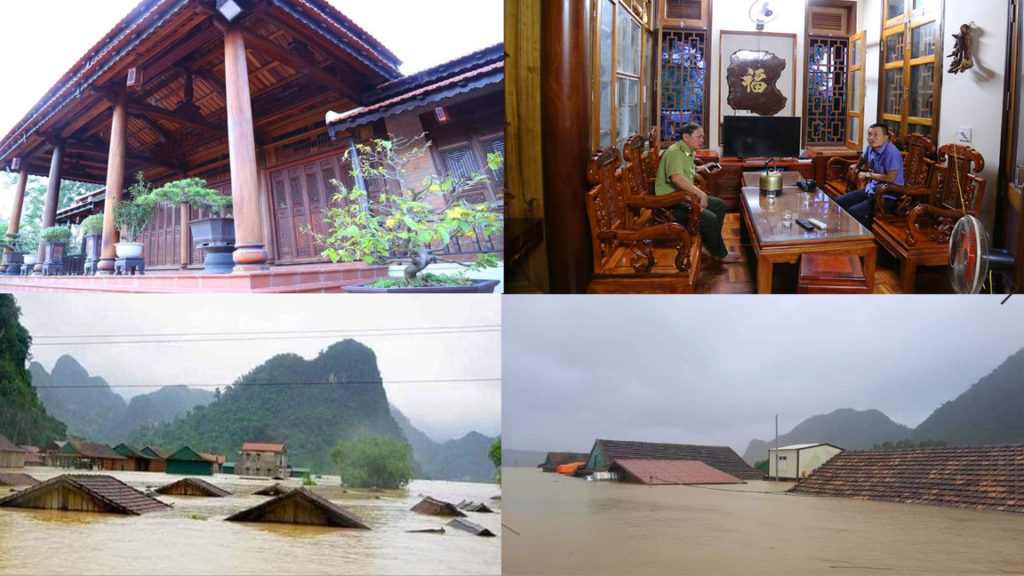 In Ha Tinh, the plan to destroy the spillway of Ke Go reservoir has been proposed. At present, Ke Go lake is discharging 1,000 cubic meters/s. If the spillway is broken, it will discharge over 4,100 cubic meters/s, Ha Tinh will surely sink in sea water.
From October 15 to October 19, in the provinces of Ha Tinh, Quang Binh and Quang Tri, 166,782 houses were flooded. These three provinces also had to urgently evacuate 28,938 households with 90,967 people, 461,627 cattle and poultry died and were swept away.
Regarding traffic, 13 national highways and many local roads in the three provinces were submerged or damaged by landslides. At present, inundation continues to divide at 3 points on Highway 1 in Quang Binh province and 1 location on Ho Chi Minh road, many internal roads are submerged and divided.
From October 6 to October 19, 102 people died, and 26 people are still missing.
The soldiers buried by mountains landslide have all found, but the bodies of 15 workers at the Rao Trang 3 hydropower plant have yet to be found, the military forces may have given up, Facebook Dang Dung commented:
"So they have found the bodies of 22 soldiers of the economic defense group 337. Previously, 13 officers and cadres who died at the ranger station 67 were found and brought back to memorial in Hue.
Only 15 workers in Rao Trang, although killed first, are still lying under a pile of rocks in the hills and mountains. The two workers in the same group were found as they were not buried.
The families of these 15 workers must be very sad because their children have yet to come home. Having the same great tribulation, each person has a different fate even though they die."
The water level in the Kien Giang river (Le Thuy – Quang Binh) exceeded the historical flood level in 1979. More people have died or gone missing due to floods.
The floodwaters rushed to submerge Quang Binh province in the night, thousands of houses flooded more than 3 meters deep, many houses sunk to the roof. Power outage, at night as dark as ink, everywhere the sound of people calling for help. Quang Binh whole night stayed up all night to cope with an unprecedented flood in the flood history of this province.
"At 12 o'clock in the morning of October 19, the water started to rise up, four legs of the bed were put up with 4 gas cylinders, the water rose again, then took up a chair," said a rescued resident the next morning.
Many people blame deforestation for timber and flower-filled party congresses and majestic dance programs that cost hundreds of billions of VND per province while people do not have life jackets to wear during a storm and evil floods.
Messaging to Ho Chi Minh City Secretary Nguyen Thien Nhan, journalist Nguyen Tien Tuong wrote on his Facebook:
"Secretary Nhan must not forget that immigrants make up more than half of Saigon's people, most of whom come from the central region. Last night, the water level rose, the central people tore their roofs to find a way to live, the cry for help and heaven. A whole central region riched in silver water, millions of people panicked.
Even in Saigon, people from the countryside could not sleep, their eyes burned with tears in their eyes. They do not know what to do for their native provinces.
The Secretary of the Party gave flowers to singers Ta Minh Tam and Dam Vinh Hung, have you thought about the people in the central region?
Is the love city of Secretary Nhan like that?
In one country:
– The house of border guard general, forest rangers have a lot of wood is normal
– Officials show off wooden mansions and wooden garden houses
– It is normal for Buddhist monks to sit and talk about cause and effect in front of a table made of old trees
– Musical festivals while central people suffering from floods are normal
It is a nation in great moral crisis!
Even if this was not the time to criticize, it was not the time to show these very ordinary things everywhere.
Nature's rage may not be as big as the wrath hidden within the human heart!" Mr. Nguyen Tien Tuong wrote in a poignant voice.
Facebook Nguyen Dai posted a photo of a document of Lang Son province on Facebook, showing the cost of organizing the Party Congress at all levels of Lang Son province was more than VND86 billion ($3.66 million). So the expenditures of the 63 provinces and cities on the party's congresses will not be less than VND5.4 trillion.
A political party takes VND5.4 trillion from the people's taxes to spend for its party congresses. And the people are left to help each other in flood areas!" Mr. Nguyen Dai made his comment on the number of expenses for organizing the terrible congresses of the Communist Party from the state budget.
Journalist Ha Phan surprised everyone by blaming loggers. For a long time, people kept pouring down "the forest basically was destroyed" because the loggers and villagers worked on the fields. But we were wrong, please read this number:
According to statistics of the Vietnam Administration of Forestry of the Ministry of Agriculture and Rural Development, in just over 5 years from 2012 to 2017, the natural forest area lost due to illegal deforestation was 11%, the remaining 89% due to changing forest use purposes in approved projects.
That's it! Nearly 90% loss of natural forest is due to approved projects and hydropower accounts for a large part.
The flood is recorded in history
According to the Office of Quang Binh Fire and Rescue Command and the Quang Binh Hydrometeorology Station, floods on Kien Giang River in Le Thuy have exceeded alert level 3 and exceeded the historical flood level in 1979.
Journalist Duong Phong, based in Dong Hoi, Quang Binh, updated: "The flood is still terrible. Uneasy because the floods have shattered all historical records, not only a few centimeters but a meter and a half meters. All night, people cried in the middle of cold rain."
During the night of October 17 and the morning of October 18, many households in Dong Ha, Quang Tri were also heavily flooded and isolated. People went online in vain for help. Many families have children, the elderly and the sick trapped, without a canoe or ships while the water continues to rise.
Flood in the Central region in 2020 is considered a new historic flood, set at alarming level 4, belonging to the most dangerous natural disaster level in Vietnam.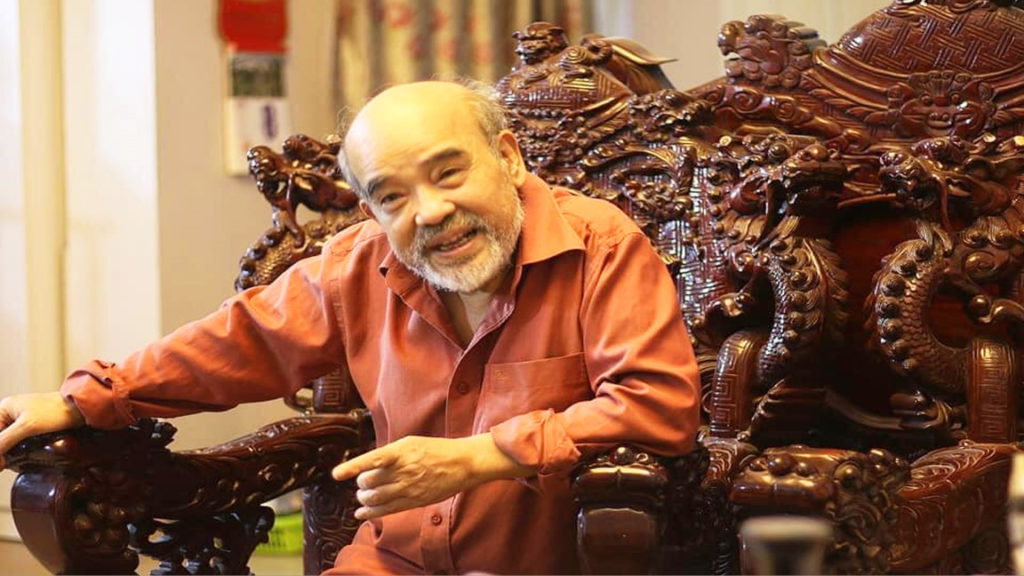 This flood and storm started from the night of October 6, the morning of October 7, 2020, concentrated mainly in the provinces of Ha Tinh, Quang Binh, Quang Tri, Thua Thien – Hue of the North Central, part of the South Central. The ministry includes Da Nang, Quang Nam, Quang Ngai, Binh Dinh, and Phu Yen.
Natural disaster or man-made one?
Journalist Bach Hoan commented on her personal Facebook that:
"Please don't say that the disaster that is happening in the Central region is a natural disaster. It's not just natural disasters. Please call the correct name man-made one.
Nature is angry. Nature takes revenge. Nature demands mankind to pay the price.
What is happening today is due to our wrongdoings. The miserable people of Central Vietnam are fighting for their lives in the floods because of us.
It's by a lot of people, including me. It was me who contributed to this disaster.
I have been silent many times, ignored, passed in front of destroyed forests, and shaved hills. I was not indignant at the misguided corrupted state officials, everywhere bringing wood home, turning the forests into villas, palaces, and castles. I was indifferent when forest loggers destroying nature and challenging the whole world at no cost.
Therefore, the floodwaters came back, which should have destroyed one, now the destructive power maybe ten.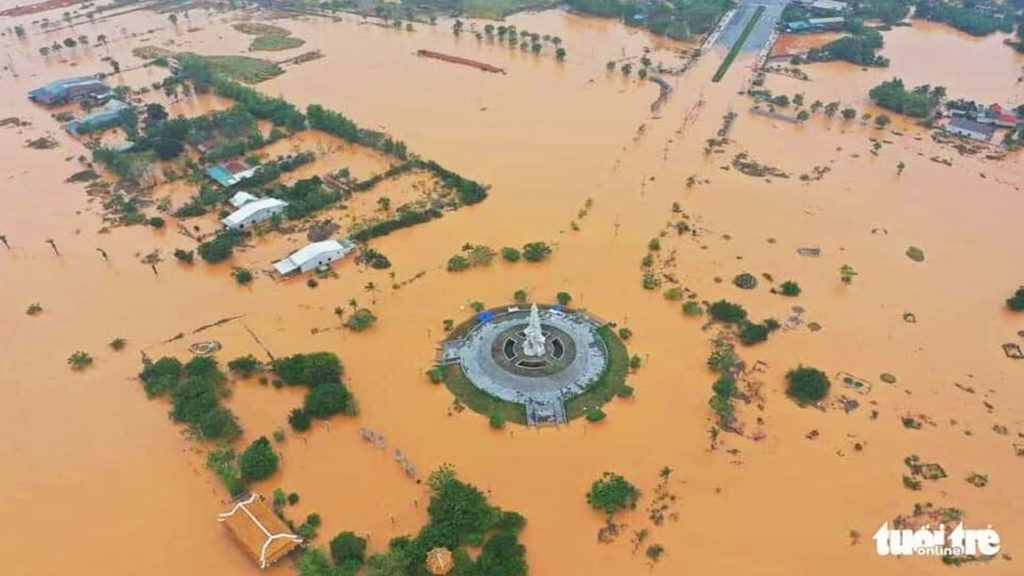 Myself, I was not determined to oppose to the end when people poured mountains of money – sweat and tears, blood and soul money – to build monuments, everywhere, with costs here hundreds of billion, there is a trillion.
Country of monuments. The bigger the monuments, the smaller the population. The taller the monument, the more people will be shackled.
Then, every time nature gets angry, every time nature asks for a price, the people with low throat can only pity the lives of the people and the soldiers. Then the next emotion is anger, indignation because of the money to invest in facilities for evacuation and rescue, how much money for rescue and rescue, but the pain is followed by pain and loss?
The monuments are still high. The palaces and, the temples are still big. The water kept rising. Only human fate gradually sinks, struggling in man-made disasters. And now I am helpless again, I do not know when I can find a way out," reporter Bach Hoan stated.
Thoibao.de (Translated)