Along with the hardship of the people due to the floods in Central Vietnam during the past week, public opinions are still hot that singer Thuy Tien has raised more than VND105 billion ($4.7 million) from thousands of people in just one week. Meanwhile, the Vietnam Fatherland Front has only raised VND22 billion but contributed by 55 organizations while individuals are not enthusiastic about contributing to this fund.
Some lawyers said that a decree of the Government is outdated but still in force, providing a monopoly on charity donations for state agencies and making individuals doing charity illegally.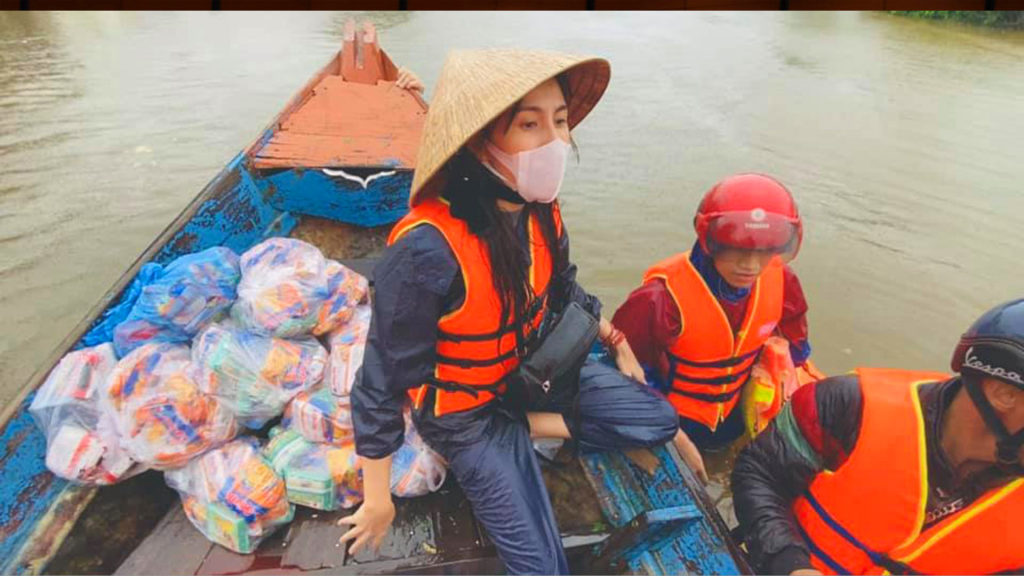 At the same time, the Party's public opinion shappers rushed to speak slanderly to lower Thuy Tien's reputation, and even made very obscene comments on this singer's body … but the people still choose to send their donations to Thuy Tien to represent the money to help people in the Central region in need.
"Now people believe that Ms. Thuy Tien's ass is better than the mouth of the leaders," a comment on Facebook is being shared by many people.
One retired official wondered: "If the amount over VND100 billion, how many percent actually contributed, or was it largely due to reactionaries in overseas using opportunities to cause trouble? I suggest the authorities immediately block the account of singer Thuy Tien or transfer it to an authority such as the Women's Union or the Red Cross," retired cadre Tran Van Ket made such a recommendation on his Facebook account, but thousands of Facebooks severely criticized the retired official's petition.
Comparing the actions of singer Thuy Tien with the Vietnam Fatherland Front, Facebook Vu Hoang Linh writes:
"Singer Thuy Tien has raised VND100 billion after a few days of storms and floods. According to the law of the State (a certain Decree), she is breaking the law because the individual is not allowed to raise money for charity but only legally established State agencies, associations, and charity funds!
Certainly, with such a huge amount of money, how to manage and use this money for transparency is not easy for Thuy Tien. However, at least she was able to make public the amount she received.
Meanwhile, on the website of the Fatherland Front, which is considered the representative of the Government in charity and disaster relief work, I could not find out information about the total amount of donations it has received as well as plans for the allocation of the funds raised.
In the announcement of the Front, only the following line "At the end of the campaign, there will be a report of the results of the mobilization and distribution of support to the Standing Committee of the Vietnam Fatherland Front Central Committee and the Central Relief Committee." That means there will be only reports sent to the Front leaders, no reports to the people, and will have to wait until the "end of the campaign" means a whole month?
It has not been said whether the contribution amount to the Front has been cut or not sent to the correct address, because in this, the people cannot follow and the Front does not have a clear and timely reporting mechanism for the people – both the contributor and the beneficiary. The apparatus's bureaucracy alone makes one question about the effectiveness of the Front's relief work," Mr. Vu Hoang Linh gave an explanation.
At the same time, many state-affiliated organizations such as the Fatherland Front, Women's Union, Farmer's Union, etc. Have also called for "sharing and support" for people affected by the flood, but there is no news saying how much total money they have received, does it make more than the number that singer Thuy Tien has mobilized or not.
Explaining the phenomenon of Thuy Tien successfully has received a huge amount of money within 6 days, an article by VTC News pointed out that although the female singer is not the most famous person in Vietnam, the key to the success of her philanthropy is "faith and the ability to inspire."
"Thuy Tien has received the great trust because she herself risked her life in flooding areas, dived the water and carried barrels of noodles to aid the people," VTC News wrote, noting that the singer not only did she go to villages, take pictures and video for a day or two and then return, but she went for a week.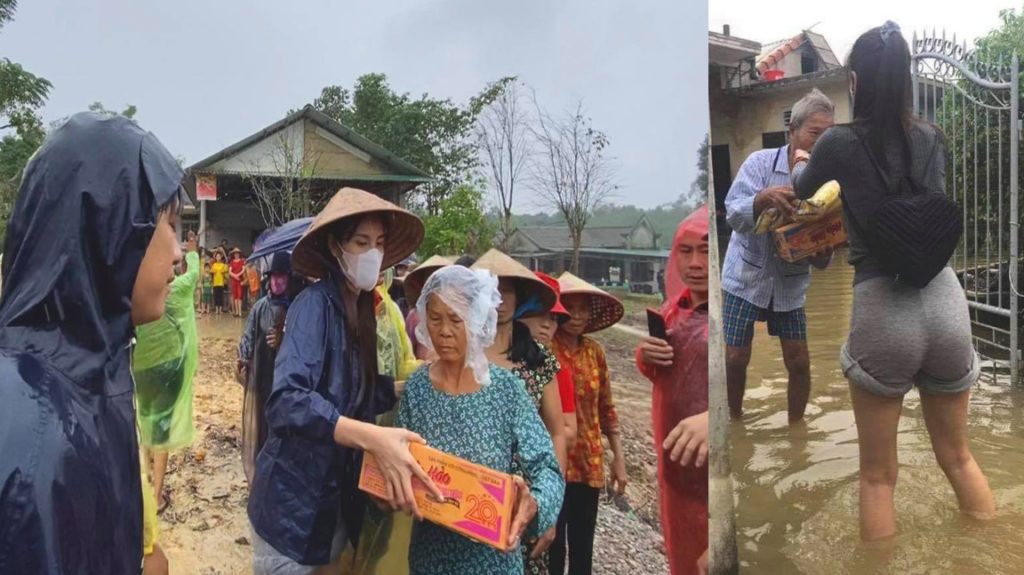 The article also emphasizes that Thuy Tien not only goes through hardships, but also faces danger, even life, because the risks of being swept away, landslides, and burying are still waiting.
On the contrary, VTC News mentioned the fact that the press and people have reflected many times in the past that there were too many cases of local officials "abusing" with charity money.
"Many communes and village officials took advantage of their positions and powers to distribute money to the wrong people, to their relatives when they absolutely did not need this money. Many times, they even confiscated the amount of money right after charity groups distributed to the poor," VTC News points back.
On social media, Thuy Tien's phenomenon is also widely discussed with most comments praising the work of the female singer, and agreeing that people's trust in Thuy Tien is greater than state organizations and it is the factor that big donations go to her account.
Among those who give their opinion, writer-journalist Nguyen Nhu Phong wrote on his personal page about 45,000 followers that many people send money to Thuy Tien to transfer to flood victims "because they believe."
"They believe that she will do charity work with her mind. They believe she does not corrupt the donations. They believe that she does it … It is true that they cannot trust the government … Although authorities inwards, communes, and residential groups come to knock on every house and force people to make donations … People do not believe in the government in charity work, that is a fact," said Phong, who was deputy editor-in-chief of Cong An Nhan Dan and Editor-in-Chief of PetroTimes.
Citing his own experiences of having countless social-charity work trips in the Northwest provinces and many other places while working as a journalist, Mr. Nguyen Nhu Phong said he had witnessed many local officials causing difficulties for charities or trying to force recipients of money and charity goods to "share" with the local authorities.
"It is not smart to just give it to a charity that is contracted to mass organizations. Honestly, I lost confidence in agencies such as the Fatherland Front, Youth Union, Women's Union … and I never coordinated with these organizations," said veteran writer-journalist Nguyen Nhu Phong.
In the Forum on Journalism-Citizen's Perspective and other personal pages, many people affirmed that through the flood disaster, people can see the role of state-owned organizations such as Youth Union, Farmer's Union, The Women's Union, etc. very weak, slow, even short of breath at the request of reality.
On the contrary, many people commented that a singer – which according to the common conception is considered a woman with weak hands and feet – has a great influence and works effectively and promptly than all groups combined.
Regarding the amount of VND100 billion, Thuy Tien received a lot of advice that she should set up a relief organization, or hand over money to the authorities to disburse or hire an audit company. "They worry about me, tell me to close my account, because if I am not careful, it would mean losing my whole career in construction," Thuy Tien said.
But Thuy Tien claimed that she could not follow the above advice.
She argued: "Organizing a cumbersome apparatus causes more trouble and time. If there are people in the apparatus, it is more dangerous to affect the organization, so it is absolutely impossible.
I am just an individual and I will work with the mind of an individual wanting to help the community. Money is given in-person to help people, not through an organization, and also creates an organization."
"The money people have sent to me to help directly, I have to take it, no matter how extreme … if it is handed over to an organization, it means I trick them."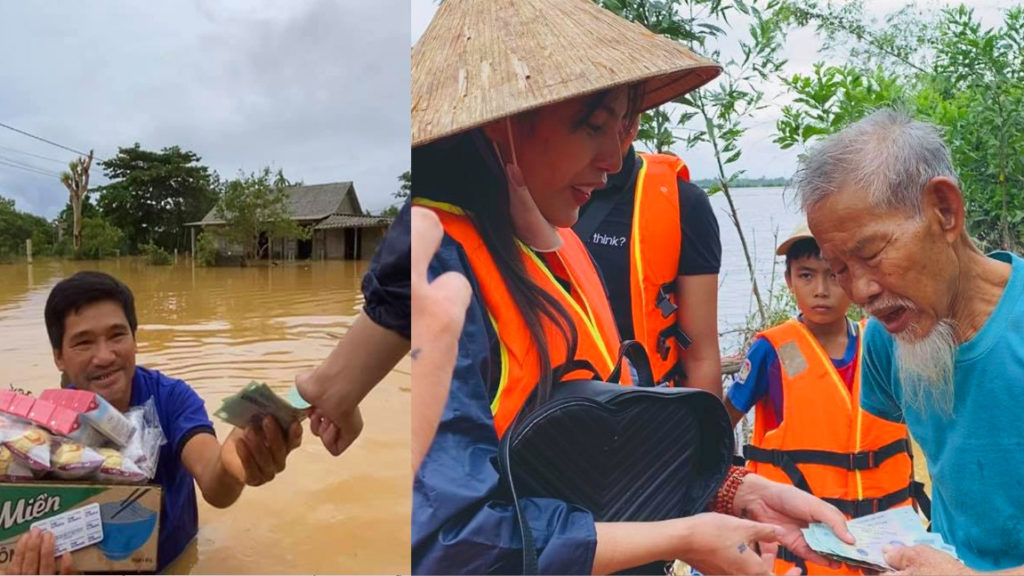 During the discussion on the "Thuy Tien phenomenon," the opinion of lawyer Ngo Ngoc Trai and an article in Ho Chi Minh City Law newspaper indicated that Vietnam has Decree 64/2008 not allowing individuals and groups of people like Thuy Tien to mobilize and receive relief money and goods.
In another angle, lawyer Dang Ba Ky invokes the institution of the civil law's property donation contract on the basis of voluntary agreement and affirms that Thuy Tien's charity efforts are always legal.
Regarding the Decree 64/2008 of the Government, lawyer Dang Ba Ky said that it is a sub-law document and only a document issued by the National Assembly is valid and basically charity work is completely suitable and consistent with Civil Law and should be encouraged.
Thoibao.de (Translated)