Relief in the Central region has shown signs of corruption from 22 tons of hardtack sent by Vietnam's Ministry of Defense to the people affected by the flood in the central region. After Senior Lieutenant General Le Van Chiem made public this information, public opinions began to get angry and asserted that this is corruption, although of small value.
Public opinions are still buzzing around the amount of VND100 billion ($4.3 million) of donations that singer Thuy Tien has raised while suggestions that Thuy Tien should transfer the sum to the Vietnam Fatherland Front were rejected by her.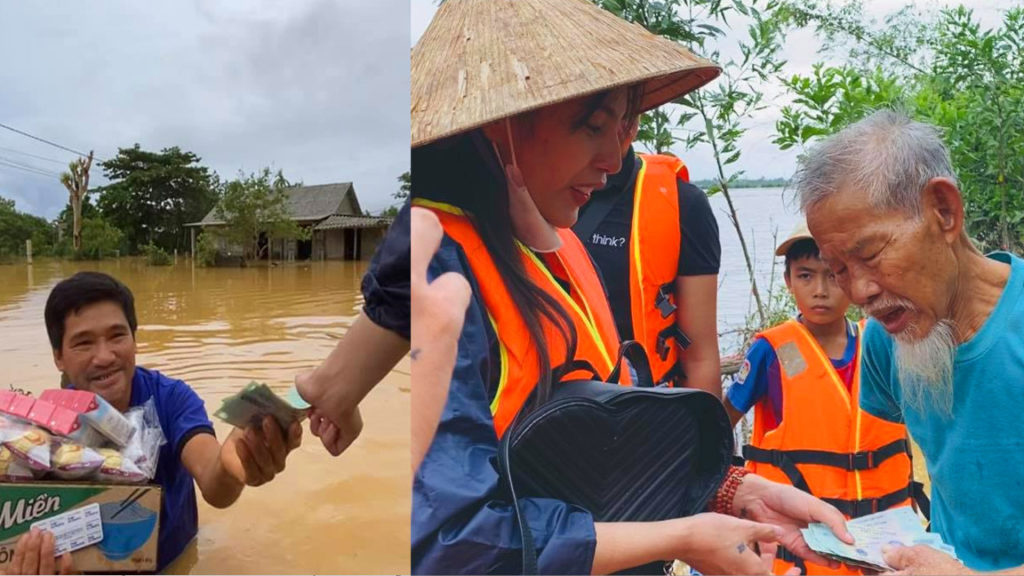 Some lawyers affirmed that Thuy Tien's employment is completely in accordance with the law and cannot apply Decree 64/2008 to Thuy Tien.
On the evening of October 21, however, the Prime Minister still requested to monitor charity activities and apply Decree 64/2008.
The Prime Minister asked the Vietnam Red Cross's Central Committee, ministries, branches and localities to organize and supervise the mobilization of donations to support and ensure compliance with Decree No. 64/2008 / ND-CP which was issued on May 14, 2008 by the Government, according to Giao Thong Newspaper.
Public opinions said that the Vietnam Fatherland Front's supervision of Thuy Tien's VND100 billion charity donation at the request of the PM would have collisions and cause difficulties for Thuy Tien.
Many agree that Thuy Tien should not hand the sum over to the Vietnam Fatherland Front because its credibility and specific actions are not enough to convince the people. Many people questioned the amount of more than VND800 billion to support the fight against Covid-19 that the organization received, it is unclear how it was spent after more than 6 months.
The public also asserted that if the amount of more than VND100 billion that Thuy Tien handed over to the state would be a betrayal of the people's belief in her.
FB Vu Duc Tam said:
"Now that Mrs. Thuy Tien is scared or for some reason giving all that hundred billion money to someone, it would be weird, isn't it?
But she said, she won't do that, 'I won't be afraid even I die,' she said.
Mrs. Thuy Tien wrote this on Fb: 'People cannot get after dying things such as money, fame, status, family and all they leave are what they thought or acted. So you should love and help others if you can.
It is so great if she can do that."
On his Facebook page, Professor Mac Van Trang stated: "Thuy Tien cannot give donations to any organization, because it will betray the trust of the donors and they would demand money back!"
Facebook CaoSon HD writes:
"Mrs. Thuy Tien's work to help people in flooded areas has revealed an undeniable truth that has headache the government, which is: People do not trust the government and give donations to the government's agencies."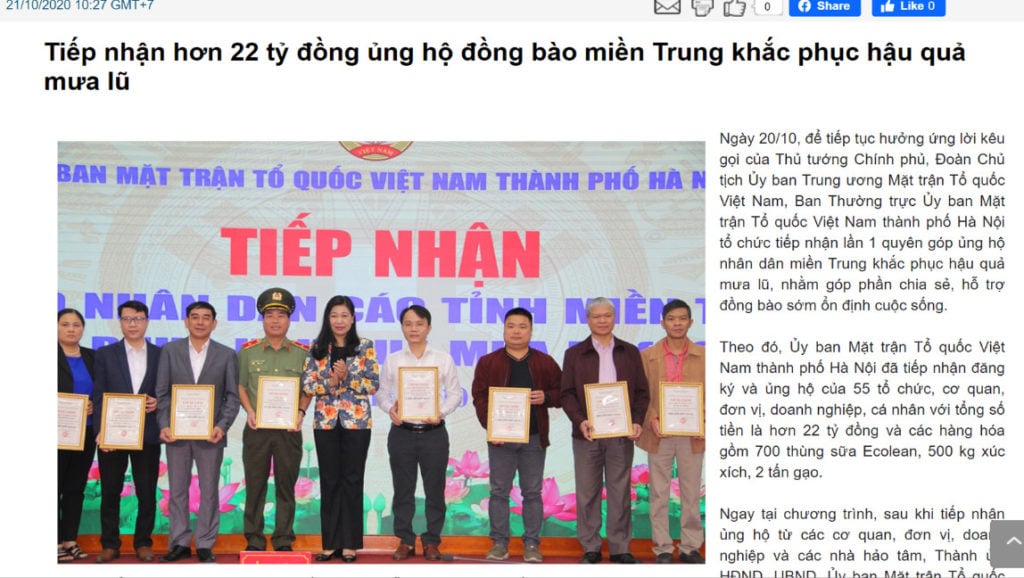 FB Hai Nguyen Hong said: "Come on. If the government wants the Fatherland Front to do it, it will call the Party members and State employees to contribute. As for the people who want to help people in Central Vietnam, they send it to individuals and groups that they trust. Everyone does her/his job, don't steal others' merit"
FB Le The Thang spoke up:
"Every time the country has a traumatic event, we find that the national governance apparatus is far behind the people. From the conscience to wisdom
But that's just compared to the people, not yet on the scale with humanity."
Journalist Pham Ngoc Hung commented on the PM's direction that:
"Many of us are hoping or thinking that Decree 64-2008 will be silently forgotten after 11 years. But last night, the PM ordered the zombie up.
They finally see how distrust of the whole system is being exposed and cannot stand the national ridicule any longer."
FB Thanh Hang commented on the Vietnam Fatherland Front
Just reading the status of one of you said that now it is necessary to play the role of the Vietnam Fatherland Front in donating and supporting the people of Central Vietnam.
But, first of all, please ask the Vietnamese Fatherland Front to announce how the amount of money the people support the Covid pandemic is being spent, has it been transferred to anti-epidemic units as desired by the supporters?
In particular, at this time, the Covid-19 pandemics went down in phase 1, but phase 2 is also temporarily quiet, but is there more than VND800 billion of money in support of the anti-epidemic still in the Vietnam Fatherland Front, right?
Raising money is an important thing, but how to use money is very important! " FB Thanh Hang said.
According to VNExpress, on October 19, the Government decided to grant 5,000 tons of rice and VND500 billion to 5 central provinces that were heavily affected by this flood, including Quang Nam, Thua Thien – Hue, Quang Tri, Quang Binh, and Ha Tinh.
At the meeting in Quang Tri province on the morning of October 22, Deputy Defense Minister Senior Lieutenant General Le Chiem said that the Ministry of Defense has provided 22 tons of hardtack to people in the flooded Central provinces.
Mr. Chiem suggested local leaders immediately bring in hardtack to people in flood areas. "Just now, we discovered that some local leaders (at the grassroots level) gave the hardtack to the cadres as gifts, because this was delicious. That was all bad. This hardtack was sent to the people who are in need," said Gen Chiem.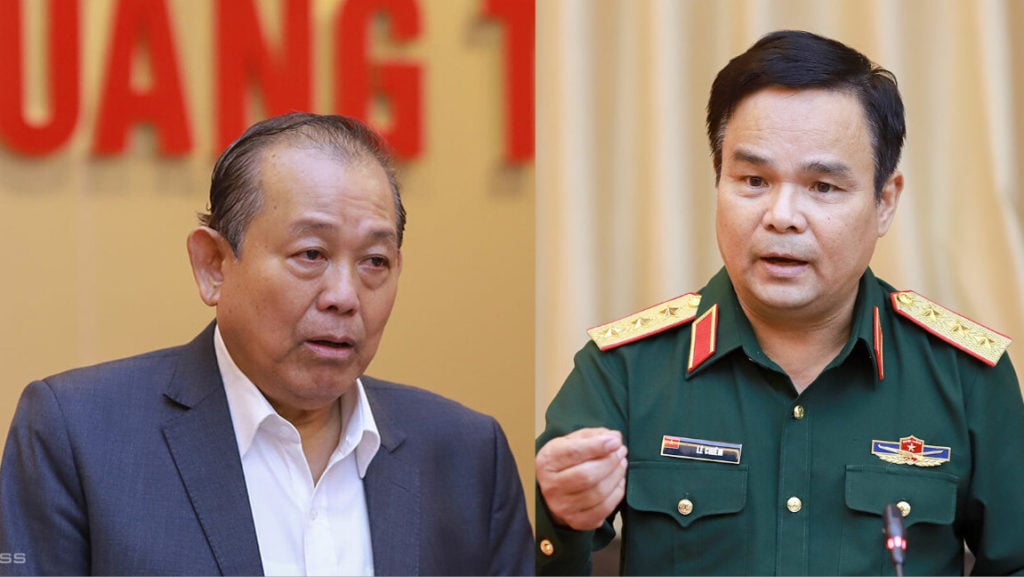 Deputy PM Truong Hoa Binh asked that the support of the people must be for the right purposes, to the right people and to be transferred to the places for the people, not to lose. "Not letting things happen in the future and having to deal with it will not be fun," he said, adding that the fact that some local officials used hardtack as gifts for each other is not a high awareness.
"This is not a corruption, but this is a gift to give to the affected people. I suggest not only Quang Tri but other localities to pay attention to this," the Deputy PM said.
Regarding officials sharing the hardtack sent to people in flood areas, journalist Mai Quoc An published an article with the title: "Dear Deputy PM: That is a corruption!" The content is as follows:
"The military has made a move full of military-people gratitude when it comes to sending hardtack to the people. In essence, that hardtack also comes from the people's tax.
Therefore, Mr. Truong Hoa Binh, the act of distributing the hardtack of the Quang Tri cadres is purely corrupted. If the army did not speak up in time, gifts for the people entering the officials' houses would continue.
A gift for the people, who are suffering from extreme hunger and suffering because of the floods. Some people burst into tears when receiving meals after 3 days of fasting. And there is also some kind of cadres who know that the people are hungry but still steal the food sent for the affected people. That kind of cadres, as disfigured as a rice moth eating budgetary rice.
Again, Dear DPM, that behavior is corruption that needs to be strictly punished. Seriously, not in the way 'if we are wrong, we apologize to the people' and nothing more."
Doctor Vo Xuan Son writes softly but poignantly with the title: Hungry and poor but remain still clean
"During the war years, despite being extremely hungry, we were definitely not allowed to touch chickens, ducks, the fruits which were not ours."
When I got older, my family suffered less. Sometimes I get invited to eat somewhere. My mother told me again, that you should not see the delicious food and pick it up forever, that you must look in the tray, pick only your part and leave the remaining for others."
My mother still said, that we are educated children and should not get things for others. I remember, once my mother said that the children should not eat aggressively but share with others. My father corrected, that even if we die of starvation, we cannot lose our honor, dignity, and integrity due to food.
Today, seeing that the local officials in the flooded areas corrupted the hardtack which was sent for the people in distress, I felt that I was so lucky, and very sorry for those officials. Perhaps when they were little, their grandparents did not teach their parents, so their parents did not teach them so that now they learn by something greedy, there is no longer any integrity."
Lawyer Luan Le spoke more heavily with the title "A batch of thugs"
"Why do people not believe and also contemptuously contempt these kinds of officials as garbage. Animals also know how to share and save their fellows, let alone humans. These officials also receive their salaries from people's taxes but do not serve the people in times of tragedy, but also rob them of life also of the people.
In times of disaster, they even steal the smallest piece of food from the people, how destructive would they normally be in normal times? Oh my God! They were to the very end of dirt and disgust," lawyer Luan Le stated.
Thoibao.de (Translated)