The social network today is outraged because Mr. Nguyen Phi Tuan, director of the Hue Puppet Theater and Traditional Art, suddenly blamed the amount of VND100 billion ($4.3 million) that singer Thuy Tien collected came from anti-government organizations.
"To then post agitation. That the government is incompetent, irresponsible, not as much as an individual singer. The purpose is to create dissatisfaction among the people, cause divisions and defame the regime of neglecting the people and leaving people to help each other," Nguyen Phi Tuan wrote on his personal Facebook.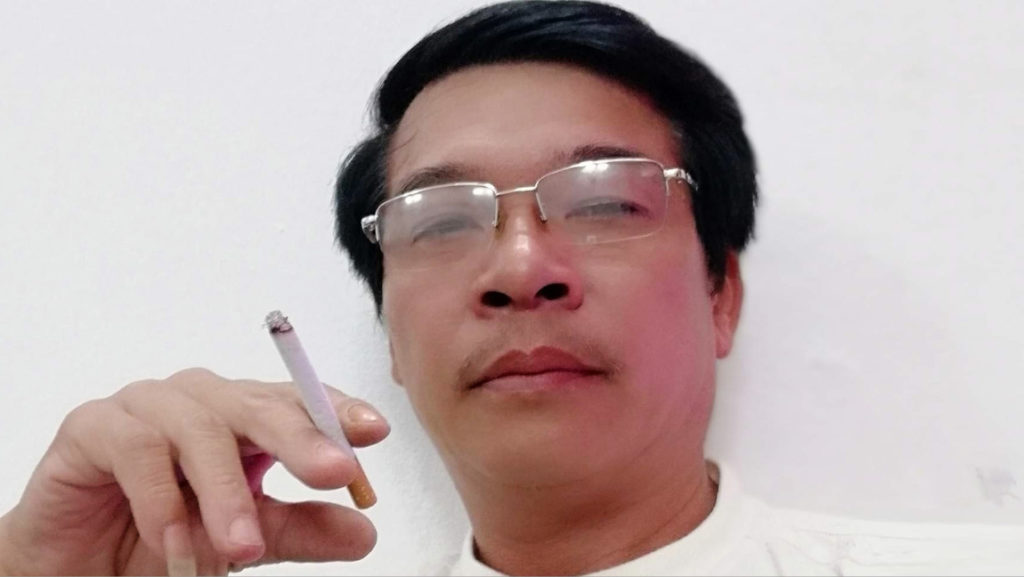 However, perhaps due to many criticisms, he blocked this article.
Commenting on this opinion of Mr. Nguyen Phi Tuan, journalist Hoang Nguyen Vu gave an article titled "Behave like a human …", the content is as follows:
"If it is the money of 'reactionaries' being pumped into Thuy Tien's account so that it can reach the needy, those 'reactionaries' are so cute.
You guys just sit and creep 'reactionaries,' but you don't want to share a small amount of money for the affected people. Even you seek to earn from the disaster!
Actually the disaster is a result of your works as you deforest and take wood for building your houses and furniture.
As people contribute and make donation to help people affected by the flood, you state officials just stay and try to corrupt from the donations.
Compassion for people does not need direction, especially the orientation coming from species that do not know what is love.
We cannot see 'the reactionaries' but all we see are 'traitors' only.
When people are covering the persons dying from coldness, you should not take the blanket away just to show your difference.
This world belongs to those who can share with other, not to those who steal the warmth of others' love.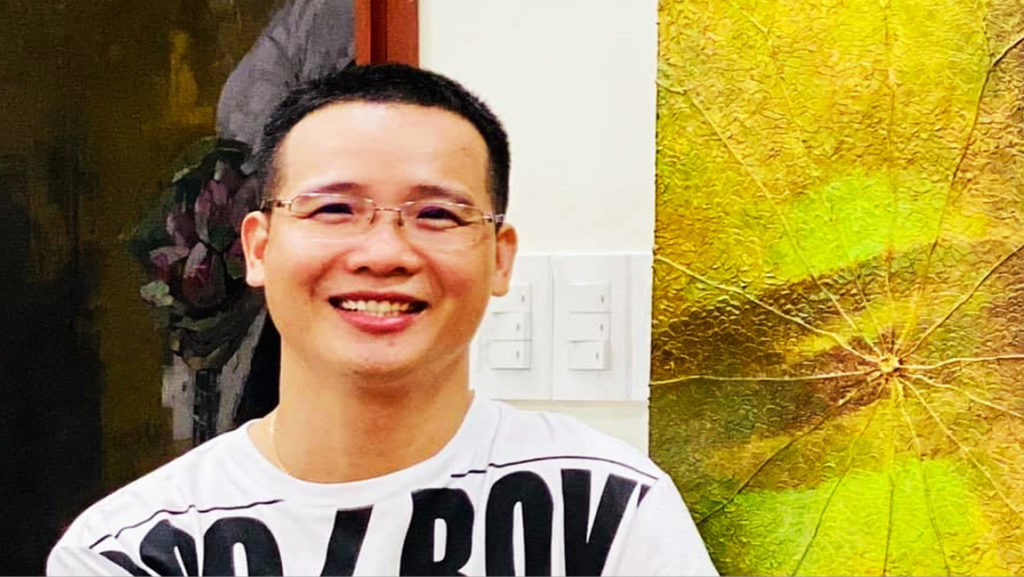 The dog even knew how to take her child through the flood water, the mother chicken would rather die cold in the middle of the winter garden and hatch her in the wings and then die. Love is instinct so let people choose how to express themselves.
If you don't have to show it off, do not overdo it with others and falsely accuse them of 'reactionary' even when they share with the poor.
Maybe in the life of our children falling in the middle of the road, a doctor appeared and treated immediately, so we would say: "Hey doctor, are you 'reactionaries'?"
The doctor will answer "We humans do not know what are 'reactionaries' but I only know that I am helping the child of a traitor. But okay, I do not discriminate and still cure the victim. Because I am human."
Act like a human!" journalist Hoang Nguyen Vu stated his opinion.
Social networks also shared news from musician Tuan Khanh that volunteer groups are being challenged:
"The news from the volunteer groups is heartbreaking. Authorities in Quang Binh prohibit people in the area from paddling to help carry relief workers to the areas in distress, if the goods and money are not delivered to the Fatherland Front or the local authorities.
People in the area said, sadly, that they are willing to work for free to help flood-affected ones but were only afraid of the government's punishment.
Banh Chung, basic necessities in tons are stuck at the airport because the airlines are ordered not to transfer without a certificate of the Fatherland Front or the Red Cross of the State.
Meanwhile, people are hungry every hour. There are families and children who died in floodwaters and did not have proper clothes to pack.
It is very strange the authorities acted as if they were foreigners, not Vietnamese. They are very good at making laws to harm the Vietnamese," musician Tuan Khanh stated his opinion.
State Relief and Private Relief is the title of Professor Mac Van Trang's commentary on his Facebook as follows:
"State aid must have a monumental organization with jubilant slogans, video reports, newspapers, propaganda for the entire people and the world. Relief items must follow the process going from central to province, district, commune, village, hamlet … so those receiving the aid would be grateful to the government …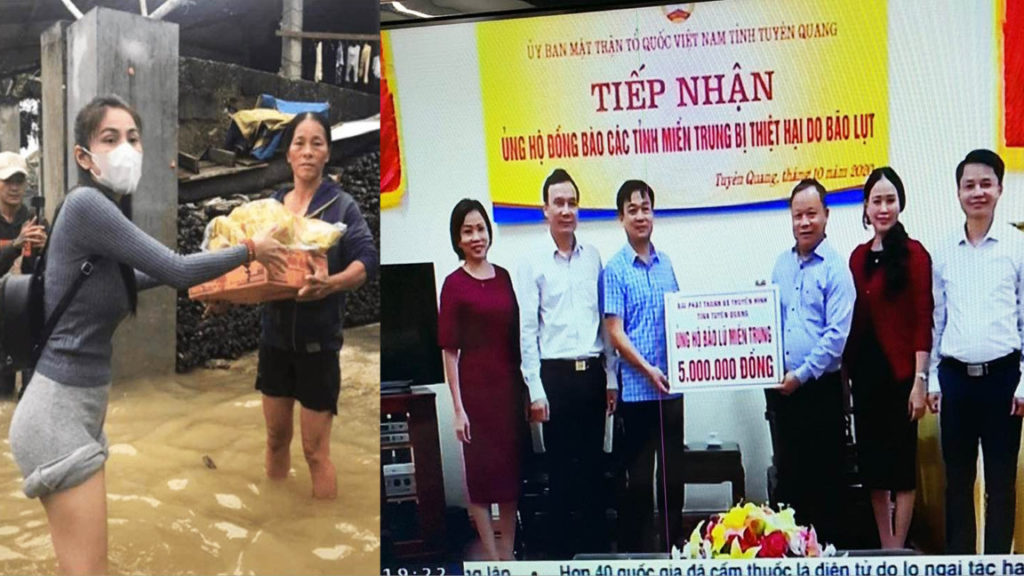 On the contrary, the relief of individuals or civil groups that spontaneously, silently quietly reaching the people! So some officials found it strange, some even found it "itchy."
FB Mai Son commented that:
"Fundamentally different: people receive state aid on TV while they can get directly from private relief groups."
FB Thuan Vy Thi said: "State aid activities can be implemented after lengthy meetings weeks after the flood occurs."
FB Hung Le Van: Giving donations to local organizations for distribution is like giving eggs to snake!
Facebook Ngoc Pham explained by issuing a written regulation that: "State agencies doing aid activities are entitled to 5-10% of the total donations while private relief individuals use their own money for travel expenses."
The good news that the president of the Vietnam Red Cross affirmed that: Singer Thuy Tien has not broken the law
The Youth Newspaper reported that this morning, October 23, Ms. Nguyen Thi Xuan Thu, president of the Vietnam Red Cross, answered a reporter's question that whether singer Thuy Tien has violated Decree 64 and she said "The act that singer Thuy Tien stands out to call and mobilize resources to timely support people in difficult times and go to the place to share and help the people is very welcome and respectful."
At the same time, she affirmed: "In terms of law, singer Thuy Tien is not violating because according to the Civil Code, she is a middleman to bring the material and money of the giver to the receiver. Her act was allowed by the Vietnamese law."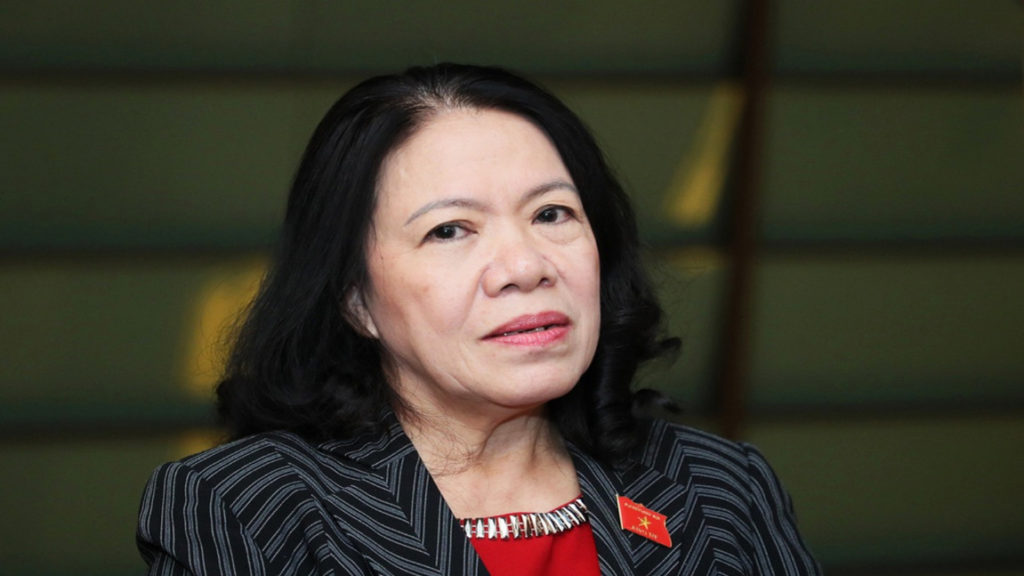 "Should not be too strict when a person with a kind heart has stood out to help other people in difficult times. The mobilization of more or less is due to the prestige of each individual or collective more people will be helped, more opportunities to help others," Ms. Xuan Thu said.
Mrs. Thu shared that "An individual who stands out will face a lot of risks and very hard work, especially with a huge amount of money. The problem is how to make the money of others authorizing them to the right person, in the right place, not to be abused because of the fact that there have been cases of taking advantage of this charity."
"If that source of money is distributed unfairly, there are no clear criteria as the humanitarian organizations are doing, there will be a lot of negativity in society, even loss of solidarity of people in the community when people get, not to mention what will be supported, what is needed in the short term, what needs a long-term," the chairwoman of the Vietnam Red Cross said.
At the same time, at the end of October 23, there was also news that Prime Minister Nguyen Xuan Phuc had directed the revision of the controversial Decree 64/2008 in public opinion.
The PM assigned the Ministry of Finance to expeditiously study and collect all of the concerned ministries, branches, agencies and relevant subjects to develop a new Decree to replace Decree 64 issued in 2008.
The new regulations will encourage, honor and create favorable conditions for organizations and individuals to promote the spirit of solidarity, solidarity, mutual love and quick support to stabilize their lives, restore and develop production and people's activities.
Thuy Tien had a statement about the amount of VND100 billion earlier: "If I lose my career due to my charity activities, I will happily accept it"
"I am just an individual and I will work according to the mind of an individual who wants to help the community. Money is given in person to help people, not through any organization and also no need to create a team" and "If because of this, I unfortunately lose it all, I will gladly accept it," she added.
Thoibao.de (Translated)