Yesterday, the network shared news about the man who saved 100 people in the flood, needs a boat to make a living, the news came from journalist Duong Phong (Facebooker Cu Lang Cat).
That was Mr. Vo Van Binh (Team 1 of Dong Tu village, Quang Binh), in the night of heavy rain and rapid flood, Mr. Binh used his personal cole boat to go to families who calling for help and helped about 100 people move to safe places.
Mr. Vo Van Binh said: "I practice driving a boat across the river, carrying people, waiting for goods to cross the Long Dai River through Hien Ninh to help people in Dong Tu village. The floods are too heavy, the cry for help is sound, my heart burns like a burning fire, so I desperately run the cole amid the torrential rains to save people. When the village no longer cried for help, in the dark, when I came home with my boat and it broke, I could only swim to the shore, luckily escaping death."
After the flood, Mr. Binh went to find out that the aluminum-shell cole was torn, the engine was no longer usable. He said: "Working on a boat, now the boat was torn and I don't know what to do to make a living."
Mr. Binh said that he worked as a boat driver across the Long Dai River, through Hien Ninh.
Today, it is known that Mr. Binh received a 2m4 aluminum boat, 11m7 long, 13 horse power cole machine – bigger than his old boat – and 10 million in cash.
It is true that kindness pays off with kindness. Thank you, thank you kindness for bringing smiles to him right after the flood.
It is a beautiful image among the traumas of the floodplain.
A message titled "Don't talk hard to people in flooded areas!" is being shared online with the following content:
"For several days, some people shared the image of banh chung of Nghe An delegation left on the side of the road, some old clothes piled up without anyone wearing… Then said unpleasant words to people in floodplains!
Only when going to the floodplain you can see how people appreciate each banh chung and old clothes.
Many people burst into tears, because for many days, they only ate raw noodles, and now they have just eaten a cake to warm their stomachs. So, there are no rice cakes and old clothes abandoned.
Maybe, we haven't gotten where we need it, or some other reason something like that happened. And those who really need it, they live in remote areas …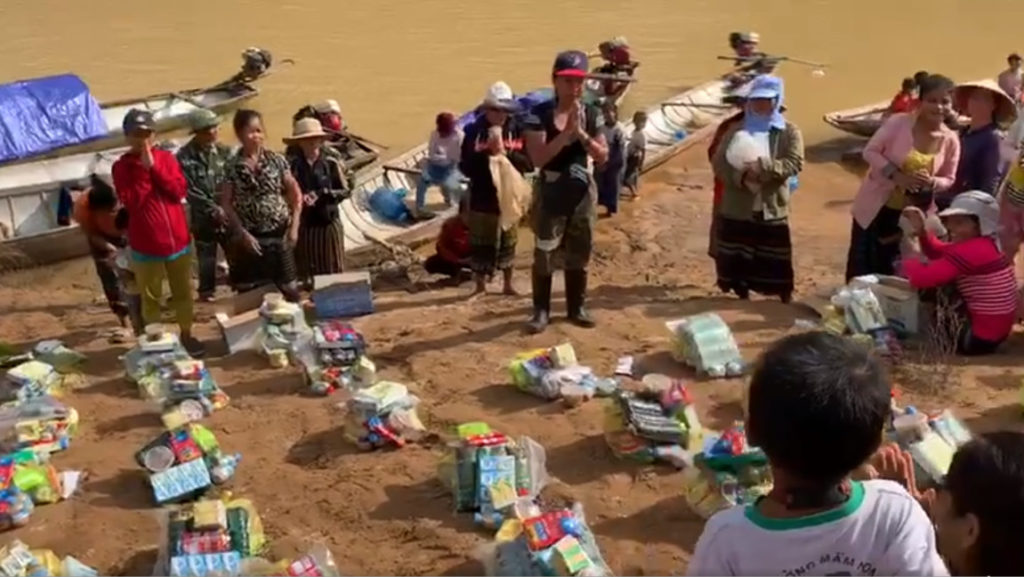 Because many relief teams did not come. For that reason, please do not say badly to the people in the flooded area, first of all, consider yourself thoroughly.
It is good to have a heart towards the Central region, is to be treasured, but there must be "the right place, the right person".
Do not because small individuals influence the great purpose towards the people of Central Vietnam."
Public dissatisfaction with the Vietnam Fatherland Front is still high and comments on RFA's Facebook bulletin about Ms. Truong Thi Ngoc Anh's statement advising singer Thuy Tien to hand over VND150 billion ($4.35 million) to the Front to avoid being suspected of fraud
The proof is that the total number of comments has reached 24,000 comments and most of them criticize harshly, the netizens call it "throwing stones" at the Vietnam Front.
FB Grandma Xì Tin – Trang Le commented that:
"From now on, if you want to curse someone with a thick face or a brazen face, your relatives just call it a Fatherland Front."
FB Ut Nguyen commented:
Mrs. Truong Thi Ngoc Anh, if you are good, you can mobilize the people to get a few hundred billions and save the people, but Thuy Tien's money handed over to the people can be taken by village heads, so people have no trust in state agencies. Thuy Tien has answered clearly and why you are still trying to take the donations she has collected? If you are good at helping people, you can do yourself.
Vuong CT: "As people lose trust in the Fatherland Front so they gave it to Thuy Tien! "
Hoang Dung: "The sum of VND2.4 trillion raised by the state should be handed over to Thuy Tien to manage."
Hoan Le: "Once people have a mind to volunteer, no one needs to interfere in. The front should concentrate on its affairs."
Pham Tam:
"You should share your fortune for donation first."
Father Diep Camp of the Tue Gia: "Send it to the Fatherland Front, then the Fatherland Front will abuse it."
Nguyen Van: "The government mentioned the sum of VND500 billion ten days ago, but I haven't seen it. Even people cannot receive on television because there is no electricity in the flooded areas."
Ha Pham: "People are afraid of this government as it steals everything. It is faster than lurchers at the bus stations"
Ly Dinh Huan: "There are many places where the donation money reaches VND1 billion – but people get … VND10 million. Every time natural disasters, flood-people, the property of state officials increases."
Pham Trang: "I have been going to the aid once before, when I contact the village officials, all of their brothers and sisters came to receive he aid, and those with real difficulties are not informed."
Also about Vietnam Fatherland Front, FB Thanh Mai wrote the analysis as follows:
"In our whole country, there are 10,600 communal-level units, which means there are 10,600 chairmen of the district, commune, ward, town, along with a few tens of thousands of deputies, several tens of thousands of employees, including the district level, the city, the central province so the number of the employees of the Fatherland Fronts would be several hundred thousand getting salaries from the state budget.
Several hundred thousand state officials receive a salary of at least VND100,000 each, so the state must pay them hundreds of billion every day, but they mobilized only VND50 billion. They are like rats.
All the mass organizations including the Fatherland Front are useless," FB Thanh Mai concluded.
Writer Pham Luu Vu writes about singer Thuy Tien as follows:
"Community of love"
Singer Thuy Tien represents the compassion of an entire nation before the tribulation of her compatriots. What does that extraordinary say? People's compassion is still intact. Say something else? People do not believe in the government and any associations established by the government, even though it wears beautiful, fake names …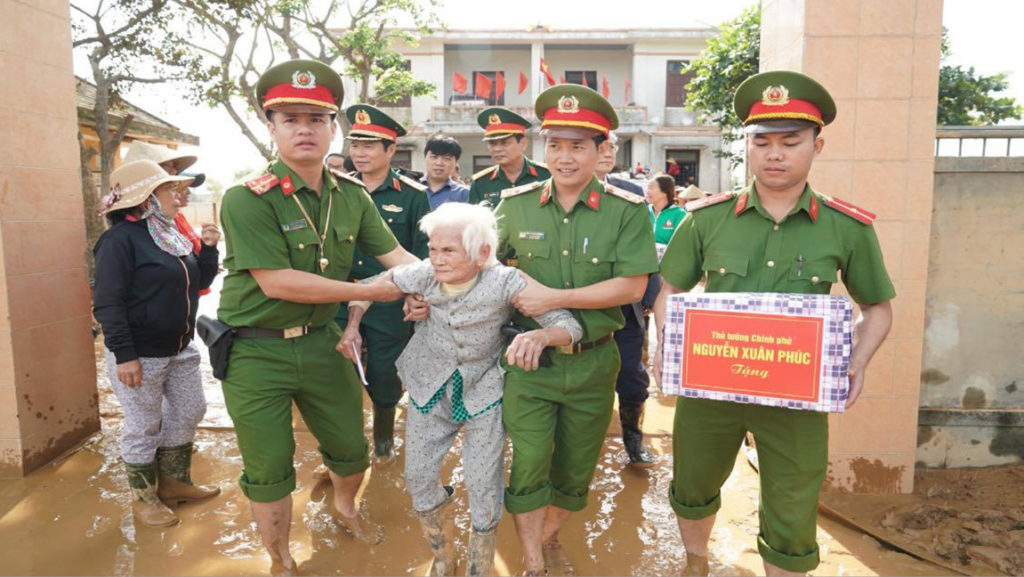 Thuy Tien's extraordinary as opposed to the government pathetic acts of generosity which had to use communication tools to promote it, still confused, instead of supporting the people, supporting the floods and storms, unable to write correctly the figures representing the sum of money it has raised. What shame is it, is it caused by human hearts or panic?" Writer Pham Luu Vu made a conclusion.
Facebook Nguyen Thuy Duong in Thu Thiem, Ho Chi Minh City, writes a comment titled "Bad consequences attack the Fatherland Front " with the following content:
According to Circular No. 90/2018 / TT-BTC, the Central Fatherland Front is one of the subjects that must disclose the budget, including quarterly and annual estimation and final figures. But this information is not available on the Central Fatherland Front's website. Why????
Meanwhile, the budget expenditure plan in 2020, only for the Central Fatherland Front alone is more than VND207 billion excluding the expenditures of Fatherland Front at provincial / city, district / district levels.
Estimated budget expenditure in 2020 for the Fatherland Front Committee (Fatherland Front Committee) of Ho Chi Minh City is VND43 billion and 328 million. For Dong Nai province's organization is over VND14 billion. Quang Binh province is also VND7.02 billion. Poor Ha Giang also has more than VND6.5 billion to spend on the Fatherland Front.
According to the State Budget Law on the website all budget spending / decentralization agencies are required to be made public in accordance with the State Budget Law and Circular 343/2016 / TT-BTC.
So instead of looking at the relief money that people contributed to each other, Ms. Truong Thi Ngoc Anh should take care of her own affairs. The Fatherland Front itself does not disclose revenues and expenditures when it is the Fatherland Front Committee that exists based on the people's budget, what does Ms. Anh think?
To operate the cumbersome apparatus of the Fatherland Front, each year, the budget spends about VND2 trillion, but meets a flood, the Fatherland Front calls for VND50 billion. Even a second-class singer managed to raise VND150 billion.
The Saigon West Coast Mini Football Association has raised around VND700 million. So groups of chess, chess, fan dance…. Altogether, it is better than the Fatherland Front.
All figures above are based on publicly available data from the local Ministry of Finance / Department / Department of Finance," Ms. Nguyen Thuy Duong from Thu Thiem stated.
Thoibao.de (Translated)