In the context of serious flooding in the Central region, on October 21, Prime Minister Nguyen Xuan Phuc issued a letter demanding "reorganization of campaign activities, voluntary donations to support people in affected areas. natural disaster."
Accordingly, in order to mobilize donations and support in accordance with regulations and practicality, PM Phuc requested the Central Committee of the Vietnam Red Cross Association and ministries, branches, and localities to organize and supervise the work of mobilization donations to support.
Meanwhile, recently Deputy Minister of Defense-Senior Lieutenant General Le Chiem admitted that there is a situation of grassroots cadres sharing the hardtack for relief of the Ministry of Defense as gifts. This information is of particular interest to the community. However, on the afternoon of October 23, talking to the local media on the corridor of the National Assembly, Gen. Le Chiem explained that what he said had happened years ago and he raised it to alert authorities in localities.
Gen. Le Chiem added that according to his record, the rainy season in 2020 has not discovered a phenomenon of corruption of relief goods. At the same time, he emphasized that local leaders have a responsibility to prevent this situation so that relief goods can reach people in the flooded area.
Ms. Nguyen Thi Ba, a resident of Saigon, shared with RFA about such information that she had heard over the past few days. Ms. Ba said that no matter what instructions, requests, or explanations from the government representatives but "Actually this is not the first time, but there have been many evils at all levels of government, functional organizations abused relief money for their spending at 5-star hotels and eating in high-class restaurants. As a result, trust cannot be created one day, it takes time and manifests itself through actions. Why can singer Thuy Tien be able to call for such money? Central Vietnam is not the first time flooded by storms and floods like in 2020, but for many years, it has been the same every year, just a little or a lot. Why is there no organization or agency to call for such a large amount of support? So the authorities have to review themselves again."
Spontaneous relief ineffective?
From Nha Trang, journalist Vo Van Tao told RFA that it is reasonable that people do not have faith in the rescue work and relief work of the authorities.
"Although the Prime Minister said that, but surely in the real situation, people in the Central are suffering. Only yesterday, the Minister of National Defense pledged to give relief helicopters, while the people died for half a month. Very sloppy. So if this regime remains, the people will all die."
Journalist Vo Van Tao mentioned Decree 64 that "apart from organizations and units such as the Fatherland Front and the Red Cross, no organization, unit or individual is entitled to receive relief donation." However, with the spirit of the mutual love of the Vietnamese people and in the current state of the danger of flooding in the Central region, the fact that people everywhere proactively rescuing their fellow citizens is necessary and they should not worry when Decree 64 is violated the Civil Code.
"My son-in-law is in Ninh Hoa town, 30 kilometers north of Nha Trang, just recently told me that there is a campaign people cook rice cakes to donate for flood-affected people. In Ninh Hoa, they claim that anyone who needs to deliver relief goods to Central Vietnam is ready to help."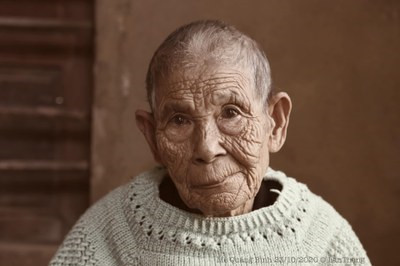 But the VTV news about the flood relief report of VTV Radio, done by reporter Lien Lien and broadcast on October 20, causing frustration in public opinion. Reporter Lien Lien reported that the relief work of volunteer groups was not only ineffective but also affected the relief work of the local government.
Social activist-blogger Nguyen Lan Thang, who is present in Quang Binh to provide relief to local people there, on the evening of October 23, presented the practical situation that he witnessed with his own eyes, gave his opinion on VTV's newsletter:
"I must say that volunteering in the past is inherently very difficult. The overall coordination of the work during this disaster requires a lot of experience, resources as well as manpower. In Vietnam up to now, people also have no experience in providing aid. But because people love each other, people have to find ways to mobilize and find ways to save themselves and help each other. Of course, there is a lack of experience, lack of equipment, and resources, making it unprofessional to save each other. But I say one thing is that the VTV newsletter is very wrong when it comes to the fact that the people carrying out such relief work affects the local rescue work. I think it is completely inappropriate for VTV to use those words. "
Mr. Nguyen Lan Thang repeated again and again about fishermen in Quang Binh who were fasting, starving for 3-4 days and nights and doing everything possible to save the people trapped in the vast water field, flooding the roofs. .
"In that context, when fishermen come to save other lives, they must say that saving lives means that people are very wonderful."
Journalist Vo Van Tao commented on VTV's news:
"The speech of reporter Lien Lien is actually a scandal causing frustration in society, especially those with a heart in Vietnam. This woman is the result of the propaganda of the state. For her, all things that come from the state are true."
Journalist Vo Van Tao stated his opinion:
"I think every time a natural disaster is like that, in such large areas, no state agency can take care of it at all; Even spontaneous individuals like Thuy Tien or other famous celebrities work together, it can't be helped. In my opinion, it is a good force to add a force that is good. And, state administrative agencies must find ways to create conditions to support spontaneous people to be most effective and safest."
Gen. Le Chiem, when talking to the press on October 23, also suggested that those who went to the rescue want to bring the goods directly to the people, so the local government had to organize navigating, transporting goods to help get into the area in need.
Gen. Le Chiem received news that the provinces including Thua Thien-Hue, Quang Tri, Quang Binh, Ha Tinh, Nghe An, Thanh Hoa all suffer from the situation that people have not been able to access the aid, but the cargo traffic congestion on the road again a lot.
On the same day October 23, the President of the Vietnam Red Cross Association, Ms. Nguyen Thi Xuan Thu, told domestic media that Decree 64 is intended for organizations assigned by the state to perform humanitarian tasks. This is a form of State management with organizations with assigned tasks such as the National Front, the Vietnam Red Cross, social and charity funds, not applicable to individuals. However, Ms. Nguyen Thi Xuan Thu noted that Decree 64 still has one point that encourages individuals to participate in voluntary work. If they comply with the provisions of the law, do nothing wrong, and the state must encourage and honor them. At the same time, she said that this decree was issued for a long time in 2008 and it is necessary to amend it and supplement a number of articles.
Radio RFA spoke to a number of people across the provinces / cities in Vietnam, and heard that most of them have the same point of view as Ms. Nguyen Thi Ba that:
"If I am a person with money and kindness, I just invite my friends to do it, but I do not send it to state agencies. Believe it or not, and trust is long gone. "
Economist Nguyen Huy Vu shared on his personal Facebook page that people do not believe the government manages money to donate to relief out of fear of corruption and if only those who raise money go to distribute. Charity goods are facing a lot of difficulties. Therefore, Dr. Nguyen Huy Vu said that if there is a need for close and quick coordination between the local government and mass organizations and individuals who volunteer, people will surely receive effective and meaningful help.
Thoibao.de (Translated)
Source: https://www.rfa.org/vietnamese/in_depth/people-actively-to-help-flood-victims-in-central-of-vn-despite-decree-64-10232020174256.html