Regarding the rescue of 26 missing people from 2 Binh Dinh fishing boats that sunk while fleeing the storm, the media reported that the aircraft was searching but could not find them.
Previously, there was a rumor from social media that 26 fishermen had been contacted, but Tuoi Tre newspaper said that it was inaccurate.
At noon and in the afternoon of October 27, there was news that these 26 fishermen were missing, but it was not until 1.37 pm of October 28 that the DHC-6 seaplane went to search for 1.5 hours but there was no result. .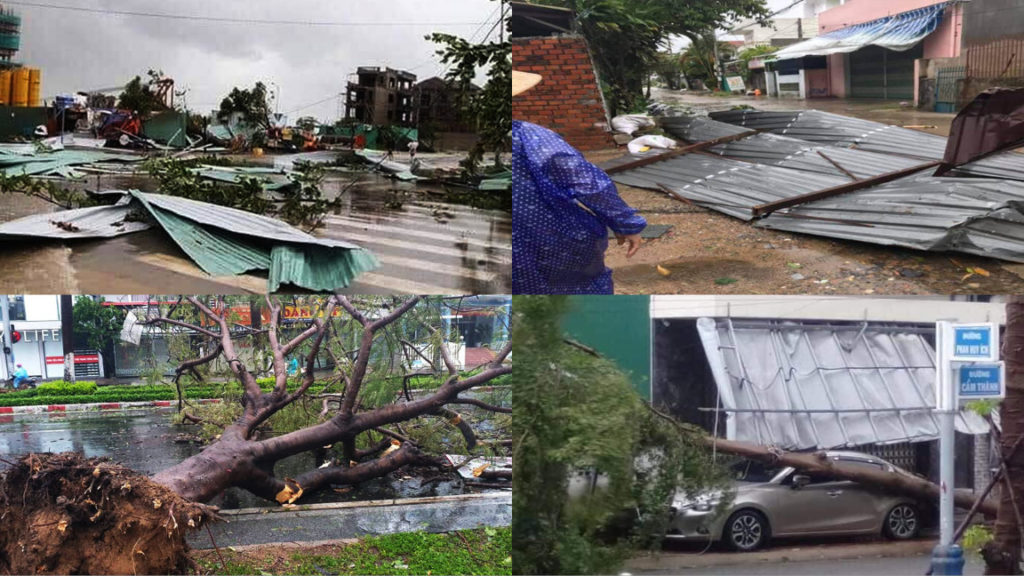 Typhoon Molave made landfall on October 28 morning in localities from Danang to Phu Yen that weakened to tropical pressure on the afternoon of October 28.
The typhoon left the coastal area and went to the west of the Central Highlands, in the southwestern region of Quang Nam, which borders Laos.
Heavy rains began to rain in Gia Lai, Kontum, Quang Nam and Thua Thien-Hue provinces.
Initial damage showed that 3 people died, 28 victims were missing; tens of thousands of houses had their roof blown off; 1.7 million houses lost power; hundreds of trees were broken, fell and two fishing boats were lost.
Out of more than 56,000 houses whose roofs were blown off, over 53,000 are in Quang Ngai. In addition, 1.7 million homes were out of power and hundreds of trees were broken or fallen. Statistics show that typhoon Molave destroyed 34 houses: 9 in Quang Ngai, 23 in Binh Dinh, 1 in Phu Yen, and 1 in Gia Lai.
In Kontum, a bridge in Kon Ray district was washed away, isolating 115 households with 680 people in village 11, Dac Ruong commune.
The Vietnam National Center for Hydrometeorological Forecasting on the afternoon of October 28 said that flood water levels on rivers from Quang Tri province to Binh Dinh, Gia Lai and Kon Tum were rising. During the next 12 hours, floods on Thach Han River, Quang Tri Province may rise above alarming level 2; the water level of Vu Gia river in Quang Nam, and Tra Khuc river and Ve river in Quang Ngai rose above alarm level 3.
Notably, the flood peak on Dakbla river (Kon Tum) can be up to 522.5 m – nearly 2 meters above alarm 3.
The Meteorological Agency warns of a very high risk of flash floods, landslides in mountainous areas and urban and low-lying floods in the provinces from Thua Thien-Hue to Binh Dinh and the northern Central Highlands.
The flood washed away the bridge, making thousands of people in Kon Tum isolated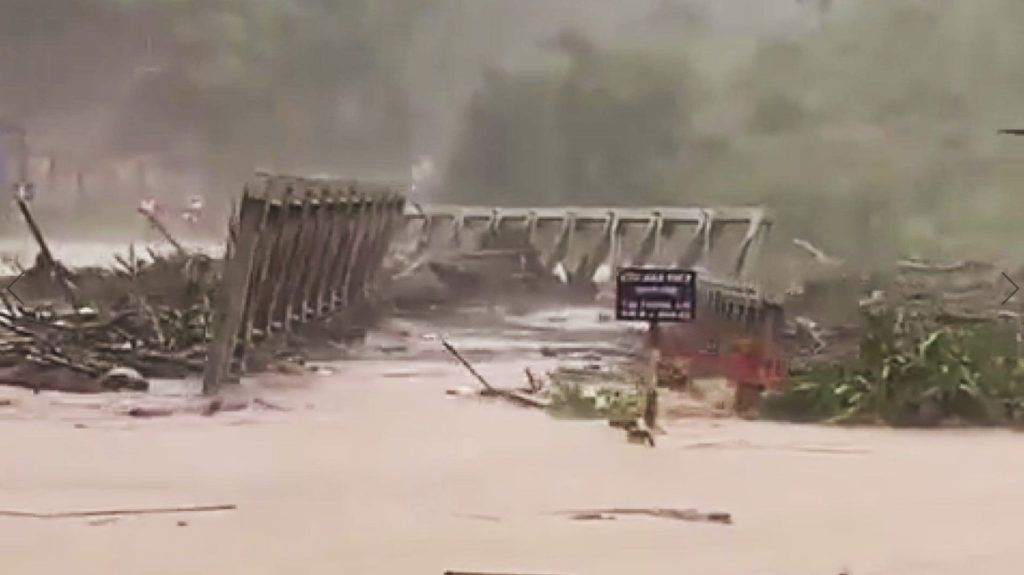 In Gia Lai, typhoon Molave speeded up the roofs of 21 houses and schools in the districts of Chu Se, Ia Hiao, and Krong Chro.
Meanwhile, in Kon Tum, storms caused National Highway 24 and Highway 26 through Kon Plong district to be flooded, and vehicles could not move. At present, Mang Canh commune, Kon Plong district with thousands of people has been isolated because provincial Road 676 is deeply flooded.
Large floods also appeared in Kon Ray district, Kon Tum province, swept away the iron bridge connecting Dak Pne commune with the district center, making 1,500 people isolated.
Mr. Hoang Trung Thong, chairman of Dak Glei District People's Committee, said heavy rains also made provincial Road 673 and Ho Chi Minh Road, many landslide points made Dak Plô and Ngoc Linh communes isolated.
Many ships in Ly Son island were sunk by storms: After Molave swept Ly Son island district (Quang Ngai), many houses collapsed, people's boats and fish cages were damaged, many ships were damaged, causing great damage.
The railway is paralyzed: Mr. Le Hong Son, deputy director of Nha Trang Railway Transport Branch (Khanh Hoa), said that Molave caused trees to fall into the rails so railway traffic was paralyzed.
Quang Tri Hydropower discharges floods from 3 pm on October 28, meanwhile, it is expected that there will be a heavy rain on a large scale in this locality due to the impact of Molave.
Quang Tri Hydropower Company will carry out flood discharge from 3 pm of October 28. The announced initial flood discharge volume is 40 cubic meter/s. It is then regulated according to the actual flood flow to the lake.
Quang Tri Hydropower Plant is operated by Quang Tri Hydropower Company, which is the largest hydroelectric power plant in Quang Tri province with a design capacity of 64MW.
The high risk of flash floods and landslides in the mountainous areas of Huong Hoa, Dakrong, Cam Lo districts, the western communes of Vinh Linh, Gio Linh and Hai Lang districts; landslide along rivers and streams, roads and works under construction.
In the delta area, the risk of flooding and inundation in low-lying areas is Vinh Linh, Gio Linh, Trieu Phong, Cam Lo, Dong Ha city, Quang Tri town and Hai Lang district.
Dak Mi 4 Hydropower is expected to discharge 11,400 cubic meters/s. Quang Nam and Danang faces flooding
At 3.30 pm of October 28, Dak Mi 4 Hydropower Company (Quang Nam) announced a second flood discharge adjustment with an expected flow of 11,400 cubic meters. It is forecasted that in the next 6-12 hours, the water level on Vu Gia river will rise to alarm 3, nearly half a meter above historical level.
According to the announcement of the Dak Mi Hydropower Joint Stock Company, it is expected that at 3.30 pm, the Dak Mi 4 hydropower reservoir will start to increase the second flood discharge, the discharge is expected to reach 11,400 cubic meters/s.
In the case of the Dak Mi 4 hydropower discharge downstream as expected 11,400 cubic meters, in the next 6-12 hours, the water level on the Vu Gia river at Ai Nghia station is likely to rise to 11.2 m, the water level will exceed the historic flood level in 2009 by about 0.5 m.
The risk is very high causing deep flooding, large area low-lying areas and landslides in districts: Nam Giang, Dai Loc, Dien Ban, Duy Xuyen, Hoi An city (Quang Nam), Da Nang city.
The National Center for Meteorological and Hydrological Forecasts warns that level 4 natural disaster risk caused by flood, inundation, and landslides is the highest level of risk.
Regarding singer Thuy Tien's reputation for charity work to aid flooded people and her trust money soaring, Radio Free Asia conducted a three-day survey.
The results showed that only 1.3% of respondents wanted to transfer relief money to the Fatherland Front.
A survey by Radio Free Asia from October 24 to October 27, 2020, asking "who or which organization do you want to donate money to flood victims" shows: only over 1% of Respondents agreed to transfer money to the Fatherland Front, while nearly 92% of people wanted to transfer money to singer Thuy Tien.
Specifically, the survey of Radio Free Asia on Fanpage took place for 3 days, 775,031 people approached the post, of which a total of 25,761 people participated in the survey by clicking on emoticons.
There were 23,261 respondents who agreed to transfer money to help the people of Central Vietnam to singer Thuy Tien, 560 people chose YouTuber Khuong Dua with the rate of 2.2%.
Notably, the Red Cross, the Fatherland Front and VTV station only received 3.7%, 1.3% and 0.3%, respectively.
Some commenters said they would transfer relief money to people they trust, such as local religious organizations, to provide relief on their behalf.
So far, singer Thuy Tien has received about VND150 billion to aid the people, while the leader of the Fatherland Front advised her to share this money with the Red Cross.
FB Do Vu said: "She caused a deep divide between the People and the Vietnam Fatherland Front which is often difficult to recognize!"
FB Bui Phi Hung replied: "Well, the old lesson of corruption from the shops, the cadres class in all regions, the position is still abundant; Which is the Nurturing center for the elderly and disabled children right in Hanoi, the charity house, the education center, commune, district, province … to corrupt without leaving anything, regardless of the situation, circumstances … "
FB Hoang Tam Bui: "Singer Thuy Tien has the great merit to people in flooded areas because she has mobilized more than VND150 billion to support people. But how does Thuy Tien have even greater merit to the Vietnamese environment in helping them realize their position in the hearts of the people?"
Before many forecasts of Molave ​​storms with the power equivalent to typhoon Damrey in 2017, people in the Central region held their breath and prayed before Molave hurricane just landed this afternoon.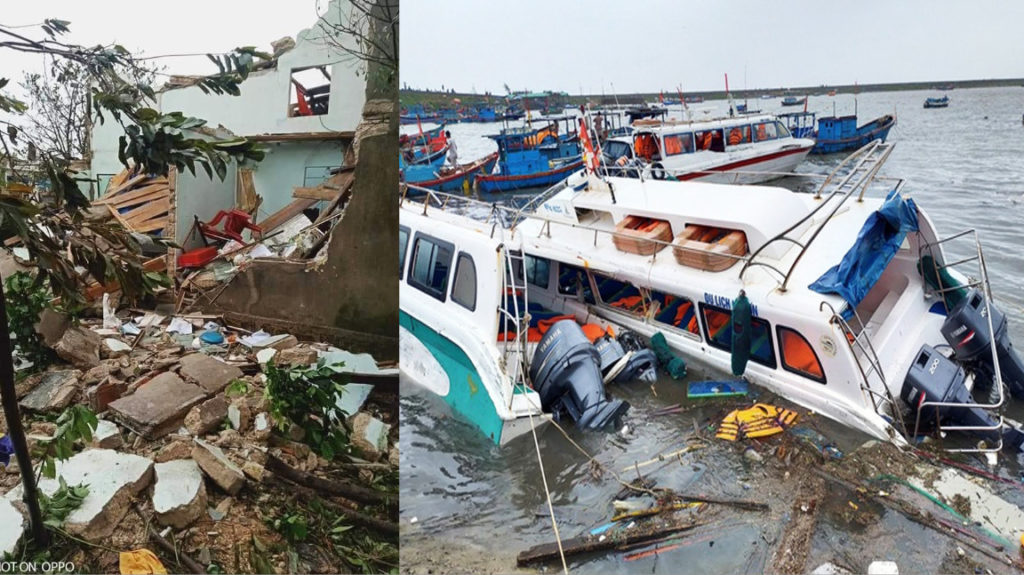 Mr. Nguyen Huynh Son from Phu My district, Binh Dinh province told BBC on the morning of October 28:
"Just hope the storm passes quickly, people have suffered so much pain for a year. Last night, my family waited for the storm because they heard the wind hissing. For many people in the coastal area, temporary houses are not permanent and have made shelter. Other houses do not have conditions, they were built on very fragile foundations and love roofing so they will not be able to withstand this storm. I just hope they are safe."
Reply to BBC News in Vietnamese on October 28 from Quang Ngai, Mr. Pham The updated:
"From 8 am this morning, the storm has decreased to level 12, but in many places, strong winds knocked trees, signs, and roof and tile roofs blown away like paper."
People in Quang Nam said that during the night, every 15 minutes, village loudspeakers broadcast emergency news, titled "hurricane Molave," enough to see the severity of this storm.
Thoibao.de (Translated)